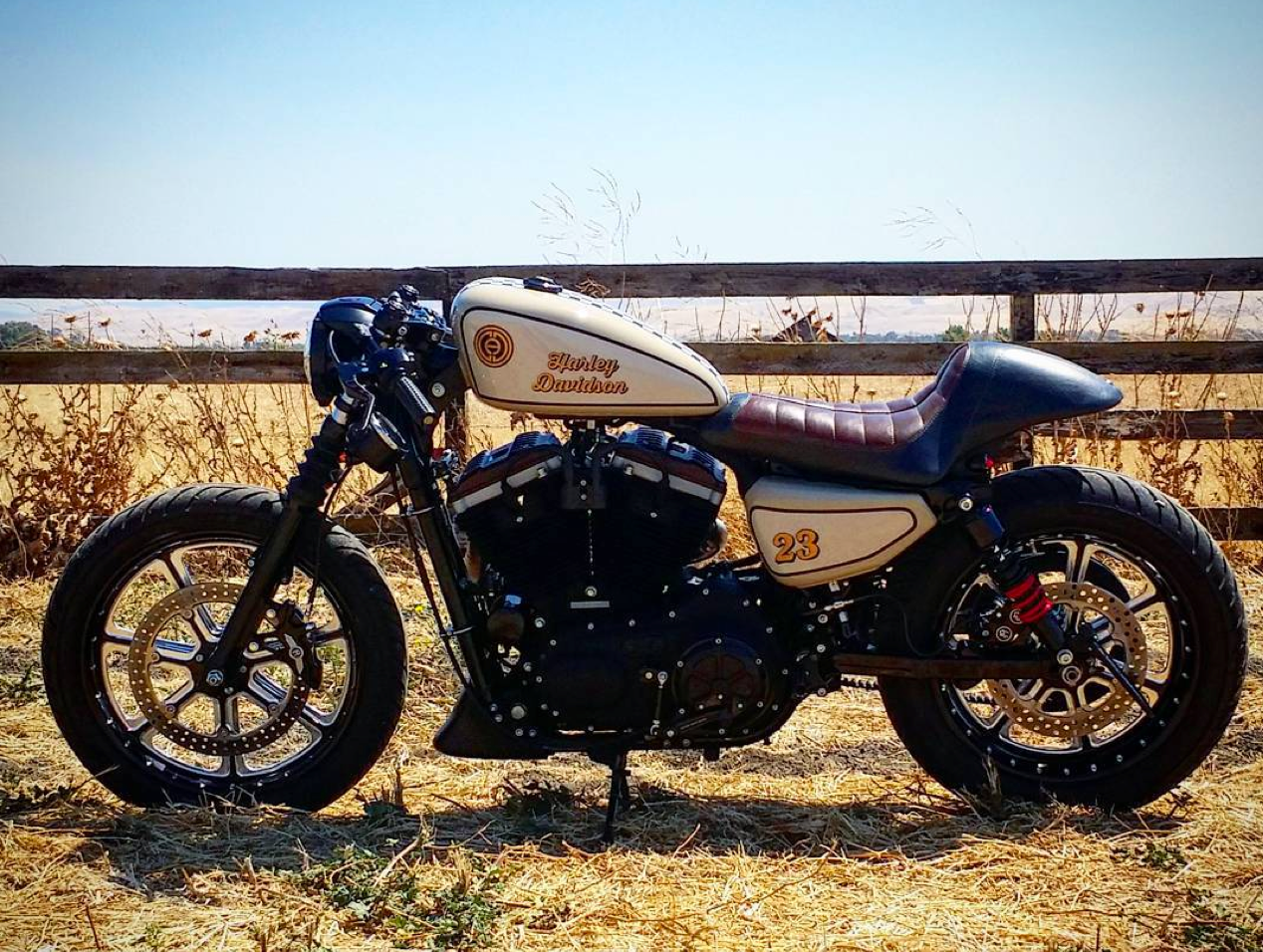 Chris Owens is an Air Traffic Controller by trade, and with a job that stressful, you need to have some good ways to relax.  Chris has always enjoyed woodworking, but this was his first foray into a custom bike build:  a 2013 Iron 883 (Sportster) cafe racer.
Pushing Tin Iron:  Iron 883 Cafe Racer Build Story
I built this bike simply because I wanted something different. About 2 years ago I decided to get myself another motorcycle. I have been riding since I was a kid and got rid of my last bike about 5 years ago. As many riders know, once you have the itch it never goes away.
I was watching Tron Legacy and noticed the bike the main character rode was a Ducati Sport Classic 1000 and fell in love with the Café Style immediately. After doing some research I found that the bike was not being produced any longer. Then I started researching and looking for alternatives. Then I came across the Roland Sands website.
I must admit I was never much of a Harley lover. Not that I didn't like them. I was indifferent I guess. I spent some time looking at Roland Sands bike builds and saw a Café Sportster. I was in awe. From that point on I was 100% committed. Turning a stock 883 into a completely different animal, an animal it was not meant to be was what appealed to me most. I wanted people to look at the bike on the street and say "What was that?"
I spent almost an entire year building her. I did all the work myself including designing the paint and custom logo. My lack of experience and equipment forced me to have it painted by someone else. Other than that the work is all mine and I am extremely proud of it.
The logo on the tank, helmet and points cover is very personal and was designed for this bike. The outer gold ring symbolizes an "O" for Owens. The middle split gold ring symbolizes a "C" on the left and a "D" on the right for Chris and Diana. The inner most ring is an "A" for my son Ashton.
I love everything about this bike. The style, performance, sound and feel are by far the most enjoyable of any bike I have ever owned.
You can follow the build on HD Forums or find Chris on Instagram:  @Chris_B_Owens