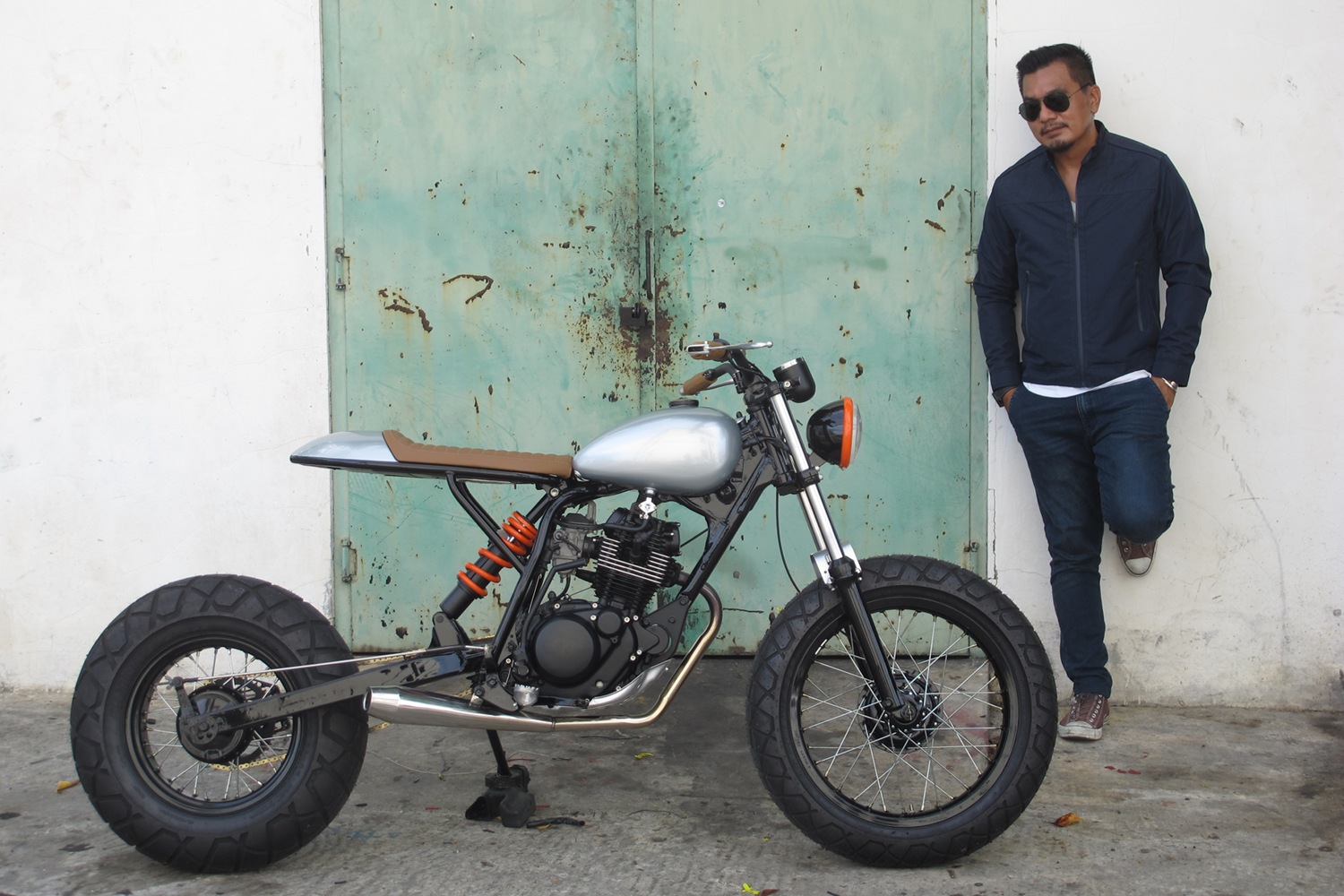 The Yamaha TW200 has always seemed like a blast to ride.  The giant, almost balloonlike tires give the bike the look of a two-wheeled quad–capable of churning through sand pits or jumping urban curbs–and the 196cc thumper will run and run.  Lately, a few brave builders have been customizing these little dual-sports. This example–The Bullet II–built by Sean Lau of Sean SpeedShop, is perhaps the best we've seen.
We'll let Sean himself give you the full story on this incredible build.
"The Bullet II," TW200 Custom:  In the Builder's Words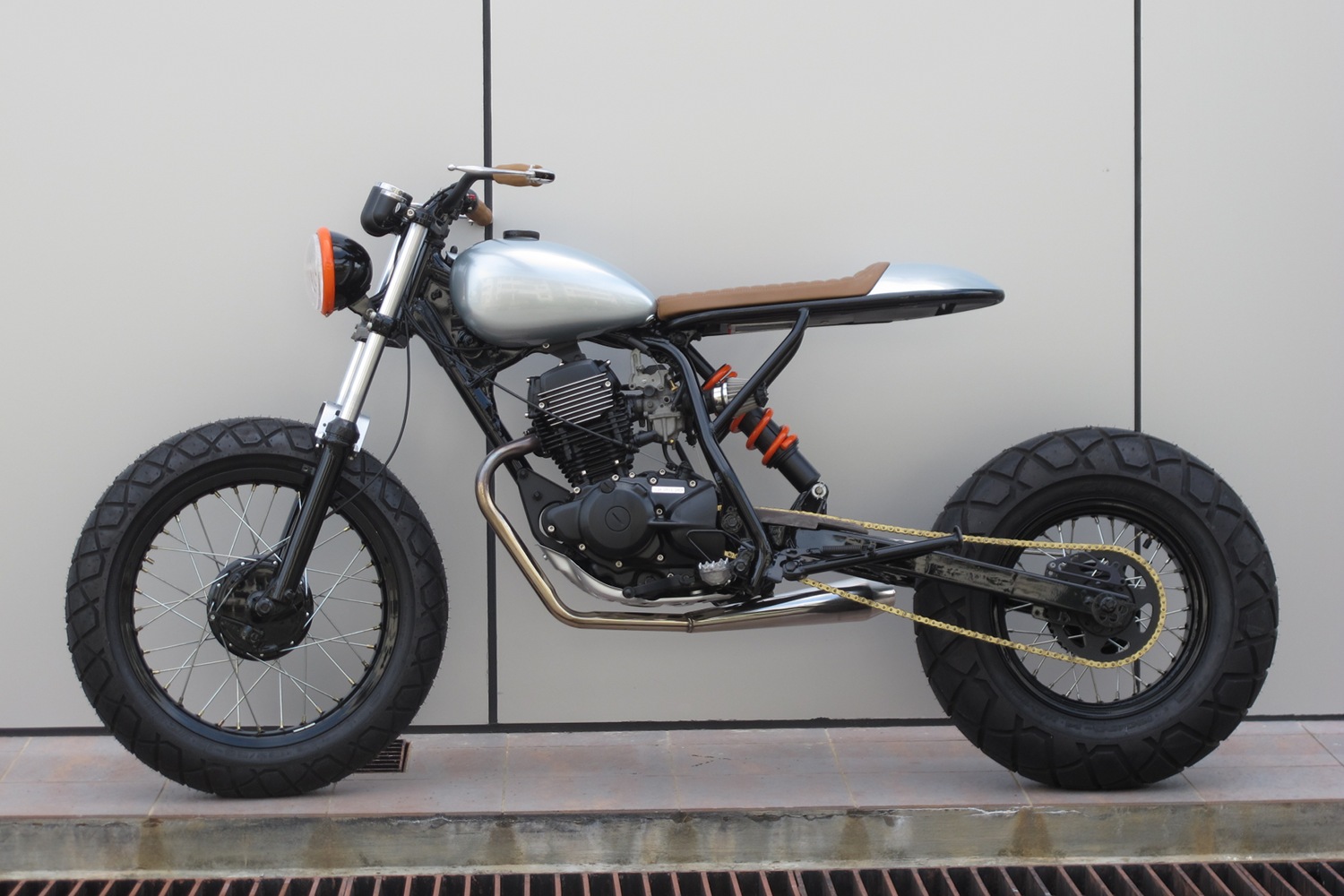 Okay, where do I start?
Initially I wanted to get a smaller run-around bike for myself. Just start and go and keep it as original as possible and do nothing to it. Don't mess with it, don't cut and chop it, don't have funny ideas of how to make it better, maybe? Leave it 'bloody' alone in another word. That was the plan.
I saw this TW200, which is up for sale from a buddy of mine. It's not a runner but everything is there except some tatty spray can paint job and some missing side panels and one side of the original handguard. He is selling it because he got himself a newer unit.
Some people see these TW as ugly ducklings, a black and dirty duck among a flock of white swans. And the TW is not to everyone's tastes. The Japanese love these domestic models. These TW is like a cult in Japan…and that was 3.5 years ago.
In those 3.5 years, I just left it there at one corner exposing it to nature and its elements without even touching it.
And then those itches came back. I always believe in the idea that "a motorcycle is just another motorcycle until you make it yours" kind of thing, which is very, very bad.
So, here we go again.
All components from the TW have been stripped off right down to the frame. Everything is apart and all over. I just left them there without doing anything because at that moment, there is another ongoing project bike that is taking some extra effort to make it right (that'll be another story).
Fast forward, I made some drawings and sketches on how I wanted the TW to look like. Wanted it to look sleek, good lines and fast even at static. Hence, I named it The Bullet II. Why 'II' you may ask? It's because The Bullet I has been built a long time ago (that again, will be another throwback story and need a throwback hashtag too). Hah.
The original TW frame has too many brackets and the original subframe has an awkward shape. First task is to chop off the original subframe and tig-weld a new one accordingly from those sketches. The dimension, shape and length of the new subframe will only be decided after the extension of the original swingarm to an extra 6″ long. The 'lines and flow' of the TW is an important factor for this build.
The rear 'fastback-hump or cowl', which is fabricated into the rear subframe as one complete unit. Only the paintwork makes it looks like a detachable unit.
The original gas-tank has been swap with a high-tunnel 'unknown' origin, which I found in the part's storage. The frame 'backbone' needs to be trim down and new mounting points need to be fabricated and tacked-on.
The electrical side of the TW is running on keyless system with hidden switch. Mini switches and inverted clutch and brake lever with internal cables and wiring on a refurbished old Suzuki GS450 handlebar.
Rear light using a High-Vis LED bulb integrated into the open cone-type air filter. Rear Brake lights and side indicator are 'Hidden' under the seat pan. It'll 'POP' down when they are activated. (See the video here.)
Self-Fabricated seat pan is wrapped in Full leather works by a local reliable upholstery shop which we always 'bothered & troubled' them with the exact stitching methods and style we wanted. They always shook their heads when they saw us walking down with some seat pans.
On the paint scheme, we try to keep it as simple as possible with shiny silver on a black gloss frame. Only the headlight rim and the rear shocks coil are painted in KTM orange.
We can say this is a simple built but we believe this is as clean as it can be and it's a bloody fun bike to ride too. TW200 is not fast in actual fact but we believe with this unit that we created, the stance and its shape definitely 'looks' fast enough in static form.
Hence, THE BULLET II.
Follow the Builder
Follow Sean SpeedShop:  @mat_retro | @seanspeedshop