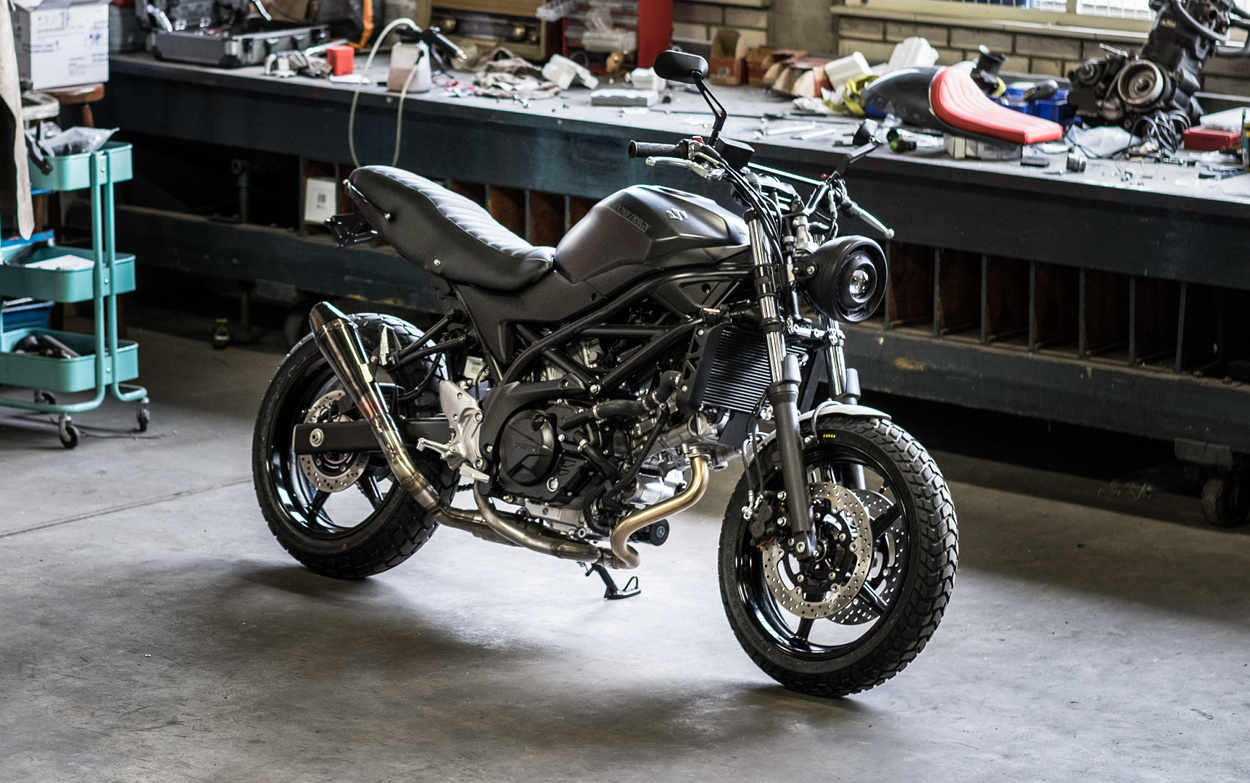 Though not the sexiest bike ever produced, the Suzuki SV650 is one of the great all-rounders of the moto world. The bike is affordable and bulletproof, with decent power and solid handling.  In fact, our senior correspondent Rick Brown owned an SV650 track bike for many years, and I could be heard ripping it around the neighborhood at times (it wasn't street legal, of course).
Recently, one of our favorite builders–Moto Adonis of The Netherlands–received the mission from Suzuki Netherlands to toughen up an SV as a concept bike. They certainly accomplished that feat, with an array of plug-and-play modifications that could, as you will see below, be carried out by even the most rote amateur mechanic.
Headman Daan of Moto Adonis gives us the full story below.
SV650 Scrambler:  In the Builder's Words
Not the typical Moto Adonis work, but pretty cool to be able to make one. In collaboration with Motorhuis Seppe we built a real badass scrambler for Suzuki Netherlands. Suzuki's SV650 has originally a very good schoolboy appearance and even the sitting position is kinda silly if you ask me. This is very unfortunate because the 647cc V2 is also a great lightweight play bike for the city but a great ride to pop on the small country roads. Quote from Testmotor.nl:
"He sometimes trembles a bit, but at any speed, from almost closed gas to the rev limiter around 11,000 rpm, there is always power in stock."
Moto Adonis got the missoin to make a tough bike that fits more in the contemporary style, and as you may know, that's something we can do!
We began to remove those horrible wasp's butt to see how it looks from among the members. One of the key points was clear that it must be a plug and play system, without any frame modifications, and I'll tell you: in the end, after the conversion was finished, I again removed the all the parts and asked my brother-in-law Jarco ''an accountant'' to rebuild it into a scrambler. Obviously under a bit of guidance, but the concept is so easy that even an accountant can perform the transformation. In advance, I say a successful mission!
We started by creating a new base plate and attachment points for the seat to fit it as tight as possible to get around the existing frame. Then we realized the handles and built-in taillight, everything to be as minimalist as possible but still functional.
The saddle is provided with a reasonable cushion if you compare it to the original, because with a scrambler it must be able to dive in the blubber if you feel like it. The result, your posture is somewhat a bit different but your buttocks have absolutely nothing to suffer anymore! And o fcourse without losing the feeling of grip.
In the context of less is more, we have removed the headlight, the headlight bracket, etc caps, and replaced with a somewhat simpler but still more imposing Cyclops headlight and the speedo/tacho meter has been given a different position. The steering was certainly to be replaced as the current steering forces you in a position that totally misses the mark of how should i say it… Motorcycling??
Now with the current crossbars you want nothing more than to pull the throttle open and search out the most beautiful roads so you can keep on driving and driving! And this feeling is further enhanced by the MAD stainless steel GP muffler which causes a deafening orchestra to resound in your ears and definitely gives the cool V-twin engine the sound it should have. The mudguard at the front had to be replaced of course for a simple aluminum handmade fender. This should ensure that most of the mud is sent back to mother earth.
All in all an outrageously fun project and really cool to be able to build a concept bike. Let's hope that he ultimately is for sale at dealers 😉
You can see more Moto Adonis builds here.
Follow Moto Adonis
Follow Moto Adonis:  Facebook | Instagram | Pinterest | Twitter | Vimeo | Web
Save