The Kawasaki KLR650 is one of the greatest go-anywhere, do-anything machines of all time. Few other bikes circumnavigated as many times as the KLR, and the U.S. military uses the KLR-based M1030M1 as its two-wheeled steed…modified to run diesel fuel, of course!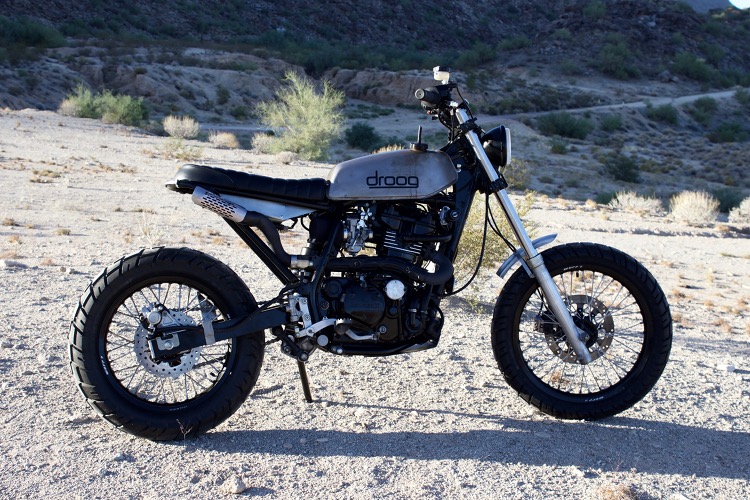 Enter Droog Moto of Phoenix, Arizona–a husband/wife team that builds some of the baddest, post-apocalyptic desert sleds ever to chase rattlesnakes and jump curbs. It was only a matter of time before the duo took on a KLR build. This one they are calling their KLR650 Trackster, and she's a damn doozy.
Below, Max and Erica give us the full story.
Kawasaki KLR650 "Trackster":  In the Builders' Words
(Words by Max and Erica Droog. Highlights by us.)
This customer is a local from Phoenix who came to us with his 1987 KLR 650. He stated that he really liked the look of our previous XR500 and CM400. My wife and I decided to take this build on as a mix of the two, or a what we call a Trackster. (always coming up with new bike names haha).
This KLR has a lot to offer for daily commuting and weekend trail runs. We started by doing a new subframe setup to house a battery tray and high side mount exhaust. Moving forward we mounted a vintage Yamaha DT175 gas tank with custom mounts.We got setup with an aluminum radiator that we mounted with custom mounts to clear the new tank setup.
New 1 1/8″ fat bars where installed, along side Biltwell grips and a TrailTech Vapor gauge. The original rims where swapped out with a fresh set of Warp 9 rims. We went with a 19-inch in front and kept the 17-inch in back, then wrapped those bad boys in Shinko 705's. A custom low mount front fender was added for a clean tracker appeal.
We installed a 5 3/4″ Bates headlight and LED tail/brake light with LED signals. The motor was gone through and we performed the famous "DOO Hickey" mod. Good thing too, as his was cracked and the spring was broke!
This thumper kicks ass and is for sure our cleanest build yet in terms of appearance. We generally go for an edgier look; most of our bikes are matte and rusty, haha. Was a fun bike to build for sure and we hope he has a lot of fun on it!
Follow the Builder
Droog Moto:  Email | Instagram | Web
Save