The Honda CB360, built from 1974-1976, was the successor of the venerated CB350. The parallel twin machine offered 34 horsepower at a dry weight of just over 350 pounds, and served as an alternative to the four-cylinder CB350/400F.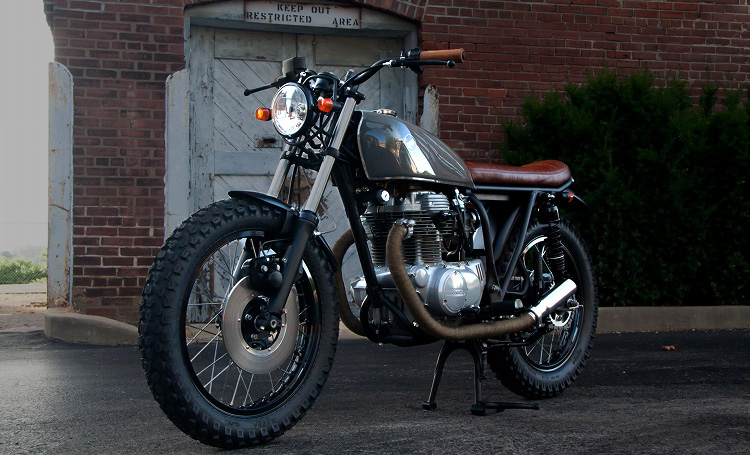 Enter James Fawcett of Slipstream Creations, based in St. Louis, Missouri. James is a creative renaissance man, who has worked as an auto mechanic, body man, graphic designer, web developer, and construction worker.  As his Project Gallery demonstrates, he builds furniture, bicycles, and motorbikes, and he is no stranger to the CB360. In fact, Bike EXIF featured his "Lean 'n Clean CB360T," saying of the build:
"We'll admit: Brat-café style Honda customs are a dime a dozen. But top shelf finishes and attention to detail are far more rare, and this classy CB360T has both in spades."
This bike is done in more of a scrambler/brat-tracker style, but the same concept applies. Few brat builds evince such workmanship, care, and subtlety of design. This bike works incredible well as a full package, and that is largely due to something mentioned in the build spec:
"All of the little, big details…"
That is nothing short of a build philosophy in and of itself. Below, James gives us the full story on the build.
CB360 Brat Tracker:  In the Builder's Words
(Words by James Fawcett of Slipstream Creations. Highlights by us.)
Last year a customer contacted me about building a custom bike, and after deciding on a general theme and style of bike for this build – a small displacement, early to mid-70's Japanese bike – I set out to find just the right donor. The customer had pointed out several other CB360s that he loved, and I eventually found a good running, but worn-out bike in Kansas.
The owner had been in an accident, and had to sell his bikes (this was his backup bike for bad weather and poor conditions). After talking to the owner and mentioning I wanted it for a custom build, he was reluctant to sell it to me. He said he wanted someone to ride and enjoy it, not to have it chopped up. After sending him some photos of my other work and letting him know what we had in mind, he agreed, and was excited to see his reliable old CB360 take on a new life.
After trailering it back to St. Louis, I got to work. This build was on an aggressive timeline, and there was a lot to do. The bike was torn down completely, and everything but the engine internals were restored, replaced, or customized. Like my last build, I did everything except the seat upholstery, which included all of the paint and powder coating, the custom fabrication of fenders, seat pan, battery box, headlight bracket, re-lacing wheels, and more.
The lines are clean with the kick-up of the mufflers matching the angle of the kick-up at the back of the seat. The fenders match the arc of the tires nicely, and the lack of chrome keeps the flash to a minimum. In the end, this bike is so fun to ride. It fires right up and sounds great, and is a blast to just hop on and go.
The color is a mid-60s VW Beetle color called Anthracite. The tank graphics are a custom-designed spin on the old Honda wing logo that I stenciled and painted on the tank, and buried under the clearcoat. The combination of the dual sport tires, pipe wrap, and desaturated colors, really gives this bike an understated, but very thoughtfully put together feel. I couldn't be happier with how it turned out.
Custom painted tank and custom designed and stenciled tank graphics based on the vintage Honda wing logo
Custom fabricated battery/electronics tray mounted under seat
Custom fabricated seat pan and custom leather seat
Modified top frame tubes and rear hoop to match the seat
Custom exhaust and shorty Biltwell mini mufflers
Custom front and rear fenders
Original hubs powder coated black and laced to wide aluminum rims
Oversized dual sport tires
Rebuild Keihin carburetors
Charlie's Place electronic ignition and new coils
All of the little, big details
Follow the Builder
Follow Slipstream Creations:  Facebook | Instagram | Pinterest | Web
Save
Save
Save
Save
Save