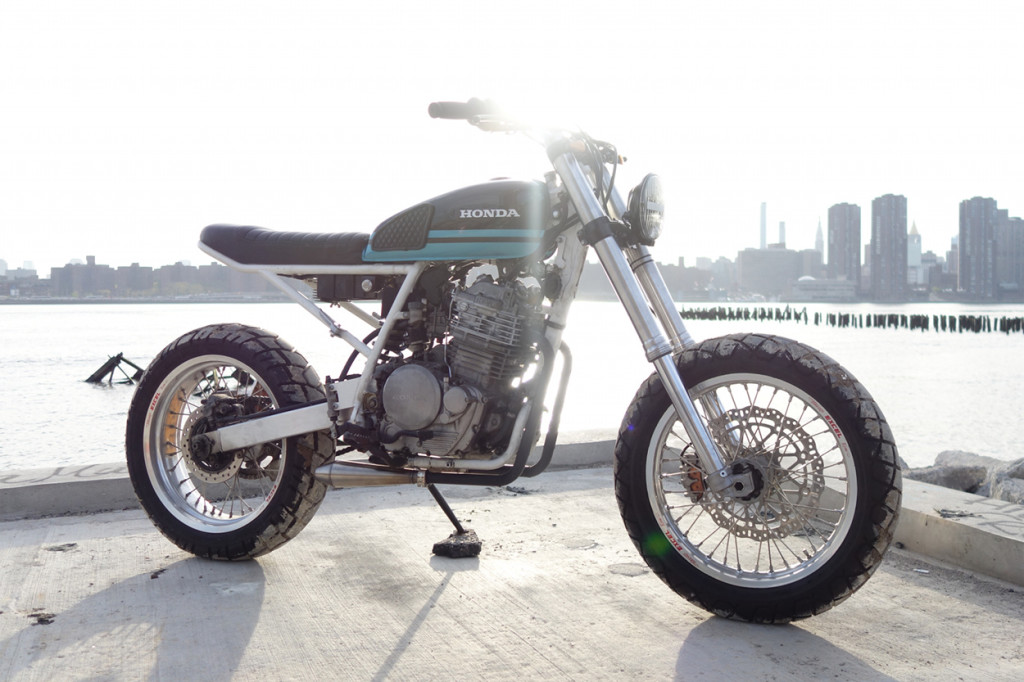 Here at BikeBound, we've been lucky enough to meet so many builders, riders, and fans from all over the world who simply "get it" when it comes to bikes. One of these is our new friend Ceasar Saingchin of Queens, New York. With the very first email, we knew we were dealing with a kindred spirit. Said Ceasar:
"I just discovered your site recently and I really dig it! I particularly like that you feature more trackers/scramblers and fewer Ultra-Builds (what I call builds with ridiculous resources). Very few sites showcase trackers and scramblers enough and it's refreshing to see a site that does."
While we love sharing "Ultra-Builds" now and again, our bread-and-butter is the custom bike of the real world, which is built more with heart and hard work than a big bank account. Enter the saga of Ceasar's Honda XR650L, or "The Four Deaths of the Alley Cat." Below, we get the full story from Ceasar.
Honda XR650L "Alley Cat" Street Tracker with 5 Lives Left
(Words by Ceasar Saingchin. Highlights by us.)
So you may be wondering why the weird subject line. In a nutshell my bike has been through HELL but has been back from the dead a few times. The closest it's been to death was after a HUGE truck plowed through it (caught on video: http://bit.ly/2qEWqyf). This was right outside of my job. I took a look out my window of the 8th floor here in midtown Manhattan and my heart dropped. Long story short, I shed some tears, then got some insurance money and used it to fix her up, do a front end upgrade and shoot a decent paint job on the tank.
Death #2: I was also told by previous owner that he blew the motor when his buddy forgot to reinstall the fuel screw. Bike ran decent when I test rode it so didn't think much of it.
Death #3: Shortly after buying, I swapped the carb and didn't realized how hot the motor was getting from the jetting being too lean. On a hot summer day I heard some clicking from the right side of the motor – Dropped valve seat.
Death #4: Replaced the head with a used one off of ebay. A year and a half later, more weird sounds coming out of exhaust. When hot, the valve seat would drop, but then reseat when cool (expanding aluminum/steel variation).
Finally replaced the head with a lightly used 2015 unit. Running really strong now. So after a near death brawl with the Mastiff of trucks and three heart attacks, I reckon my bike has 5 lives left.

After the latest heart bypass I named her Alley Cat. Great bike for the streets of New York. Nimble, strong, been through hell, but still tough as nails.

Originally picked up out East in Long Island, I rode her to Queens, New York where I rent out a few sq feet of space to do what I can. My buddy and I work below a roughly 60 apartment building 12-car car park. The space isn't large enough for a car so the landlord rents it out to us for motorcycles.
I spent a bit of time with a wrench and an angle grinder and the rest is history. It was a simple formula for the thumper:  wheel & tires, subframe, tank, exhaust and general crap removal.
"Alley Cat" XR650 Street Tracker:  Build Sheet
Name: Ceasar Saingchin
Email: saingchink@gmail.com
Location: Queens, NY
Bike Make, Model, Year: Honda XR650L 1999
Title / Nick Name: XR650L Alley Cat
Style of Bike: Tracker
Instagram: @Ceasar_Goes
Donor Bike: XR650L 1999
Carb: 2004 CRF250R Carb – Keihin Flatside Carb 39mm
Wheels 18″ Excel Tasakasago
Rear Tire: Shinko 705
Front Tire: Shinko SR428
Front Brake Disk: EBC 300mm Rotor
Front End: 2008 CRF250R Forks and Triple Trees
Exhaust: Custom
Seat: Custom
Headlight: Hella 500 Black Magic (not seen in above photos)
Handlebars: Renthal
Passenger Pegs: Yamaha R1
Tank Pads: Custom
 
Detail Shots by Michael Kowalczyk
The following shots are by Michael Kowalczyk:
Save
Save