Justin Webster of J.Webster Designs is one of our favorite people in the moto world. He's a self-taught builder who started his business working nights after his day job, and his design philosophy strikes a chord with us:
"When building bikes, I like to not have a single item stand out too prominently. All modifications should flow with one another and compliment each other, not compete."
Earlier this year, we featured Justin's CB750K cafe racer. At this year's Handbuilt Show, we were lucky enough to meet Justin in person and see his incredible new build, this 1974 Honda CB550 "City Scrambler." The bike is simply staggering — a seamless blend of design and execution that left us breathless.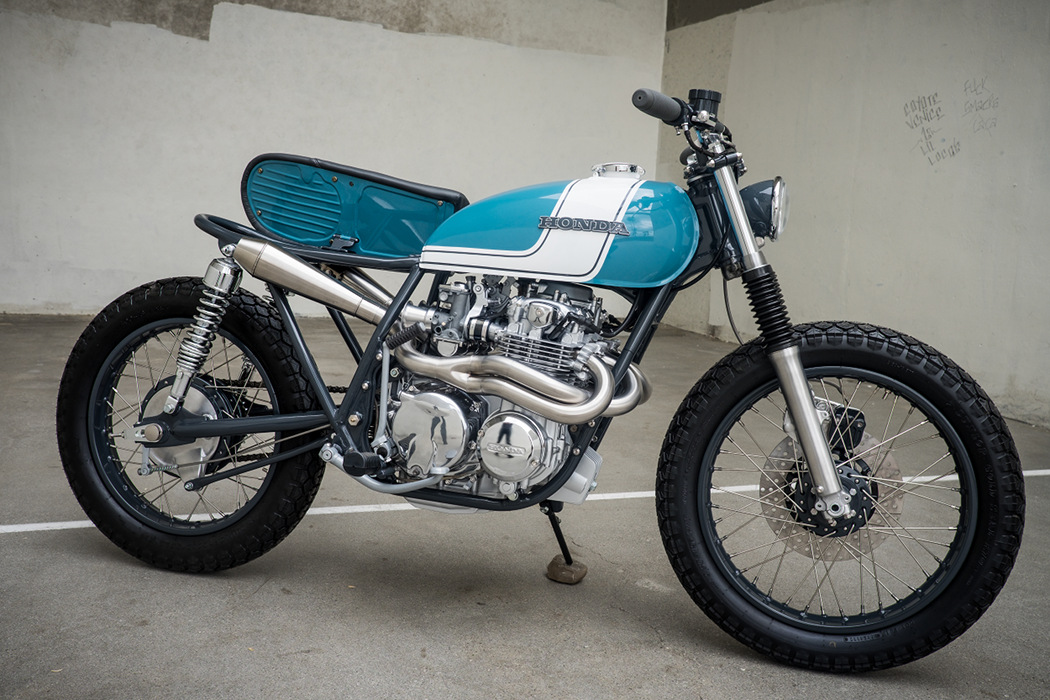 Below, we get the full story on the build.
This bike is for sale. Contact J.Webster Designs if interested:
email
.
Honda CB550 Scrambler:  Builder Interview
(Answers by Justin Webster. Highlights by us.)
• Please tell us a bit about yourself, your history with motorcycles, and your workshop.
My name is Justin Webster Owner and operator of J.Webster Designs. We specialize in designing and manufacturing aftermarket parts for motorcycles and building full custom bikes.
• What's the make, model, and year of the bike?
This bike is a 1974 Honda CB550.
• Why was this bike built?
This bike was built to be sold and is currently looking for a home. Contact us if you are interested!
• What was the design concept and what influenced the build?
I took inspiration for this build from the early factory "Scramblers" offered by the manufacturers of the '70's. I like to envision what would have been on display at the booths of manufacturers at expos as "prototypes" to garner interest in a potential project. I believe if the design and engineering crew at Honda in the 70's were offered the chance to build a 4 cylinder "Scrambler" prototype meant for the city, it would have come out something like this.
• What custom work was done to the bike?
Electronics:
Motogadget Motoscope Mini Digital instrument cluster
Motogadget M-Unit "Blue"
Shorai Lithium Battery
Posh Factory Turn signal switch
Bates Style pedestal mounted headlight
Frenched LED brake/turn lights
Engine:
Fresh rebuild
Mild port work
Full J.Webster Designs Parts offerings
J.Webster Designs Valve Tappet Covers
J.Webster Designs Tachometer Drive plug
Exhaust:
Handmade 304 Stainless Steel
Mandrel bends
Back purged and welded by myself
Cone Engineering mufflers.
Frame/Suspension:
Shaved,smoothed and lightened frame
Shaved and modified triple trees
J.Webster Designs Handlebar Clamps
Custom Cable Keeper
J.Webster Designs Speedometer Gear Drive Delete
Rebuilt and Reworked forks and brakes
Drilled and lightened Brake rotor
EBC pads
Buchanan Stainless Spokes
Dunlop K70 Gold Seal tires
Paint/Powder/Upholstery:
Retro inspired paint scheme
Suede and Leather seat
Industrial grey powdercoated frame, wheels and headlight bucket
• How would you classify this bike?
I would classify this bike as a "City Scrambler" — it is not designed to go ripping down dirt roads or running any single track. It was designed to offer high maneuverability and ground clearance to tackle any urban environment.
• Was there anything done during this build that you are particularly proud of?
I am proud of how the exhaust turned out. There is a ton of clearance in all the right places and really makes this bike stand out.
Photographer credit: Wren Salgado
Follow the Builder
Save
Save
Save