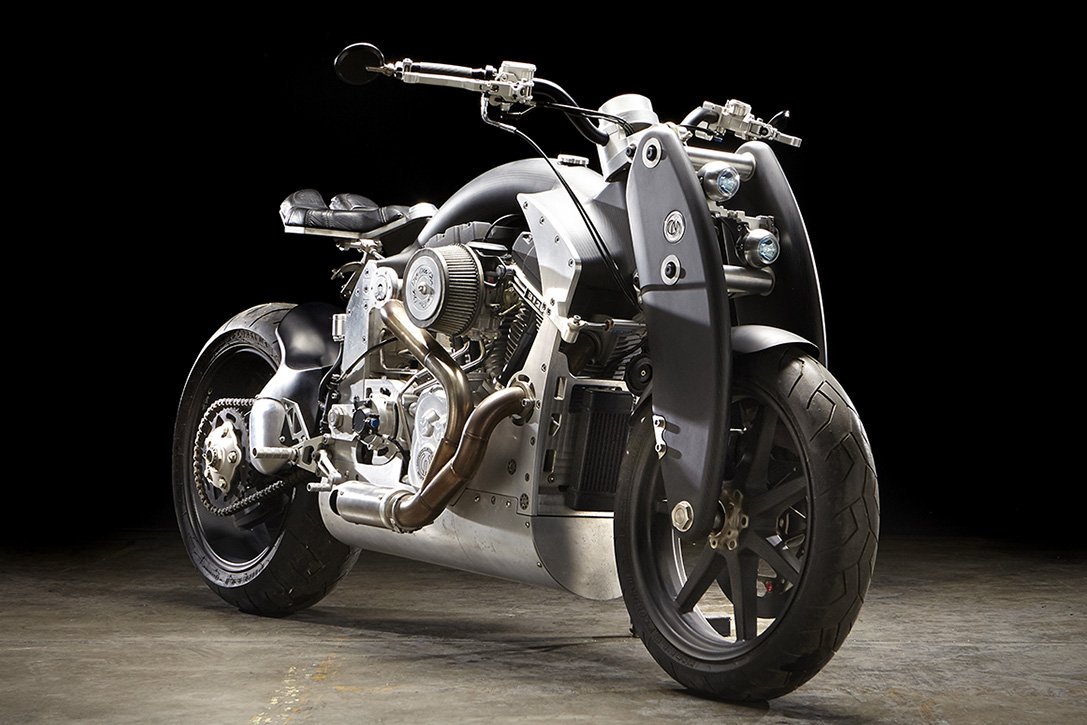 Attention: Confederate Motorcycles now has a rare, pre-owned 2009 B120 Wraith for sale! Details here.
The Accountant is a 2016 action/crime thriller that stars Ben Affleck as Christian Wolff, a midwestern CPA with high-functioning autism, who makes his living "uncooking" the books of various criminal enterprises and terrorist organizations. Wolff has also been highly trained in martial arts and weapons from a young age, as his father feared his autism would make him the target of bullies and other baddies. Wolff, who learned accounting from a mob accountant, uses his skills against criminals who violate his moral code, gaining information from a source known only as the voice.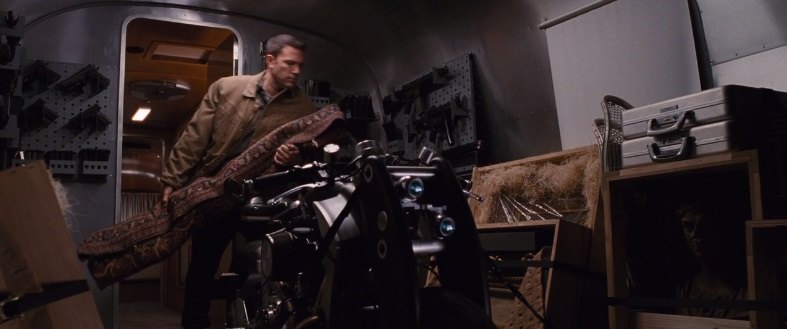 The movie, which had a budget of $44 million, was filmed in Atlanta, Georgia, has received mixed reviews. It has been called a "scattershot action thriller" full of "headshots, math problems, and pained social interactions."
More important for us is the Accountant's motorcycle. At one point in the film, Wolff takes another character to his storage unit, which includes an Airstream trailer full of artwork, gold bars, and one strikingly modernistic motorcycle:  a Confederate B120 Wraith.
Confederate Motorcycles
Confederate Motorcycles has been in business since 1991, a boutique manufacturer of heirloom-quality motorcycles. Writes Jason Cormier in Confederate Wraith — American Iconoclast:
"There are rare instances in the realm of motorcycle design when there emerges an icon…
"The Confederate Wraith was one such icon of that emerged from Southern Louisiana like a thundering slap in the face to all that the motorcycle industry held dear. It was an absolute break with tradition, a bold insult to the long-held standards of a conservative industry, and a new way of conceiving of the motorcycle that was unlike anything that had preceded it. It was a product of looking forward while respecting history, a curious mixture of old and new ideas blended into a stunning machine that was as brutal as it was intelligent."
The founder, H. Matthew Chambers, was a Baton Rouge trial lawyer who put together a small team of engineers to create "the greatest American motorcycle of all time." The name of the company has been a source of controversy over the years, as have the company's bucking of tradition and collectivist ideals. In 2017, Matt Chambers announced the company would be renaming itself Curtiss Motorcycles and building electric motorcycles through a partnership with Zero Motorcycles.
Confederate B120 Wraith
The Wraith was built from 2007 to 2009. It cost $92,000 and won the AMD World Championship of Custom Bike Building in 2007. The machine has a bicycle-like seat that floats on a cantilevered pedestal, a carbon double-wishbone front end, and an air-cooled, twin-cam Jims/CM 120 cubic-inch V-twin motor, boasting 125 hp and 130 ft-lb of torque. The chassis in an oil-in-frame carbon monocoque, with a 3.5 gallon aircraft grade aluminum tank. While the bike was a limited edition, it was built with the rider in mind.  The controls and ergonomics are surprisingly intuitive. Says Don Williams of Ultimate Motorcycling:
"For all the technology permeating the bike, as well as its striking appearance, the most important thing to know about the B120 Wraith is this: Confederate has built a motorcycle that is meant to be ridden."
Certainly, this is one of the most striking American-made motorcycles in history. Right now, Confederate Motorcycles has a rare 2009 B120 Wraith for sale on their website. Insiders say an all-new Wraith will be introduced in 2020.