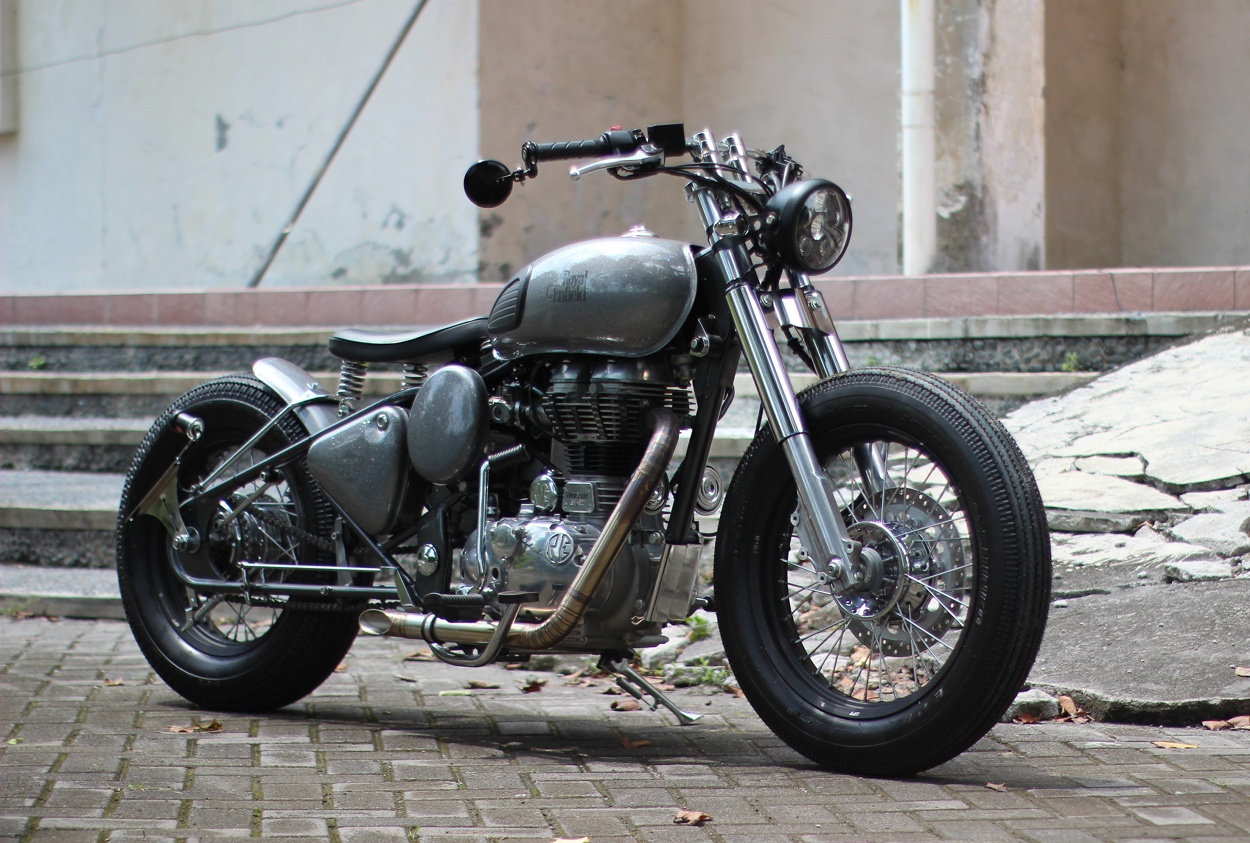 While many manufacturers have had success in producing factory bobbers — most recently the Triumph Bonneville Bobber — Royal Enfield has not jumped on the bandwagon. To this day, if you want a Royal Enfield bobber, you have to build one yourself or employ the likes of a professional builder.
Enter Yohanes Marse — Anes — the headman of Indonesia's Jowo Kustom, several of whose bikes we've had the pleasure to feature. Recently, a customer took delivery of a nearly new 2018 Royal Enfield Classic 500 from the main dealership in Bali and brought it straight to the Jowo Kustom workshop for transformation. The client wanted a Classic 500 bobber with a rigid frame, sprung saddle, and a touch of World War II era style.
While the crew was slightly nervous to cut into an all but brand-new machine, they stepped up to the challenge, building the lovely Royal Enfield 500 bobber you see here.  Anes chose to name the bike "Momot" — a variation of "Mammoth,"  as in the great prehistoric elephant.
Below, we get the full story on this Indonesian bobber!
Royal Enfield Classic 500 Bobber: Builder Interview
Please tell us a bit about yourself, your history with motorcycles, and your workshop.
First, my name is Yohanes Marse, but my friends called me Anes. My workshop has been operating since 2014 as a custom culture workshop. The custom culture scene in Indonesia has been spreading and growing really well. Many talented local craftsmen and builders have influenced me to build motorcycles as an art of soul. I had two partners and some additional workers who always help me with my builds, a good team.
Whats the make, model, and year of the bike?
The bike was based on a 2018 Royal Enfield 500.
Why was this bike built?
This is a customer project. This was a really fresh bike from the official main dealer in Bali. He then brought the bike to our workshop and started to discuss how he want it to be transformed.
What was the design concept and what influenced the build?
All he wanted was just a bobber — a rigid frame combined with a spring saddle. Just a little taste of an old classic World War-era bike. It has a similar style to the Triumph Bobber.
What custom work was done to the bike?
We totally cut down the subframe and replaced with it with a longer rigid subframe. We made a new simple rear and front fender, also new triple tree with 3-inch risers, making the front look very clean.
The ground clearance is lower than before. A new slice-cut style stainless steel exhaust.
300-16 + 250-18 rims combined with 500-16 + 350-18 tyres was a sexy combination wheels. Last but not least, glittered light grey stone was the right choice for its color.
Does the bike have a nickname?
His name is "MOMOT."
How would you classify this bike?
It's a bobber.
Was there anything done during this build that you are particularly proud of?
This was really a fresh bike from the main dealer, just sent to the customer. Just several days after taking delivery, he brought it to our workshop. So we had to be careful how to handle it. But thank God everything went so well. And we're really proud that the customer feels satisfied with the result.
Follow Jowo Kustom on Instagram:  @JowoKustom