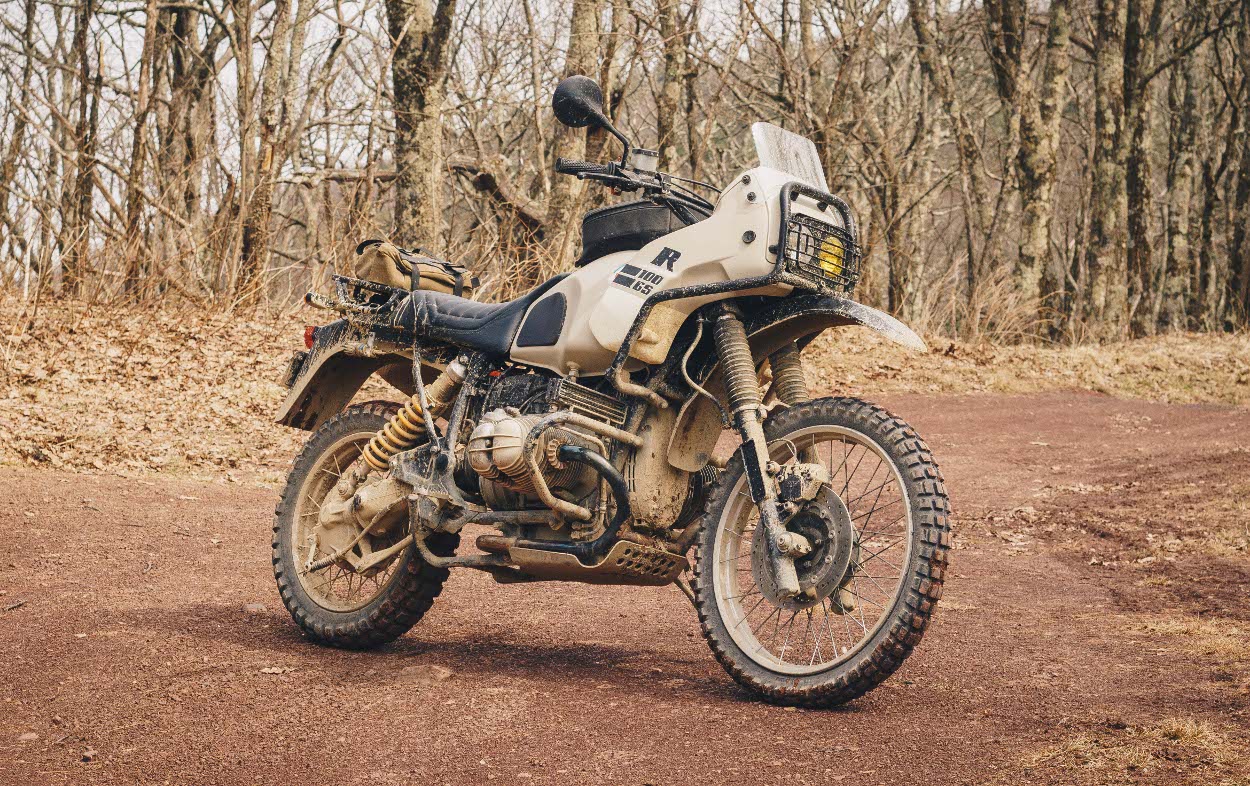 The BMW R100GS, introduced in 1987, was the next-generation evolution of the legendary BMW R80GS — the grandfather of all the adventure-touring bikes we know today.  The 980cc, 60-hp R100GS was not only more powerful than the original R80GS, but it boasted a variety of improvements, including beefier 40mm Marzocchi forks, a 17-inch rear wheel, spoked alloy rims with tubeless tires, and an oil-cooler mounted on the crash bars. Robert Smith of Motorcycling Classics remarked:
"I…understand the appeal of the big brute. On bad tarmac, it would waltz around a regular sportbike. Add great all-day comfort, simple low-tech maintenance and serious durability, and I can understand why, for many long-distance riders, the airhead GS 'bumble bee' is still a top choice."
Enter Matthew Hawthorne, the founder of Wheelborne — a motorcycle gear company out of Richmond, Virginia, offering handmade waxed canvas goods such as tank bags, saddlebags, and bottle bags. The company's mission statement is music to our ears:
"We build motorcycle gear designed to last a lifetime of punishing wind, rain, use, and abuse."
When Matt needed a bike that could endure the same abuse as his handmade moto gear, an airhead G/S was the ideal candidate. His intended use of the bike was clear:
"Mainly to crush some fire roads and have a bike that can do absolutely everything with little compromise."
While Matt says he considers himself more of a "fat trimmer" than "bike builder," he's wrought quite the transformation on this 1992 R100GS "Bumblebee," working out of his 12'x24′ shed to streamline and enhance the original bike.
We especially love the slim one-off windshield, modified subframe with early G/S rack, and even the paintwork, which Matt performed himself in his shed. Below, we get the full story on this "Dirt Turtle" or "Trail Snail" — a heavy-duty trailie that will still be crushing fire roads when the higher-strung enduros have had enough.
Custom BMW R100GS: Builder Interview
Please tell us a bit about yourself, your history with motorcycles, and your workshop.
I've never considered myself a "bike builder," but I guess more along the lines of a "fat trimmer." I enjoy subtly slimming the stock fat until you find something that looks as good as it works.
On the other spectrum, I started Wheelborne over four years ago with the same concept. Didn't really dig a lot of the bag options on the market and decided I wanted to design gear that was simple, functioned well, and had an aesthetic that didn't look out of place on older machines.
I've always had a soft spot for vintage airheads in particular — they're reliable, totally funky, and very satisfying to work on. Because so many parts throughout airhead lineage can be swapped it really enables someone to be able to get creative and build something without it looking out of place.
My workshop, um, is a shed. Kind of a big shed but definitely not a garage. It's enough space for me to work and I do at least have power out there, but hey, you can do a lot in an uninsulated 12'x24' space that leaks every time it rains.
What's the make, model, and year of the bike?
1992 BMW R100GS.
Why was this bike built?
Mainly to crush some fire roads and have a bike that can do absolutely everything with little compromise. It's also a good candidate to showcase some of the bags I make for Wheelborne.
What was the design concept and what influenced the build?
I really enjoy bikes that function as well as they look, like a lot of HPN's Paris Dakar Rally / enduro builds. Rolf Witthoeft's ISDT bike and a lot of the early 80's wild boxer endurance builds. Man, kinda niche, but the Airhead Dirtbike section of ADVRider really lit a fire, gobs of inspiration on that forum — there are guys on there building some incredible stuff.
What custom work was done to the bike?
The intention was to keep everything functional but slim the overall aesthetic of the bike.
My welder buddy helped modify the support arm of an R80ST subframe to fit around the Ohlins shock. I cut down the stock bench seat, reupholstered it, and mounted an early R80G/S rack so it still attaches/detaches easily to the earlier style subframe.
Lightly modified a set of CRF150 footpegs to fit.
Laser cut a smaller, slimmer windshield template and heat formed it to fit.
Adapted a battery box from an R65.
Bought a custom made exhaust Y-pipe connector.
Painted the bike in my shed (haha never do that again!) this winter.
Relocated front signals (to save from getting thrashed) with slimmer turn signals front/back.
Not custom but notable:
Does the bike have a nickname?
"Dirt Turtle" / "Trail Snail"
How would you classify this bike?
Kinda crosses a couple lines. Dual sport-touring wannabe dirt bike?
Was there anything done during this build that you are particularly proud of?
Pretty happy with how the paintwork and subframe adaptation worked out. Totally changed the look of the bike.
Follow the Builder
Web: www.wheelborne.com
Facebook: @WheelborneBagCo
Instagram: @wheelborne