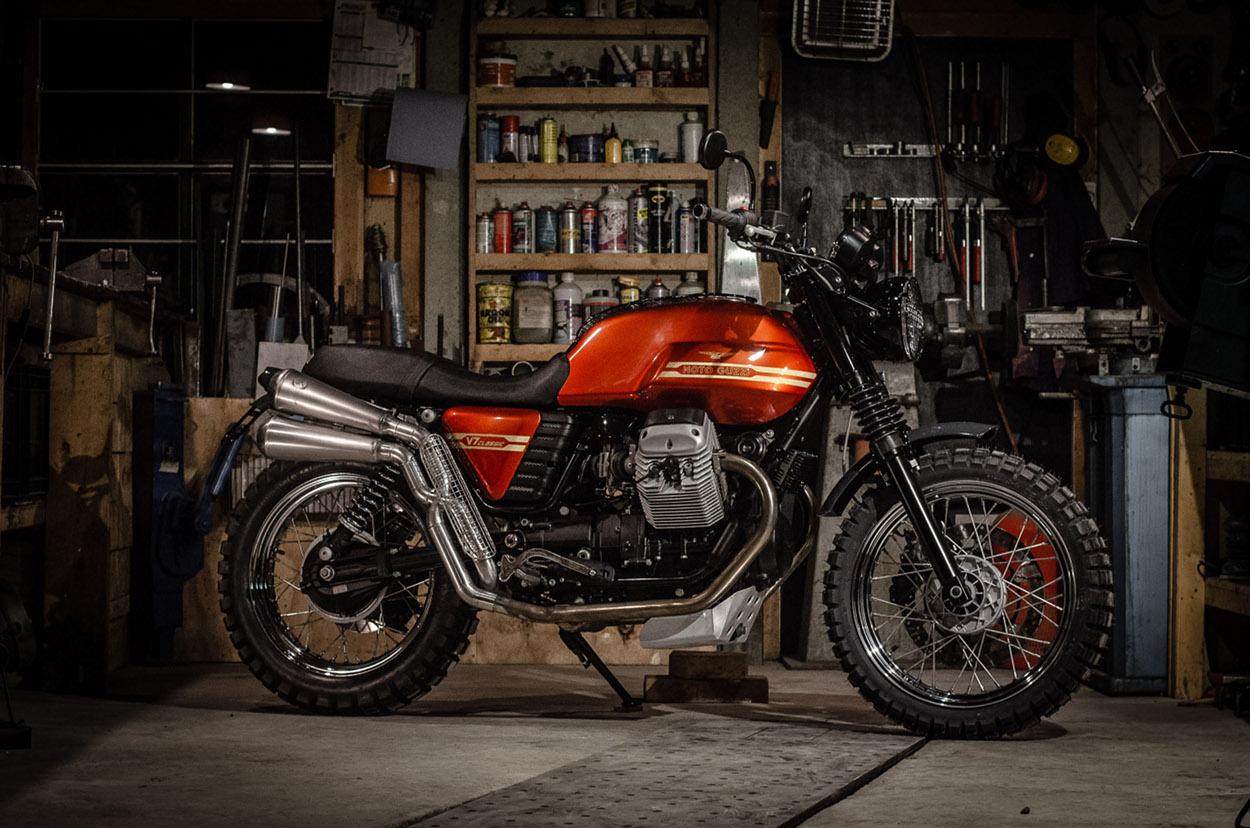 An Italian V-twin saved from the wrecking yard…
The Moto Guzzi V7 has long held a reputation for classic styling, mechanical simplicity, and Italian charisma. The retro roadster's air-cooled 750cc V-twin boasts a ton of old-fashioned character, if not outright horsepower, and the bike simply exudes class in every detail. In 2012, the V7 series received a redesigned engine with refined fuel injection and engine management, netting a 12% horsepower increase, but the bike didn't stray from its roots:
"The V7 continues to be primarily about style and simplicity, and in our opinion it hits a home run on both counts." —Motorcycle Daily
Enter Jesse Kersten of the Netherlands' JK Customworks, who grew up on a workbench, watching motorcycles being built on the garage floor. After studying metal technology and welding, he worked for many years in the metal industry before opening his shop, building motorcycles and special-made parts.  While some builders don't mind tearing apart a perfectly good bike, Jesse likes to take a different approach:
"I like to rebuild bikes that are actually ready to be demolished. This Guzzi has been in an accident and was heavily damaged in the back."
Jesse wanted to build a bike for touring.  Once he'd rebuilt the damaged sections of the bike, he fitted scrambler-style fenders, built a (gorgeous) custom exhaust, fabbed up an engine skid plate, and our favorite, a sidecase built from a pair of old military fuel cans! Below, we get the full story on the build.
Moto Guzzi V7 Scrambler: In the Builder's Words
From an early age I sat on the workbench watching what was created on the garage floor in terms of motorcycles. I started studying in metal technology and certified myself in welding technology. I have gained a lot of knowledge of the various methods of metalworking. Now I try to start my own business in creating motorcycles, and for most of the time, motorcycle parts special-made to customer specifications.
So I started this build, a Moto Guzzi v7 Classic from 2012, to show things that are possible to make. I like to rebuild bikes that are actually ready to be demolished. This Guzzi has been in an accident and was heavily damaged in the back. Other bikes that I have been rebuilding, for example, have been sitting outside for 15 years.
Because the back end of the bike was damaged, I rebuilt the back part of the frame. I wanted to build a bike I could travel with, so I fitted a scrambler-looking mudguard and built a custom exhaust system, as well as some protection parts on the headlight, fuel tank, and some engine parts. The most exciting part for me is the side case — I built it from two old military fuel cans to give it that special look.
The bike has no nickname — it's just a scrambler.
Follow the Builder
Web: www.jkcustomworks.nl
IG: www.instagram.com/jkcustomworks/
FB: www.facebook.com/JkCustomworks/