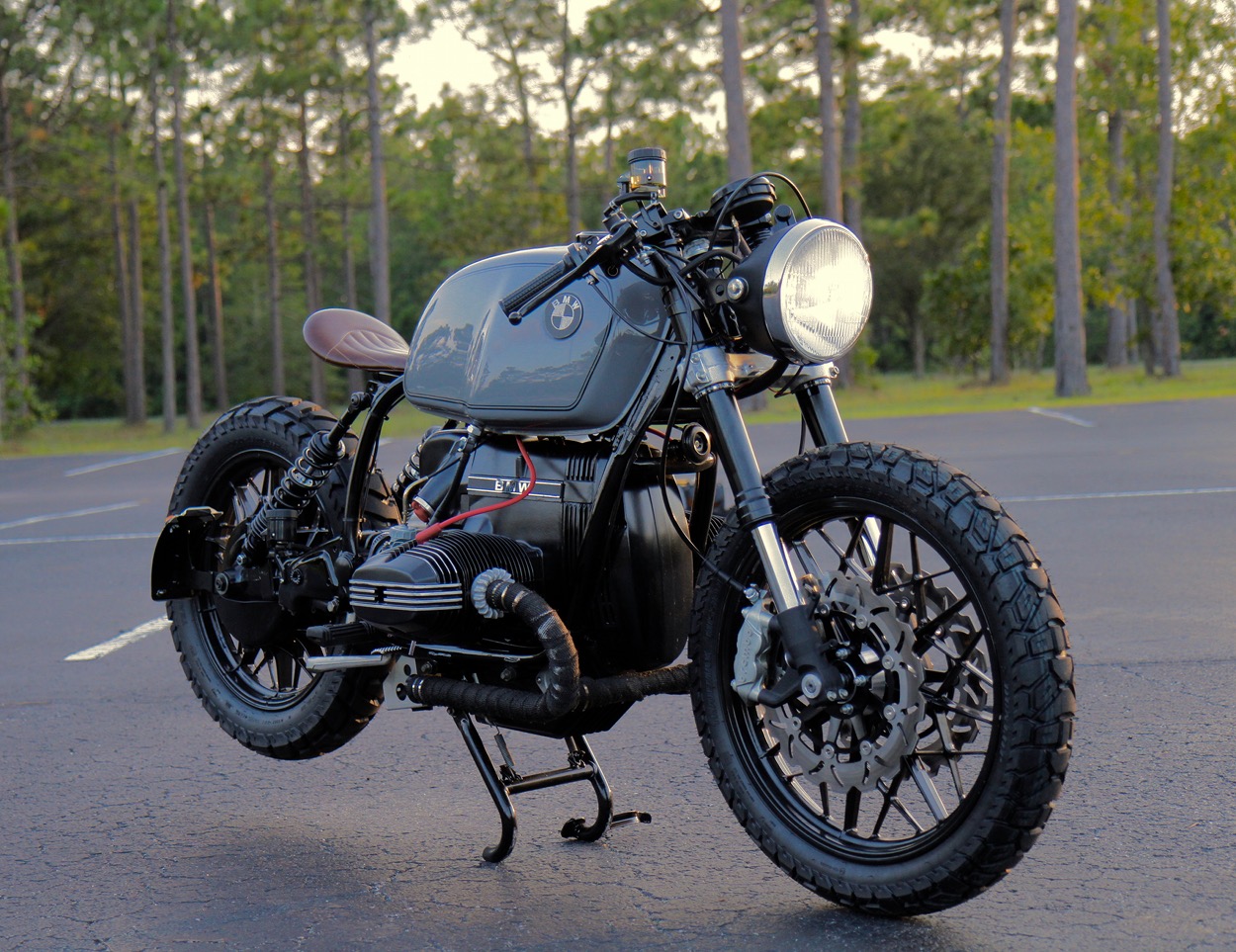 The BMW R100 was the last and most powerful of the beloved airheads, boasting a 980cc air-cooled boxer engine that made 70 horsepower at 7000 rpm. When BMW Motorrad tried to cease production in the mid-1980s, seeing the liquid-cooled K-series "Flying Bricks" as the future, they encountered such protest from dealers and enthusiasts that they reinstated the R100, which would remain in production for another decade!
While the R100 could eat up miles with class, speed, and comfort, it tipped the scales at 500+ lbs with fuel and oil — so it was not exactly a rocket ship. This was especially true in the latter days of the model:
"The engine's character had been changed, tuned more for torque than high-end power. Though the quarter-mile times were nearly identical to those of the 1977 model (Cycle World got 13.3 seconds at 98mph), and the power was more usable for most riders, the RS was clearly no longer a Superbike, and the model was finally dropped in 1993." —Motorcycle Classics
Enter our friend Ezio Covelli of Magnum Opus Customs, whose turbo Kawasaki KZ650 first caught out attention way back at the 2016 Handbuilt Show. What a surprise it was to realize that Ezio and his shop were located in our old hometown of Wilmington, NC, shipping bikes worldwide! Ezio's creations tend toward performance-oriented, genre-bending designs, and the BMW airhead remains a client favorite. Says Ezio:
"The main focus on many of our builds is to keep the "less is more" idea alive. This makes even more sense for this build, a cafe'd-out BMW bobber that went on a 100-lb diet."
For this "HS" (High Spec) edition, the performance potential of the R100 has been maximized with a high-compression engine rebuild, modern suspension, and high-performance dual-caliper brakes, bringing this air-cooled vintage machine into the 21st century in terms of safety, aesthetics, and performance.
Below, we get the full details on this BMW from Ezio himself.
BMW R100 Cafe / Bobber: Builder Interview
• What's the make, model, and year of the bike?
For this customization, a 1982 BMW R100 was chosen, being the highest displacement of all vintage airheads.
• Why was this bike built?
This is a client's commissioned build, born from his passion for boxer engines in both cars and motorcycles.
• What was the design concept and what influenced the build?
The main focus on many of our builds is to keep the "less is more" alive. This makes even more sense for this build, a cafe'd-out BMW bobber that went on a 100-lb diet.
• What custom work was done to the bike?
Being that this is the "HS" version (High Spec) of our bobbers, there's a ton of tasteful upgrades.
From a rebuilt high compression engine, to upgraded fuel delivery through Mikuni carburetors, latest generation GSXR front end paired with Brembo brakes, Beringer hand controls, custom GPS speedometer, electronic ignition, custom subframe, seat pan, foam and seat stitching along with all electrical components upgraded. The work of the charging system has also been lowered by using LED lighting all around.
• Does the bike have a nickname?
This is owner territory 🙂
• Can you tell us what it's like to ride this bike?
Despite the look at standstill, this bike is very comfortable to ride. The front and rear suspension, which are now fully adjustable, make it very easy to find the right position. You can drop the rear or stiffen it up as you like, which changes the geometry of the riding position, making it more comfortable or sporty depending on your riding style.
• Was there anything done during this build that you are particularly proud of?
The engine is really what makes this bike great. It's now strong and reactive with an amazing pull throughout the rpms. The high compression rebuild makes the standard lazy R100 look bad on paper and on the streets.
The bite of the double Brembo calipers in the front brings this package up to today's standards in terms of performance and safety.
Follow the Builder
Web: www.magnumopuscustoms.com
Facebook: facebook.com/MagnumOpusCustomBikes
Instagram: instagram.com/magnumopuscustoms/