We're following up our list of the Top 10 Custom Motorcycles of 2021 with the most popular café racers we featured this year based on traffic and social engagement. Some of these were darlings of social media, accruing thousands of likes on Facebook and Instagram, while others had "long legs," continuing to garner search traffic month after month. Some stretch the "café racer" label, while others utilize heavier weight platforms like the Honda CBX1000 or BMW K100 "Flying Brick." Without further ado, here are our Top 10 Cafe Racers of 2021, presented in alphabetical order by builder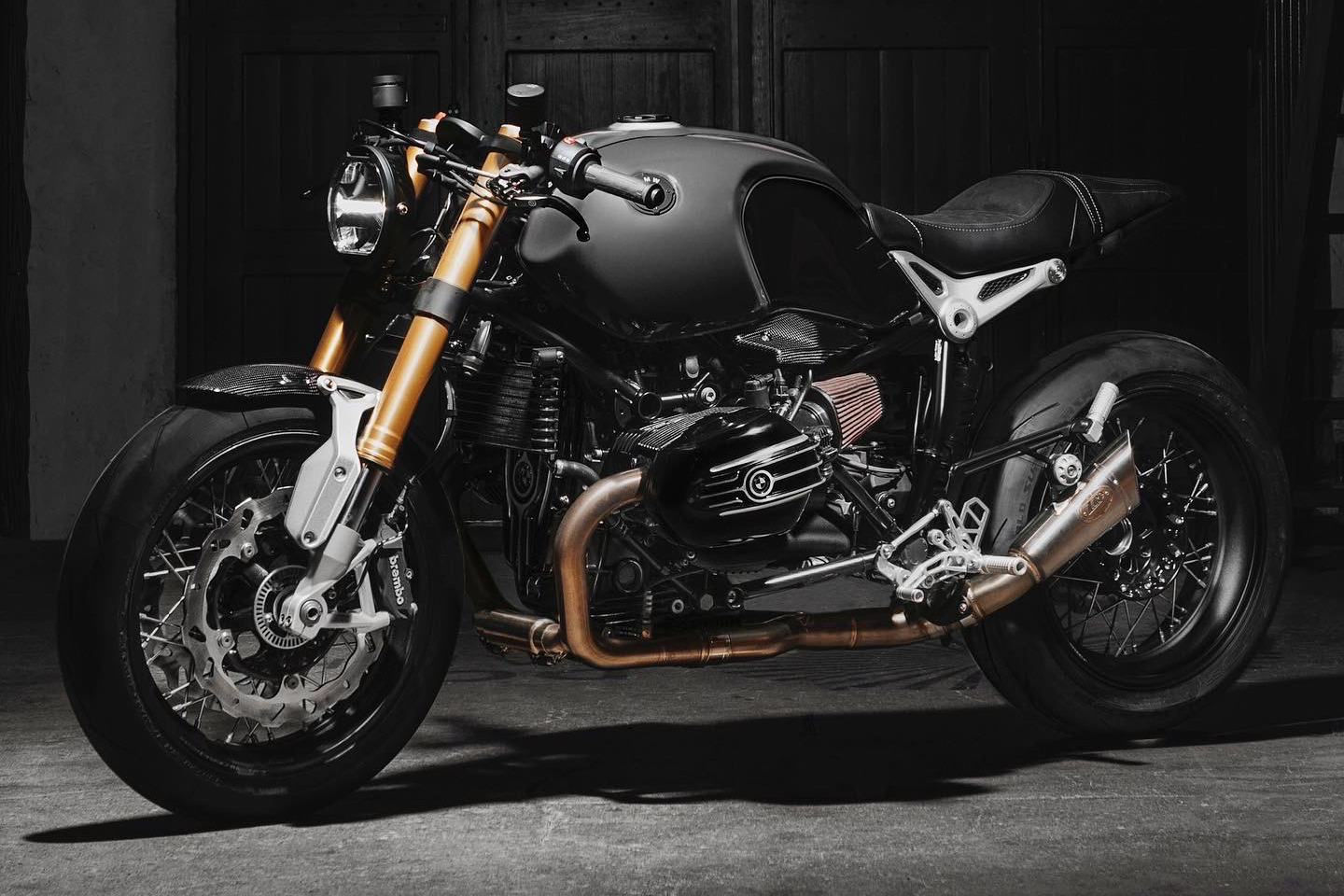 The BMW R nineT is an 1170cc air/oiled-cooled "oilhead" roadster with retro styling, developed as a "blank canvas for customizing." The design has opened the door for artisan builders like France's Le Motographe to develop a range of parts for these machines. Jerome and Yvan, who've made a huge splash in the customs world with their WR450 Skeleton and LMTG 450 Rally builds, have been using their custom builds as test beds for designing, prototyping, and testing components. In 2021, they unveiled their R nineT range of parts developed from the build you see here, their "7075 Koffee" — a 2020 R nineT built with lots of high-quality, aerospace-grade aluminum components: "These parts, like all the others designed for this project, were machined from very high quality aluminum (7075 and/or 6082-T6), frequently used in the aeronautical field." Highlights include the fork trees, which allow the installation of a Motoscope Pro digital speedo and include half handlebars integrated directly into the top yoke — tres trick! — as well as a fully adjustable headlight bracket. They also redesigned the passenger pegs, foot pegs, tank cap, and installed a new subframe and rear loop: "This rear loop now incorporates LED brake lights and turn signals, giving the machine a completely new lighting signature for a sleek and elegant overall result."
Like most builders, Dimitri Deryck of France's Lys Motorcycles is usually building bikes on commission, which means he's constrained by the budget, desires, and requirements of a client…so it was liberating to build a bike just for himself, with no one to answer to but the vision he had in mind: "This is a personal build. I built it to take to different events, but due to the pandemic, this bike as never been featured in a show." The donor is a 1982 Honda CBX-C, but little of the original CBX is left. It's now running Ohlins forks from an Aprilia, a Ducati 1098 swinarm, laser-cut bespoke rearsets, a homemade tail section, a modified tank and much more. are covered in carbon fiber. Dimitri's friend "Didoo" laid down the gold leaf striping with two layers of clear on top. Though the engine is mainly stock, it's now running FCR33 racing carbs and a custom 6-into-1 exhaust from Irnox Motors. Overall, this is one truly stunning CBX. We hope Dimitri gets to take it to the shows it deserves in 2022!
Dimitri Deryck of France's Lys Motorcycles built his '81 Yamaha TR1 cafe racer for a client who gave him three primary requirements: "The customer request was: USD gold forks, no three-spoke wheels, and a sporty look." Besides that, Dimitri was given creative freedom, and he says he built the bike as if it were for himself. It's now running Ninja ZX-6R forks, Kawasaki ER6 wheels, upgraded brakes, a full suite of Motogadget electronics, and much more. Dimitri says the modifications translate to a lighter, faster, more agile bike on the road: "The bike is a lot lighter. The TR1 is not a powerful bike (68hp), but with lighter wheels, nice suspension, and big brakes, it's very fun to ride. And then there's the sound…"
Sydney's MotoRRetro is a truly multifaceted workshop, specializing in repair/restoration/restomods of classic cars, manufacturing cast-iron wheeling machines, reverse engineering and prototyping discontinued parts, and teaching students the ins and outs of fabrication and restoration. The bike you see here is a 1978 Honda CBX imported from the US — "a big heavy 70's muscle bike in need of a diet and restyling" — but headman Vaughan says the seed of this project goes back to a Hailwood replica he built years and years ago. Vaughan says the donor had 9000 original miles, and he rode it around for six months before sinking in his teeth. Vaughan says the biggest challenge was retrofitting so many modern Ducati parts to a 40-year-old Honda — enough that this CBX has become something of a Japanese-Italian hybrid: "I suppose it's a Duconda or a CBX 1098R. Problem solving and the creativity of how to go about it is the greatest problem with any build." All in all, MotoRRetro dropped nearly 50 kg (110 pounds!) from the bike.
Founder David Widmann and Workshop Manager Mario Weiser-Kolland of Austria's NCT Motorcycles have been quietly building some of the most stunning custom motorcycles in Europe and beyond. David, who's been passionate about bikes since he was four years old, has one of the best eyes for aesthetics in the business, while Mario's technical knowledge is world-class. Says David of their builds: "With our motorbikes it's like: No one needs them, but everyone wants them." We were thrilled to see the Austrian duo tackle one of the most iconic vintage motorcycles in the customs scene, the CB750. Specifically, they started with a 1978 CB750F, the last of the SOHC machines. Their intent was to create a sporty café racer to a very high level of execution. The result is the "Green Arrow," an absolutely stunning specimen featuring Showa forks, handmade exhaust, Motogadget m-unit electrical system with keyless ignition and alarm, and much more.
Produced from 1982-92, the "Flying Brick" is a favorite donor of Gustavo Lourenço, who runs Brazil's Retrorides by Lourenço — a family workshop that's been in business for more than 30 years, building award-winning cars and motorcycles. A friend came into the shop with a new challenge for the team: "He told us how he missed riding a motorcycle, because with his disability, he could ride only a scooter (he can't move his left foot). So he asked us if we could make that dream come true." Gustavo, who works with his father, José, and brother, Rodrigo, jumped at the chance to realize the customer's dream. Their donor motorcycle, an '84 K100RS, would have to be transformed from a traditional 5-speed sequential manual transmission into an automatic — easier said than done. But after four long months of development, they had a scratch-built transmission ready to install, which performed much better than anyone even hoped. But the very best part was still to come — the customer's first ride: "The bike was very easy to ride and he came back crying, and made everyone in the workshop cry too. It was really exciting and I will never forget that moment. It made us proud because we helped him and could make his dream come true."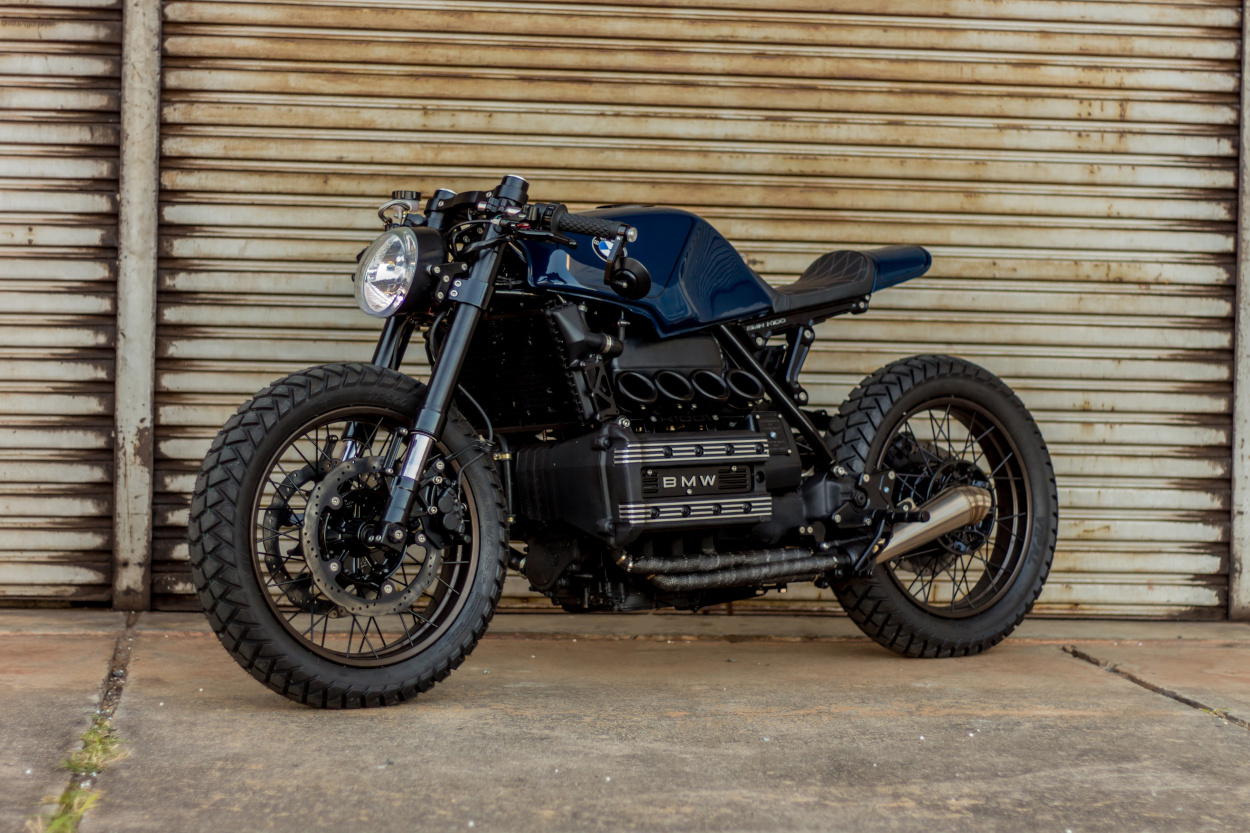 Gustavo Lourenço of Brazil's Retro Rides by Lourenço decided to create his own K100, using an '86 model as his donor and Formula One cars as his inspiration — more specifically, the F1 cars of three-time World Champion Nelson Piquet: "I've always been fascinated by the suspension of Formula One cars, and the shock absorber installed horizontally inspired me a lot. After months of development and testing we got the final design made entirely of machined aluminum." The suspension, triple trees, levers, tail, mirrors, and rearsets were all fabricated from machined aluminum. The result is a lightweight K100 cafe racer that has taken home trophies from the Brazil's most prestigious bike shows and inspired tons of questions: "This bike was so successful that after so many questions we had to create The Cafe Racer Bible to teach people how to create their own bikes on their own…" Gustavo says the pandemic has only increased the number of photos that people send him of the bikes they've built in their own garages: "With this pandemic period, many people trapped at home decided to occupy their heads with their projects. Parents decided to start projects together with their children to create more connection, which makes me proud."
This is Dave Solomon's 18th build under the Butchered Classics name, and it's the one most closely tied to a mighty Zed turbo he'd drooled over as a middle-schooler: "Number eighteen is not a rush build, nor is it a cheap build! It's been created in the mind of a twelve-year-old boy with no money back in the day…. This bike had no such limitations — in fact, I've been planning this build for over three decades!" Highlights include an aluminum Z1R tank and tail, polished Suzuki TL1000R swingarm, Aprilia Shiver wheels, Öhlins USD forks, Z1000 engine with forged pistons and turbo cams, a one-off turbo system from "King of Boost" Dave Dunlop of Fast By Me Turbo Systems — and more! While it's more of a restomod than a traditional cafe racer, this British-built turbo Zed surely captures the go-fast spirit of the form.
"I was disappointed with the power of the standard CBX." These were the words of one Colin Baker of Cheltenham, UK, when asked why he built his Honda CBX turbo in the 1980s — the original iteration of the Honda CBX turbo you see here. Colin's CBX turbo made quite an impression on young bikers in the 1990s UK — especially when it arrived in a small booklet of "Britain's Most Outrageous Motorcycles," packaged with Performance Bike magazine. Colin Sycamore, the current owner, bought the bike back in 1988, emptying his entire bank account to do so. Colin has now owned the bike for more than 30 years, in which time he's done a number of upgrades: JMC swingarm, Works rear shocks, shortened seat, and Cosworth pistons. He says the CBX turbo is still an exhilarating ride. "This draw-through turbo setup is prehistoric. It takes a sophisticated and refined CBX and turns it into an antisocial monster that sounds like a droning Doodlebug when on part throttle and gives out a blood curdling scream when on full chat." Probably our favorite moment in our interview was near the end, when we asked Colin what he's most proud of: "Not killing myself."
Pepo Rosell of Spain's XTR Pepo remains one of the most well-respected builders in the business, a man who's developed a signature style of street-legal endurance racers quite unlike anything else we see in the customs world. He's a man with a deep knowledge and enthusiasm for racing history, which finds its way into each one of his creations. The bike you see here is a 2019 Royal Enfield Continental GT 650 owned by a mate of his, who had a crash on the original machine: "My mate, who likes very much all the 'diabolic' and dark side of the life, gave me the name Lilith for the bike. Also he is a tattoo artist and the skull you see is one of his design that is tattooed in his body!" In addition to an XTR-designed solo/dual seat, "Lilith" is outfitted with XTR LED lights/fairings/windshield/fiberglass tank, YSS adjustable rear shocks, K Speed footpegs, CNC Riga chain tensioner and lightened upper yoke, Domino quick-turn throttle, and much more.