Here at BikeBound, it's no secret that we're big fans of scramblers, desert sleds, rally bikes, and enduro machines. So are you, our readers, as several of the machines that made our list of the Top 10 Custom Motorcycles of 2021 were running knobby tires, enduro-style bars, and high-mount exhausts. We decided to follow up with a list of the most popular scramblers, dirt bikes, and desert sleds we featured this year, based on traffic and social shares. Without further ado, here are the BikeBound Top 10 Scramblers and Desert Sleds of 2021, presented in alphabetical order by builder.
There are builders who model everything in 3D before they ever loosen a single bolt. They have the entire project conceptualized, the materials sourced, the files ready for CAD or 3D-printing. Then there are those builders like our new friend John Aaman of northern Sweden who trudge out to the shop, flick on the lights, set their hands on their hips, and have a hard look at what they have lying around the place: "I had a set of lawnmower wheels and a spare 125cc engine and thought: what can I build out of these?" John has a long history with garage-engineered machines, building his first chainsaw-powered minibike at 13. Now he's documenting his builds on Youtube (channel: John Makes), including this turbocharged fat-tire pitbike. John opted for a draw-through setup using a 30mm Powerjet carb mounted directly on a Garrett GT15 turbocharger, peaking at 0.5 bar (7.25 psi) of boost. He's running a 2.5" exhaust with no muffler. The bike performs great on the snow — a big advantage for a resident of northern Sweden!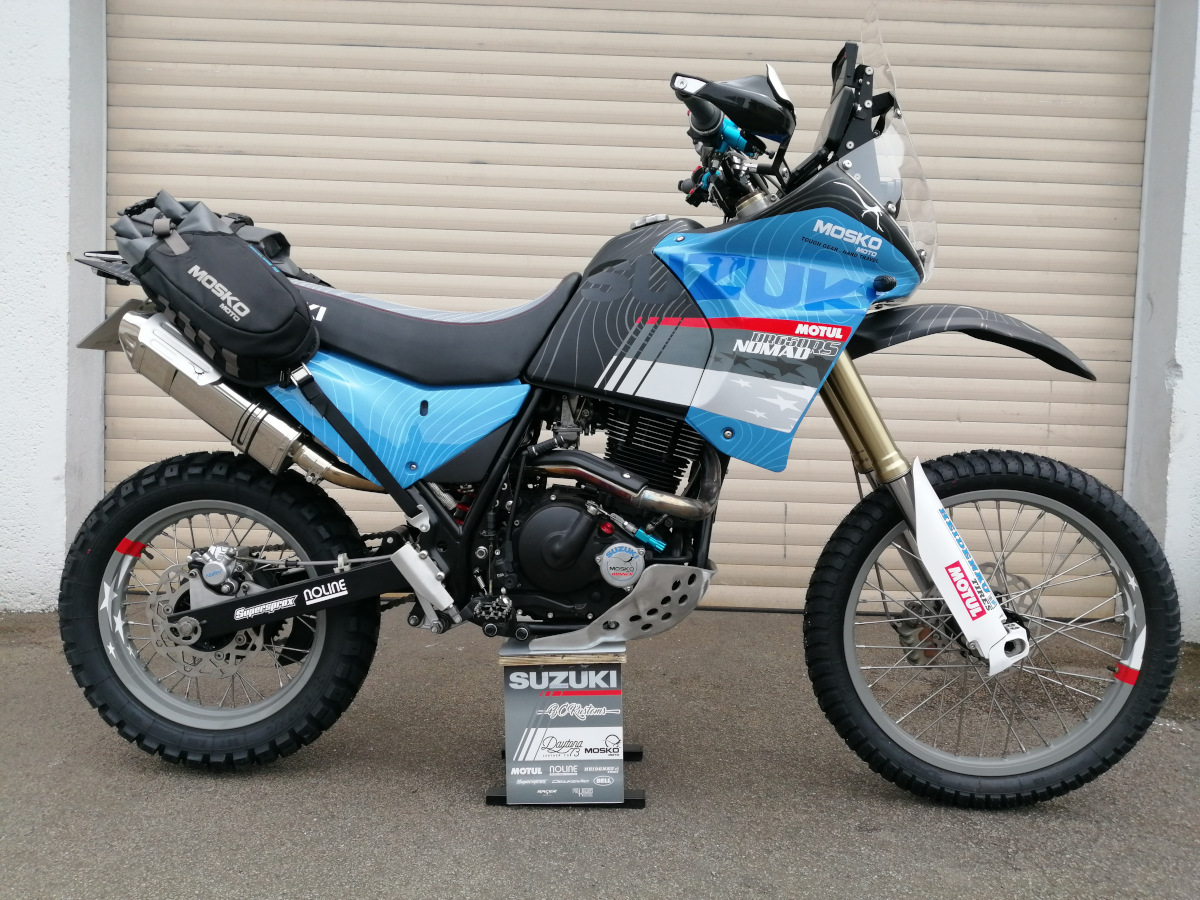 One of favorite builders on the far side of the pond is Yann Le Douche of Breizh Coast Kustoms, aka BCKustoms. Yann has quite the pedigree for a bike-builder, including stints as a race mechanic for Ducati France, a team coordinator in World Superbike, and a MotoGP journalist before he caught the flat track bug on a trip to the USA. For this build, Yann decided to start with a Suzuki DR650. He says the choice was easy, as he'd worked with Suzuki during his career in the World Superbike Championship (2002-2009): "This bike is kind of a tribute to all those engineers working so hard around the Ryuyo facilities back in the day. I still have much respect for that period…" Since the DR650 is no longer available in Europe due to emissions regulations, Yann wondered what a 2021 Suzuki DR rally edition would look like, so he decided to build one himself. The result is the BCKustoms DR650RS "Nomad" you see here!
At the end of 2020, we featured a Kawasaki W650 desert sled from Rick Hannah of London's Dirty Dick's Motos, a semi-pro shed builder who said he got paid more often in beer than pounds sterling. But the design and execution of his W650 was the work of a true professional, and we knew that Rick had a bright future in the world of two wheels…and we could hardly wait for his next build. As Rick himself says, it would be easy to build the same bike just in a different color, but that would never leave him satisfied: "The harder path is always going to be to take what you've built, keep what works the best, and try improve what you've already done. This has always been my way of doing things – cars, bikes, houses, you name it, everything can be Better, Faster, More! The Japanese call it Kaizen, The Art of Continuous Improvement, and with this in mind I set about building the next Sled." The result is the "Plush Sled," which embodies the Kaizen spirit in full, featuring a host of incremental, thoughtful improvements that add up into a truly stunning machine.
One builder who knows big-bore Honda thumpers inside and out is Matteo Gualandi of Italy's GPgarage Moto. Not only does Matteo, a former motocross racer himself, run a pair of Honda CRFs in the Italian Rally Championship, but he has a great respect and love for the brand's vintage machines, having built an '82 Honda XL500R, '86 XL600LM, and '95 XR628R Johnny Campbell replica we've featured. This 1994 Honda XR600R "Golden Years Edition" was built with a limited-edition kit from one of his suppliers, Italy's Extreme Riders, consisting of an alloy tank, seat cover, and set of plastics meant to resemble the iconic flash red, blue, and gold 1985-86 XR600R: "I thought I'd build a bike as if it were a factory HRC of the time." The result is one of the sexiest, most nostalgic Honda thumpers we've ever seen — an XR600R that looks straight out of the 1980s, ready to blast across Baja ahead of the trophy trucks and buggies.
The founders of France's Le Motographe, Jérôme Mawois and Yvan Bertona, may have backgrounds as a product designer and metallurgist, respectively, but the pair of them have been passionate about all kinds of motorcycles — particularly off-road bikes — since their boyhood days. This project came about shortly in the wake of Wheels & Waves 2019, when a customer approached them with a dream: a true, race-capable rally bike based on their WR450F Skeleton. They worked with French rally specialist Drag'on Distribution to outfit the bike to true race-spec, including a full electronics suite and navigation tower. The bike is now running custom Öhlins suspension, Schott steering damper, large-capacity radiators, full titanium exhaust, and of course Le Motographe's signature tubular trellis "skeleton." The resulting bike weighs 300 pounds, has 60 horsepower, and proved itself to seven-time Dakar Rally rider Michaël Metge: "The bike had very balanced handling, offering both the stability of a rally bike and the agility of a cross-country bike, all with an outstanding design and rally-specific parts. Michaël was thrilled, our customer was thrilled, and so were we!"
Fran Manen of Lord Drake Kustoms (LDK), who has workshops in both Miami and Spain, obtained a 2001 XT600E (electric start model) that had lived a hard life at a riding school. He was very clear about what he wanted: "a scrambler with knobby tires, all black except the gas tank and inverted fork in silver." The team at the Spanish LDK shop tore down the bike completely, modified the subframe, added a set of inverted forks, a 19-inch front wheel, and a Honda tank modified to preserve access to the oil-filler cap in the top tube of the frame. The color is a tribute to the Land Rovers of the Spanish military!
Juan Taurel, shop boss at LBC Motorcycles of Buenos Aires, Argentina, has made a name for himself building lightweight scramblers and street trackers. Some of them have their own LBC style, such as the Beta 200 "Mad Scrambler" we featured, while others are more retro-inspired machines that recall the glory days of 1960s scrambles and motocross. This XYZ125 "Retro Scrambler" was built for a customer who wanted a lightweight scrambler for weekends spent in the dirt, on the backroads, and in the town center of Bragado, located in the interior of the province. Says Juan: "The idea of this project was to make a tribute to a 1976 Yamaha YZ125. Although the donor bike is a four-stroke, we took some distinctive elements of the '76 YZ such as the paint design, the shape of the side panels, and an approximation of the shape of the chassis. But like I said, it's a tribute, not a replica." The result is a nostalgic scrambler that's both street-legal and tons of fun in the dirt.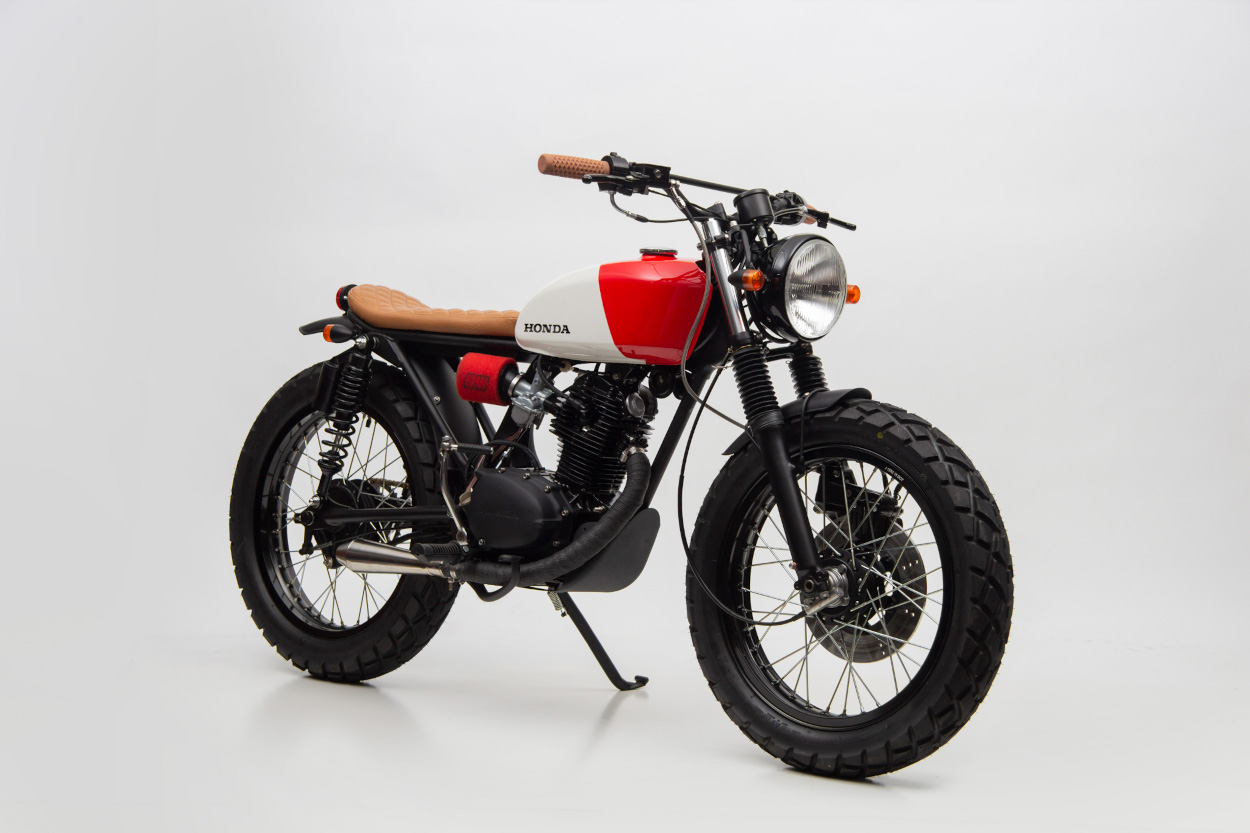 Natalia Ikemiya is a California native who's been interested in motorcycles since her childhood, when she used to hop aboard a non-running minibike her dad had in the backyard and pretend to ride. As soon as she was out of school and got her first job, she bought a new Honda CRF150 dirt bike. Several years later, her husband brought up the idea of getting her one of the new Honda Monkeys for her birthday: "As much as I liked the idea of a brand new, fuel-injected, electric-start bike with ABS, I loved the idea of building up an older bike and working with a builder to make it something unique." Fortunately, Natalia stumbled across the work of our friend James Fawcett of Missouri's Slipstream Creations. It proved a great match despite the physical distance, and soon the design process was in full swing. They decided on a city scrambler, a lightweight vintage bike with modern touches that Natalia could use to ride locally and also take on an off-road venture from time to time. Today, this Missouri-built machine making smiles all the way out in LA: "It definitely gets a lot of looks and attention when I park it, people love asking about it and I notice they usually have a big smile when they see it."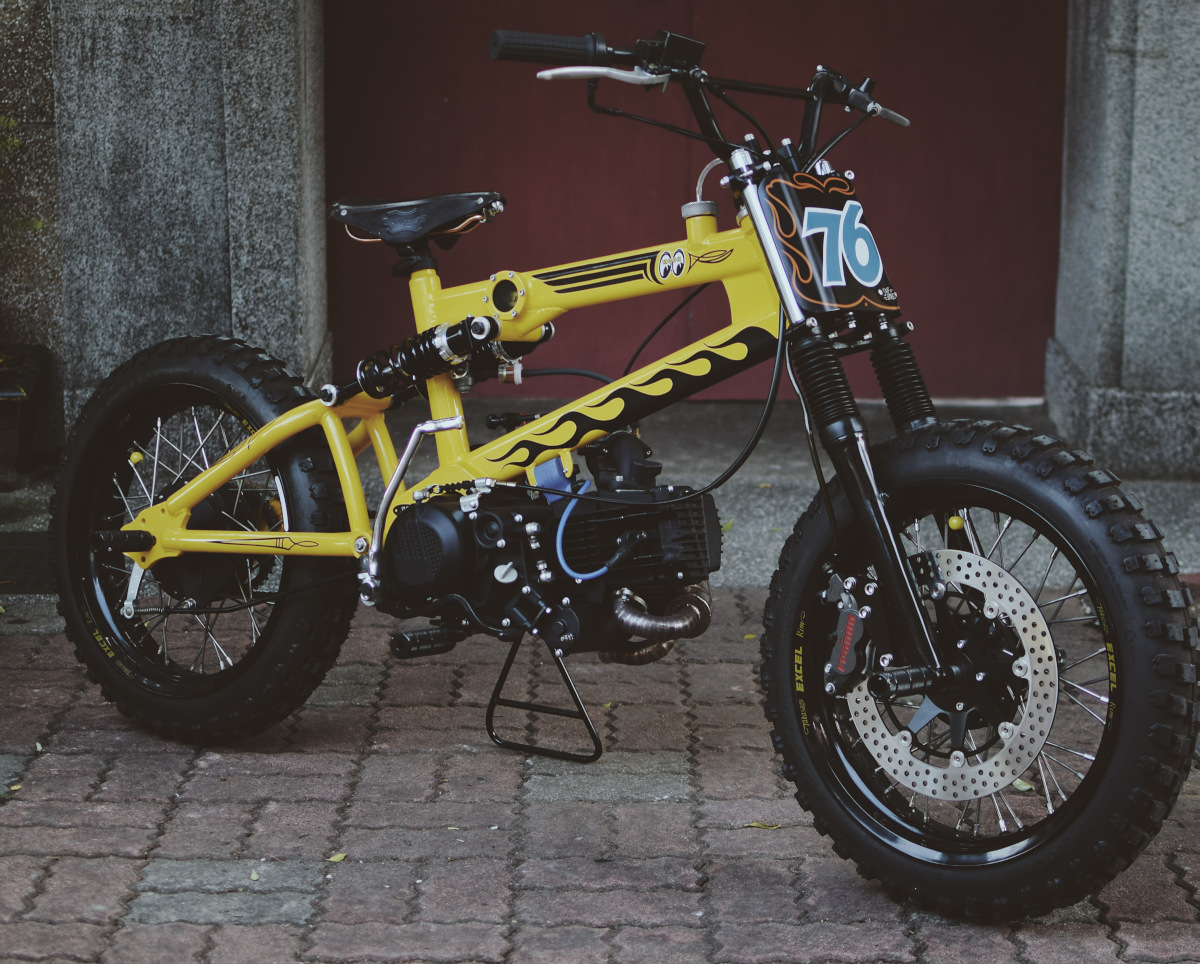 With Taiwan's largest dirt race/event on the horizon, Reckless Race, the crew from Tainan's S.M.F. (Vince, Sam, and Temu) wanted to collaborate with Mooneyes Taiwan on a purpose-built custom racer, and the idea of a petrol-powered BMX took hold: "The main inspiration of the build was to pay tribute to where motorcycles originally came from, but at the same time create something new, the combination of a bike and an engine." Instead of simply rigging an engine to an existing bicycle, the S.M.F. crew opted to build the frame completely from scratch, which not only made for a cleaner fitment, but allowed other opportunities: "Funny how, if we put a gas tank on it, it wouldn't look like a BMX. To solve that problem, we made the upper frame hollow, and let it be the tank. There's a small custom-made window on the side, which serves as the fuel gauge." The wheels, brakes, and suspension are all heavy-duty components to handle the power, and master pinstriper JB (@jb_signpainting_pinstriping) added his touch. The power-to-weight ratio is borderline insane, as the finished bike weighs less than 150 pounds wet!
Dustin Carlson of Utah's tecGNAR specializes in painting road and mountain bikes. Recently, he got interested in motorcycles and painting moto tanks, fenders, and more. So he bought an '06 Suzuki DR650 dual-sport — his first motorcycle — and got to work. Though Dustin is new to the moto world, his workshop in Price, Utah is outfitted with all of the tools necessary for such a build. He can paint, cerakote, and powder-coat in-house. He cut 18 inches out of the stock subframe, welded in a hoop, fabricated an under-seat electrical box, upgraded the carb to a Mikuni 42-6 pumper, and more. Then there's the paint: "Most of my work in the pedal bike world is pretty wild. Lots of color and design cues from the 80's and 90's. I love candy paint jobs and fades so I went with both! The palm trees were added to scream 80's Miami sunset fade!"