If there's one style of custom motorcycle we're glad to see more of in recent years, it's the restomod. Generally, restomods are considered to be vintage bikes that remain relatively true to their original aesthetics and silhouette, but have been brought into the 21st century with upgraded suspension, brakes, wheels, tires, and engine management / performance.
A few years ago, we mainly saw this kind of customization applied to vintage superbikes, such as the builds of AC Sanctuary and dB Customs, but we're happy to see more builders giving the same treatment to vintage dirt bikes, dual sports, and roadsters. Here is our list of the Top 10 Restomods we featured in 2021, based on traffic and engagement, listed in alphabetical order by builder.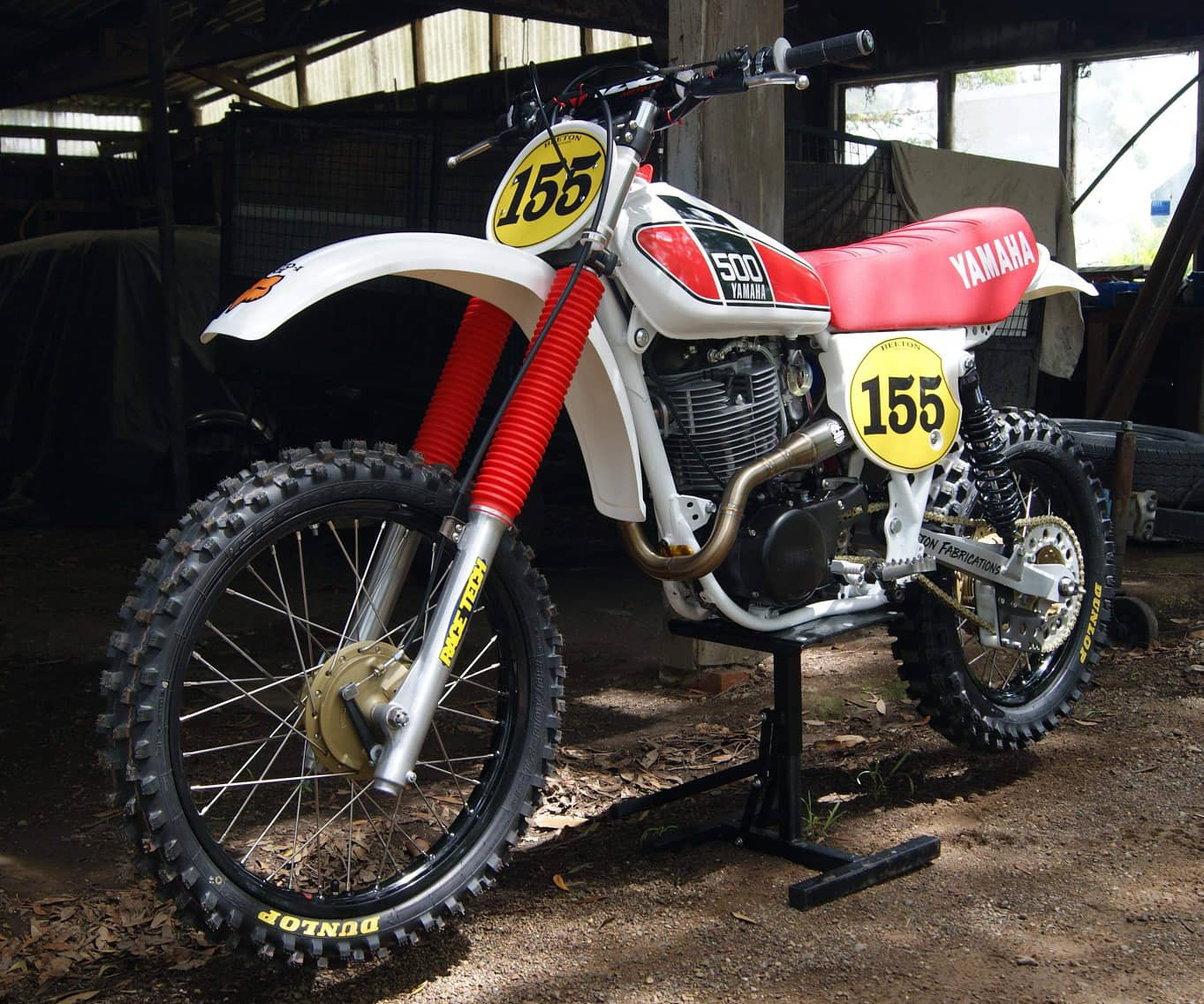 Luke Beeton of Beeton Fabrications is an Australian welder/fabricator whose personal history with Yamaha's big singles runs deep: "My old man owned five XT500's in his time, which he rode around Australia on, and numerous TT600's, which I actually used to get doubled on to get to primary school when I was about 5 or 6 years old." He found the '76 TT500 you see here languishing behind a family friend's house, resting against a fence with a tarp over it and the weeds growing up through it. Luke, who works out of his home shop but hopes to move into a dedicated workshop soon, decided to bring the TT back to life, creating an HL-inspired restomod for racing vintage motocross. The bike and motor were completely torn down, a hole in the RH case fixed, the barrel re-bored and vapour-blasted, and a slight port and polish done on the head. He fabricated a gorgeous HL-style exhaust and aluminum airbox, detabbed and powder-coated the frame, and cut apart, fixed, and TIG-welded the original tank back together. The bike is running forks from a two-stroke Yamaha IT and a Suzuki PE swingarm. Dubbed "Tina Turner," this TT one of the most gorgeous VMX bikes we've seen, a four-stroke vintage motocrosser that goes as good as it looks: "The motor is the stand-out of the bike with more torque than a draught horse down low and pulls the whole way through the rev range with the awesome note of the big single."
There are builders who are always jumping from one two-wheeled platform to another, never seeming to modify the same type of bike twice. Then there are those who've developed an affinity for a certain model and work on them almost to exclusion, determined to get the most they can out of the original design, re-engineering weak points and improving performance to new heights. Judd Blunk of Blunk's Garage is the latter type of builder, and his chosen platform is the BMW GS. Judd has ridden all over the continent, putting these air-cooled adventure machines to the test, and his latest build, a 1993 BMW R100GS nicknamed "Beast," incorporates everything he's learned: "I think I've found the best combination of old airhead reliability, modern electrics, and suspension." One of the main disadvantages of the GS is its heft, weighing in at 460+ pounds…dry! Judd has not only managed to trim this desert-going Airhead down to a trim 375 pounds, but it has modern suspension, electronics, and redundancies for the "paranoid adventurer" far from home. It's an Airhead that doesn't just look the part, but is ready to do battle with the elements — just as the motorcycle gods intended.
Luis Martins of Lisbon's Cafeina Motorcycles has been in love with motorcycles ever since he was a kid. He started as a workshop apprentice and worked his way up the ladder, coming to own a Suzuki dealership / workshop and race professionally in several different series and disciplines — supermoto, enduro, and road racing, bringing home a title in a Stock 1000 superbike series. In 2015, it was time for a change of pace, and he started Cafeina Motorcycles to build custom motorcycles, which have been displayed in some of our favorite events and shows, including Bike Shed London and Wheels and Waves. His workshop's 1978 Honda CB750 Four K8 "Hanashi" (History) is a resto-modded roadster that manages to retain the vintage charisma of the original superbike while bringing the performance and aesthetics into the 21st century.
Introduced in 1981, Kawasaki GPz1100 has been called the last king of the air-cooled superbikes, a fuel-injected 1089cc hot rod that ruled the street and strip until the rise of the liquid-cooled, aluminum-framed sportbikes. Said MCN in a recent retrospective of the machine: "The final GPz1100A was, and remains, some kind of ultimate. It was top dog at the end of the era of air-cooled superbikes." Enter Darren Begg of Canada's dB Customs — a man who's earned his reputation building some of the baddest, most well-executed superbikes on the planet, most of them air/oil-cooled monsters like the Honda CBX1000 restomod that made our list of the Top 10 Customs of 2021. Darren built this '83 GPz1100 (ZX1100-A1) in true restomod fashion, bringing it into the modern age with Öhlins suspension, OZ Racing forged aluminum wheels, Brembo brakes, and a GSX-R600 swingarm conversion. Then there's the engine: 1170cc forged pistons, .410 lift cams, a welded crank, 35mm Keihin FCR carbs, and a 4-into-1 hand-bent titanium exhaust from Bito R&D. The engine has been Cerakoted and the paint sprayed by Sketchs Ink — no vinyl!
Nguyen Dinh Trung (@doti.ndt) of Vietnam's DOTi Motorcycle is quickly becoming the SR / restomod king of Southeast Asia. Nguyen's story is one of hard work and bootstrapping his way up the industry ladder. He grew up in a small town in Vietnam and began researching motorcycle customization all the way back in middle school. When he started his university studies, he had just $100 to his name but soon got into the business of making and selling motorcycle accessories. After graduating at the end of 2020, he opened his own garage, DOTi Motorcycle, with the help of his family. The SR400 you see here is a high-spec roadster that retains the general silhouette of the original, yet little of the OEM machine remains. The bike showcases an arsenal of trick accessories, and Nguyen says it's one of the greatest rewards has been the friendships he's made across languages and borders: "I've created an SR400 that many people have appreciated and enjoyed — friends from Thailand, Japan, and many other countries love this design." If you like this machine, also check out Nguyen's green Yamaha SR400 and white SR400 motard.
Marcus Drake (@Drakes_Speed) of Nelson, New Zealand, says he's been taking things apart and not putting them back together since he was knee-high to a gnat. He picked up this 1973 CT3 as a "farm wreck" — the New Zealand version of a "barn find" — and the old two-stroke was in poor shape: "It ran but had enough piston slap its makers back in Japan could probably hear." Marcus says his intention was just to do a top end on the bike, but then, in one of the age-old stories of motorcycling, he got carried away chasing more horsepower. He sent the barrel 7000 miles to Rich's Taylor'd Porting of Leeds, Utah, for port work, and decided to feed the engine through a modified Mikuni VM34 carburetor and Yamaha Banshee VForce reeds. Meanwhile, the local legends at New Zealand's Cycleworks fabricated the one-off expansion chamber, and the bike's running a Vape electronic ignition. Marcus says the result is the perfect street hooligan machine, offering a wide powerband: "It now lofts the front 1st-3rd without hesitation."
Ralf Kraemer is a Kawasaki two-stroke fanatic who's the founder of Triple Klinik GL, the only German-language Kawasaki Triples forum. Ralf, who lives in Bergisch Gladbach near Cologne, bought his first Triple (a KH500) when he was 20 years old — a bike he still owns! This build started life as a '72 H2, and the design concept was straightforward: "My friend and I wanted the H2 to run better on the road. We also wanted it white." In true restomod fashion, they decided to raid the Kawasaki parts warehouse for modern brakes, suspension, wheels, and more, mainly utilizing components from the Kawasaki ZRX1100 and ZRX1200. As such, this "ZRX H2" is now running modern front and rear ends. Ralf says the ZRX swingarm fitment was a challenge, but worth it: the bike now fits a 180 rear tire! The engine was painted, fitted with Mikuni TM34 flat slide carbs, RAMAIR filters, and a K2Tec exhaust. Ralf says the end result rides significantly better than the original, especially in the corners, and it's comfortable, too!
Sean Skinner of Virginia's MotoRelic consistently turns out some of our favorite builds on the planet. Last year, he completed a '79 KZ1000 that graced the pages of Pipeburn, built for a client who'd inherited the bike from his uncle and wanted to restore it to its former glory…with a custom twist. Well, as often happens, one project breeds another. Sean soon received a call from a prospective customer who couldn't stop raving about the black '79 KZ — he wanted one of his own, or quite similar. At first, Sean was reluctant to go through all the same fabrication and headaches of the first build: "Part of building one-of-a-kind bikes is that only one has to be built." However, without too much convincing, Sean agreed to the project under three conditions: "We find a '78 that already has spoke wheels, we use shaft drive side covers, and it can't be silver. He said absolutely! And before I knew it, a bike was on its way from Colorado." The end result, in our opinion, is even better than original. The Raptor Red paint absolutely pops on the Royal Enfield Continental GT tank, which required a completely new tunnel and frame mounting points to fit the KZ's backbone.
Over the years, intrepid builders and fabricators like Paul Meginley of Australia's Se7en Six Collective have been building HL500 replicas — many of which outperform Yamaha's production HL500 replicas. Paul had been helping his good friend Adrian compile parts for an epic HL500 for several years. When the 2020 pandemic struck, it was the perfect opportunity for Paul to help his friend finish off the build. The chassis kit is from a Queensland company called AllyFab, mated with a set of vintage Öhlins twin piggyback shocks, SimonS forks, YZ gas tank and seat, remote oil cooler with braided lines, and a ton of custom fabrication work: bespoke alloy oil cooler bracket, fender adapters, front brake cable guide, rear splash guard, and more. "The whole thing is custom. Not many parts were bolt-on…. Almost every component is tweaked, altered, and/or finessed in some way." Then there's the engine, and what a beast it is: The bike has a Carrillo 600cc big bore kit, Yoshimura cam, ported & polished head, lightened rockers, swivel tappets, Ti retainers, RD valve springs, nitrided valve tips, MegaCycle vernier cam gear, and more. Says Paul: "The Yoshi cam is profiled for mid-range and it, combined with the extra 100cc of capacity, helps this motor effortlessly lift the front in 3rd while ploughing 3-inch furrows at the rear. Mission accomplished."

Bengt Aberg was a famed Swedish rider who had two World Motocross championships and three Motocross des Nations victories under his belt. In 1977, he finished 9th in the world championship on a four-stroke Yamaha HL500, which no one expected could compete with the lightweight, race-bred factory two-strokes of the day. Paul Meginley of Se7en Six Collective, whose HL500 "Torque Monster" also made this list, decided to rebuild this restomod dirt monster in honor of the late Aberg, who passed away on March 6, 2021. The frame is AllyFab HL500 replica kit number 001, which Paul and his friend Marco of Allyfab developed with a beefier swingarm pivot and slightly repositioned engine. The signature element of the build has to be the trick period Fox Factory suspension, featuring Fox Forx and Fox Shox — actual Bob-Fox-built items! Meanwhile, the engine is running an 11:1 90mm Wiseco and some cam/rocker/tappet mods coupled with a flat-slide carb and free-flowing exhaust. The finished package — nicknamed "Betty" — has to be the trickest, most lust-worthy HL500 replica we've seen, and it's no show queen either. "I rode this bike a number of times in late 2018 and early 2019 culminating in a full blown race campaign at the 2019 Australian Classic Motocross Titles where she performed amicably and had me finish 16th outright in a strong field of Evolution weaponry including Maicos, twin-shock Huskys, C&J Hondas, RM400s and YZ465s." All in all, one incredible tribute to the late, great Bengt Aberg.