"For the love of vintage motorcycles."

France's Age of Glory is a motorcycle brand whose inspiration comes directly from the California motorcycle scene of the 1960s and 1970s — those golden Sundays of the world's greatest motorcycle film:
"Who has not ever dreamt in front of the movie On Any Sunday by Bruce Brown to get on a Triumph or Husqvarna desert sled, beside Malcolm Smith or Steve McQueen? Or to compete with Mert Lawwill on the Sacramento mile? To ride through these dry immensities, fueled by the only spirit of escape and adventure?"
We've featured Age of Glory's stunning Kawasaki W650 desert sled / tracker, built in collaboration with our friends at Egerie Moto, and we also reviewed a pair of their incredibly rugged and high-quality Desert Pants, inspired by the leather racing pants of the 70s. Recently, we heard from founder Sebastien, who said Age of Glory had just produced a new short film: The Last Romantics.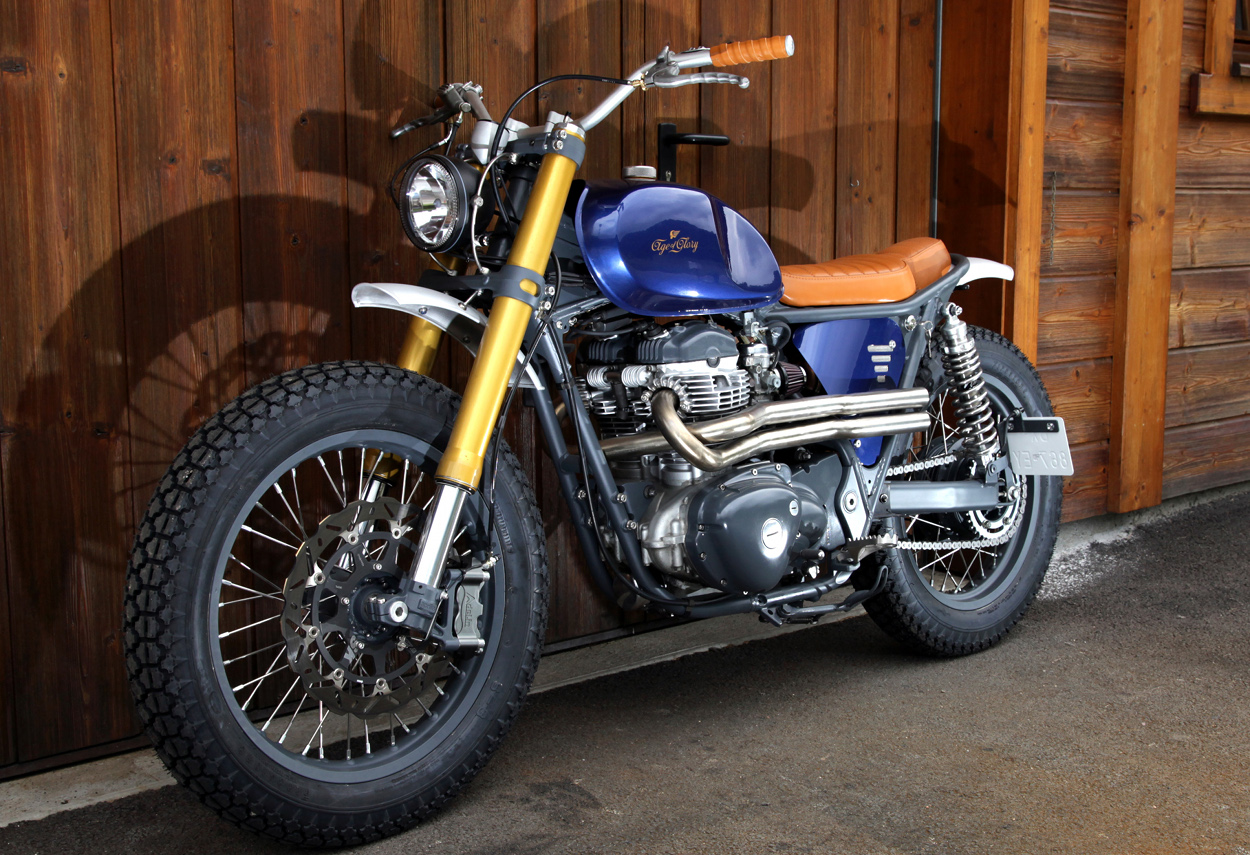 Here's a little of what they have to say about the film:
"At Age of Glory, our fuel is vintage motorcycles, and more specifically those from the 70s. The ones that shake a little too much, that leak a little too much, that make a little too much noise but that have a real soul. Motorcycles of character whose little worries we share with friends. Over time, a real relationship is established with these machines. They require more attention, more maintenance and just listening, we know right away if the day will go well. . . or not. These moments of sharing, riding with friends with these motorcycles are mostly unforgettable. If we ride bikes and make clothes, it's to live those moments!"
Anyone who spends much time on a vintage bike knows the truth of those words — both the joy and heartache of keeping a vintage bike on the road. Even after the greatest frustrations, stranded on the side of the road in bad weather, cursing our machines and their cantankerous natures, we always find ourselves remembering such times fondly.
What's more, road trips on a vintage bike always seem to lead to experiences and (mis)adventures we'd never have otherwise — certainly not while sealed inside the hermetic capsule of a modern car, or even on one of today's fuel-injected, liquid-cooled motorcycles that never coughs, backfires, leaks, or breaks down.
Age of Glory says it well:
"It is also through the vintage bikes that we can have beautiful human encounters, to share our own experiences, anecdotes, little tricks, and especially unforgettable and unique moments. These moments are shared with friends, often in the workshop, but also on the roads or paths, and when possible, to discover new spaces, to escape. Each motorcycle ride can quickly turn into a great adventure: we know when we leave but it is our machines that often dictate the end of the story… We are all equally passionate, dreamers but absolutely not rational. Our feelings dominate the reasonable because we are the last romantics."
Sebastien says The Last Romantics is meant to put this passion into film. We hope you enjoy it.
The Film: The Last Romantics
Follow Age of Glory
Made in Collaboration with Chez Moi Prod.