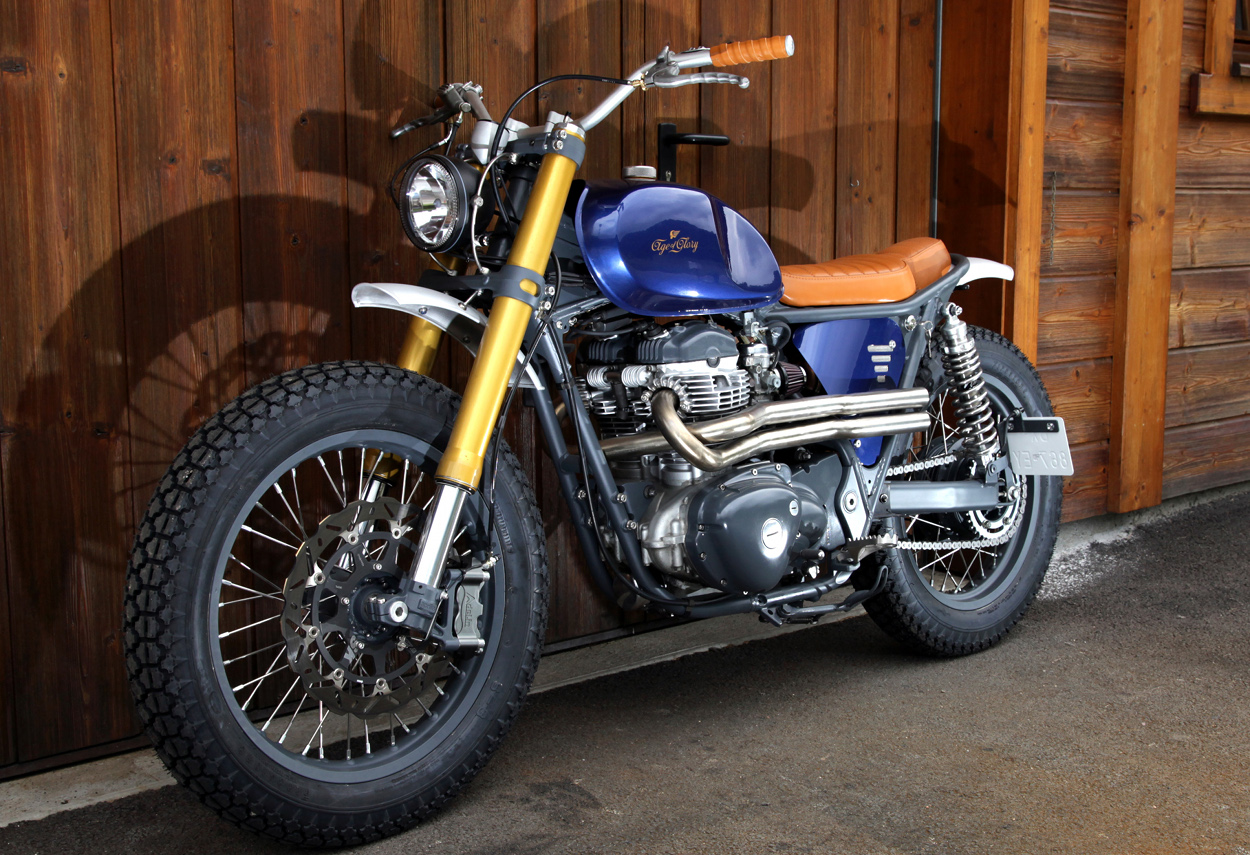 "Life is rich in paths crossed…"
Sebastien, the founder of Age of Glory, can pinpoint the very genesis of his brand:  1970s California, motorcycling's golden age, when legendary riders like Steve McQueen and Malcolm Smith blasted their desert sleds through Baja and flat track legends like Mert Lawwill steered sideways around the Sacramento Mile.  This is the "Age of Glory" behind the company, which produces high-quality garments and accessories.
When Sebastien had the vision for a "neo-retro" street tracker based on the beloved W650 platform, he turned to one of our featured builders, Nicolas Masse of Egerie Moto, whose Yamaha XT600 tracker we previously featured. The two had met through some vintage flat track events that Sebastien helps to organize, and it runs out they are kindred spirits, sharing "a certain taste for simple and uncluttered aestheticism."
Two hundred workshop hours after embarking on the build, they had created one of the loveliest street trackers we have ever seen — "Project W650." Below, we get the full story on this incredible machine.
Project W650 Tracker: In the Builder's Words
Life is rich in paths crossed. Some are unnoticed and ephemeral, others are loves at first sight and then there are the simply human, friendly meetings, born out of a shared passion … This kind of chance meeting which can lead to projects, or collaboration, was the case for Project W650. For me, it was always important to share moments, values or passions with people. Every individual has his real-life experience, their principles and their ideas. Each of us is rich from their own history and from that which makes them move forward.
I met Nicolas two years ago during our Flat Track events that I organize with my buddy Domice through our Vintage Racing Spirit association. We saw each other punctually during these days and chatted about our feelings on the track and most of all we spoke a lot about our machines. We shared a common vision of things: love of the vintage machines and a certain taste for simple and uncluttered aestheticism.
Nicolas had launched his custom motorcycle workshop called Egerie Motorcycle some time ago and I just launched the brand Age of Glory. And he had just built two very beautiful motorcycles including his flat track bike that I particularly like. The project started very naturally all on its own through our discussions. I had a motorcycle to work on, quite a lot of ideas but not all the required skills. And I fast realized that Nicolas had them and moreover, he shared a common value of good workmanship and the aestheticism. It didn't take that long to initiate the project and a few days later I went to Nicolas's workshop with the motorcycle. The adventure began.
My base idea was to create a street tracker in a neo-retro spirit: take over some vintage codes but to keep a modern motorcycle. I had made a small sketch of the desired final result and prepared some photo boards showing interesting details. By discussing with Nicolas, some ideas seemed too difficult to implement, with the budget we had, while others seemed more relevant. Our exchanges and discussions allowed us to refine and to optimize the project according to our constraints to end up with a rather well finished motorcycle that is quite original, in our opinion. Nicolas put in a huge amount of work on this project which required more than 200 hours of workshop. But both of us are rather proud of the result.
Nothing was simple on this project. There were quite a lot of challenges with regard to the initial project idea. For example, the idea of adapting an inverted fork did not ease Nicolas's task. But he met the challenge, successfully! Having studied the idea and having found the best compromise, we used an Aprilia 550 SXV fork. We needed one that we can fit without making modifications which could affect the reliability of the front axle. We refused to modify the pivot or to tinker with safety points. The SXV fork seemed the good compromise, long enough for a tracker (a sport bike fork would have been too short), Oversize and equipped with a radial brake support. It was only missing the right color, new adapted bearings and a clearance reduction. Both wheels were re-spoked and enhanced by a pair of Firestone tires, vintage Flat Track style.
The work with stainless steel constitutes another important part of this preparation. The custom-made exhaust line is built with various elbows welded between them. The weld seams were then ground off and brushed for a matte / satiny finish. We do our best to limit the noise of these two simple tubes by integrating a homemade DB Killer. The headlight supports and mud guards are also hand-made in Stainless steel to match the material color of the exhausts and strokes.
We opted for a different tank and it was necessary to modify it to adapt a new tank cap. Brackets were added on the frame for its mounting. We chose a metallic blue paint. The golden Age Of Glory logos were also painted. Together with the matching side panels, they are the only shiny parts of this W650. Other parts are satins or mattes, obtained by varnish or sandblasted.
Regarding electrics, we built the new wiring around the Motogadget M-unit. The main aim is cleaning up the front with integrated controls. To save more space, we use a micro lithium-ion battery. So all the wiring goes under the seat into the original box, slightly reduced because it can't go beyond the new back loop.
The seat had to stick at the base idea: single camel leather seat with a second small seat put on the rear mudguard. To keep it strong enough, it is actually the mudguard which comes to rest against the smaller seat which lays on a steel support, able to support the weight of a person. Handlebars were wrapped with the same leather.
Not to mention the countless hours of cleaning, etching, applying epoxy, varnishing etc. that were necessary to give life to this machine, which we hope, will delight you as much as it does us!
Follow the Builders