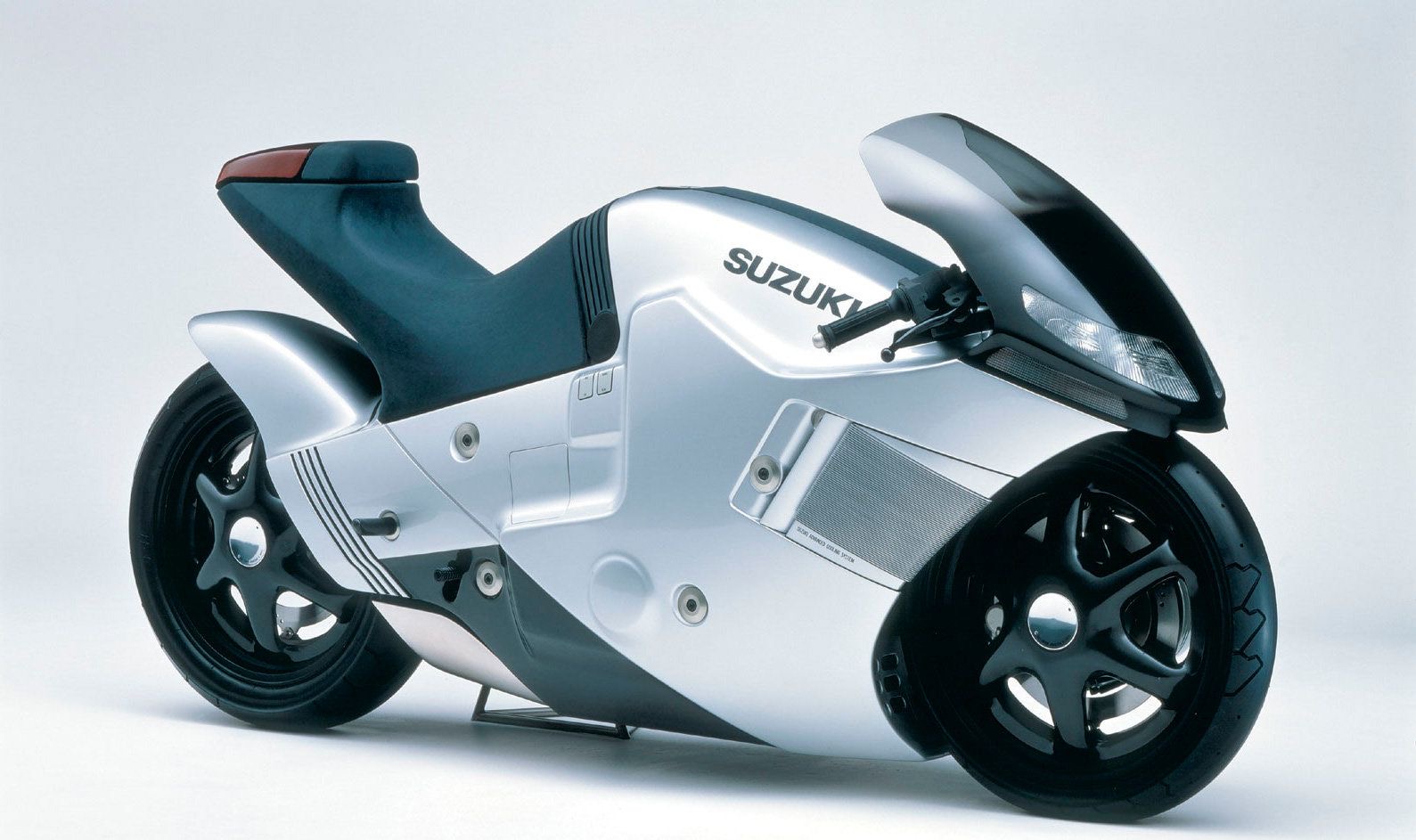 A 2WD 'Busa from Suzuki!
Suzuki has announced plans to launch a production version of their two-wheel-drive GSX-R1300 NUDA for 2024, utilizing the 1340cc liquid-cooled inline four-cylinder engine from the Suzuki GSX1300R Hayabusa.
The most interesting part of the NUDA is the two-wheel-drive system, which employs a patented twin shaft-drive system with hub-centric steering. The 2WD system reportedly enhances cornering speed and stability, particularly in wet conditions and on poor road surfaces, though the downside is heavier steering — a trait the NUDA solves via power steering.
Says head engineer Etsuo Yokouchi:
"The GSX-R1300 NUDA was conceived from the beginning as a futuristic motorcycle. The most important thing here is that the required technologies have been developed to a production level, and will find their way into future Suzuki motorcycles. From the NUDA, our engineers will get Suzuki's future technology."
Other highlights include a seat that shifts during high speed cornering to help the rider with proper weight transfer — again assisting with the heavier steering — and "adaptive aerodynamics" in the form of a windshield that automatically adjusts for optimum aerodynamics based on the bike's speed — à la the rear spoiler on many of today's sports cars.
"The increased use of spoilers and winglets in MotoGP has demonstrated the importance of aerodynamics for performance motorcycles, and the NUDA will be the first production bike to feature adaptive aerodynamics for optimum drag coefficiency at any given speed."
The 1340cc inline four in the NUDA will reportedly make the same peak power as the Hayabusa engine — 187 bhp — but has been tuned for more torque and better midrange, with a peak of 125 ft-lbs of torque at 7000 rpm.
Suzuki suggests that future versions of the NUDA series may utilize hybrid technologies such as regenerative braking and a front electric hub motor. A GSX-R800 super sport version is also projected, along with integration of the technology into the ADV category:
"Though the NUDA is part of the proud lineage of the GSX-R family of ultra-high performance motorcycles, we expect to incorporate the 2WD system into the V-Strom series of adventure touring motorcycles in the future."
One of the world's foremost motorcycle designers, Karr Lee, has been enlisted to carry out the production design. His preliminary concepts for the production model can be seen above.
Suzuki says the Suzuki GSX-R1300 NUDA production model will be launched at the 2023 EICMA show in Milan this November, with productions models on sale by April 1, 2024.