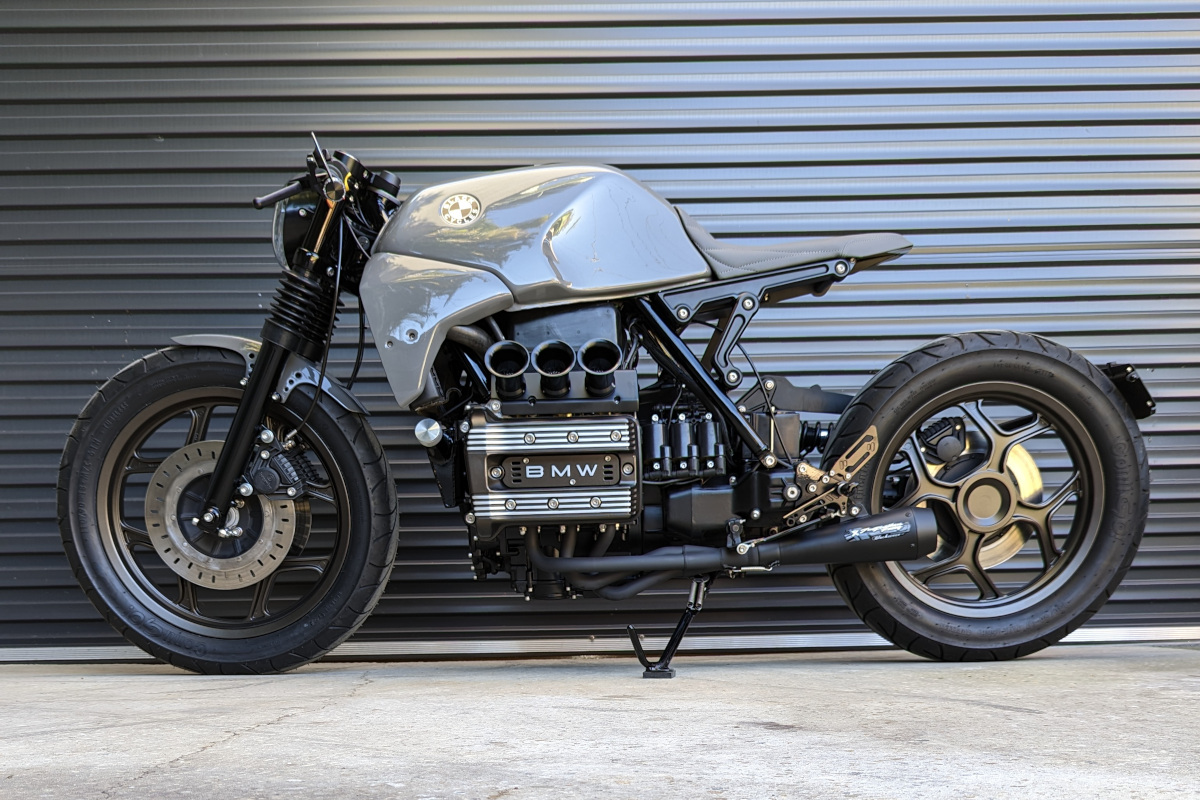 Three-cylinder Flying Brick from Black Cycles Australia…
The BMW K75 was the 750cc triple-cylinder variant of the company's K series "Flying Bricks" — nicknamed for the distinct layout of their inline engines. The company wanted to get 75 horsepower from the engine, meaning it would have to make ~10% more power per liter than its big sibling, the 90-hp / 1000cc K100 — a feat accomplished through a higher compression ratio (11:1) and modified combustion chambers.
In the end, many riders ended up preferring the K75 triple — it was lighter, nimbler, smoother, and ran cooler than the four-cylinder K100. It was also the cheapest BMW motorcycle available at the time, and remains a good used buy, capable of racking up 100,000+ miles without issue.
"Whether thought of as an 80s technological marvel, the ultimate cheap tourer or superlative winter hack, the mystery about the BMW K75 is why everyone doesn't have one in the shed." –Classic Bike Guide
Today, BMW K100 customs have become quite popular, though we don't often see the same treatment done on the K75. Enter this '96 K75 is from one of our favorite builders, Noel Muller of Black Cycles Australia, who has a knack for turning just about anything into a truly special machine.
The bike was built for Ben, a new client who grew up with the owner of the highly popular DR-Z400 street tracker we featured earlier this year. Noel estimates they pulled some 75 pounds' worth of bodywork, luggage, and electronics from the original touring machine before cutting off the rear frame to fit the billet subframe and shock-linkage kit.
Chris at XXX Rated Suspension professionally lowered the forks 80mm, and other highlights include a Jax Garage billet top yoke with Motogadget mini speedo, handmade overflow tank and radiator shrouds, ceramic-coated header, remote start, and a massive rewire handled by Justin from Popbang Classics. Then there's the paint, more battleship than flying brick:
"The tins were painted in-house in Audi Nardo grey, to which we added nearly 40% of the dark bronze used to paint the wheels and engine side covers."
Below, Noel gives us the full rundown on this triple-cylinder 'Brick.
BMW K75 Cafe Racer: In the Builder's Words…
Around five weeks ago I had Ben contact me saying he actually grew up with Joey, who owns the "Ride the Lightning" DR-Z400 featured on BikeBound recently! He asked if I could build him a very similar bike, but I'd already said to Joey his was the last one of these I'd build!
So I said to Ben: If you asks Joey and he agrees, then I'll build one more. Well, Joey said "NO" mine is the last, get something different 😅
So Ben asked if we had anything on the go? And luckily we happened to be already into a 1996 BMW K75 build (which from then on belonged to Ben)!
The bike was purchased as an all original beast, it even had the security tape stereo in it (working)! Well, ALL of that gear was removed and given away. I'd modestly say we've removed around 35 kg of original panels, panniers, electrical, ABS, etc.
Next step was to completely cut off the rear section of the frame. We then fitted the billet subframe & shock linkage kit including the adjustable YSS shock.
Then it was time to build a complete seat base and seat. The main (and only remaining ECU) was attached under this seat pan, along with the Motogadget keyless start sensor.
Forks were completely rebuilt and lowered 80mm by Chris at XXX Rated Suspension. Now running Sportster-style fork gators and a Jax Garage billet top yoke and some clip-ons bars. Also running Motogadget mini speedo, bar-end indicators, and glassless mirrors…
We decided to keep the original switch blocks as they are laid out similarly to a V-Rod, which Ben has, so a bit easier switching bikes. We also ran a V-Rod-style laid-back LED headlight.
A handmade aluminum overflow tank was built to fill the void at the front of the engine, and we also made some shrouds to cover the radiator sides.
GSX-R1000 rear-sets were used, and 12mm aluminum adapters made to fit them.
Some "faux" velocity stacks were fitted above the fuel rail on a custom-built aluminum mount.
The original exhaust headers were ceramic-coated by Competition Coatings. A cone-shaped 30cm muffler was heavily modified to fit as well.
A custom-built rear-mounted number plate bracket was made using Motogadget and Highsider lights and reflector.
A smaller battery was mounted on its side in the original position using custom-built mounting plate and bracket.
We also used @helperformance brake lines all round, while Continental tyres do the ground work duties.
The tins were painted in-house in Audi Nardo grey, to which we added nearly 40% of the dark bronze used to paint the wheels and engine side covers.
Carman's Auto Trimmers handled the seat in a close grey. Justin from Popbang Classics then handled the wiring.
He completely rewired it and reduced the mountain of wires down to around 25% of the factory original, which deserves credit as NO auto electricians want to touch the K models 😅
The bike starts, runs, rides, handles, and stops beautifully!
Ben saw the bike for the first time on my Instagram page (as he lives over 1200 km's away). I can't actually repeat what he said in case small children are reading this 🤣… But safe to say he's stoked.
Follow the Builder
Black Cycles Australia: Black Cycles Australia | @blackcyclesaustralia
More Black Cycles Builds
---