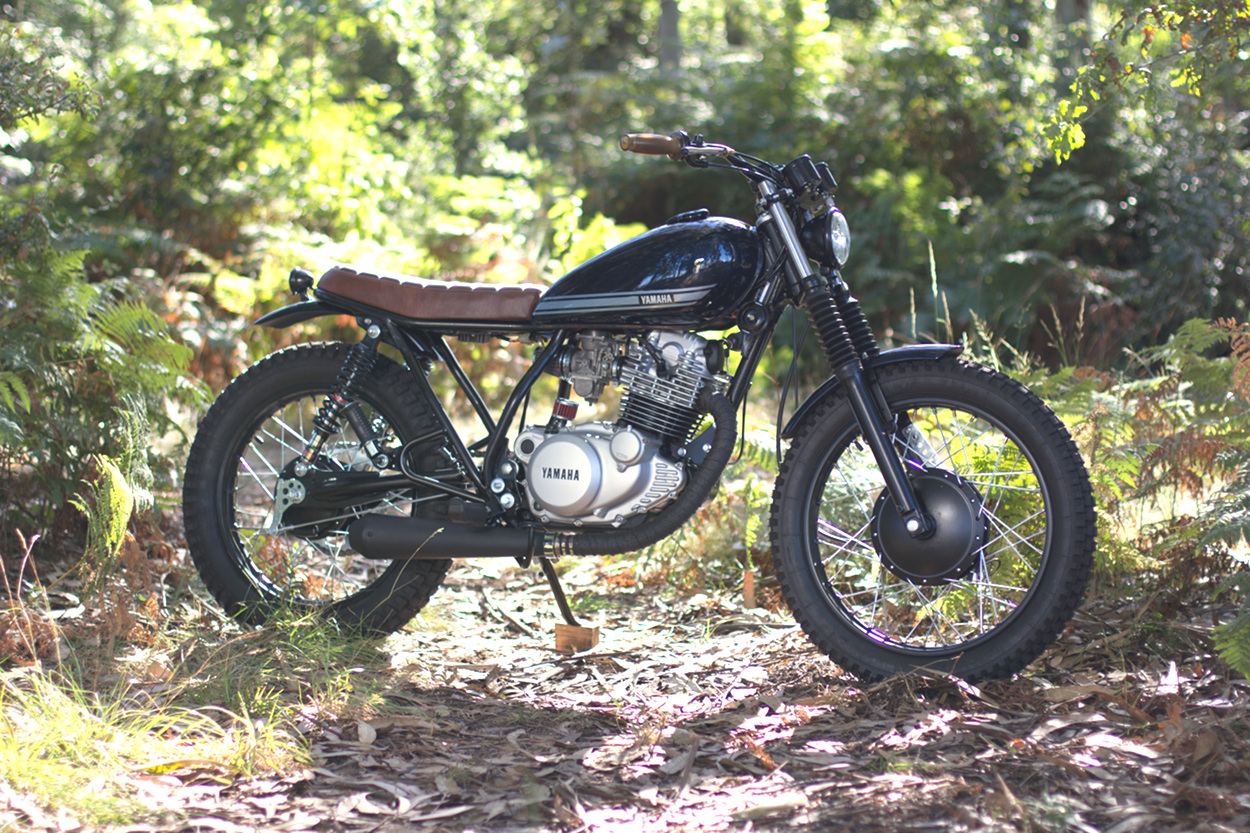 Trinta&Um Motorcycles was founded by a group of friends in Porto, Portugal, in 2013. The crew consists of welders, mechanics, videographers, designers–every role needed to make a successful custom shop. Antonio Camilo–Toni–and the team have built a number of bikes we adore, and now they are back with a Yamaha SR250 city tracker / scrambler, brought to them in deep need of some tender loving care.
"João (the owner) left this beauty in Toni's hands for him to do pretty much whatever he wanted and bring her back to the road!"
We are huge fans of this style of build. A lightweight, reliable, do-it-all machine, which can dart through urban streets or blast along easy trails and fire roads…in style. The SR250, as one of the most popular commuter bikes of all time, is a perfect platform for such a build.
SR250 City Tracker:  "Pure and Simple"
(Words by Trinta & Um.)
First things first, we started by undressing this baby…to the bone! The old suspension was replaced with new yss 340mm–much larger than the original. The target was the scrambler style (city tracker), bigger and taller, with a proper straight line.
All the front braking system has been removed, including the fork, which was replaced with one from a Yamaha SR250 special drum version. To bring back the old days, the hub of a 1974 Honda CL350 was added for that little extra old school touch. The wheels are stock, 18″ (rear) and 19″ (front), with Heidenau K67 mixed tires.
The frame was cut and closed on the back, with a new loop made by t.&u.m. The fuel tank was also cut and replaced. The engine was disassembled and freshened up with the appropriate repair kits and a new paint job by, our partner, José Martins from Remember Vintage.
A new battery box under the sub frame and new electrical installation with a start-up key were installed. To keep the lithium battery in place, an exquisite detail was added:  a leather strap with the Trinta&Um Motorcycles logo, handcrafted by Ricardo Sousa.
The stock front mudguard was cut and applied on the rear end and also used as the mould for a new fiberglass front mudguard.
Right from the start Toni's intention was to keep it simple, with a vintage style. You can feel it on the paint job, inspired by the 70s Porsche 911 and on the low tracker LSL handlebar with those old vintage grips. A brand new leather seat, with Trinta&Um Motorcycles' logo handcrafted by thirty-one, wraps it up!
And there it is, with simplicity and a little TLC, you get this amazing, low power beauty that will turn plenty of heads when rolling on the city.
Her name says it all. Pure and simple!
Follow the Builder
Save
Save
Save
Save
Save