The Netherlands has become a real hotbed of custom motorcycle culture, and the Wrench Kings are right at the leading edge, turning out some incredible bikes. Now Bram and the boys are back with a '77 Honda CB750 Super Sport cafe racer. In a world chock-full of CB builds, this bike truly leaps off the screen. The 'Kings managed to retain the classic aesthetic of the "original superbike," while bringing the machine into the modern age…and making it rideable for 6.2 foot client!
As you may know, Honda introduced the CB750F Super Sport in 1975 as a response to Kawasaki's mighty Z1. The bike offered a 4-into-1 sport exhaust, slimmer tank, rear disc, stiffer suspension, reduced trail, and longer swingarm. Cycle magazine's dyno-testing revealed 58 horsepower at the rear wheel — up considerably from the K model — and this brought quarter mile times down into the high twelves.
Below, headman Bram gives us the full scoop on this sexy build.
CB750 Super Sport Cafe Racer:  In the Builder's Words
(Words by Bram of The Wrench Kings. Highlights by us.)
Early 2016 we received a call from Lex, the owner of NoutDesign Ontwerp & Concept, a modern and successful advertising company in Holland. He had a 1977 Honda CB750 in a nearly original state and had plans to rebuild it in a cafe style. The beginning of something great! Or was it? It did not take long for him to realize his talents lie in advertising more than building bikes…and he needed some assistance to finish his project.
A 1977 CB750…of course we liked the challenge! How to create a clean look from a bike with a dry sump and an external oil reservoir? Move the oil tank to the seat! Easier said than done, but look at the result! It took some trial, error, sweat, pain and the assistance of Marcel van der Stelt (an expert in all custom aluminum solutions) and the result is stunning! A seat pan with an integrated oil tank in the seat. The seat upholstery is made by Toni's CustomWorks, a new player in the custom seat scene from the eastern part of Holland.
Lex was very specific about his wishes. As the owner of an advertisement company, he had the perfect picture of his bike in mind. A stunning bike with an overhauled engine, perfect finishing and his own design on it! This is how we started. The engine was overhauled and is ready to run miles and miles more. We took the bike apart to the last bolt and rebuilt it with freshly powder-coated parts.
Lex supplied us with a stunning new polished aluminum triple clamp. We designed the aluminum seat with oil reservoir and had it built by Marcel. We had some good times with the guys making hydraulic hoses. They are used to heavy machinery and we came requesting the most minimized solution to fit their hoses to our seat, in which the bendability of the hose was crucial. They had to be hidden underneath the seat and behind the frame!
Of course we made a new wiring loom for this bike and with that we had fun again. This 40 year old bike has an RFID tag as an ignition switch now. Tail lights combined with brake lights and blinkers and a big yellow head light and, very subtle, hidden blinkers in front. And Lex is a tall guy. This bike had to fit his 1.90 mtr (6.2 ft) length and to make his seating position comfortable, we extended the foot peg location.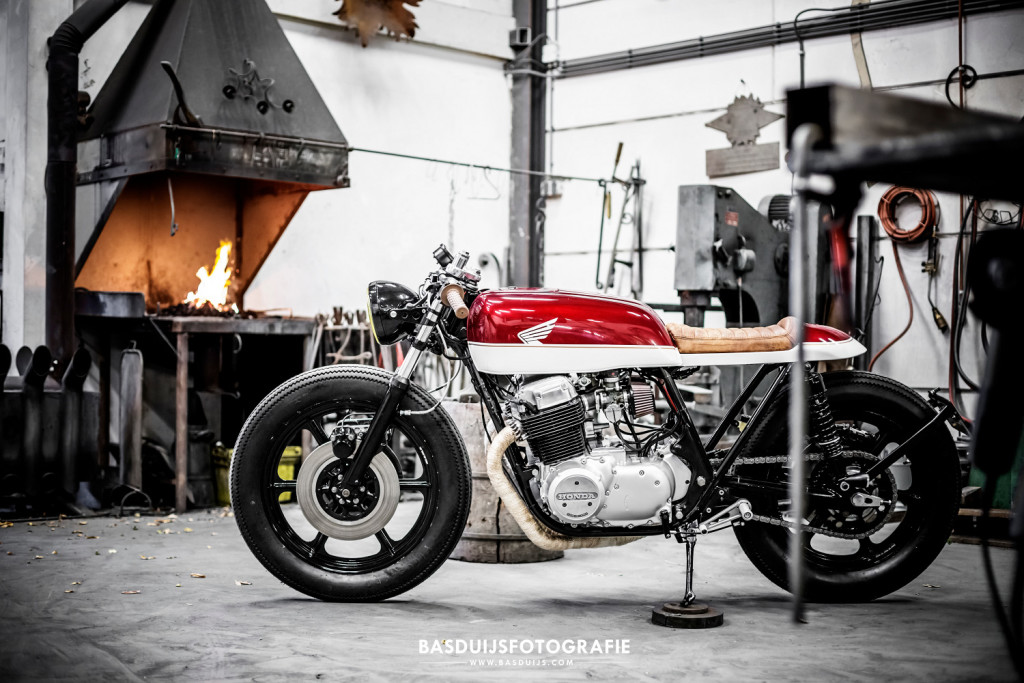 At the time of the photo shoot, rain was pouring down. Typical Dutch weather. Hence we asked our neighbor, a cool blacksmith with an even cooler workshop (with classical music!) to have the shoot in his working place. This made for some pretty cool pics with the forge on the background.
Pictures are taken by Bas Duijs, a Dutch photography enthusiast with a stunning portfolio and a passion for cool bikes!
Special Thanks to the Following Experts
For the built of this bike we made extensive use of external experts and we like to thank them for that!
• Cafe Racers United for their stunning goodies in the webshop.
• Bas Duijs for his stunning pictures.
• Smederij Somers for allowing us to take pictures in his workshop.
• Blauweplaat motoren for their expertise in old-timer Honda engines.
• Marcel van der Stelt for his expertise in building the custom seat.
• Toni's Custom Works for the waterproof upholstery.
• Stahlwille for their assistance with top notch quality tools.
• Velis Scholten Utrecht B.V. for their assistance with the hydraulic hoses.
CB750F Cafe Build:  Full Specs
All in all, the following mods are done to this bike:
• Everything is powder coated, even the brackets for the teller and the blinkers
• Cool Firestone tires
• RFID tag wireless key
• Custom seat with oil reservoir by Marcel van der Stelt
• Custom water proof leather upholstery by Toni's Custom Works
• Custom oil lines
• Hidden blinkers in front
• Modern, electronic Daytona speedo
• Stylish tail lights with integrated brake lights and blinkers
• A custom made license plate bracket (which we took in production!)
• A big yellow head light
• Polished cylinder heads
• Overhauled engine
• Rear shocks
• Brake and clutch levers
• Double brake discs in front
• Extended foot peg mounts with Tarozzi foot pegs
• DNA power filters
• Stainless steel brake lines
We trust Lex will give rubbernecking a new dimension with this bike!!
The Kings
Follow the Builder
Follow The Wrench Kings:  Facebook | Instagram | Pinterest | Tumblr | Twitter | YouTube | Web
Web/TV Show Coming Soon
For now the focus is on building cool bikes and offering parts, advice, technical assistance (and coffee or beer of course) to anyone who's building their own bike. And setting up a YouTube show! The first episode is planned for October / November 2016. This Youtube show will be aired continuously to an 8 episode show on RTL GP Magazine on RTL7 (national Dutch television) whereby a brand new Yamaha XV950 is transformed in a Kenny Roberts street tracker!
Save
Save