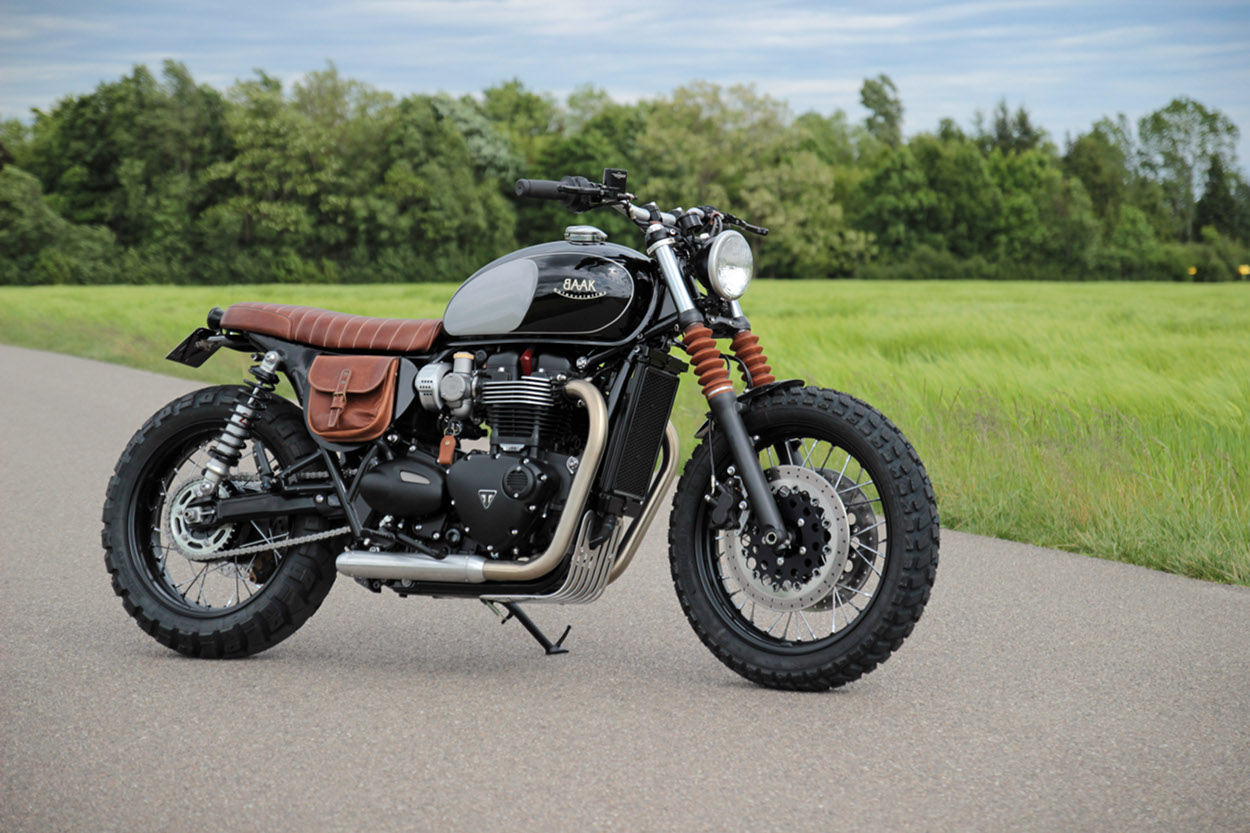 BAAK Motocyclettes of Lyon, France, is a 5-person creative workshop that designs, manufactures, and sells plug & play parts for Triumph, Moto Guzzi and Royal Enfield motorcycles . The team also creates bespoke builds based on customer motorcycles, including this Moto Guzzi V7 scrambler we recently featured.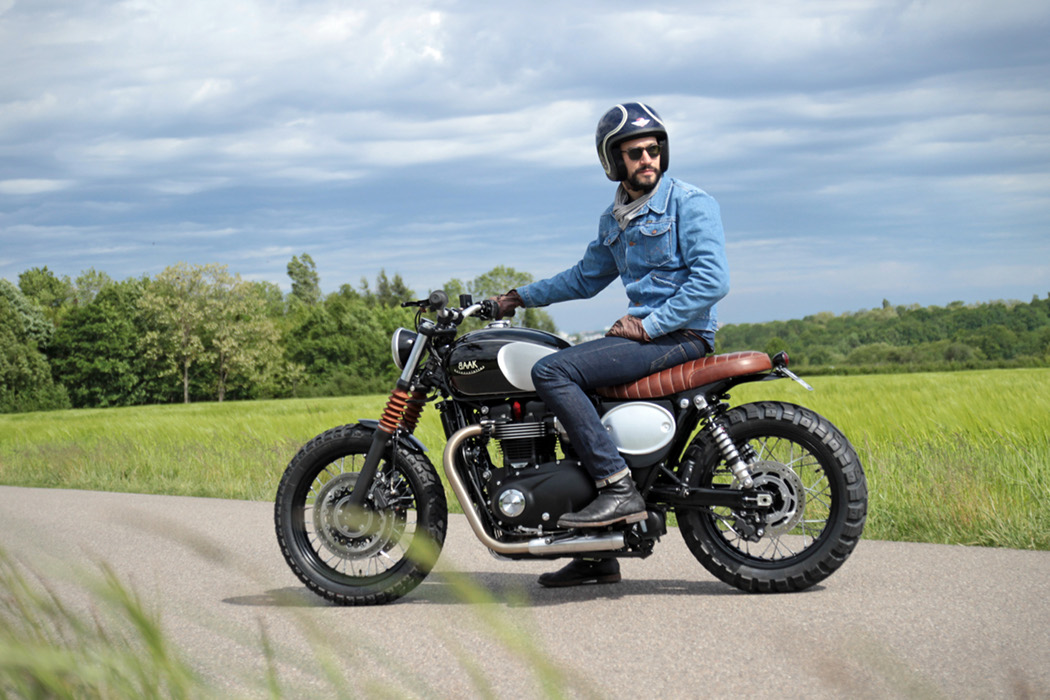 All the parts they offer — headlights, handlebars, mudguard, leather seats, exhaust lines — are designed and handcrafted by the team of craftsmen at their workshop in France, then shipped all over the world.
Recently, the team took on a Triumph T120 Bonneville, creating one of the classiest trackers we have seen in some time. Below, we get the full story from the crew.
Bonneville T120 Brat Tracker:  In the Builder's Words
(Words by BAAK. Highlights by us.)
When the Bonneville T120 was revealed by Triumph Motorcycles, our team was delighted with the care brought to this bike's finish and this 1200 cm3 engine's character. Much more than the previous Bonneville, this T120 was suitable for a Tracker project.
We spent time developing a range of parts to radically customize this bike, most of them are currently available on our online store. The short seat kit with sleeved aluminium subframe, HDPE seat pan and specific rear fender, the stainless steel an aluminium exhaust line, the work over the speedometer wiring harness stand for the main part of our team's design and manufacturing work.
We did our best to improve the graceful finish details of the Triumph, lightening its general line bike, relocating some part (blinkers, switch control, regulator…) thanks to machined aluminium brackets to upgrade the T120.
The Tracker had to be skillful, as good at traveling on roads as racing on muddy tracks, so we spent a huge care to the chassis. By reducing the weight and designing wide adjustable shock absorbers with our partner Shock Factory.
The Tiny MotoGadget speedometer keeps almost all the features of the original one and enables to visually lighten the front of the build. Purified, timeless, this machine also gets some chic leather parts, the only coloured parts creating a contrast with the global neutrality of the Tracker.
This creation is not extravagant, it could even seem discreet, you can really enjoy it when getting your eyes closer and spotting the finish details.
Go here to see many of the Triumph T120 custom parts used on this build.
Follow the Builder
Follow BAAK Motocyclettes:  Facebook | Instagram | Web
Save
Save