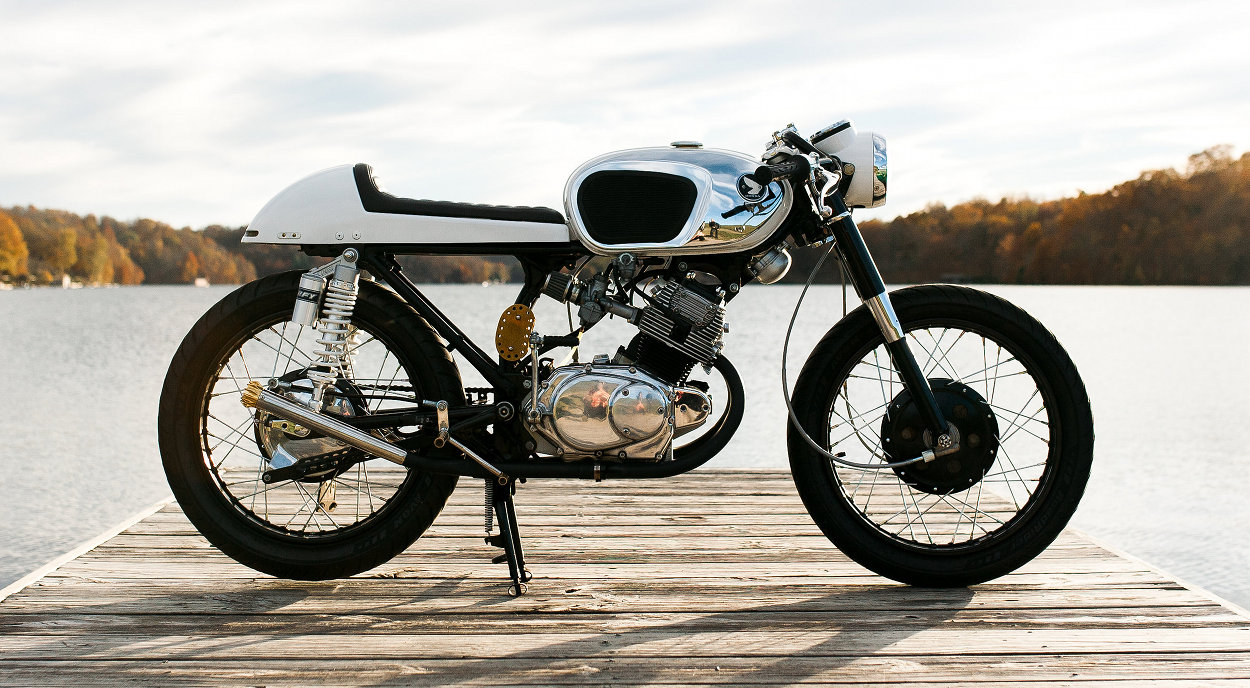 The Sallings clan of Arkansas are quite the motorcycle family. Patriarch Jan Sallings of JMS Customs has six sons and two daughters-in-law who ride. We have featured Kat Sallings's Honda CB175 cafe racer, as well as son Sean Sallings's Honda CL350 brat.  Now the family has made the cover of Cafe Racer magazine!
In the center is none other than Jeanie Sallings and her 1964 Honda CB160 cafe racer, "Luna." Says Jeanie:
When I got her, she was in rough shape and not running for who knows how long. I asked my father-in-law, Jan Sallings to help me fix her up. After 1 year and MANY greasy hours later, we finished her up on her 50th birthday and it was one of the best experiences of my life!
As you'll read below, this was quite the special build, with Jeanie working closely with Jan, learning every square inch of the bike. Without further ado, we get the full story from Jeanie herself!
Honda CB160 Cafe Racer:  In the Builder's Words
• Please tell us a bit about yourself, your history with motorcycles, and your workshop.
I am a dental hygienist and absolutely love it. Playing the drums is one of my passions and is what I spend a majority of my time doing. I have a really cool 1 year old son with Down Syndrome. I love to work with my hands and learn new things, so restoring my bike was one of the best experiences of my life. The tools we use to work on teeth are just miniature versions of the ones we use to work on my bike and I love that a few of my passions share that link.
I have been the passenger on bikes for years, but I was tired of being in the back and wanted to take control of my own personal bike. It's too much fun not to! When my father-in-law, Jan Sallings, bought several old bikes that had been sitting for awhile, I had to jump on the Honda CB160. I have a petite build, and I thought the CB160 would be a perfect starter bike for me.
I bought a few manuals, started studying them front to back, and we began the build! We would meet 2-3 times a week, and build it little by little. I became an expert at finding various parts needed for the bike. After 1 year, we finished her up and she's been running great for almost 4 years now.
We worked out of Jan's shop, JMS customs. He had all the equipment that we needed to do the custom work and fabrication including a mill, lathe, and welder. I do maintenance work from my home.
• What's the make, model, and year of the bike?
1964 Honda CB160
• Why was this bike built?
Personal. I saw an old neglected bike that would fit me perfectly and it had my name written all over it. It had so much potential and I needed to get my hands on it!
• What was the design concept and what influenced the build?
I love the sexy and classic look of cafe racers. I love the clean and retro look of them and the simplistic and streamlined appearance they have. To give it a more sleek look, I got rid of a lot of the bulky stock parts. I wanted it to look clean and somewhat minimalistic.
• What custom work was done to the bike?
Battery box removed from frame and relocated under seat cowl
Stock seat- replaced with Brass cafe seat pan and cut out section for tail/break light LED stip.
Holes cut into front hub- added Brass wire mesh accents
Custom exhaust pipes and exhaust brass tips
Rear sets with custom brackets fabricated with custom brass foot pegs
Clubman handlebars
Powder coat frame, hubs, wheels
All new paint and freshly polished/chrome metal parts.
Spacers fabricated to fit new size fork seals due to unavailability of original seals
Updated rear shock absorber air suspension from RFY
Cone air filters
New spokes and brass nipples
Bass accents to frame, exhaust pipes, and seat cowl, foot pegs, etc.
In the process of retrofitting a 5-speed transmission from sloper 175 cc. engine
• How would you classify this bike?
Cafe racer
• Was there anything done during this build that you are particularly proud of?
I loved getting into the heart of an internal combustion engine. Riding a bike that I know every square inch of and have physically touched is something I'm quite proud of. I loved getting my hands dirty and learning about the tools needed to get this incredible machine to exactly what I had envisioned. I had the best teacher to help me as well. I love how my visions of how i wanted the bike to look became a reality, particularly the custom work. I have had a few minor kinks to work out over the years, but it has been a pretty solid bike since it was completed so of course, I'm proud of that.
More specific to the bike — I love the custom rear sets and pegs as well as the other custom work done to the hubs and tail light.
Photo credits: Jason Hunter, Jenny Lawson, Branch Photography