At the Handbuilt Show last year, we had the opportunity to meet Texas young gun Colt Wrangler, whose Yamaha XS650 tracker we recently featured. At the show, Colt had the 1971 Honda CL175 scrambler he'd built for Bexar Goods Co.  Pronounced "Bear," they are the creative collaboration of a small team of craftsmen based in Bexar County, Texas — the heart of the Texas Hill Country.
The Bexar Goods Co. crew needed a small, lightweight dual sport that could be packed inside their Airstream-based mobile brick-and-mortar storefront. They turned to Colt Wrangler, and this incredible Honda CL scrambler became his first commissioned build.
We'd seen the bike on social media and it blew us away in person. Now we're thrilled to get the full story from Colt himself!
Bexar Goods Co. Honda CL175: Builder Interview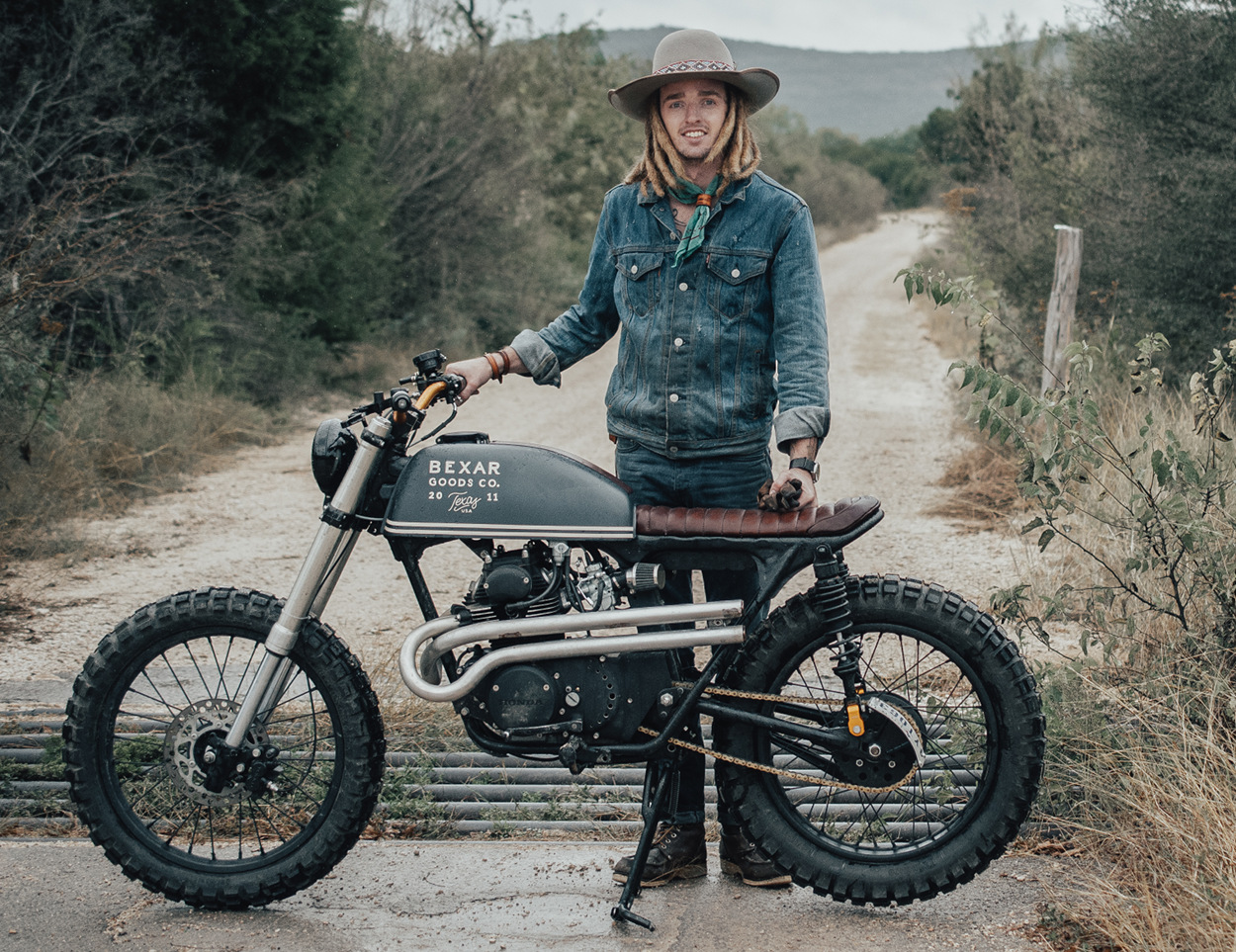 • Please tell us a bit about yourself, your history with motorcycles, and your workshop.
My name is Colt Wrangler Lyons and I'm 26 years old. About six years ago I started customizing my own motorcycles at home and once I realized that I really had knack for it, I started Colt Wrangler Motorcycles in 2015. My shop is currently based in New Braunfels, Texas, focused on custom motorcycle design and fabrication. The majority of my work is commissioned builds.
• What's the make, model, and year of the bike?
Honda CL175 1971
• Why was this bike built?
The guys at Bexar Goods Co. wanted a vintage dual sport bike that was small enough to pack inside their mobile Airstream store, Outland Provisions, and ride at different events across the country.

• What was the design concept and what influenced the build?
When we found the bike, we weren't looking for for any specific make or model. Just something older, that was smaller. The build was mainly influenced by the existing aesthetic of Bexar Goods Co. Rugged, adventurous, minimal, and stylish. We needed the bike to be compact but still look tough.
There wasn't many CL175 or CB175 scramblers that I was really attracted to prior to this build, which gave me the opportunity to create something fresh, not only myself but for everyone else who loves Honda twins.
• What custom work was done to the bike?
First was the detabbing and modifications of the frame. These smaller twins don't have the more attractive tubular tail sections like other vintage metric bikes. So I did my best to blend the round tail hoop into the rectangular frame without building a completely new subframe. Also I welded in the mounting holes for the side covers as well as fabricating the battery box and seat pan.
Next I disassembled the engine to repaint and added stainless steel bolts. The most obvious modification is the inverted forks, triple trees, wheel, and brakes from a Kawasaki KX100.
My good friend John Dunlevy of Tortured Tested Racing helped me with much of this build, including the installation of the forks. He removed the original stem from the Honda and pressed it into the lower tree of the Kawasaki. This does require some machining. After installing new bearings, this front end was ready to go and really helped this small bike look beefier and more aggressive.
The CL175's already have really cool exhaust headers but ugly gas tanks so I simply shortened the exhaust, added custom baffles, and swapped out the factory tank with a CB200 tank. The tank swap was as simple as flipping the rear tank mount.
As for the tires, I used Continental TKC80 dual sport tires. After adding a new headlight, tracker bars, controls and adjustable rear shocks this bike was ready to rip. Of course this bike wouldn't be complete without some custom leather work, so the guys at Bexar Goods Co. knocked out the seat, and tank with the same high quality leather used to make many of their products.
• How would you classify this bike?
Scrambler
• Was there anything done during this build that you are particularly proud of?
I'm just proud of this bike overall. It was also the first full, frame off build that I had ever done and I am really thankful to Bexar Goods for giving me the opportunity to build a bike, when no one else had before.
Follow the Builder
Email: [email protected]
Instagram: https://www.instagram.com/coltwrangler.co/
Facebook: https://www.facebook.com/coltwrangler.co/
Online Store: http://coltwranglerco.bigcartel.com
Bexar Goods Co.:  Facebook | Instagram | Web