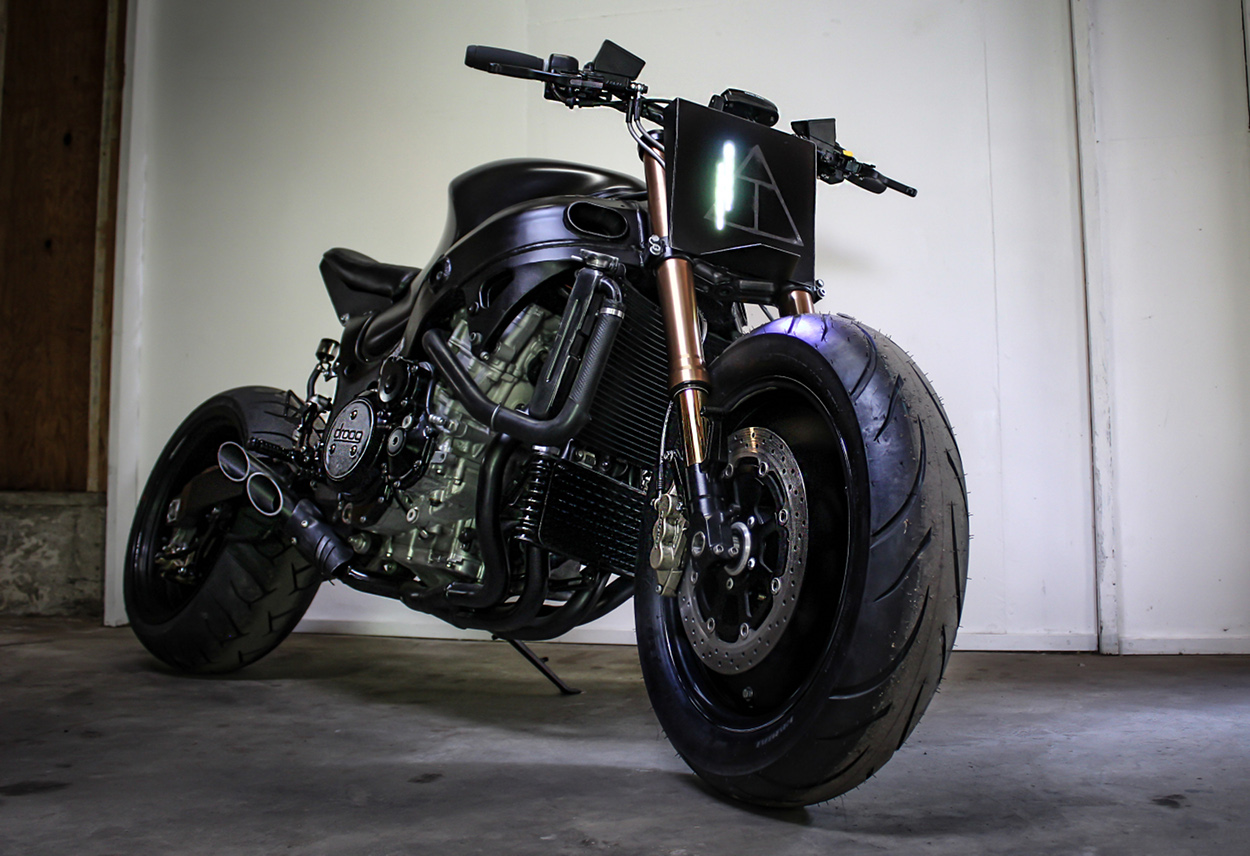 The Suzuki Hayabusa — aka GSX1300R or simply the 'Busa — remains the fastest production motorcycle of the 20th century. In 1999, at the time of its introduction, the Hayabusa broke the old record by a staggering 14 mph, achieving a top speed of 194 mph before an informal agreement between manufacturers limited speed to 186 mph. While the 'Busa is known for top speed, it was lauded for being a surprisingly well-rounded motorcycle. Said MCN of the bike:
"The Hayabusa is Speed in all its glory. But Speed is not all the Hayabusa is."
Enter Max and Erica Droog, the husband/wife duo behind Droog Moto — one of our favorite workshops. They have quickly developed a signature post-apocalyptic style, with high-powered "brawlers" that would make Mad Max proud: big motors, knobby tires, motocross bars, distressed finishes, tracker-inspired aluminum number plates/panels, LED lighting, and more.  When a prospective client inquired whether they'd be interested in building a huge, murdered-out Hayabusa, the answer was clear:
"We responded back to the client with a big F yeah!"
Below, we get the full story on one of the baddest brawlers to roar out of the Droog Moto shop, the "1300 Drifter."
1300 Drifter: In the Builder's Words
We had a client reach out to us who was drawn in by our DM-014 Z1000 build we did a while back. He was intrigued by our burly and menacing builds and wanted to know if we would be open to building him a Droog Moto from a Suzuki Hayabusa. We responded back to the client with a big F yeah!
Fast forward a bit and we had a massive Hayabusa on one of our lifts waiting to get some Droog DNA injected into its blood. The clients two requests were for the bike to be murdered-out and huge. Luckily for him, that is one of our specialties.
To start off the build, a custom swingarm was built to accept the new modified 8.5" rear rim and 240mm rear tire. The swingarm also has a mild 2" stretch to it. We needed to beef up the front to flow with the massive 240 rear and went with a modified front rim and a larger front tire that was squeezed in-between the forks. The rear shock was upgraded and a new spring was put in place along with new front fork internals to accommodate the riders specs and riding style. The new rims were then fitted with our custom handmade aluminum wheel inserts.
The stock subframe was ditched and we fabricated a new custom unit with a sleek perforated seat. The new subframe holds the bulk of the electronics and a sleek dual split LED tail/brake light setup.
The gas tank was stripped down to it's natural state then re-done in a satin black finish with a slight distressing to enhance the tanks contours. All of our builds are equipped with the signature Droog Moto headlight setup. This bad 'Busa received a dual cut LED headlight setup and finished in a satin black coat to pair up with the gas tank.
We fitted our DM fat bar to the bike which was partnered with chunky grips and a mini digital speedo to give the rider all the proper riding info along with an aggressive, fighter riding posture.
The build also received CNC-cut adjustable rear sets for rider comfort and full adjustability. To keep up with aggressive appearance we had to do some work to the performance department. You don't want a bike looking like this and not have the sound to match. The first thing to change was the exhaust setup. The headers to mid pipe were re-done and then fitted with a single-sided slash-cut silencer making this inline four sound like a fighter jet. An aftermarket air filter was put in place along with larger injectors to accommodate fueling and topped off with a final ECU tune.
This build ended up becoming menacing and massive all wrapped up into one fierce machine we call the 1300 Drifter.
Follow the Builder