Today, we're thrilled to present our Top 10 Custom Motorcycles of 2019 as judged by you, our readership. Your visits, likes, comments, and shares serve as votes, and we ranked these bikes according to their popularity among our readership. This is the most objective ranking we could achieve.
We noticed a few big themes in this year's 10 Best:
Super Enduros: New this year, two 1000cc enduro builds made the list — the Brivemo "Africa Four" and KTM 1290 "Super Enduro R" — the latter of which is a true off-road race bike.
Big Singles: Fully half of the bikes in this year's Top 10 are single cylinder machines. You have to love the rugged simplicity of a four-stroke thumper.
Two-Strokes: As in years past, two-strokes are also well represented, with a CR250 and RD400 on the list — and a couple other smokers that narrowly missed the Top 10.
Don't see one of your favorite bikes? Stay tuned for our 2019 Best Scramblers, 2019 Best Cafe Racers, 2019 Best Two-Strokes, and more lists coming soon!
Without further ado, here are our Top 10 Custom Bikes of 2019, presented in alphabetical order by builder.
Brivemo Motos, an official Honda dealership in Switzerland, unveiled this Honda "CRF1000R Africa Four" — a brutish, 145-hp CB1000R scrambler inspired by the Africa Twin. The bike is sporting the front suspension from a Honda CRF450R motocrosser, complete with a single large-diameter brake disc and 4-piston caliper, and Continental TKC 80 tires. Other modifications include a bespoke 4-into-1 exhaust with carbon-fiber muffler, new front fender and headlight, off-road handlebars, engine cage, solo seat, and "Adventure Sports" bodywork.
Andrew Greenland of Wales has a special talent — if not genius — for building nostalgic, resto-modded Honda dirt machines. His NX650 Dominator street scrambler made our list of the 2018 Best Trackers and Scramblers, and his XL600 Dakar is simply one of our favorite builds we've ever featured. This street-legal 1996 Honda CR250R as a tribute to the original Elsinore machines of the 1970s. It has a re-fabricated rear subframe, 1975 CR250 side panels and front mudguard, Honda CG125 tank, rebuilt and lowered suspension, and more.
Jiří Heiník, a lifelong off-road motorcycle racer, decided to find out what KTM's 177-hp LC8 engine could do in the dirt. And not only that, Jiří had in mind the most infamous off-road test of them all:  Austria's Erzberg Rodeo. Enlisting the help of Prague's RaceTool KTM and friend of the blog Jan Žuži (JZ Handmade), Jiří built the most lethal off-road weapon we've ever seen and race it multiple years in the Twins / Desert Bomber category of the Iron Road Prologue — a high-speed blast up the mountain reminiscent of Pike's Peak.
French workshop Le Motographe jumped onto the scene in 2019, quickly becoming one of our favorite builders. The two-man team, composed of Jerome and Yvan, built a WR450F "Skeleton" for an American customer who requested an off-road bike that was also street-legal. Jerome and Yvan designed and built a tough exoskeleton for the bike, while shedding some 22 pounds from the original WR and boosting power output. The shocks have been specially prepared for the rider's weight and riding needs, and lovely handmade details abound throughout the build. The version here, Skeleton V2, proved even more popular than the first, having wheelsets to convert the bike from hardcore enduro to supermoto/street to flat track. We even got to see the bike race in the Deus Swank Rally during Wheels & Waves 2019, where it absolutely ripped!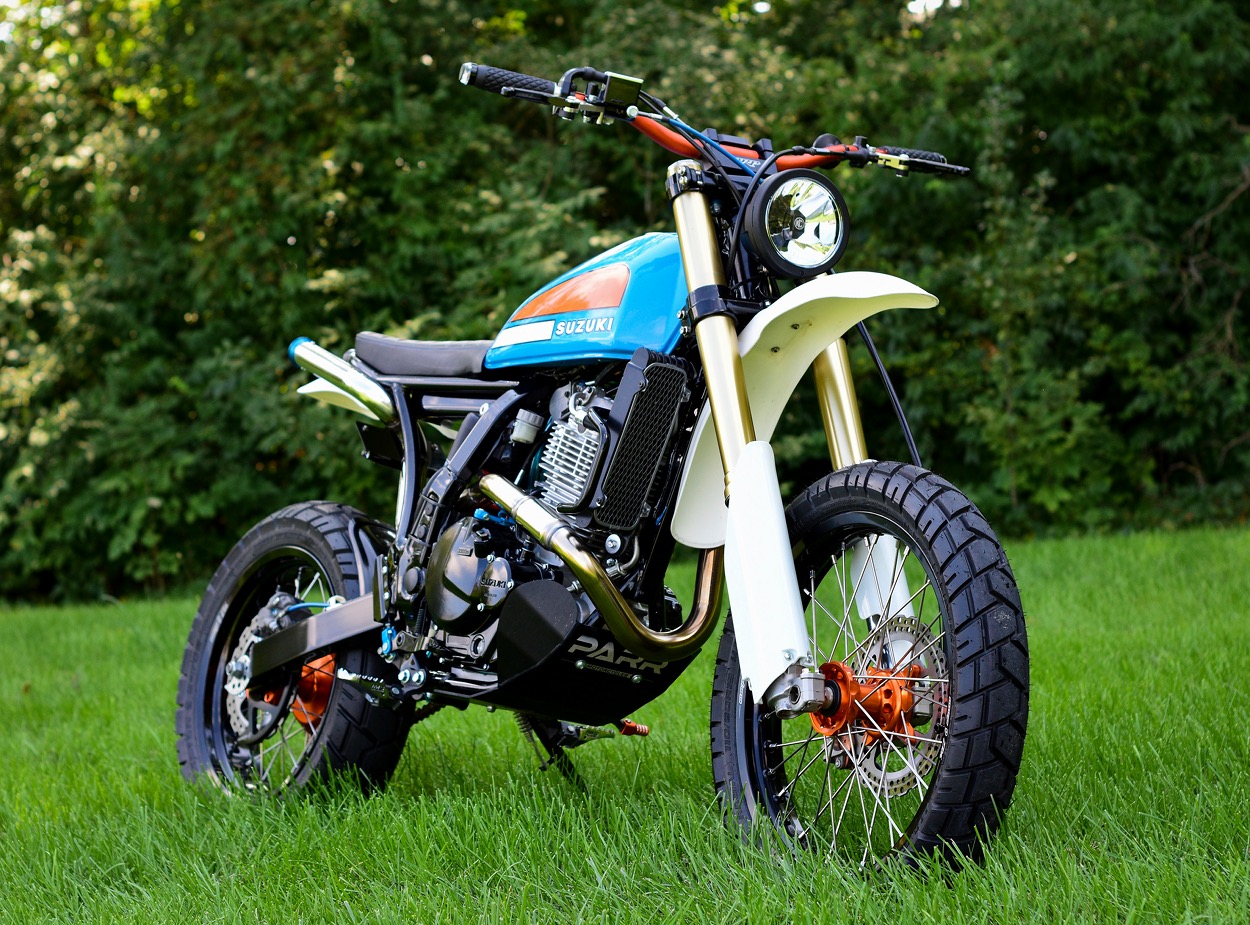 In 2018, we had the honor of featuring the first professional build from a young builder in Indiana, Spencer Parr of Parr Motorcycles, whose Suzuki DR650 "Retro-Moto" was one of our favorite bikes we've ever featured, . In 2019, Spencer was back with this 2012 DR650 "urban scrambler," inspired by a '77 Suzuki TS250. We thought his first build would be tough to top, but this DR650 "Retro-Scrambler" has us slack-jawed — the perfect bike for ripping through the urban cityscape by day and drooling over by night.
Devashish Sharma (@gunner_moto), a mechanical engineer who spent half a decade at well-known Indian workshop Rajputana Customs, building 120+ motorcycles before starting his own workshop earlier this year: Ricochet Motorcycles. This is the shop's second build, and it's one beast of a Himalayan: "The basic idea behind the build was to build a go-anywhere motorcycle that was a hoot to ride on the roads while swallowing rough trails for breakfast." Devashish and crew swapped out the factory 41mm fork for an Endurance USD fork with Brembo brakes, built a custom rear subframe, went with an 18/18″ wheels setup, added bash plates and bark busters, and much more. The smokin' hot livery was designed by Dheeraj Rawat, aka Revhead. Says Devashish: "This bike is built to be ridden hard and is not just a show motorcycle." The new owner rode it 1500km home to Delhi after picking it up!
When we saw the first shot of this XR600R from JohnGreen — aka JuanVerde of @RotaJG — we had to know more. John, who shares his 30×40 shop with his 85 year-old father, says the build was inspired by 19-inch flat track bikes, new and old: "Jebus bless RSD and the Hooligan trackers. I'm hooked on that genre of racing and the bikes." The bike has a new subframe, torch-bent from 1-inch tubing, and all-steel bodywork, hand-hammered over plywood patterns. The tank is an old Benelli knockoff, and John did the paint himself. The top end was rebuilt, bored 2-over, and the Cone Engineering "Big Mouth" muffler makes sure the world knows you're on the way. Says John/Juan: "Now that I have the hang of it, it's a 1-kick engine cold or hot. Those big thumpers are so simple. Indestructible. Big pig tractor."
Eber Temperan, a professional freestyle BMX rider and the coach of the Argentine selection of the UCI (Union Cycliste Internationale) World Circuit, grew up racing karts and working in a karting workshop. Now, in addition to riding and coaching BMX, he builds custom bikes, particularly two-strokes. Says Eber of the RD: "I like many 2T engines, and I remember when I was little that this bike was very aggressive in its time, and still is!" This RD400 was inspired by his childhood love of speedway and flat track bikes, as well as the videos he'd seen of none other than "King Kenny" Roberts — whose speed block livery became synonymous with domination in the 1970s.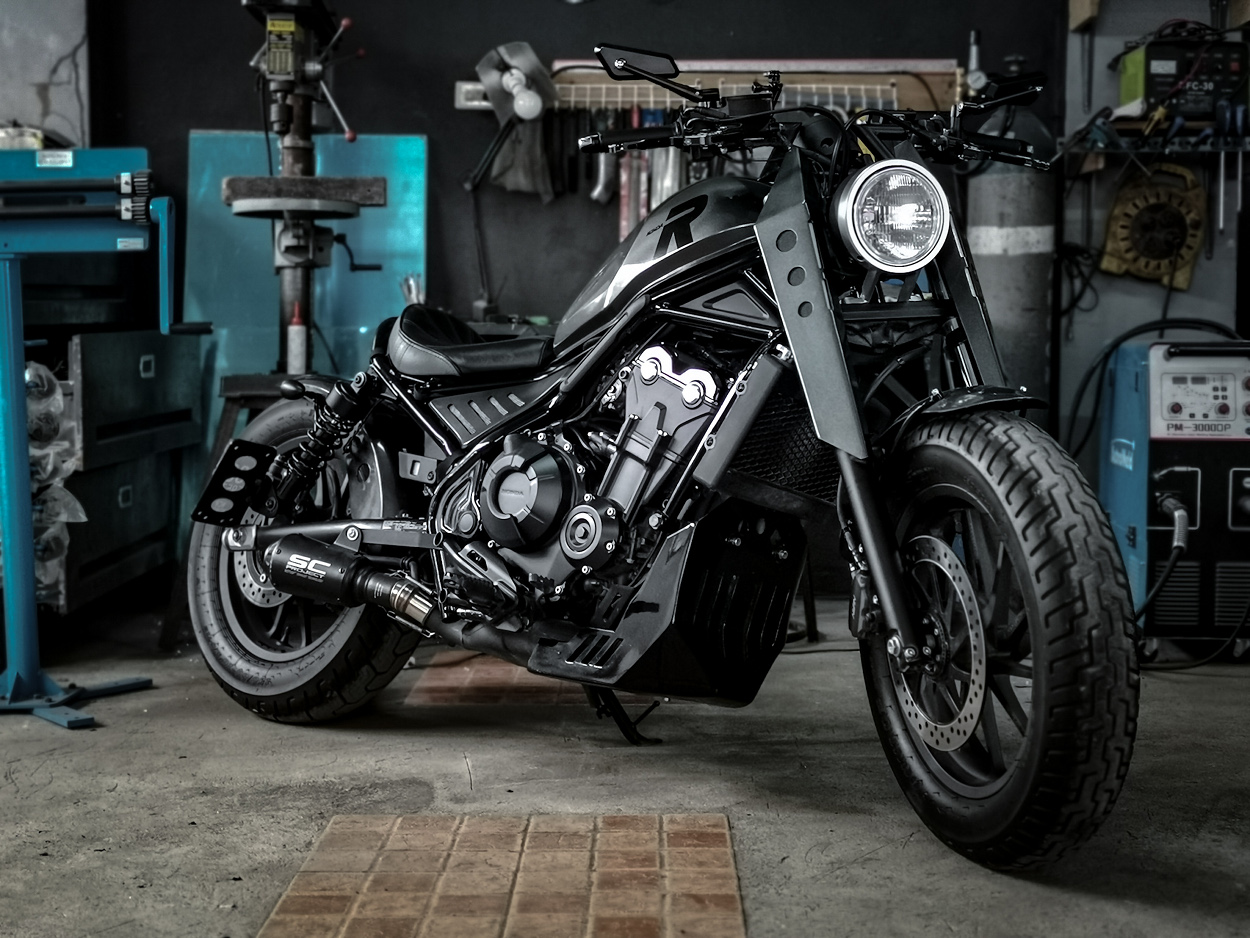 The crew of Tokwa Party Garage, a Manila-based shop founded in 2015, began working on their own bikes on the weekends and posting their builds on social media. From there, they began getting inquiries from prospective customers. Before long, they decided to quit their day jobs and build full time: "It started as a hobby and soon became our bread and butter." For this build — nicknamed "Mad Bob" — the team worked with the customer to carry out the design concept on a 2015 Honda Rebel 500.
Garett Wilson (@dubstyledesigns) of Colorado, a former motocrosser, originally bought this 2000 KTM 640 Duke for his dad, but after building his old man a custom SR500, the Duke wasn't getting much love. The kick-in-the-pants for the build came when Garett was selected as one of 13 builders for the Greasy Dozen Collective — an event hosted by the good folks at Old Bike Barn, where sponsors help garage builders kick-start their projects. Suddenly, Garett had just five months to finish the build. Garett decided to transform the factory supermotard into something of a street tracker, with twin 19-inch wheels and more of a retro style, basing the livery on a '79 KTM. However, aesthetics weren't his only concern: "My goal with every bike is to make it lighter and perform better – the internet says dry weight for a Duke is 320; I've gotten this one down to 305 with a full tank of fuel."