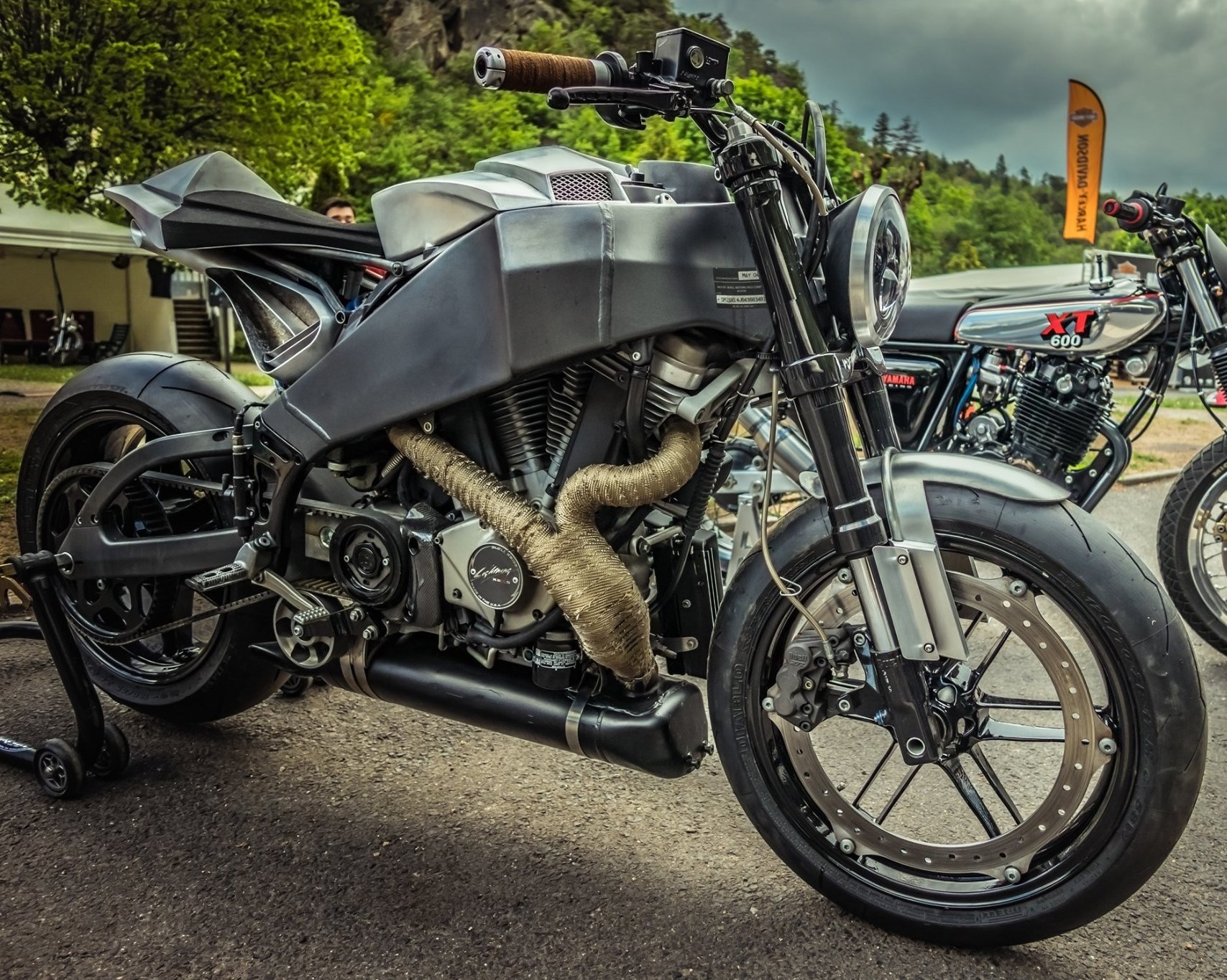 A Buell V-twin by Motocyclettes Artisanales Minimalistes…
The Buell Lightning XB12S was introduced in the 2004 model year, sporting a fuel-injected 1203cc Thunderstorm V-twin that made an impressive 103 hp and a 84 ft-lbs of torque — more power than the alpha wolf of naked bikes at the time, the Ducati Monster S2R:
"If I knew absolutely anything about motorcycles and you would have shown me these two models one next to the other, I would be 100 percent certain that the bike called Monster is the one produced by Buell." —Top Speed
What's more, the XB12S boasted many distinctive Buell innovations, such as the highly-versatile chassis, fuel-in-frame design, perimeter front brake disc with six-piston caliper, under-engine exhaust, and more.
Enter François and Eric of Motocyclettes Artisanales Minimalistes (M.A.M.), located in southwestern France. The two have been friends since boyhood — more than 25 years. Their workshop's stated mission is music to our ears:
"MAM project proposes to come back to what is most important (in our point of view): a beautiful bike, efficient and light, not only an exhibition object."
Last year, we featured their stunning Yamaha XT600 Retro Motard — a short-wheelbase, 264-pound supermoto built to go as well as it looks. Now they're back with this 2004 Buell XB12S, built for a client who gave them free rein in terms of design. All of the bodywork has been custom-made in aluminum, including the tail, airbox, fenders, headlight, brackets, and more — more than 600 hours of work, and the transformation is completely reversible!
Below, we get more details on this striking, aluminum-clad Buell!
Buell XB12 Custom: Builder Interview
• Please tell us a bit about yourself, your history with motorcycles, and your workshop.
We propose to design and produce specific parts and original body work in any style desired by the customer with the purpose to build a beautiful bike.
• What's the make, model, and year of the bike?
This bike is a Buell XB12S, 2004.
• Why was this bike built?
It's a customer project.
• What was the design concept and what influenced the build?
Our customer would like a single bike in a modern style. Mr B has given us a free hand.
• What custom work was done to the bike?
All the bodywork in aluminum (air box, seat, all the back of the bike, front fender, headlight and back one, bodywork blanks), back of the frame, electricity and exhaust pipe adaptation. About 600 hours of work for a reversible transformation.
• Was there anything done during this build that you are particularly proud of?
The overall balance of the design.
Follow the Builder
Facebook: Motocyclettes Artisanales Minimalistes
Email: f.grandadam@sfr.fr