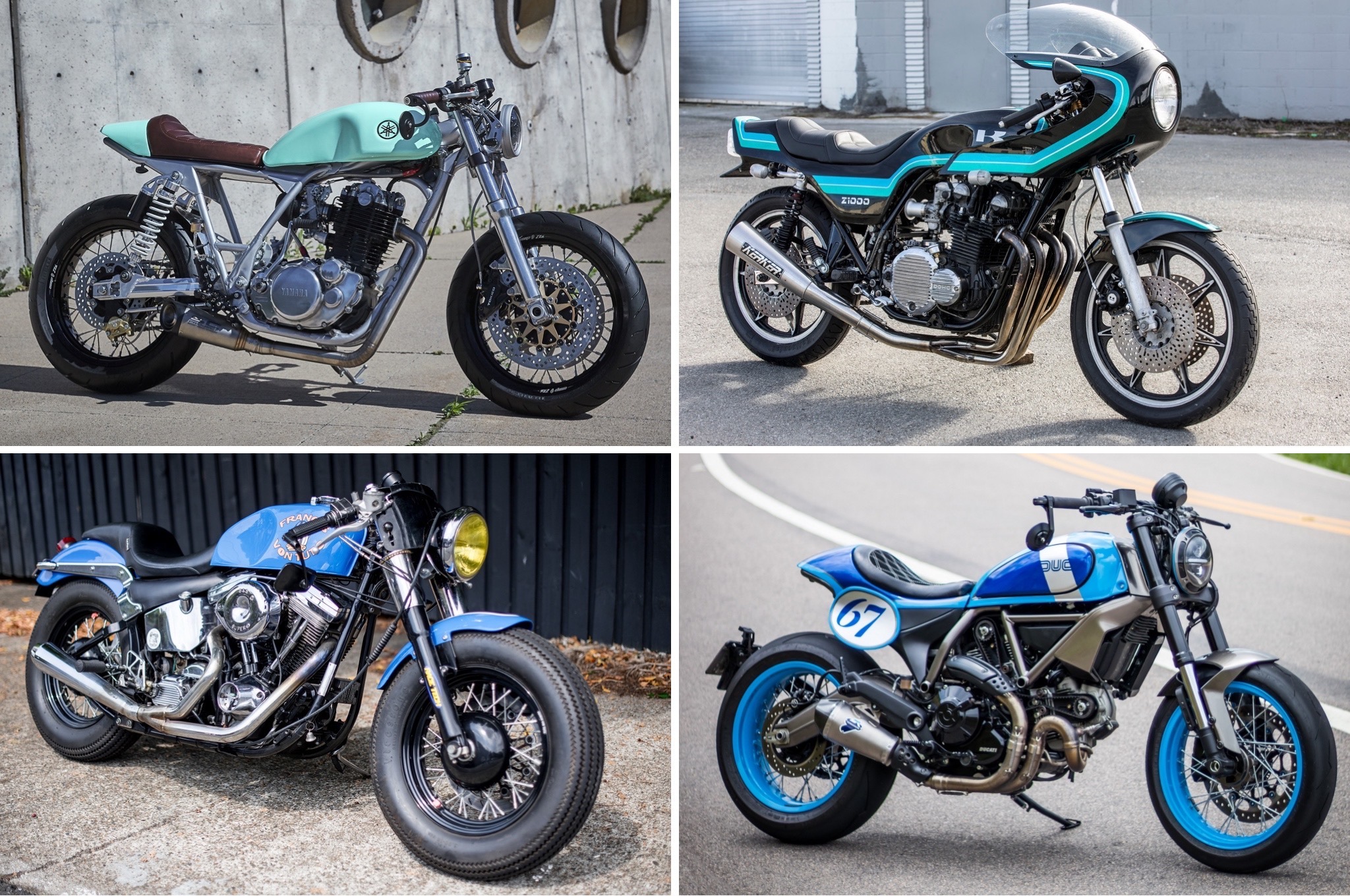 We're following up our list of the Top 10 Custom Motorcycles of 2020 with the most popular café racers we featured this year based on traffic and social engagement. Some of these were darlings of social media, accruing thousands of likes on Facebook and Instagram, while others had "long legs," continuing to garner search traffic month after month. Some stretch the "café racer" label, while others utilize uncommon platforms like Francis Von Tuto's Harley Softail or Protoworks Manufacturing's Honda CB-1. Without further ado, here are our Top 10 Cafe Racers of 2020, presented in alphabetical order by builder.
Steve Baugrud is a self-taught garage builder out of Milwaukee, Wisconsin, whose Suzuki T500 cafe racer we featured back in 2017. Believe it or not, the project you see here began when Steve scored a '74 GT185 donor for free. The owner was moving and needed the bike gone. It was in rough shape, missing many parts, but free is free."From there, I determined that a restoration would not make much sense economically. I decided to do another stripped-down cafe racer instead." Steve did a full rebuild of the engine, de-tabbed the frame, and had nearly every part of the machine powder-coated by none other than Nick Petterson of Milwaukee's Moto-Fied Cycles / WisCoat Refinishing. Even the tank is powder! Speaking of which, Steve welded new bungs into the Honda replica tank and made a self-sealing quick-release coupler for the fuel crossover tube, thereby avoiding messy spills. The end product is one of the sweetest little smokers we've seen. Says Steve: "This is a fun little bike. It's lightweight and peppy. In my opinion, the best feature are the stunning Higgspeed chambers. They feature GP style silencers and hand-polished stainless construction. They sound incredible!"
Many years ago, this SR500 was on the way to the dump when Spero Floro (@spetzo) of SANE Motion intervened: "I disassembled the entire bike at my dad's garage and brought the pieces to my apartment and began to restore the SR500 back to original in the living room." Spero rode the restored SR500 for several years before deciding to build it into a cafe racer. Spero got into the nitty-gritty with the build, changing the very geometry of the bike to suit his needs. He bought a set of 1996 GSX-R600 forks, rebuilt them with RaceTech gold valves, emulators, and custom springs, and built a frame jig to help change the steering angle. He raised the rear section of the frame six degrees, fabricated a seat cowl out of aluminum, and had the seat made by @haversack_leather. The tank is from a Benelli Mojave, highly modified, and the wheels are Warp 9. Spero completely rebuilt the engine with a high-compression piston, aftermarket cam, resurfaced rockers, and port-and-polished head. The engine now displaces 535cc, matched to a custom Lectron carb and stainless steel exhaust: "The first time I rode the bike I was absolutely amazed with the power… The front end comes off the ground when shifting into 3rd." This gorgeous SR500 cafe racer was due to be in some of our favorite shows this year, but 2020 had other plans. Fortunately, we still got to ogle this work of art here online, and we can't wait to see it in person once the show circuit gets rolling again.
Francesco Tutino of Francis Von Tuto Moto Works originally purchased this 1993 Harley-Davidson Heritage Softail Classic after migrating from his home country of Italy to Brisbane, Australia. Unfortunately, after several months of ownership, he lost the front wheel and went hard into a guard rail. He was able to walk away, thankfully, but the bike was another story: "I wanted it to come back to life as a sort of a costly lesson for me (very costly), and it was also the perfect occasion to built something upstream with some FVT character!" Now the bike has a bit of Frankenstein's soul: "There are basically six main items from five motorcycles of four different brands that together create the long and low flowing profile of the bike…" What's more, he was able to shave more than 175 pounds from the big cruiser! While Francesco admits that upgraded suspension, clip-ons, and rearsets don't transform a big Milwaukee tractor into a lithe little canyon dancer, he loves the character, geometry, and soul of the bike. It's a machine that's deeply entangled with his own life and history — truly a part of him: "This bike was bought with the money I made out of hard work after going through those above mentioned tough times, it marks the start of a journey that I want to keep travelling, it's mine and it will be for a long time."
Each year at the MBE Motor Bike Expo in Verona, Italy, the Ferro dell'Anno ("Iron of the Year") contest is held, bringing together some fifteen contestants and a prestigious jury of judges. It's a contest to give visibility to non-professionals in the hope they can turn their passion into a source of income. In 2020, the award was bestowed on this 1984 Honda CBX750F by Simone Lovatti of Garage14 Custom for his friend and client, Joel Matthias Henry. The duo planned to bring the 36 year old sport bike into the 21st century without losing the original charm of the angular 80s machine: "The idea for this project was to maintain some of the original characteristics of the bike, such as the tank, the graphics and the headlight, obviously slightly revised. It was supposed to be the 2020 CBX." Simone began racing his scooter in the countryside at the age of 12, and hasn't stopped modifying bikes since then. He says of his workshop: "My garage is nothing but a tool shed, a bit ugly, but the important thing is the passion and attention I put into my projects." Amen to that!
For more than 25 years, David and Michael Lloyd of Lloyd Brothers Motorsports (LBM) have been involved in flat track racing, campaigning an Aprilia/Rotax flat tracker in AMA pro competition and developing competitive trackers based on Ducati engines. Two years ago, we were proud to feature the XL600R street tracker that David and his son, James, built together. Well, James isn't the only sibling with the motorcycling bug: "Strolling through the swap meet at Barber Vintage Festival several years ago, Sonya, 15 years old at the time and a lifelong motorcycle enthusiast, found this little green 1968 CB350 and it was love at first sight." They knew the bike would need some real TLC, but that's what projects are for! They brought the CB home and began cooking up a vision for the build. The project was a bit of a stop-and-start affair, as father and daughter's schedules didn't always neatly align, but they slowly made progress. Then came March of 2020, and they had a lot of unexpected time on their hands: "The Corona virus hit and with us both being home there was no longer anything stopping us from putting our heads down and competing the project." Father and daughter's hard work has transformed a crusty swap meet purchase into one of the sweetest 350's we've ever seen.
Jeff Massamillo is a Texas marketing exec who spent his younger days riding dirt and sport bikes, but put motorcycles aside once he had a family. Now, with both kids in college, he was itching for a project. The '71 Honda CB450 you see here began as a true barn find in southeast Texas: "A farmer took the bike in trade in '73, his son and future daughter-in-law had their first date on it, rode it through high school and were married. Shortly afterwards it was put away for 42+ years when I purchased from them." As with many projects, the bike seemed to fight Jeff the entire way, biting back with busted knuckles and a variety of gremlins, earning the name "Scarlet Witch," but the end result was well worth the effort. Along the way, Jeff learned everything from motor building to welding to fiberglass — he even sewed the seat himself! The bike was completed literally five minutes before he loaded it into the truck for the prestigious Handbuilt Motorcycle Show. Once the bike was set up on display, Jeff sent a few photographs to the previous owners. Soon thereafter, the wife called: "I would have called you sooner, but I drove across the farm to show my husband and had to clear the tears first. We never thought it would be on the road again, thank you, it is so beautiful!"
Bill and Evan Gregory of Ontario's ProtoWorks Manufacturing Inc are both certified machinists with a vast repertoire of skills in their arsenal: CNC, CAD, 3D printing, metal fabrication, engine building/tuning, and more. Father Bill built a '79 Suzuki GS750 in the early 80s and went superbike racing: "Although only modest success was earned on the track, valuable technical knowledge was gained regarding motorcycle performance and design modifications." Now the father/son team are determined to make their living in the custom motorcycle market. The CB-1 you see here is a 1990 model that has undergone a massive transformation, including a bespoke swingarm, Kawasaki ZX6R rear wheel and front end, Kawasaki Ninja 300 tail, LCD instrument display, relocated electrics, custom silencer, and a vast array of 3D-printed or hand-fabricated parts to graft the various pieces into a final product that looks like it was factory-built by Honda's own R&D team. This is one of those bikes that we want to ride as much as ogle — which is part of Evan and Bill's driving philosophy: "We don't build bikes for show. Each has a practical function and is intended to be ridden…Each bike is built for performance and styling, intended to be exploited on the road."
The once-derided CX500 is enjoying a renaissance in the workshops of custom builders all over the world. One of these is Sebastien Ledis, who spent fifteen years as a chef before opening his own workshop in the southwest of France, Seb's Atelier. Sebastien is a big fan of the CX — in fact, he's done 10 projects to date with the platform! As a long-time Ducati enthusiast, he wanted to incorporate the Paul Smart colors into this build. The donor — a 1980 model — was in terrible condition, including a seized engine and no paperwork. From there, Sebastien built the highly modernized cafe racer you see here, outfitted with GSX-R forks and brakes, spoke wheels, LED lighting, rear sets, Ducati rear suspension, and much more, including the Paul Smart-inspired color scheme. Sebastien especially enjoys the reactions to his work: "People think it's a new neo retro racer, but in reality it's an old motorbike — 40 years old."
The Kawasaki KZ1000 is one of the baddest air-cooled muscle bikes of the 1970s. Introduced in 1976, the bike won multiple AMA Superbike Championships, and the 90-hp big-bore Kawa was seared into the cultural consciousness when fourteen of them starred in the breakout film Mad Max — one as The Goose's police bike, and thirteen as the modified mounts of Toecutter's gang, played by the Vigilantes — a real motorcycle club. Enter Mitsuaki Shinohara (@mitsuaki555), an automotive painter whose 1978 Kawasaki KZ1000 was one of the standouts of The One Moto 2020 — a dream come true: "I've always wanted to submit a motorcycle I built to the One Moto show ever since I first visited 6 years ago." As you might imagine, "Aki" was inspired by the KZ1000 customs from Mad Max. Among the many modifications, the bike now sports a period-correct Tracy body kit and Rickman front cowl combination, and the paint is Aki's own work — the result of much trial and error, trying to decide on the right colors. We love the scheme he chose, which gives the bike its nickname: "Aquafresh."
Antônio Victor (Duc) is a Brazilian architect and motorcycle enthusiast who had an entirely different vision for his Ducati Scrambler, which began life as a yellow 2017 Ducati Icon model: "The idea from the beginning was to have a unique bike, with its own style, ready for everyday life and also to perform well on the track." Enlisting the help of his friend Sebastián Rochón of São Paulo's S-R Corse Meccanica workshop, they set out to transform the bright yellow Duc into a track-ready machine — and update the aesthetics at the same time. The bike was given a new subframe with built-in LED lighting, and the tail incorporates number plates and the original mounting points, so it can swapped for a two-up saddle at any time. The suspension was reworked for track use, the shift pattern inverted to the GP style Antônio prefers, and the brakes given DOT5 fluid to prevent fading. They also swapped out the original mags for a set of spoked wheels, re-lacing them to 17-inch hoops for better tire choices. The most striking aspect of "Babe Blue" has to be the paint scheme. Antônio wanted to stay with Italian colors, choosing Bugatti Veyron Blue, complemented by a darker blue, and a metallic gray color specially developed at House Of Kolor.