Today, we're thrilled to present our Top 10 Custom Motorcycles of 2020 as judged by you, our readership. Your visits, likes, and engagement served as votes, and we ranked these bikes according to their popularity among our readership. This is the most objective ranking we could achieve.
We noticed a few big themes in this year's 10 Best:
Supermotos: New this year, two bikes from the list are supermotards, and 485 Design's XR400 "Supercafe" toes the line as well. Never before have we had so many SuMos on the list!
Two-Strokes: As in years past, two-strokes are very well represented, with two Yamaha IT200's, a DT175, an RD125, and an MZ all making the cut — y'all love your smokers!
Singles: Half of the bikes in this year's Top 10 are single-cylinder machines, though several are smaller, two-stroke singles as opposed to the big four-stroke thumpers of year's past.
Don't see one of your favorite bikes? Stay tuned for our 2020 Best Cafe Racers, 2020 Best Scramblers / Trackers, 2020 Best Two-Strokes, and more coming soon!
Without further ado, here are our Top 10 Custom Bikes of 2020, presented in alphabetical order by builder.
Nick Mercer (@nm485) and Nik Esposito (@nik.espo485) of Colorado's 485 Designs grew up riding and racing motocross before founding their shop south of Denver, where they specialize in motorcycle and automotive builds and fabrication. This '96 Honda XR400R, dubbed the "Supercafe," was mainly a shop project, blending inspiration from the supermoto and cafe worlds. Nick says of the bike's design concept: "A Supermoto-style bike on the XR platform, but the inverted forks off a sportbike were a must. Again, we wanted to make something people have not seen before." The result is one of the sweetest big-single builds we've seen, a 400 thumper that just begs for one-wheeled shenanigans.
Théo Cabart of Normandy's Black Petrol is a young metalworker and fabricator who's been customizing bikes for the last three years. His first build was a CB750 cafe racer, and then he got interested in building himself a Sportster, starting with an '03 1200 model. Théo's desired riding position served as the crux of the build: "I wanted a high position on this bike, with a wide handlebar to create the perfect position for cruising." The bike is sporting a set of GSXR forks mated to a Buell perimeter-style front brake setup — a massive improvement over the stock Harley brakes. The tank is from a Yamaha SR500, cut and welded to fit, and Théo fabricated a whole slew of aluminum parts, including the bash plate, mudguard, battery cover, foot pegs, and more. The exhaust is a custom system, and one of his favorite parts is the tank logo designed in 3D and laser-cut from stainless steel.
Best friends Jared Morris (@bulletbobmoto) and Zac Nesbitt (@mx5digital_widebody) are the duo behind this stunning pair of Yamaha IT200 Twins. Jared has been on a self-described vintage two-stroke "bender" over the last few years, mainly working on the bikes of his late father, Bullet Bob — his workshop's namesake. For 2020, Jared decided it was time to tackle his dad's old AHRMA cross country race bike, a 1986 Yamaha IT200S: "I decided what better time to do the IT Supermoto build than at the same time my best friend is doing the same bike to race cross country in AHRMA with me?" The duo finished the Team Bullet IT200 Twins just in time for the 2020 Victory Moto Show. The bikes were stars of the event, garnered a record 17,000+ likes on our Instagram, and secured Jared's place as a young king of vintage smokers. All in all, we can't think of a better way for a young builder to honor his late father's legacy, and for two young men to highlight their lasting friendship.
Colombia's Sebastian Cardona Correa is an IT solutions architect and semipro racer who learned to ride on his father's 1982 Yamaha DT175 "Calima" — a common nickname for the bike in the Colombian market, short for "calibmatic carburetion." Years later, Sebastian decided to restore his father's old DT: "This is my father's bike that my whole family grew up on, so it has a big sentimental value — and the bike had been abandoned in a corner of the garage. So in the beginning, the idea was to fix the bike and use it in the city." However, an even better idea soon came to him: to rebuild the bike as a motard and use it for race training! Working closely with his race mechanic, JVR Motorcycles, Sebastian transformed the bike into a track-ready two-stroke supermoto, fitting 17-inch wheels, upgrading the suspension for circuit racing, rebuilding the engine with performance parts, and making the old DT look as good as she performs. Since then, we've loved watching Sebastian race this "Tarmac Smoker" on the track!
It's safe to assume that no one reckoned the Virago would be resurrected 40 years later after its introduction in the workshops of custom builders like Sean Hogan of Portland's de stijl moto. We first came across Sean's work at the 2019 One Moto Show, where his 1983 Virago 750 custom immediately caught our attention — as did Sean's no-excuses attitude and philosophy: "I made a promise to myself a few years ago that any interest I had I would attack it fully and never make any excuse for why it was out of reach." Fast forward one year, and Sean brought a new Virago build to the 2020 edition of The One Motorcycle Show, built for his long-time friend Tommy Patterson, inspired by 90s Japanese import culture: "We grew up building Hondas and street racing in Southern California and wanted to create something that had some nostalgia from our youth." The level of detail on the build is exceptional, with the entire bike wired inside the frame, a modified trellis swingarm, one-off rearsets and exhaust, several JDM-inspired touches, and much, much more.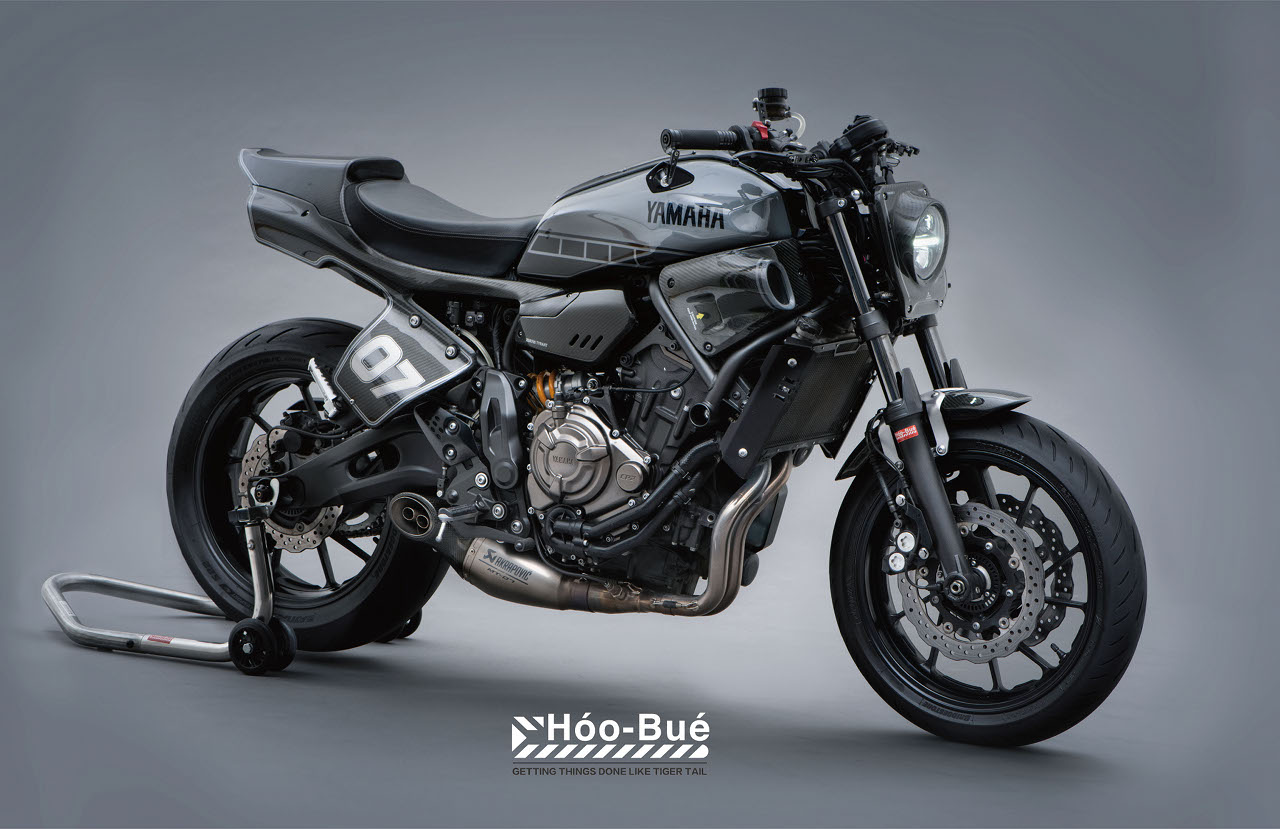 Taiwanese industrial designer Jurmol, founder of Hoo-Bue, sought to combine his love of conceptual design and vintage flat track motorcycles in this 2016 XSR700. The idea was to build a street tracker for city use, using Yamaha's MT series slogan for inspiration: "Following the Yamaha MT series slogan, 'Dark Side of Japan,' the core of the XSR700 Tyrant design is 'back to the dark side.'" Jurmol developed carbon fiber body parts for the machine, including a headlight kit, finders, frame and radiator covers, and a complete tail unit. The result is one of the most stunning XSR builds we've seen — a dark, modern street tracker that signifies a new name in the Taiwanese custom scene.
Wilco Lindner of the Netherlands was riding in a mini sidecar before he could even walk, then went on to race motocross until opening a Crossfit gym several years ago. Once that business was up and running, he returned to his two-wheeled passion. First he started on an XR600 project, but what he really wanted to build was a 2-stroke twin: "Last summer I found one, an RD125. And so began the story. In the process I learned to weld, machine and all things that are needed to complete a build. Not that I couldn't do anything before, but I learned a ton of stuff." Yes, this stunning little smoker is Wilco's first build, complete with a fully ported and polished engine, one-off exhaust, hand-cut graphics, Derbi-sourced wheels and suspension, and much more. When asked why he built the bike, Wilco's answer was music to our ears: "Why, because of the love for screaming 2 strokes."
Sean Skinner of Virginia's MotoRelic is one of our favorite builders not just here in the USA, but worldwide. This Yamaha XT500 restomod / scrambler was built for a customer whose first impression of the big cc thumper was as an adolescent, when a guy he knew rode up on one with his hot girlfriend on the back. He remembered thinking: Man, that dude has it all. The bike! The girl!' As they rode away, he knew one day he would have to have that! The customer wanted to give his XT a slightly modernized makeover with a larger rear tire, updated suspension, dual-exit exhaust, and more. Sean fitted a Suzuki PE250 swingarm with a 15-inch Ikon suspension shock, YZ250 forks, Hella lamp with a bezel shaped from a 180-degree turbo pipe, CNC-cut aluminum side panels, Counter Balance Cycles seat, paint and powder from Knight's Kustoms and NV Coatings, and much more. The result is, hands down, the nicest XT500 we've ever seen, a restomod scrambler that must be a hoot to ride.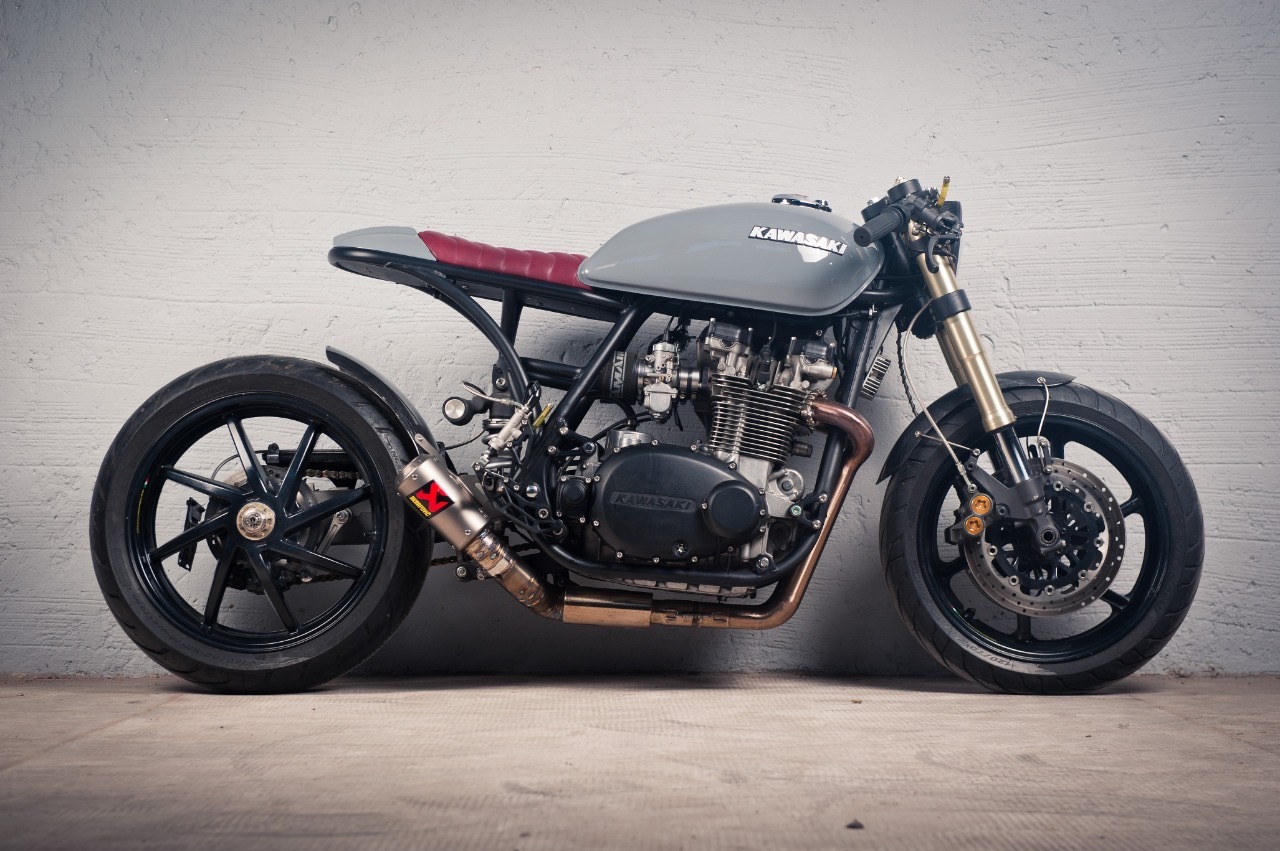 Marcelo Obarrio of Argentina's STG Tracker has earned quite a reputation for building red-hot street trackers, as his workshop name suggests. For this '76 KZ750, however, Marcelo and team wanted to branch out: "It was a personal project, trying to make something really different from what we always make." Possibly the most challenging and striking aspect of the build is the single-sided swing arm, sourced from a Honda VFR400 NC30 and mounted beneath a custom aluminum tail. The front forks are sourced from a Yamaha R1, the fenders are carbon fiber with titanium supports, and the bike is wired internally for an ultra-clean look. The bike — nicknamed "Jarvis" — was recently a finalist in the 2020 Custom Built Show, and Marcelo says it handles incredibly well, almost as if the 70s chassis and 90s suspension were destined to be together.
Konstantin Moser of Wertvoll Engineering and Andreas Bellmann of Bellpali Motorradmanufaktur have a workshop in Chemnitz, Germany — just 15 mins from the original MZ factory in East Germany. Konstantin began building bikes to help finance his engineering studies, and has been collaborating with Andreas of Bellpali for about a year. Together, they're combining their skills in engineering and hand-craftsmanship to build custom bikes. Given their proximity to the legendary MZ factory, they decided to build a custom ETZ 250. They kept the engine and iconic "buffalo" tank so the bike would remain recognizable as an MZ, but the frame and swingarm are completely custom. Gone is the factory twin-shock setup, replaced with a mono-shock chassis and custom Hyperpro shock absorber. They bored the engine to nearly 350cc, so this two-smoker has around 40% more displacement than stock — quite the punch!