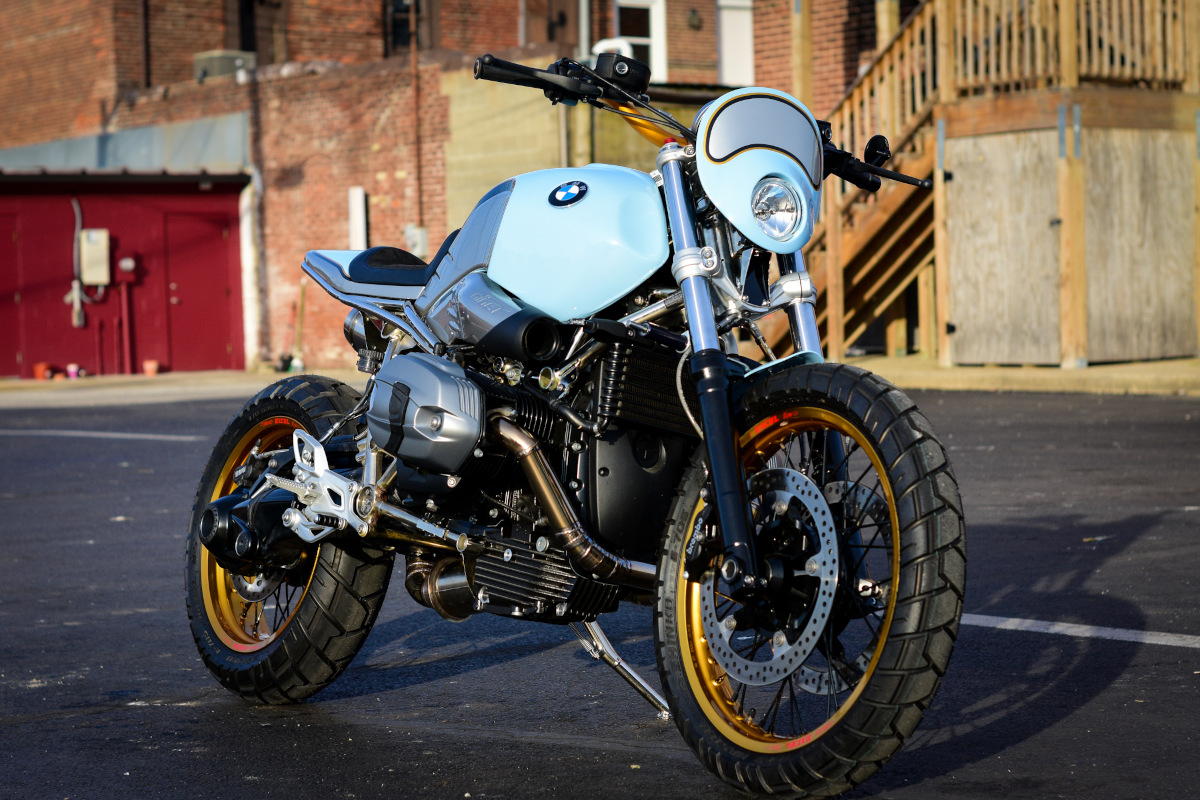 A big-single king rolls out his first twin!
Back in 2018, we had the honor of showcasing the first build from a young builder in Indiana, Spencer Parr, a full-time police investigator who built a Suzuki DR650 retro supermoto out of his home garage — a nostalgic throwback to the dirt bikes of yesteryear, but outfitted with modern components, lights, and a license plate. Said Spencer back in 2018:
"I hope one day I can have an impact on the motorcycle industry like all my favorite builders have. My wife told me, 'just go for it', so that's precisely what I am going to do."
In just a few short years, Spencer has done just that, establishing Parr Motorcycles and following up with a Suzuki DR650 Retro-Scrambler and Honda XR650R Retro-Tracker that set the custom scene on fire, ushering in a whole new genre of modded big-single dirt bikes with a triple threat of performance, aesthetics, and nostalgia.
Now Spencer is back with a new build, and it's one that was both a big challenge and a learning opportunity — his first BMW, his first twin, and his nearly brand-new donor bike. Spencer had just finished his Honda XRR street tracker in 2020 when a customer in California reached out about a BMW R NineT:
"It was a build that was going to be completely out of my wheelhouse since my main focus is on single cylinder/dual sport bikes. He really believed in me, so I took on the project and stepped out of my box in a big way."
The customer wanted to transform his 2017 BMW R NineT Racer model into more of an urban scrambler, featuring a slightly more upright seating position, nickel frame, baby-blue paint, and small headlight/fairing. What's more, the bike needed to remain CARB compliant given its future residence in the Golden State, and they also wanted to keep frame modifications to a minimum.
Spencer picked up the customer's bike from a dealership in Illinois and brought it back to his home workshop, where he would spent the next several months tackling the big Bavarian boxer.
"Like every build I do, my main goal is to create a bike to look and feel like it came from the manufacturer."
Spencer accomplished just that, though the learning curve was steep and the bike demanded a new level of ingenuity — hell, Spencer even had to make several of his own tools to work on the modern BMW. For the rear of the bike, he fabricated a removable subframe that actually sits outside the OEM one, complete with an integrated splashguard and license plate holder, and a custom tail section that shows off the nickel-plated frame.
Spencer actually hung the big boxer engine from the ceiling of the garage while he tore down the bike and sent off the parts for paint and plating, then rebuilt it from the ground up with new wheels, custom headlight and fairing, upgraded suspension / exhaust, custom tail/saddle/subframe, and much more.
Below, we get the full story from Spencer himself on the first Parr Motorcycles twin!
BMW Urban Scrambler: In the Builder's Words
I had just finished the XRR street tracker build in 2020, when I was contacted by a customer wanting a BMW R NineT built. When we were speaking about the project, I was excited and nervous all at the same time. It was a build that was going to be completely out of my wheelhouse since my main focus is on single cylinder/dual sport bikes. He really believed in me, so I took on the project and stepped out of my box in a big way. I soon picked up the customer's bike at a dealership in IL, and the build started.
The bike is a 2017 BMW R NineT Racer model. The goal for this project was to transform this racer model into more of an urban scrambler. The focus was going to be on suspension, wheels/tires, exhaust, and nickel plating the frame. Since the customer lives in CA, it was important to make sure the exhaust was as close to CARB compliant as possible and modifications such as framework would be to a minimum. I was given a picture of inspiration and a baby blue helmet to match the paint, then the tear-down started.
The plan was to build a new tank and tail section, so those areas of the bike were addressed first. After removing the tank and tail of the BMW, I looked at the frame and lines of the bike. The R nineT has a lot going on underneath the tank and tail section of the bike, so working around everything was going to be a challenge. Since I was going to limit the amount of cutting and altering of the OEM frame, I decided to design a removable subframe that would sit outside the original frame but still be supported by the OEM frame. This would allow me to work around the OEM frame instead of altering it.
The first version of the subframe was made to accompany a new tank. Since the owner wanted to keep the OEM airbox, we decided to keep the OEM tank and alter the subframe to work with the stock tank. The subframe would also house all the electronics so a splash guard and license plate holder was integrated in the new subframe.
After the subframe was made, a tail piece and seat was made next, which also houses the brake light. I wanted to show off as much of the nickel frame as I could, so the tail piece sits on top of the subframe instead of covering it. With this in mind, a supporting brace was created underneath the tail piece, so the rider is actually supported by the OEM frame and not the removable subframe. The owner liked the look of the smaller headlights with a small fairing, so I made a fairing to accompany the smaller headlight and cover the stock speedo/tach.
The last piece to be made was the exhaust. It is a 2-into-1 left side exhaust that uses a CARB complaint catalytic converter and a Competition Werkes muffler.
After everything was made, the bike was torn down to just the motor. Since I normally do not work on BMW's or bigger bikes in general, I had to have the engine hang from my ceiling to make the rebuild that much easier. The bodywork was sent to paint and the frames were sent to nickel.
Once I got everything back, the rebuild started. The frame was mounted to the motor and soon I was able to throw some wheels on it. The wheels are gold Excels, 19×2.15'' front and 17X4.25'' rear wrapped in Shinko 705 tires. For the suspension, the bike was upgraded with Wilbers cartridge inserts in the front and the rear shock was upgraded. After the black vinyl and alcantara seat was installed, the bike was finished. Other items installed on this bike were Rizoma front blinkers, and MotoGadget blaze pin blinkers for the rear.
I could not be happier with the way it came out. This whole build was a learning process for me, so I am glad I stepped out of my box to take it on. One thing is for sure, German engineers know what they are doing. Even the bolts on that bike are nice, haha. Definitely would consider a similar build in the future. This is way out of my box, so I hope people like it, I sure do!
BMW Urban Scrambler: Builder Interview
What the make/model/year of the donor bike?
2017 BMW R Nine T Racer.
Why was the bike built?
The bike was built for a customer who wanted to turn the look of a racer more into an urban scrambler. To do that, the fairing was removed, suspension was upgraded, clip ons were removed, wheels were changed, and a more standard seating position was created to compliment the design.
What was the design concept?
Design concept was to create a comfortable urban scrambler. Like every build I do, my main goal is to create a bike to look and feel like it came from the manufacturer.
What custom work was done?
A new removable subframe, tail piece/seat, headlight fairing, and exhaust were made for this bike.
Bike have a nickname?
No nickname for this bike yet, haha.
What is it like to ride it?
It rides great! I have never ridden a BMW with the legendary boxer engine, so that was an experience in itself. The new setup handles great and quick to turn in.
Anything done you are particular proud of?
Just to be able to tackle this big of project. Learned a lot during this build since I was in unfamiliar territory for sure. I made tools specially for this build since I did not have special tools required for this type of build. Funny how you dive into a project having never worked on it before, to only learn where every bolt and part goes. Proud of this build and I would do another one down the road for sure.
Follow the Builder
Website: Parr Motorcycles
Facebook: Parr Motorcycles
Instagram: @parrmotorcycles