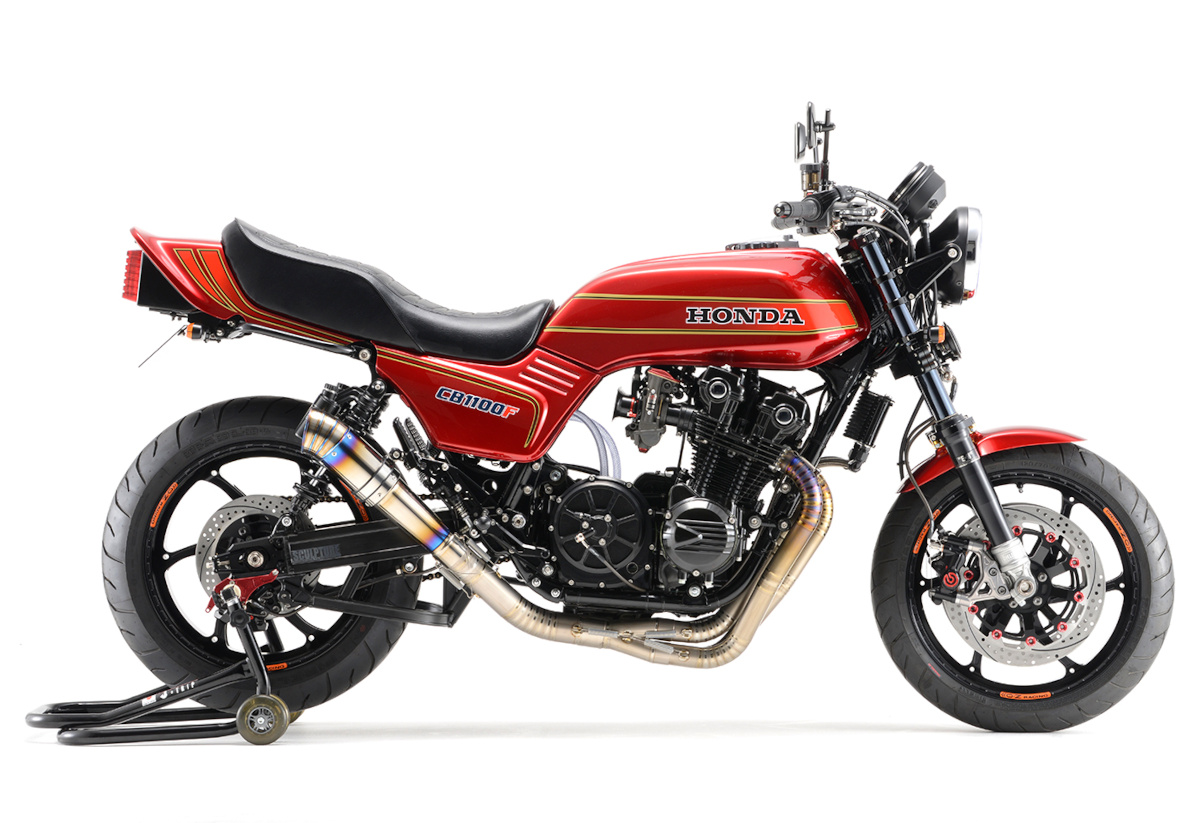 1123cc Honda Restomod from AC Sanctuary…
In 1983, the Honda CB1100F arrived as the company's king sport bike, designed to battle head-on with the 1100-class superbikes from Kawasaki, Suzuki, and Yamaha — bikes that were a solid second faster in the quarter mile than Honda's outgoing CB900F.
The CB1100F's 1062cc DOHC four-cylinder engine boasted bigger pistons, hotter cams, redesigned combustion chambers, and improved carburetion — all of which added up to 108 bhp, nearly 20 more ponies than its predecessor. The CB1100F could reportedly hit 67 mph in first gear, and riders appreciated the abundant power down low compared to its rivals:
"In a three-way shootout between the CB1100F, Kawasaki GPz1100 and Suzuki GS1100ES, Cycle magazine whipped off a standing-start quarter mile in 11.03 seconds at 121.78mph aboard the Honda. That was slightly slower than the GPz1100 and GS1100ES (10.8 and 10.88 seconds, respectively), but the upside of the 1100F's longish stroke was impressive low-end grunt for real-world riding." –Motorcycle Classics
The superbikes of the early 80s weren't known for great handling — after all, engine output had far outpaced frame and tire technology. However, the CB1100F benefited from extra frame gusseting, revised geometry, and a box-section swingarm. Cycle World was duly impressed:
"There isn't a more stable bike. Dial up the Honda's damping to full all around, jack up the fork pressure to 8.0 psi and shock spring preload to number three position or higher and set out for the meanest, roughest, fastest sweeper you can find." –Cycle World, 1983
However, there's much to be said for updating the suspension, brakes, and electronics of these old air/oil-cooled beasts, and no one does it better than Japan's AC Sanctuary. Though they're best known for Z-series builds like the Z1-R restomod we recently featured, they bring their skills and expertise to other many makes and models of the era…although founder Hiroyuki Nakamura says it's getting hard to find suitable donor bikes:
"The number of bikes in good condition has decreased significantly, and the vintage bike market has entered an era of great change. This is not just for Kawasakis; it has also happened to Hondas from the 80's, and the CB1100F/R has become difficult to obtain."
This was case for the CB1100F you see here, dubbed "RCM-525" — all AC Sanctuary bespoke builds use this naming convention, where RCM refers to "Radical Construction Manufacture." What's more, Nakamura says internal engine parts for the CB1100F are no longer available — quite the difficulty for a workshop's whose high degree of perfectionism demands a full engine rebuild:
"That made the build process was different from the air-cooled Z RCM models, as we had to patiently wait to obtain new parts via auction."
With time, patience, and a lot of "twists and turns," the engine was rebuilt with 1123cc Wossner Pistons, a 13-stage round oil cooler, Yoshimura / Mikuni TMR MJN 38 carbs, and more.
A Sculpture steering stem and swingarm designed for the Z-series was adapted for the Honda, and it was given Öhlins suspension at both ends and a set of 17-inch OZ Racing wheels with meaty Pirelli Diablo rubber.
Nakamura says the contrast to the standard bike is far from subtle:
"After upgrading the intake/exhaust system and ignition, the bike delivers wide, torque-laden power. The bike has been reborn, and has an interesting power delivery that can be fully experienced in comparison with the normal bike."
Nakamura says he felt a strong connection to this bike, but he fears it may be the last of its kind:
"New engine parts are becoming more and more difficult to obtain as the condition of the base vehicle deteriorates. Those elements are a strong headwind for RCM. Perhaps this RCM-525 will be the last of the RCM CB-F&R series."
Let's hope this CB1100F restomod isn't the last to roll out of AC Sanctuary!
Detail Shots
Build Sheet
Chassis (17 inch wheels)

Frame
Original frame reinforcement
Powder coating after blasting
Steering stem
SCULPTURE Φ43 SP stem kit for Z1
Handlebar
POSH Superbike Bar
Front Fork
OHLINS upright front fork E×M package
Front wheel
OZ Racing GASS RS-A for ZRX1200 3.50-17
Front brake
Brembo CNC Radial Caliper 484
(Master) Brembo RCS radial master RCM concept flight lever
(Brake Hose) Allegri shorto system
(Disc) RCM concept Ф320 hole & slit
(Support) SMB radial caliper support
Front fender
TYPE NAKED
Swingarm
SCULPTURE RCM wide swingarm, black coat
Rear Shock
OHLINS Blackline rear shock
Rear wheel
OZ Racing GASS RS-A for ZRX1200 6.00-17
Rear Brake
Brembo Black Anodized 2POT Caliper
(Master) NISSIN Ф14
(Brake Hose) Allegri shorto system
(Disc) Sunstar Ф250 hole & slit
(Torque Rod) SMB rigid mount
Rear fender
SWIFT
Tire
(Front) Pirelli Diablo 120/70-17
(Rear) Pirelli Diablo 120/70-17
Drive chain
EK530RCM
Sprocket
(Front) 530-18 points/10mm offset
(Rear) Sunstar 530-43
Chain line
10mm offset from normal, 95 to 105mm
Body
| | |
| --- | --- |
| Rearset | NITRO RACING |
| Passenger Pegs | NITRO RACING |
| Seat | Genuine seat base sponge molded product |
| Clutch release | Damper Rebuild |
| Drive sprocket cover | METAL GEAR WORKS HYDRAULIC CLUTCH KIT |
| Clutch Master | Brembo clutch master RCS |
| Clutch hose | Allegri Short System |
| Paint | Okushin |
Intake / Exhaust / Cooling / Electrical
| | |
| --- | --- |
| Ex muffler | NITRO RACING Weld Craft Titanium EX |
| Silencer | Grenade Titanium V3 Heat Polish |
| Carburetor | MIKUNI YOSHIMURA TMR MJN 38Ф CARBURETOR DSF |
| Fuel Cock | PINGEL |
| Ignition system | AS Uotani |
| Cooling System | Nitro EARLS 11 inch 13-stage round oil cooler |
| Bore/Stroke | 72mm/69mm |
| Displacement | 1,123cc |
| Piston Maker | Wossner Piston |
| Crank | Dynamic Balance Journal Wrapping |
| Cylinder | Top surface minimum surface grinding |
| Crankcase | Pumping loss processing |
| Valve IN | Normal valve |
| Valve OUT | Normal valve |
| Valve guide | Oversize valve guide replacement |
| Valve seat | Sheet cut processing |
| Cylinder head | Lower surface minimum surface grind |
| Cam chain | Jaze reinforced type |
| Cylinder Stud | Metal Gear Works Reinforced Cylinder Stud Bolt |
| Camshaft | STD |
Follow AC Sanctuary
Website: www.ac-sanctuary.co.jp
Facebook: www.facebook.com/ac.sanctuary/