P.M. Motorbike sharpens the fangs of an aging Monster…
When Ducati introduced the Monster S4 in 2001, it was more than the next evolution of the company's iconic air-cooled factory streetfighter — it was a revolution. For the first time, the Monster received a liquid-cooled eight-valve superbike engine lifted from straight the Ducati 916 — fuel-injected, of course — and all S4 models boasted fully adjustable suspension, a dry clutch, and Brembo brakes.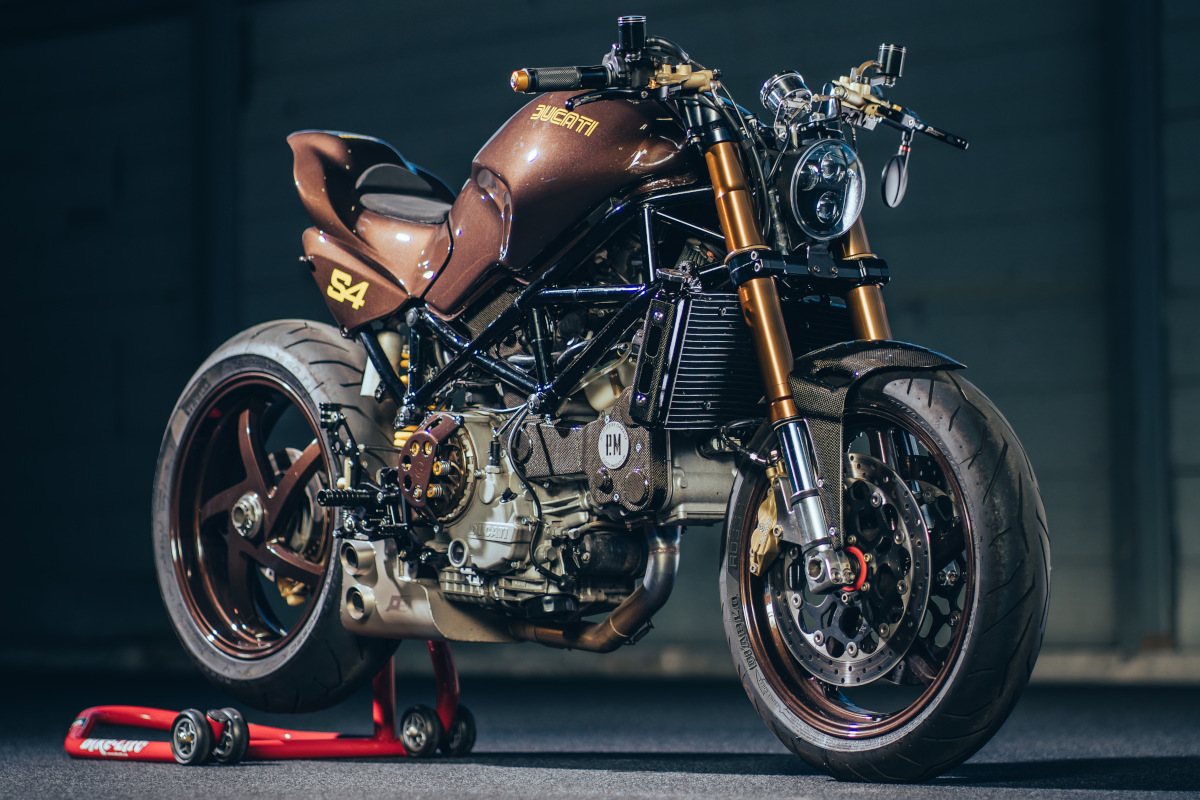 Though the 90º V-twin engine had been detuned from superbike spec, it still made 101 hp and 68 ft-lb of torque — the first Monster to break the 100-hp mark. Once conceived as a basic naked roadster — the original design brief called for a modern equivalent of Brando's Triumph in The Wild One — the Monster had become a much sharper tool, and the world took notice:
"More punch than a bare-knuckle fist fight and the handling to match — Ducati's S4 Monster is armed, dangerous and on the prowl…" –Bike Sales
While the S4 was revolutionary at the time, the model is now more than 20 years old — quite long in the tooth.
Recently, we got in touch with Pier and Marco of Italy's P.M. Motorbike — a duo who've joined forces to realize the dream of opening their own workshop to build "unique, personal, and exclusive specials" for their customers. When one of their clients and friends brought them this aging Monster, they were given full creative freedom to sharpen its teeth:
"The idea was to make an older motorcycle absolutely current, elegant, sporty, proportionate, and with the aggressiveness that distinguishes it."
This S4 has been completely transformed. Up front, the 43mm USD Showa front end was re-anodized and fitted with a carbon fender. Out back, Pier and Marco swapped in the single-sided swingarm from a Ducati 748, along with an S4R rear wheel, S4Rs pegs, shortened subframe, and custom rear cowl.
On the performance front, the bike is now running an electronic quickshifter, free-flowing intake, and a trick QD exhaust system. Little details abound, such as the LED lighting and carbon engine covers, and the chocolate / gold livery is both unexpected and oh-so-right.
While this Monster manages to look both elegant and aggressive, it isn't just for the eyes — it's leaner and meaner, too:
"The starting weight was 193 kg, we took off almost 20kg. Starting power 101 hp; we brought it to 112 hp."
Below, we talk to Pier and Marco of P.M. Motorbike for more details on the build, and special thanks goes out to Mattia Negrini (@mattia_negrini_fotografo) for these gorgeous shots.
Custom Monster S4: Builder Interview
• Please tell us a bit about yourself, your history with motorcycles, and your workshop.
We are two Italian guys with a dream in the drawer … to open our mechanical workshop but with an extra plus for our customers, that is to create unique, personal and exclusive specials.
Our workshop logo stands for our names: PIER and MARCO.
Pier: Since I was a kid I used to work on motorcycles, I disassembled, repaired and created… I've always done only and only this job, which job isn't, because it's my greatest passion!!
Marco: After many years of tinsmithing, I joined with Pier to realize his dream, as well as passion for engines.
• What's the make, model, and year of the donor bike?
In this specific case, we made a Ducati Monster S4, year 2001.
• Why was this bike built? (Customer project, company promotion, personal, etc.)
The bike belongs to a customer and friend, who left the idea, the complete design, and construction to us.
• What was the design concept and what influenced the build?
The idea is to make a vintage motorcycle absolutely current, elegant, sporty, proportionate, and with the aggressiveness that distinguishes it.
• What custom work was done to the bike?
We carried out the complete anodization of the front end, and replaced the swingarm with a "naked" single-sided unit taken from a Ducati 748, along with the hub, sprocket, brake disc, and brake caliper.
S4Rs rear rim
Shortened and modified rear frame to house the new cowl
Kellerman indicators
Electronic shifting
Open intake
QD exhaust
LED headlight
S4R footpegs
Daytona odometer
Chocolate brown paint, with modified brightness and the addition of some carbon pieces.
• Does the bike have a nickname?
No nickname.
• Can you tell us what it's like to ride?
The bike is extremely fun, easy to handle, with a lot of torque.
• Any idea of horsepower and / or weight?
The starting weight was 193 kg, we took off almost 20kg. Starting power 101 hp; we brought it to 112 hp.
• Was there anything done during this build that you are particularly proud of?
We are proud of the complete creation, both for the happiness of the customer and for the success obtained.
Follow the Builder
Instagram: @p.m.motorbike
Facebook: PM Motorbike Garage Customizations
Photography: Mattia Negrini Fotografo (@mattia_negrini_fotografo)