"Cut like a wasp…"
Quentin Lambert, the 22 year-old founder of France's L'établi Garage, is quickly making a name for himself in the customs world. Last year, we featured his Honda XLV750R Street Tracker — one of our 10 Best Custom Motorcycles of 2017. Young Quentin, who has a degree in motorcycle mechanics, built the XLV in collaboration with a design student friend. There was so much to love about that build: the geometric lines, the rare platform, the motocross and flat track design cues, and the fact that this was the work of such a young builder.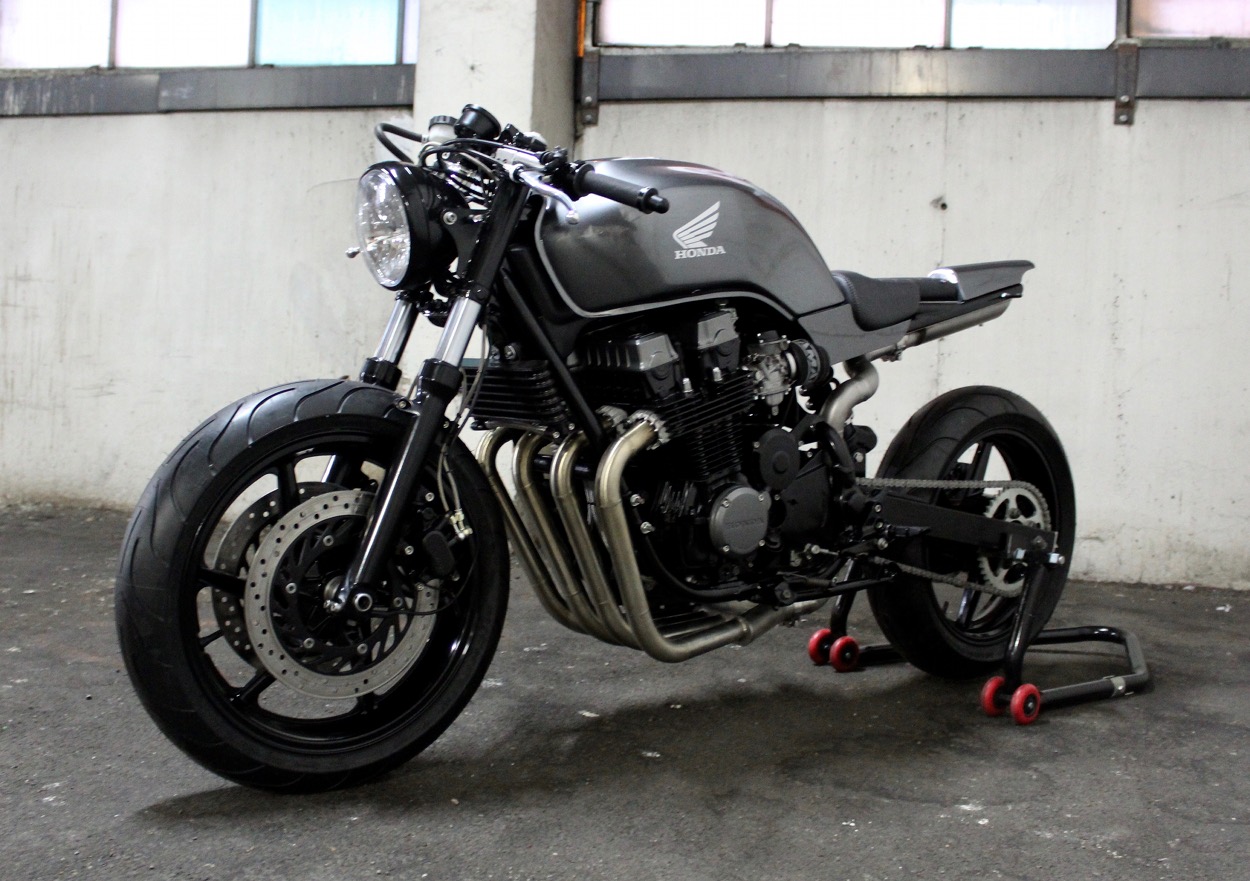 Now Quentin is back with another build, this 1992 Honda CB750 F2 "Street Sport." The F2, aka the Honda Nighthawk, was built from 1992 to 2001 — a bulletproof, if rather boring evolution of the "original superbike." Quentin did away with the dual suspension of the factory bike, installing a rear mono shock and custom-made 4-into-1 stainless exhaust, which boosted both performance and aesthetics. As Quentin says:
"The line of this bike is cut like a wasp!"
Below, we get the full story on this monoshock Honda CB750F2 custom build!
Honda Nighthawk Monoshock Build:  In the Builder's Words
Here is our idea of ​​a STREET SPORT!
The bike is a Honda CB750 Seven Fifty of 1992, a motorcycle popular in the world of preparation [custom building]. But as usual we wanted to do something unique, never thought or created!
We have brought out the sleeping sportiness of this machine, which is why we have reworked and manufactured a rear loop with no side suspensions, the finest possible to accommodate a whole and tailor-made central exhaust. The line of this bike is cut like a wasp!
We then modified the swinging arm and the front part of the frame to accommodate a mono shock.
The fairing in the continuity of the tank and the seat of a refined design make this Seven Fifty an aggressive and sporty motorcycle.
The 4 in 1 stainless exhaust required a lot of work for a perfect line and a pleasant sound.
We opened the engine for a check, taking care to replace all joints, and applying a black coating.
Sobriety and minimalist being our main words, we dressed this one of black and metallic gray.
Full Specs
Headlight 7 inches
Half-handlebars
Chaft handles
CNC Alu Commodo
Daytona speedometer
Michelin Pilot Power tires
RamAir filter
Mini Led turn signals
Taillight Highsider
Saddle handmade
Back shell handmade
Fairings handmade
4 in 1 exhaust system and hand-made stainless steel silencer
Modern engine paint in black and engine rebuild
Rear frame modified
Mono-damping adaptation
Adjusting the fork height
Epoxy paint frame and rim
Tank, fairings and back shell metallic gray paint
Etc.
Follow the Builder