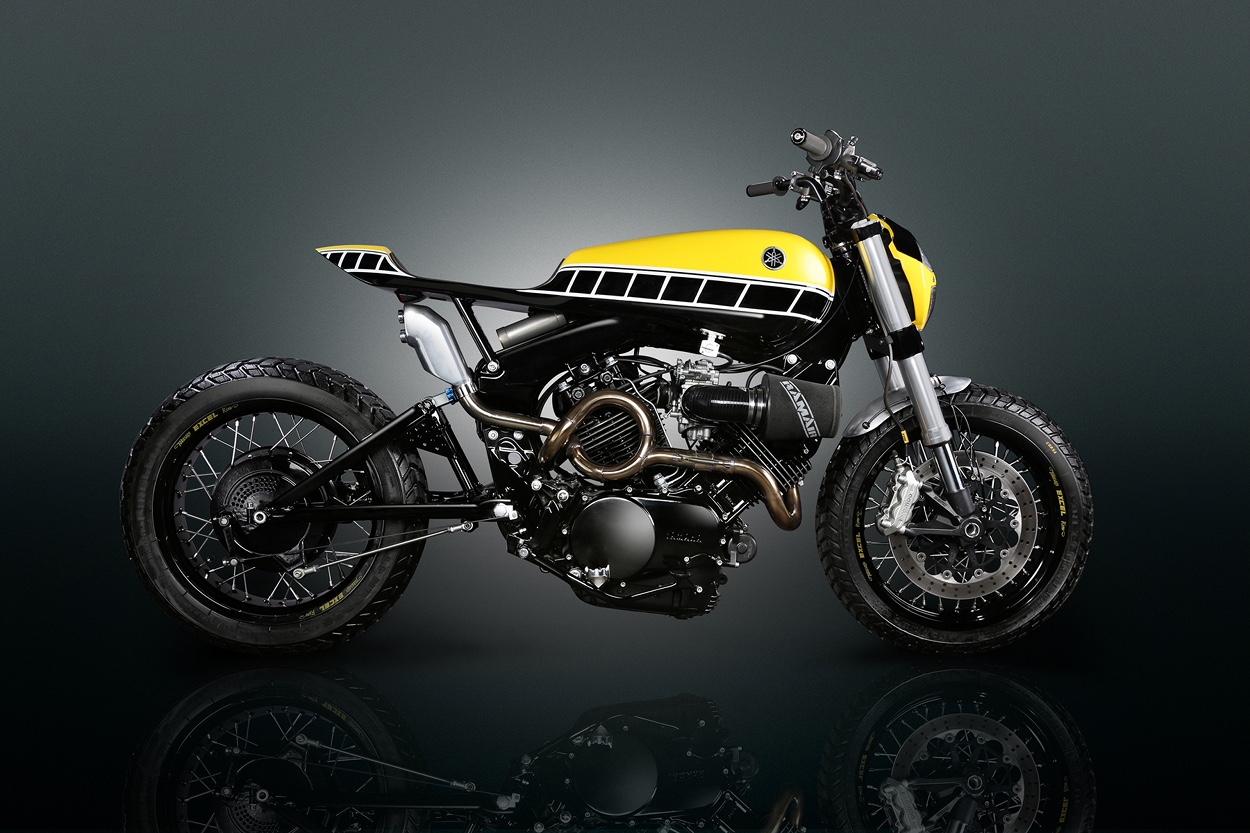 Jody Millhouse of the UK's Thornton Hundred Motorcycles has quickly become one of our favorite builders, jumping onto the scene with his staggering CR500 tracker and classy Ducati 900SS cafe. Now the young man from Milton Keynes is back with this 1983 Yamaha XV750 Virago street tracker, bearing the influences of Kenny Robert's classic Yamaha speed block.
The bike got a scratch-built monocoque tank and seat, as well as a wild exhaust that Jody shaped himself — his first use of metal-shaping in one of his pro builds. We love the aggressive lines of the bike, which was featured at The Bike Shed 2018.
Below, we get the full story on one of the best Virago builds we have ever seen.
Yamaha Virago Street Tracker: Builder Interview
Please tell us a bit about yourself, your history with motorcycles, and your workshop.
My name is Jody Millhouse. I live and work in Milton Keynes and I own Thornton Hundred Motorcycles which I established in January 2016. I've ridden and tinkered motorcycles and bicycles since I was a child. My workshop is based in Hanslope in Milton Keynes and is fully equipped with five bike ramps, engine building room, paint booth and prep area and all the appropriate equipment to build pretty much anything I or my customers desire.
I'm only 22 however I have gained enough skills to carry out all tasks of motorcycle building from welding/ fabrication, sheet metal work, welding/ brazing, painting and everything in between and have gained this wealth of experience through trial and error and very gentlemen helping me along the way. I believe this is a good USP for myself as a lot of people in the game are a lot older and I feel like I bring fresh ideas to my builds.
What's the make, model, and year of the bike?
1983 Yamaha XV750 Virago
Why was this bike built?
The bike was built as a promotional tool for The Bike Shed 2018 and other shows for the year, also as an exercise to see what can be done with a Virago as lots are being built.
What was the design concept and what influenced the build?
The design concept was to build something with a monocoque style tank and with a wacky exhaust. Tracker styles influenced the design and classic Yamaha speed block in Kenny Roberts colours inspired the paint.
What custom work was done to the bike?
Fully rebuilt from the ground up, the frame has been skimmed and smoothed
The tank and seat have been built from scratch into a monocoque with Kenny Roberts style speedblock paint. We utilised the original tank and built off the back using mild steel sheet.
Ducati 821 front end with Brembo caliper and disc
Brembo RSC brake and clutch master cylinders
Magura hydraulic clutch conversion
Spoked wheel conversion using stainless spokes and Takasaga excel rims
Pirelli MT60 tires
Mikuni TM40 pumper single carb conversion
Custom made stainless exhaust system with handmade alloy silencer all done by myself.
• How would you classify this bike?
Tracker
Was there anything done during this build that you are particularly proud of?
I'm particularly proud of the tank and seat work, along with the exhaust and end can as they were all done by myself and was the first real time I'd used sheet metal shaping in one of my professional builds.
Follow The Builder