Earlier this week, we presented our Top 10 Custom Bikes of 2018, which is an objective, data-driven list, in which bikes are ranked according to website visits and social engagement. Today, we present our Top 10 Editor's Choice, which is a more subjective list of our personal favorites — the bikes that gave us the biggest kick to feature! The only rule is that a bike has not appeared in one of our past Top 10 lists.
When you put together a Honda engineer, a '74 CB750, and an AMR500 supercharger, good things happen. Justin Blue — a Honda engineer living in Pell City, Alabama — brought this gorgeous orange Honda "CB836" to the 2018 Barber Vintage Motorcycle Festival. The bike would take home two awards:  "Best-Sounding Japanese Four Cylinder" and "All Class Champion" at the 2018 Ace Corner Championship, hosted by Ace Cafe Orlando and our friend Kevin Dunworth of Dunworth Machines. We had to learn more about the bike and tracked down Justin, getting the full story on this 836cc, supercharged CB.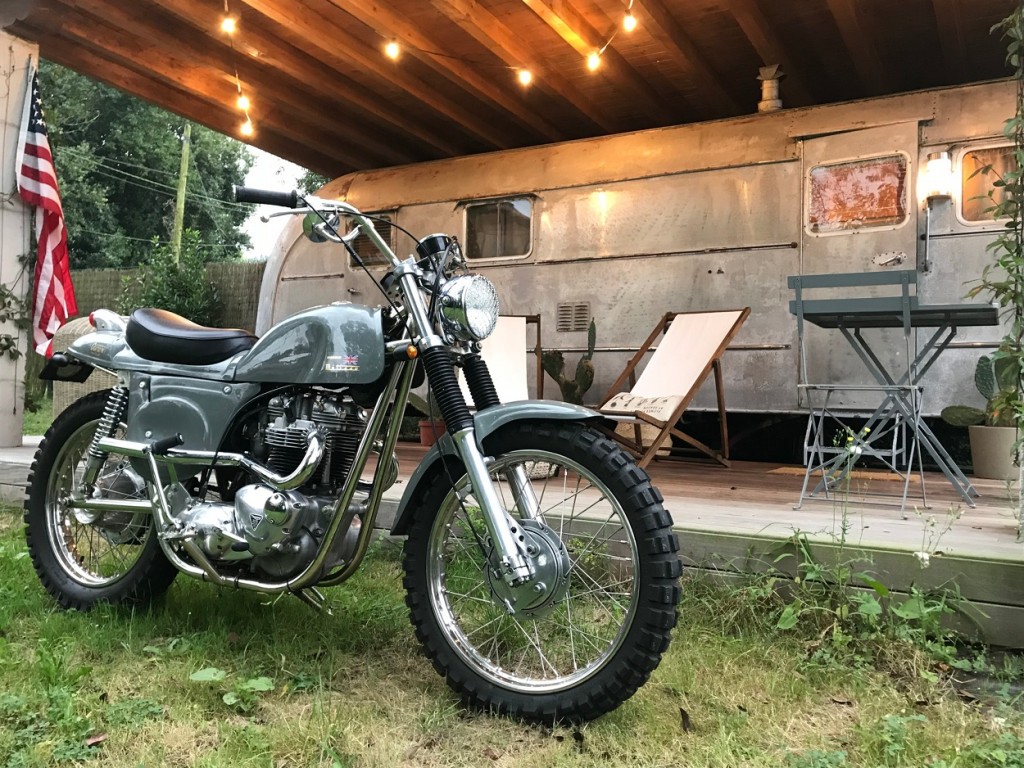 In the glory days of 1960s desert racing, the Rickman brothers of England developed a state-of-the-art kit bike known as the MKIII Metisse, which could be ordered to fit the owner's engine of choice — often a Triumph 650 twin. The MKIII Metisse was a revolutionary design, light years ahead of the stock-frame bikes of the day. When moto aficionado Chelsea Borchert realized she grew up just down the road from the old Rickman factory and her parents' house was just ten minutes from Wasp Motorcycles, who continue to manufacture Metisse frames, she and her father decided to build a street-legal MKIII Metisse: "It all felt so close to home and I loved the story of the brothers, how successful their bikes had been." The result of Chelsea's hard work is "Rickman" — one of the sweetest desert sleds we've ever seen.
Takuya Yonezawa — "Yone" — founder of Japan's Bull Original, grew up riding motocross and found himself in a Bōsōzoku gang in his teens. After a stint in the USA, he founded Bull Original in 1999. The bike you see here is Yone's imagining of a 1000cc Harley motocross bike, based on a 1977 Harley-Davidson XLH1000 (Ironhead) Sportster. Says Yone: "I imagined Harley-Davidson's MX250 and made a fictitious MX1000…my image was a fictional manufacturer factory bike in the 1970s."
In the 1970s, a pair of engineers designed and built the X-1 Skycycle for Evel Knievel to launch across the infamous Snake River Canyon. This canyon-jumping "motorcycle" was, in effect, a two-wheeled, fin-stabilized, steam-powered rocket. In 1973, the Knievel and his team tested prototype…fortunately, without a rider, as the X-1 tumbled 500 feet into the river below and was lost to history. Fortunately, David Plotkin and the team of South Florida's Burn Up Company decided to build their own "Burn-1" Skycycle, a tribute to Knievel's X-1. The "Burn-1" is built from the belly tank of an F-86 Sabre fighter jet and powered by a 43-hp CB450 engine. This hybrid of a land-speed streamliner and a mid-century aircraft boasts working flamethrowers, suicide shifter with hand-operated clutch, and period-accurate aviation details like an air-pressure reading speedometer from a 1957 Cessna!
At the heart of the Savannah's vintage motorcycle community is Coastal Empire Moto (CEM), located in a former Gulf service station at 57th and Bull Street. This CL350 build is a collaboration between CEM and intern Julia Wheatley, a SCAD student who worked right alongside the CEM crew every step of the way, using the build as part of her Senior Industrial Design Thesis. (Coolest…thesis…ever.) Julia's key notions of color and design met with Aaron and Mike's own ideas, creating a bike representative both of Julia and CEM. Still, the 350 itself was the heart of the concept: "Our idea was to honor the bike, work the details, and leave nothing untouched." The result is a build that's tough yet refined, with bold contrasts and loads of subtlety. In November, the bike won Best in Show at Victory Moto Show 2018!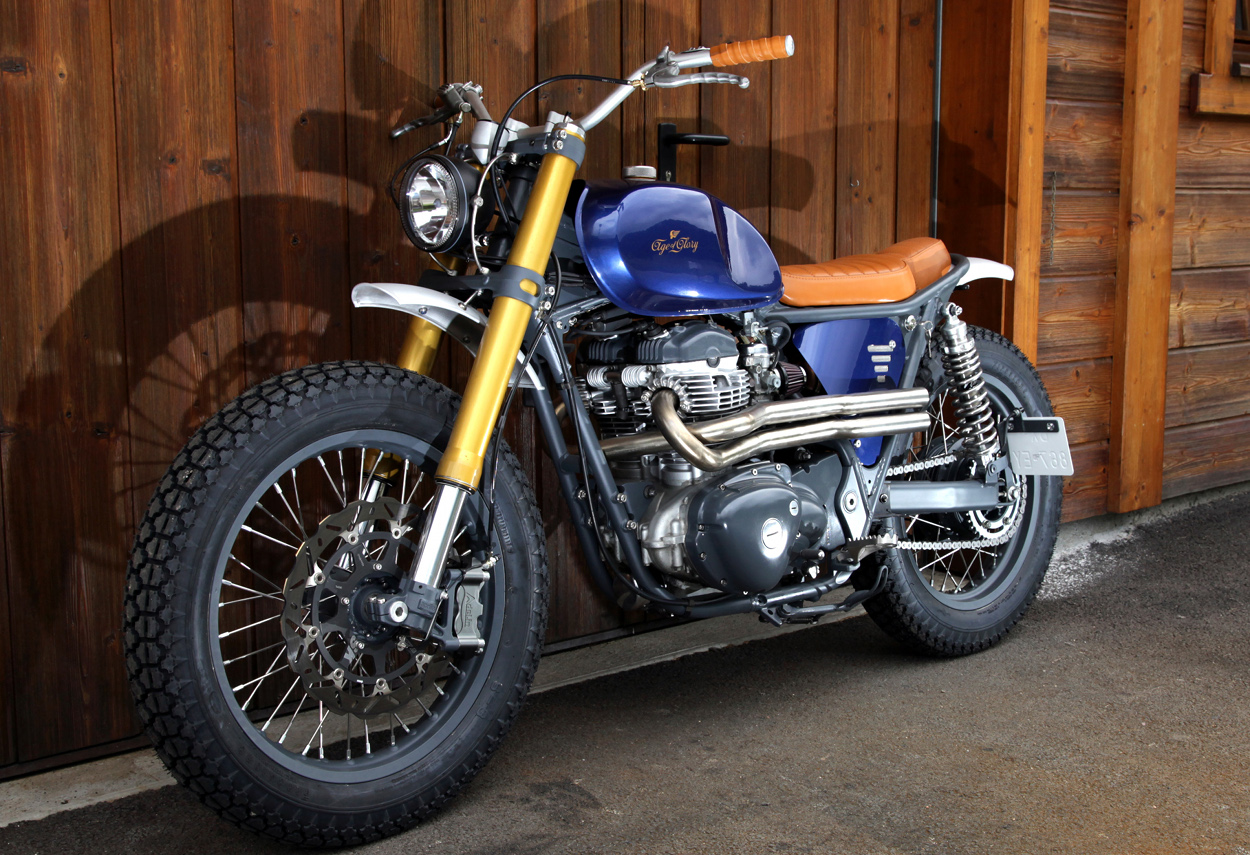 When Sebastien of Age of Glory had the vision for a "neo-retro" street tracker based on the beloved W650 platform, he turned to one of our featured builders, Nicolas Masse of Egerie Moto, whose Yamaha XT600 tracker we previously featured. The two had met through some vintage flat track events that Sebastien helps to organize, and it runs out they are kindred spirits, sharing "a certain taste for simple and uncluttered aestheticism." Two hundred workshop hours after embarking on the build, they had created one of the loveliest street trackers we have ever seen — "Project W650."
Nothing brings fathers and sons together like motorcycles. This is abundantly clear in the case of El Pasillo Custom Classics, an Argentine workshop created by four friends who share a passion in modifying bikes. Hipolito, the 2-year old son of member Gonzalo Carranza, always climbs on an old Jawa ML180 when he visits the workshop. So Gonzalo and gang decided to build the very young man a scrambler of his own. Their base was a 2018 Pagani Minicoss, a 50cc 2-stroke dirt bike popular in Argentina. At point in the build, Hipolito told his father: "Dad, this bike is so good!" We'd say young Hipolito has darn good taste.
Panu Laakkonen of Finland's KMPH Oy (Kalevan MP-Huolto Oy) decided to build a modern Husky scrambler that resembled the Husqvarna bikes of old. For his base, he chose the SMR 510 — a lightweight (240-lb), high-powered (60-hp) replica of the Husqvarna's championship-winning supermoto race machine. This scrambler, nicknamed "Trail27", is simply one of the finest modern scrambler builds we have ever seen. From the handmade copper and brass radiators (!) to the custom dual-shock setup to the tig-welded subframe, "Trail27" is a true showstopper and tribute to the Husky enduros of yore.
Marco "Lucky" Lucchinelli is a legend of Gran Prix racing and one of the most thrilling riders ever to come out of Italy. Enter Sergio Giordano of Italian Dream Motorcycle, who runs a team of professional racing mechanics uniquely qualified to build high-performance custom motorcycles. IDM has decided to build a motorcycle each year dedicated to one of the six Italian champions in the premier class. First is Lucchinelli, who is one of Giordano's heroes. In order to make the bike practical and rideable, IDM eschewed a 500cc two-stroke in favor of a greater challenge — a Suzuki Bandit 1200. The result is the "Lucky Legend," which Lucchinelli now refers to as "his bike" and has taken on the track at Adria circuit, where he runs his driving school, the Lucchinelli Experience. We especially love the 4:4 exhaust and fairings copied from the original race bike.
We were absolutely thrilled to feature this Suzuki DR650 "Retro-Moto" from Spencer Parr of Indiana's Parr Motorcycles. Spencer was a police officer on patrol for five years before he lost the sight in one eye due to ocular cancer. Now he works as an investigator during the day and builds motorcycles at night. For now, he is a one-man shop operating out of his home garage, but he hopes to expand one day. This Suzuki DR650 "retromotard" is an auspicious step, combining the powerful nostalgia of vintage Suzuki RM bodywork with modern suspension, supermoto wheels/tires, and streamlined electronics.  Says Spencer: "I hope one day I can have an impact on the motorcycle industry like all my favorite builders have. My wife told me, 'just go for it', so that's precisely what I am going to do." We're 110% behind you, Spencer! Keep building beauties like this and we'll keep showcasing them!
Anyone who works on bikes for any length of time quickly accumulates a surplus of parts in their garage, shed, or shop. James Fawcett of Slipstream Creations is no exception. When his 13 year-old son, Eddy, noticed the wealth of Honda parts collecting dust in the garage, the father/son duo decided to build a hybrid thumper. Says James: "This bike is a tribute to all those boxes of old parts and storage sheds full of discarded moto-ambition." The result is a beautiful 125cc Honda scrambler, sporting a vintage Honda CB125 engine in an XR80 frame. The mashup of Honda CB/CL/SL/XR parts looks incredibly cohesive…due, says James, to a "silly amount of custom fabrication and even more finesse."
At the dawn of the 21st century, Ducati unveiled their limited production MH900e, built in homage to the race bike on which the legendary Mike Hailwood won the 1978 Isle of Man TT.  This build started with one simple question: "If Mr. Pierre Terblanche designed the Ducati 900 MHe today, what would it look like?" Lisbon's Unik Edition Custom Motorcycles purchased a 1994 Ducati 750SS as the donor, retrofitting the machine with the competition-spec forks and swingarm from a Monster S4R and MHe bodywork. We were lucky enough to see the bike in person during a visit to Lisbon, and it's truly stunning.
Hodaka was a joint Japanese-American company that built an array of trail bikes from 1964-1978, boasting some of the greatest model names ever: Dirt Squirt, Super Rat, Road Toad, and Combat Wombat. Enter Chris Tope of Utopeia Moto Company, who bought a $20 chrome gas tank at a swap meet — knowing nothing about the Hodaka brand — and ended up building this staggering Hodaka Ace 100, aka "Navajo." Chris, who is a full-time traveling biologist, works out of the 10×12′ space of his 44′ Fifth Wheel Toy Hauler!
It's always a thrill to feature the first bike from an upstart builder, particularly when it's as staggering and well-executed as this Yamaha TT500 tracker from VZMC Customs. Shop founder Claus works out of an old tin barn on his property, which doubles as clubhouse for him and his riding buddies. When it came time to create an ace calling card for VZMC Customs, Claus wanted a nostalgic trip back into the glory days of 1970s California — the world so many of us imagined while ripping around on our boyhood dirt bikes: "If I had to name the concept it would be "California Dreaming".