BCKustoms builds a Baja-inspired DR650…
Where we are in our lives has a big influence on the types of motorcycles to which we're drawn. Former WSBK team coordinator and MotoGP journalist Yann Le Douche of BCKustoms has a reputation for building street and flat trackers, but during France's first big lockdown, he found himself longing for an adventure-oriented bike — something capable of traveling across vast stretches of terrain.
The result of that desire would be his first "Runner" build, a BMW F650 "Dezert Runner" — soon followed by the DR650 Nomad Runner, the F650 Island Runner, and now the DR650 Baja Runner. As for inspiration, Yann can directly point to the Fox Terrafirma 3 videotape he had in the 90s:
"Do you remember that first scene? The sun rising over that 100-mph Honda XR ridden by #10x Johnny Campbell with that Biohazard soundtrack…whoa!!"
When he got hold of another '91 DR650 just like the one he'd used previously, he had one question in mind:
"What if that second '91 DR650RS could be a lighter version of the Nomad project?"
Inspired by the 90s Baja racers and Ford's 2022 Bronco DR, this Suzuki DR650 is ready for a high-speed blast across Baja California, or Spain's Baja Bianca, where these photos were taken. Below, Yann gives us the full rundown on the build.
Baja-Inspired DR650: Builder Interview
• Please tell us a bit about yourself, your history with motorcycles, and your workshop.
Well, what could be added? I guess my bio has been published here quite a few times, no? Ah ah! I turned 50 in April and I remember the good ole 90s when I got that Fox Terrafirma 3 videotape offered with the used '96 CR125R I bought back then…. Do you remember that first scene? The sun rising over that 100-mph Honda XR ridden by #10x Johnny Campbell with that Biohazard soundtrack…whoa!! No chance for me to ride then has he did….
Decades later (did I say many?), during the first lockdown, I built my first own "Dezert Runner" from a '94 BMW F650 Funduro, having built some XLRs and DRs in a vintage mode, Elsinore-style and others.
Surprised by the success of that one, I decided to go a step further and build a new desert race-looking bike with a '91 DR650RS, the one named "Nomad Runner" in reference to the Mosko Moto blog writers.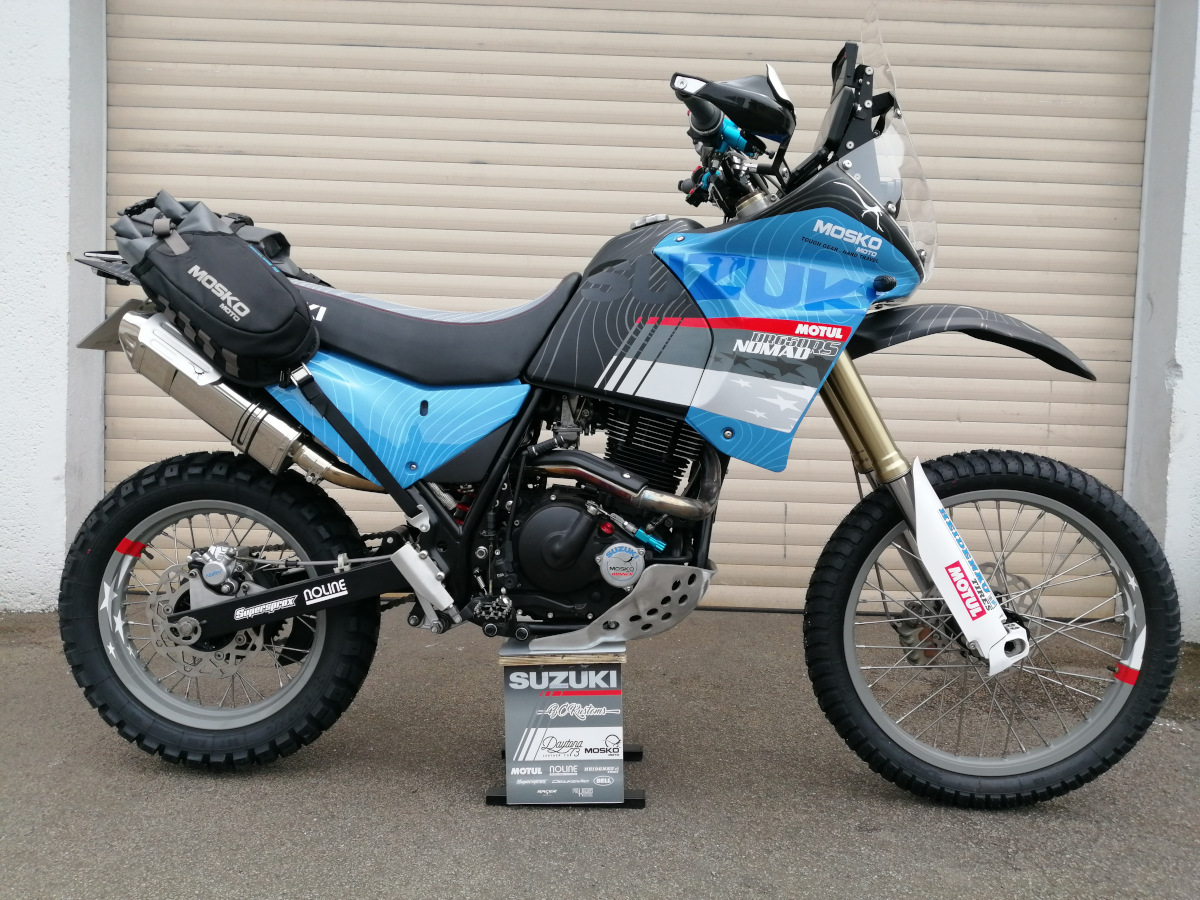 The ache remained, so I started searching for another donor bike, and I found it…a second one in poor condition. Same year. Same model. Same color.
• Why was this bike built?
I asked myself: What if that second '91 DR650RS could be a lighter version of the Nomad project?
It would mean fewer parts to break when crashing.… 'Cause my off-road skills haven't really changed from my '96 MX experience. OK, like most BMW/GS riders, I can let you think I can do it because my bike, boots, and clothes are dirty…but only at the traffic light!!
What I needed was some kind of cheap and nice-looking training bike for myself. Nice because it could be used as a BCKustoms display bike when new.
• What was the design concept and what influenced the build?
Going back to Campbell's '96 Baja 1000 bike, I wanted to build something like the 80s, the early ADV / Trail motorcycle — lightweight, starting from that '91 DR-RS with the big head fairing, square headlight, twin mufflers and 90s Dakar low screen.
Like the 90s XR, the project had to be between trail and enduro, kind of an early four-stroke enduro with midsize engine. I wanted it to be around 140kg/280lbs. I must be just above. And to keep it vintage, there's just a kick starter. And I save weight with that option.
There's been a second influence for this one coming from four-wheel racers. I discovered the new 2022 Ford Bronco DR earlier this year in its original white/red/black livery and its metallic blue chassis. Loved it!! Just had to replace the Bronco logo with the Mosko Moto's gecko.
• What custom work was done to the bike?
Even though I had this project drawn up back in early February, I only had a few weeks to build it, as customers' projects had to come first. So I decided to take a less-is-more approach.
No overhaul on that 15K-original-mile engine but normal maintenance, and the carb has been ultrasonically cleaned. Metallic blue powder-coated frame, new seat cover done by a new guy I work with, just some white paint on the OEM tank and some parts taken here and there.
To be honest, as the bike belongs to me and the wheels were in such bad condition, they've been powder-coated black in one piece and bearings changed after. I saved money and time this way. Completed with a brand new set of Heidenau K60 Scout, they are just perfect!
Because the OEM shock was leaking, I found a YSS element at WRS in Tavullia, Italy.
I bought a KTM 85 SX front white mudguard and a simple enduro headlight, swapping out the bulb for a big LED element. Did the same at the rear and added some LED turn signals, which run as the taillight at the rear and DL at the front.
This time, I didn't lose time fabricating a new stainless header, as I found a pretty cheap new one. Just had to make a connecting tube between the header and a Delkevic tri-oval stainless muffler.
New Pro-Taper combo with metallic blue high enduro bar, big diameter risers, and assorted grips. Acerbis handguards with sign panel made extensions.
As the OEM dashboard was broken, I just added a waterproof case to put my cellphone with a DMD2 app and the usual GPX apps.
Brakes have been upgraded with new aero lines and laser-cut wave rotors. Lithium battery, wide MX footpegs…I think I've told you everything. The tiny Doubletake mirrors completed the basic equipment.
Ah! Yes. My Mosko Moto friends in White Salmon, WA shipped me a Reckless 10, which, combined with a Pinner tool roll and a 2L molle pouch to store a fuel bottle, is just perfect for a couple-day ride through Baja California or the Baja Bianca of the Las Bardenas desert in Spain, where these photos were taken.
• Does the bike have a nickname?
As it was inspired by 90s Baja 1000 racers, and because all my ADV bikes have "runner" in the nickname, so this one became the "Baja Runner."
• Was there anything done during this build that you are particularly proud of?
Like always, my foremost pleasure was to give the right shape to the project, starting from the original screen rendering through to completion.
So I went to my buddy's shop sign, who allows me to use his machines to make all the stickers and grab small unused parts of sign panels. These are made of an alloy/Teflon sandwich, which can be formed with a plastic hammer and bent on your knee. This is as light as alloy, will not break, and can be reshaped when dented.
With this, I made the front scoops to fill the places left free after the original head fairing removal. Also, as there was one muffler less, I had to shape the side number plates and find a way to combine them with a modified 96 DR-SE rear mudguard.
Follow the Builder
Website: www.bckustoms.com
Instagram: @bckustoms
Facebook: facebook.com/breizhcoastkustoms/
Special thanks to my sponsors:
@daytona73 / leather company #daytona73_fr #d73usa daytona73.com
@moskomoto / Tough gear-Hard travel, Motorcycles luggages
@motul_france
@heidenautires / German quality tyres
@delkevicuk / Motorcycle exhausts
@supersproxusa / Motorcycle transmission
@noline.france / cleaning wipes
@bellhelmets / #bellpowersports
@makadamkulture / Bike & Breizh event September 16th-18th 2022
Special thanks to my technical partners:
N.C Design Workshop for upholstery (@nc_design_workshop)
Siminox for laser-cut stainless parts
Cap Enseignes for all stickers and shop signs panels
WRS Italy for the YSS rear shock (@wrs_italy)