Desert sleds…a bike that few know much about. Ironmen like Steve McQueen and thousands upon thousands whose names have not been recorded in history loved to race them, but what exactly is a desert sled? Is it simply any heavy 500cc or up bike with a skid plate and sundry tools slapped on, or is it a spirit, a need to conquer?
Perhaps Bill Bryant of Chop Cult said it best:
"Long before modern heroes backflipped for TV cameras and energy drink contracts, tough men thrashed modified street machines in the lonely deserts of the Southwest USA and Baja."
Early Desert Sleds
Early desert sleds were built by a rider concerned with only himself and his ability to finish a race. Even when built on the same platform, each bike turned out with a distinct personality provided by a wide spectrum of lucky charms, religious medallions, and kisses from a beautiful girl. All this in hopes of warding off the evil spirits, hidden rocks, and obscured mine shaft openings that could end a race–or rider–prematurely.
These bikes could have been Harleys, Indians, or any type of home-built contraption that a rider could piece together. British rides made rare appearances, but struggled to finish. No homologation rules to worry about, so zero f#*ks given. During early competitions, no one worried about getting there fast, just getting there. As Matt Cuddy of Super Hunky says:
"These machines were not so much about going fast through the mighty desert, but just finishing the ride without a major break down, or crash."
The British (Sled) Invasion
No one worried about getting to the finish line quickly because the lightweight British bike had not invaded the desert sled culture yet. The few that came around early were too quirky to be reliable in the sand. Eventually, many fans of the desert sled recognized the benefits of a sled that could be picked up easily and was faster than the old style American bikes. That led to a wave of 650cc twin-cylinder Brit rides hammering around the desert during the 1950s, 60s, and 70s. Even with the majority of the bugs worked out, the most important tool in a riders kit was a tow rope.
The Desert Sled:  An American Icon
During this time, Steve McQueen developed his love and loyalty for the Triumph brand, earned in the lonesome, unforgiving deserts of Baja. In the filming of The Great Escape, McQueen famously would not allow anything but Triumphs on the set. Using a BMW for the stunts and filming was out of the question. Elvis himself was photographed on a Triumph desert sled, further solidifying the sexiness of the 'sled.
Two-Stroke Desert Racers
An ever evolving and adaptable breed, desert sledders are always on the prowl for the next edge…the bike that will not only let them finish a run, but in the best possible time. What out does a lightweight twin-cylinder? A two-stroke of course, or so it seemed at the time. Soon dirt bikes like the Yamaha 360, Pursang 360, and the Husqvarna 400 were dotting the dry landscape like it was their sole purpose in this world. These bikes ushered in a heyday for desert racing. These were the years when true men of the sand ran from Barstow to Vegas, hammered through the Moose Run, and beat themselves up to win the Elsinore GP. The scene was totally dominated by bikes sporting Curnutt rear shocks, Don Vesco fuel cells, and the heaviest ply knobbies imaginable. One thing remained the same, though. Every bike had a tow rope onboard!
Desert Racers Today
Irony rules the desert today. Harken back to an earlier paragraph…we told you how the four-stroke was replaced by the two-stroker. Well, the four-stroke has taken over again. Granted, these are far better bikes than the original, but a caterpillar lays dormant before emerging as a butterfly.
The new four-strokers can cost a fortune to maintain, with the engines barely making it through 30 hours of run time before a factory-trained tech has to tear them down. Today, desert sleds cost a small fortune to maintain, the Bureau of Land Management is clamping down on events, and housing developments are popping up where races used to be run. Hopefully, this is not a death knell for the sport.
Vintage Desert Sled Builds
Currently, we are seeing two types of desert sleds in the custom scene. First, there are the traditional sleds, typically built on vintage Triumph platforms to look and perform like they did in the 60-70s heydays.  They typically have high-pipes to protect the exhaust from rocks and flung debris, skid plates, fork brace, number plate, and often a clunky seat that nevertheless protects the rider's posterior over endless miles of rough terrain. Examples include this Xcrambler Triumph Sport Tiger and Steven Robson's 1978 Triumph T140 Scrambler.
Modern Desert Sled Builds
We're also beginning to see a trend emerge, a new genre of modern street sleds inspired by the vintage desert-racers of old.  Examples include the MX EVO Bonneville and this sled-inspired British Customs Scrambler. In fact, British Customs has an entire guide on how to build a desert sled. Perhaps our favorite modern desert sled is the Stasis Scrambler 900 by Cliff Fisher of Stasis Motorcycles, which he describes as "long-legged, knobby, cattle-guard jumper for the rural Texas dirt roads."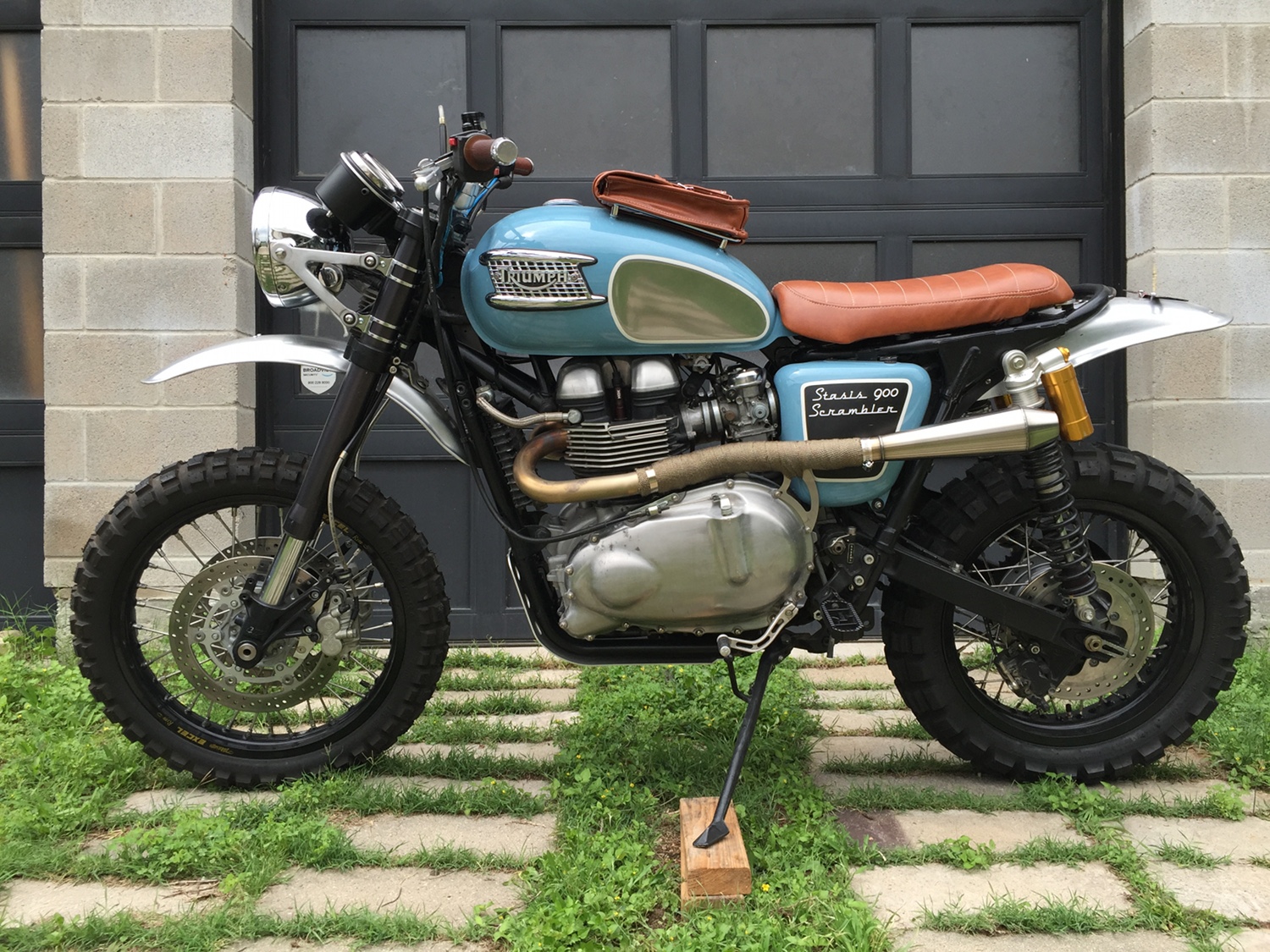 What is a Desert Sled:  A Definition
Most great works of art defy classification, and the same can be said of many of the best custom bike builds we see. That said, it's a human need to classify and label our world–and hell, it can be fun.  Here's our definition, which applies both to vintage and contemporary desert sleds, and helps differentiate them from similar machines.
"A desert sled is a non-dirt bike based custom, typically in excess of 650cc, which has knobby tires, skid plate, enduro bars, a number plate or caged headlight, and high pipes.  Often, it has a larger gas tank than a comparable scrambler or enduro, and/or a toolkit for trail-side repairs, and does not have the fairings and windshield of an adventure bike."
Desert Sled Motorcycles
For a full list, go here.