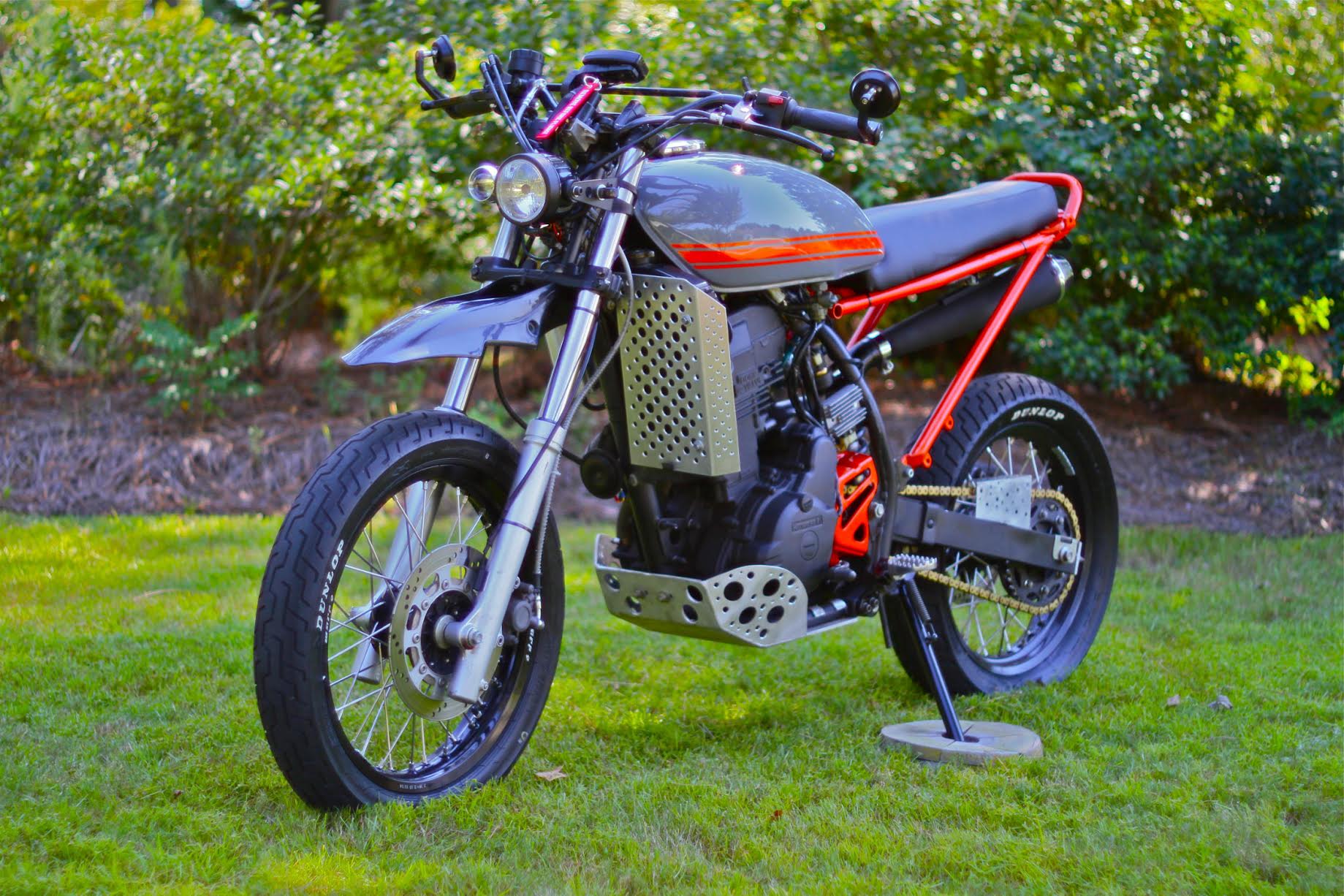 Magnum Opus Custom Bikes, run by Ezio Covelli, is the Featured Builder for the inaugural 2016 Cape Fear Kick Down, happening Saturday, 11-4PM, at Satellite Bar & Lounge in our hometown of Wilmington, North Carolina.  We previously featured his turbocharged Kawasaki KZ650, which was selected as a Custom of the Week by Bike EXIF, and also this gorgeous CB750 "Brat Cafe".  Now Ezio is back with another Kawa, this time an incredible custom KLR650.
We are huge fans of the KLR. The bike has been ridden all across the world, and the big single is nearly bulletproof. Hayes Diversified Technologies modifies KLR650s to run diesel fuel for the US military, and riders like Dr. Gregory Frazier have circumnavigated the globe on KLRs. It's one of those go-anywhere, do-anything bikes that's achieved near legendary status. It's always fun to see what a builder can do with a dual-sport platform, and Magnum Opus blew this one out of the water.
About the Bike:  KLR650 Supermoto/Tracker
– Blacked out frame and motor
– Forks have been lowered 2.5″ and upgraded to Progressive springs
– New custom wheels, black rim and Buchanan's SS spokes. 18″ wheel in the front (OEM was 21″)
– KZ750 gas tank with all the necessary fab to adapt it to the KLR650 frame
– Digital Speedo
– Custom seat
– Custom paint job by Rare Air Werx
– Street tires
– Electronics, battery and fuses have been relocated under the gas tank, out of sight
– Custom fab radiator guard
– New brake and clutch controls
– Custom headlight
– Reverse cone muffler with chromed tip
– Installed a new EXO exhaust wrap that uses a combination of fiber glass inside a stainless steel exoskeleton
Says Ezio:
The bike now behaves like those BMW cruisers. Comfortable, fast leaning into corners and the typical dirt bike suspension sag have been considerably improved with the use of the Progressive springs in the front and rear.

With its weight just over 300lbs, this is the most fun bike I have ever customized. Super light, torquey as hell, and it sounds as you would expect from a big displacement single. BRAP BRAP 🙂
This bike was built for a local Coastal Carolina rider, so there's a good chance you will be able to see it this weekend at the Cape Fear Kick Down.  More info about the show below:
About the Cape Fear Kick Down
Please plan to come out and help build the vintage/custom/retro community of bikers in our area! Proceeds will go to the Wilmington Prostate Cancer Support Groups and to the Movember Foundation, which tackles prostate cancer, testicular cancer, and mental health and suicide prevention. You can RSVP to the event on Facebook here:  Cape Fear Kick Down.
Schedule:
The rally gets started on Friday night, and the show itself is Saturday afternoon.  It's free to enter your bike.
Friday, September 16th
Kick Off 7:00 PM until
Motorcycle movies/clips on the outside screen, music, good people and tasty beverages
9:30 The Low Counts
Saturday, September 17th
Bike Show & Swap Meet 11:00 AM-4:00 PM
Motorcycles, vendors, swap meet, food trucks, and pin striping available on site from Rare AirWerx.
12:00 Kicking Bird
1:00 The Dielectrics!
2:00 Exploding Math Lab
4:00 The Phantom Playboys
After Party 7:00 PM until
More motorcycle movies/clips, music, and tasty beverages!
Band:  Must Be The Holy Ghost, with Body Games
Bike Classes:
Vintage stock, cafe, chopper, bobber, modern retro, tracker/scrambler, undefinable, and ugliest.

Event Sponsors

Satellite Bar and Lounge, Live Wire Powder Coating, LLC, Rare AirWerx, Devolve Moto, Meineke Car Care, Greg's Paint Brick + Mortar Coffee & Goods, Magnum Opus Custom Bikes, Behind Bars Lifestyle Apparel, The ArtWorks-Wilmington South Front Apartments, Oskar Blues Brewery North Carolina, Razor's Edge Barber Shop, Planet Logo. Huge thanks to these folks for supporting this event!
We will be featuring the Best in Show bike right here on BikeBound.com!
Follow The Builder
Follow Magnum Opus Custom Bikes:  Facebook | Instagram | Web