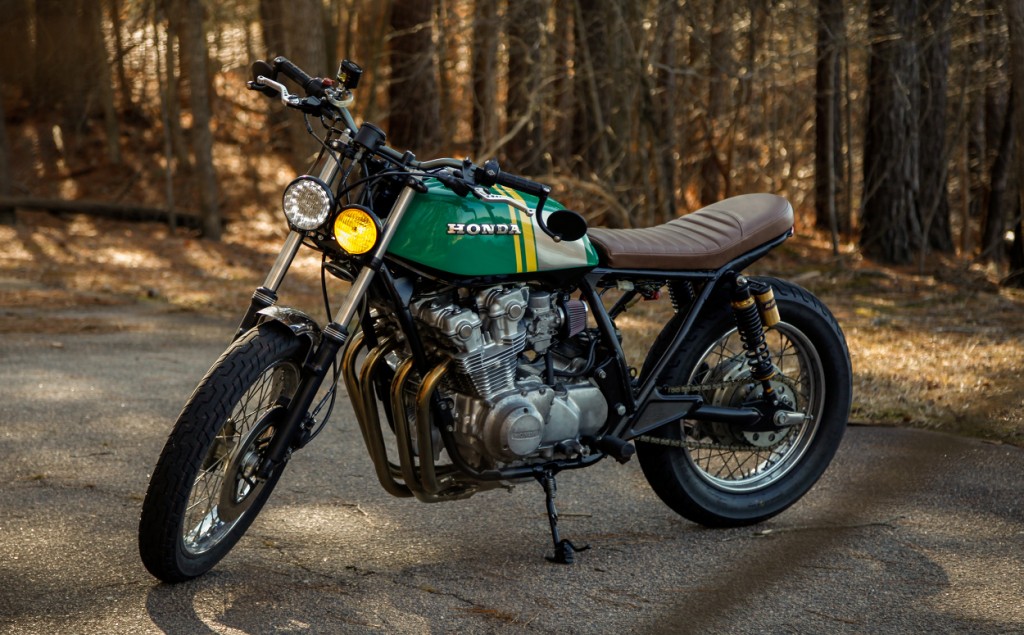 A DOHC CB750 with a Brazilian twist…
We knew the quality of Sean Junqueira's motorcycle photography from his work with the late Devolve Moto in Raleigh, North Carolina, but we had not seen his building skills on display until he finished this incredible CB750K. This was Sean's first build, which he saw as an opportunity to learn more about motorcycles — welding, fabrication, upholstery, carburetor work, and more.
Working in the basement garage of Devolve Moto, Sean built a tribute to his home country of Brazil, with a green/blue/yellow paint scheme to mimic the nation's iconic flag — colors that stand out against the muted grays, blacks, and browns that dominate today's cafe and brat builds.  We love that boldness of color, which seems to capture the spirit of the entire bike.
Below, we get the full story on this custom build.
CB750 "Brat Streetfighter Restomod":  Builder Interview
• Please tell us a bit about yourself, your history with motorcycles, and your workshop.
Sean Junqueira, freelance photographer in Raleigh, NC. I had never worked on bikes before (other than on oil change) and wanted to learn more. I saw this bike as a chance to learn more about motorcycles, and more specifically, how to weld, work on carburetors, and fix my own bikes should I need to. This build was a personal build, built in the late Devolve Moto garage which closed earlier this year.
• What's the make, model, and year of the bike?
This is a 1981 Honda CB750K, so she is running the DOHC engine which I was pretty excited to work with.
• Why was this bike built?
This was a personal project, to test my abilities and a first build for me. I knew I could conceptualize a bike that was well designed, and pleasing to the eye, but what I really wanted to learn was how to weld, tune carbs, and make custom parts (seat, battery box, ignition mount, etc).
• What was the design concept and what influenced the build?
The concept was to be a representation of my home country, Brazil. So the Green Blue and Yellow scheme was to mimic the Brazilian flag. It is something we had talked about at the shop, and realized it would be something really original looking, since they are typically not colors you would see in a Brat/Café style build.
• What custom work was done to the bike?
Frame has been chopped, welded and de-tabbed, specifically the kick up on the tail section, which was an idea by a friend and talented welder (Chase Spaulding) who was helping/teaching me. It matches the angled line in the tank, making it feel cohesive, and simultaneously getting away from a traditional Brat seat.
I built the seat pan with perforated aluminum and fiberglass, hammered into shape, and then coated with a resin for hold, then added two layers of high density foam (both on inch thickness) and had a local seat upholster (Quinn Phelan) do an amazing job with a vinyl wrap.
In addition, the entire frame was powder coated, along with the triple trees witch were re-built, then the bottom of the front forks were also powder coated, I also took some sand paper to the three rings that sit at the very top, so they have a brush metal finish in contrast to the almost matte black powder coat.
The headlight mounts were a nifty fix from a friend (Tom Bourcy) to solve my dual headlight issue. He was also instrumental in negating the blinkers, and final electronics, and the ignition was also relocated to underneath the seat on the right hand side. Battery has been mounted to an engine mount rather then below the seat, and I am using an Antigravity battery.
• How would you classify this bike?
Brat Streetfighter restomod.
• Was there anything done during this build that you are particularly proud of?
The dual headlights and angle on the rear seat are definitely two defining features that are my favorite.
Follow the Builder