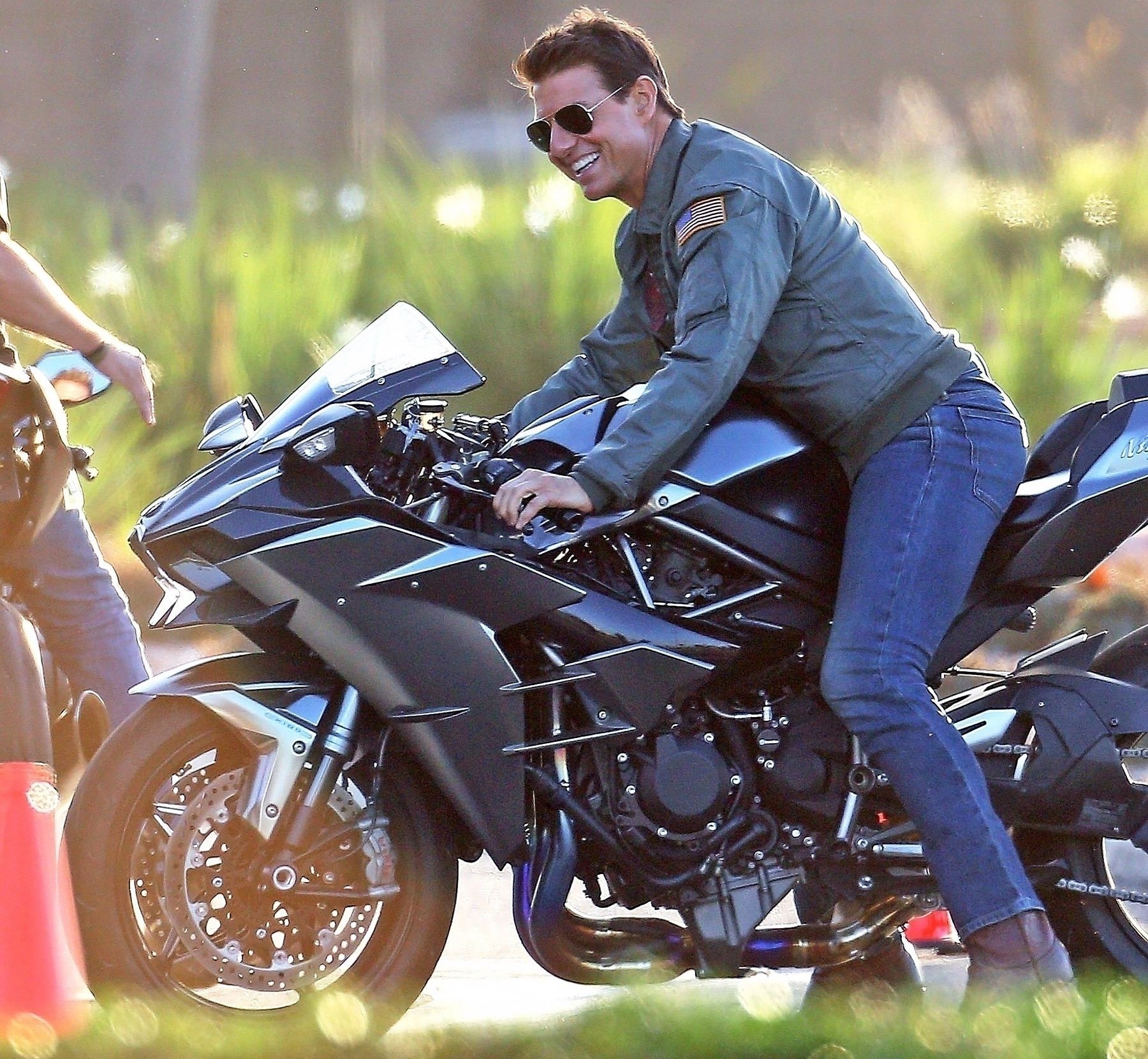 Tom Cruise to ride a supercharged Kawasaki Ninja H2 in Top Gun sequel!
The sequel to one of the most iconic films of the 1980s, Top Gun, will be released on June 26, 2020:  Top Gun: Maverick. Tom Cruise will reprise his role as Pete "Maverick" Mitchell, now a captain and instructor at TOPGUN, the United States Navy Fighter Weapons School — now based at Naval Air Station Fallon, Nevada. Instead of his F-14 Tomcat, Maverick now pilots an F/A-18 Super Hornet.
The film focuses on the end of the dog-fighting era, the rise of drones in aerial combat, and features Val Kilmer reprising his role as Ice Man, Miles Teller as Goose's son, and Jennifer Connelly as a single mom running a bar near the air station. Kenny Loggins has recorded a new version of the "Danger Zone" for the film, and the legendary Hans Zimmer will serve as the film's composer.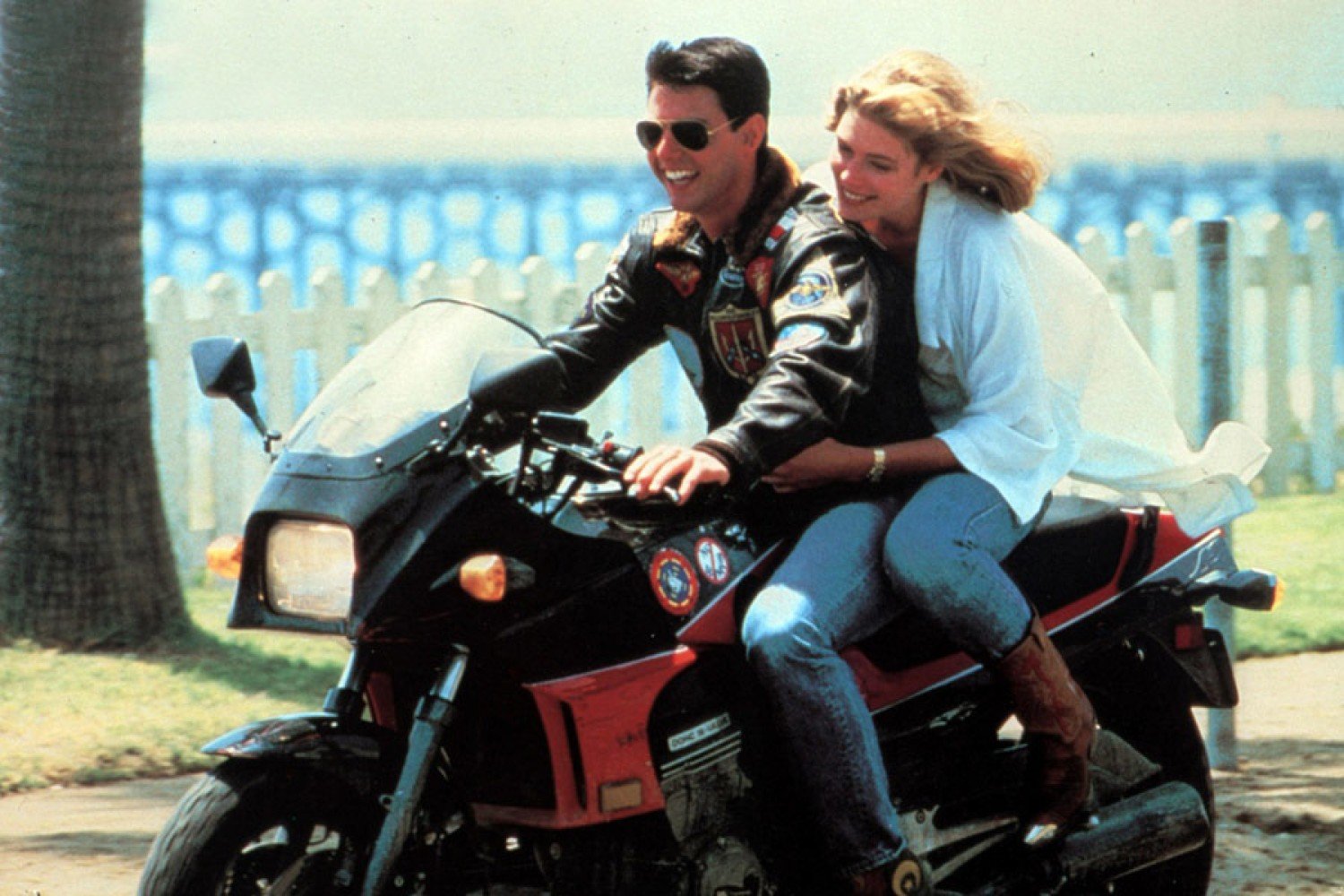 For any of us who know the original movie, one of the most memorable scenes is Maverick on his Kawasaki GPZ900R, in his leather flight jacket, racing a jet down the runway at Naval Air Station Miramar in San Diego.  It seems Maverick's original GPZ will make a cameo appearance in the new film, as revealed by Motorbike Writer:
However, in the new film, Maverick's two-wheeled technology has evolved.  This time, Tom Cruise is on the mightiest production motorcycle on the planet, a supercharged Kawasaki Ninja H2.
Top Gun 2 Motorcycle: Kawasaki Ninja H2
The Ninja H2, along with the track-only H2R, is Kawasaki's "halo model" — a supercharged superbike that represents the cutting edge of engine technology, turbine development, and aerodynamics. The street-legal, 228-hp 2019 H2 offers some 30 horsepower more than naturally-aspirated literbikes, while the track-only, 326-hp H2R is the most powerful production motorcycle ever sold, running 20.5 psi of boost. Said Road & Track of the H2R:
"The poster child of 2-wheeled insanity…so extreme it's hard to comprehend."
Many news outlets have erroneously reported that Cruise/Maverick rides the track-only H2R in Top Gun 2. However, closer examination of on-set photographs from the new film show Cruise on a street-legal Ninja H2. The bike has an LED headlight and rear-view mirrors with built-in indicators. The H2R, on the other hand, has carbon fiber "ears" instead of mirrors and no headlight.
Other outlets have reported that Cruise rides a special-edition Kawasaki Ninja H2 Carbon, which has a carbon fiber upper cowl and "Mirror-coated Matte Spark Black/Candy Flat Blazed Green" paint.​ However, the bike appears to be a regular Ninja H2.
Cruise, who insists on doing many of his own stunts, is no stranger to motorcycles, as we've seen in films like Knight and Day and Mission Impossible: Fallout, and as you can see, spy shots were captured of Cruise riding the H2R on set.