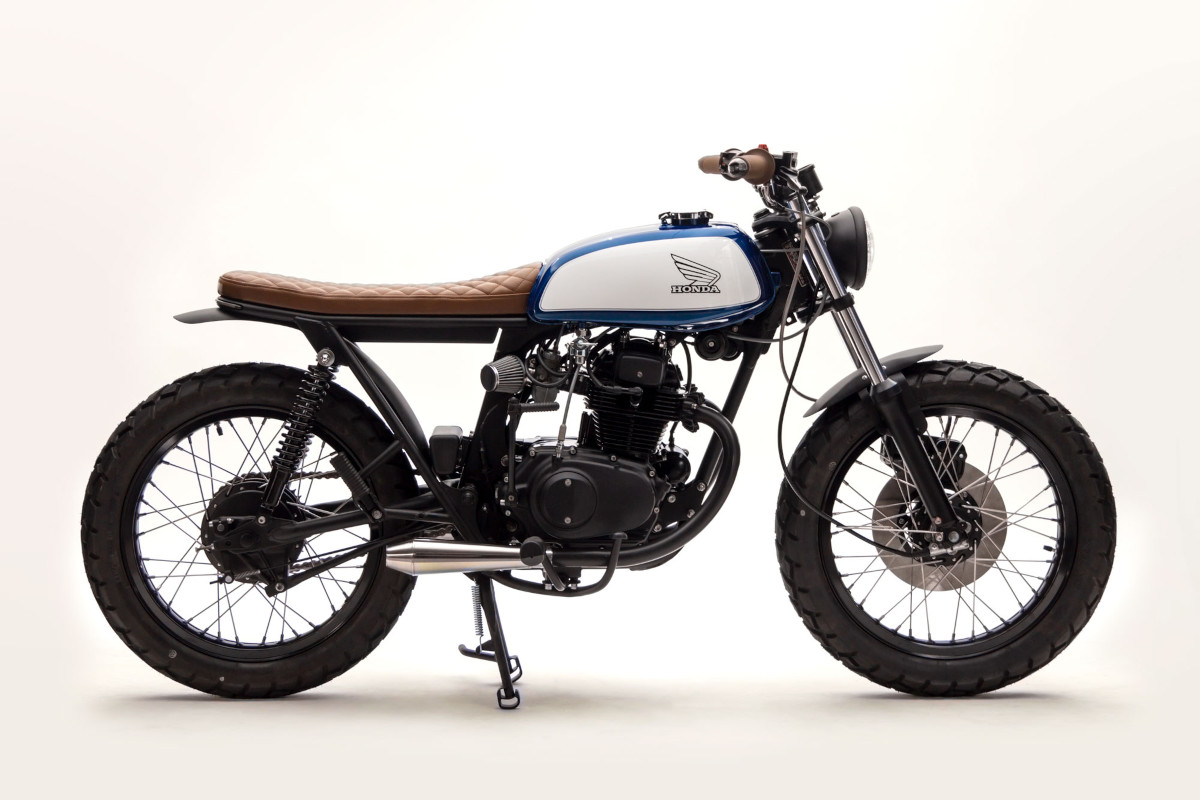 As most of you are well aware, the CL series was Honda's line of CB-based "street scramblers," which often featured larger diameter front wheels, higher fenders, high-mount exhausts, and dual-purpose tires.
While the larger displacement CL350-450 twins are best known among enthusiasts, our friend James Fawcett of Missouri's Slipstream Creations informs us that Honda produced a CL200 in 1974 — quite a rare machine!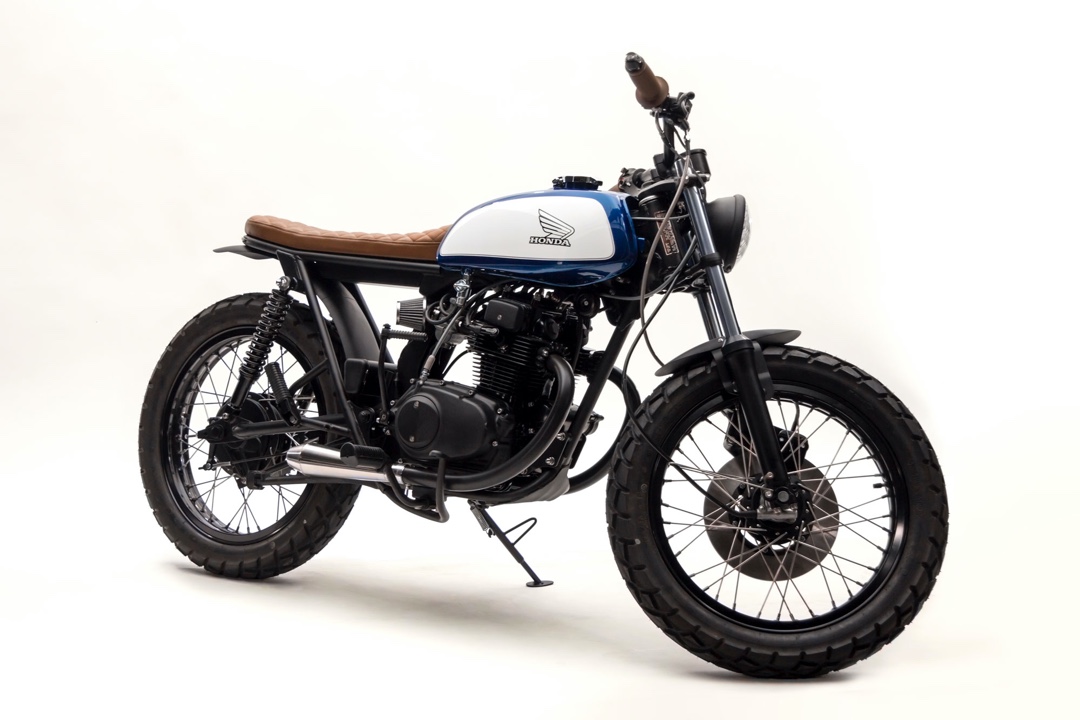 Based on the CB200, the bike featured a 198cc chain-driven SOHC parallel twin engine with dual carbs and five-speed gearbox. While it was no motocrosser, the CL200 scored high in the fun department:
"Now…as far as off-roading goes. The suspension is not set up for rough terrain but, it is plenty to have fun through smooth single track or work roads. It is really small and light (under 300 lbs) and loves to go sideways just like a REAL dirtbike. The CL doesn't do anything really well, but it's fun doing anything with it!" —600RR.net
After inheriting this CL200 in the wake of his father's passing, the owner turned to Slipstream Creations for a custom rebuild:
"We quickly aligned our vision to preserve the nostalgia of this bike, with some updates and custom touches to refine an otherwise fantastic little machine."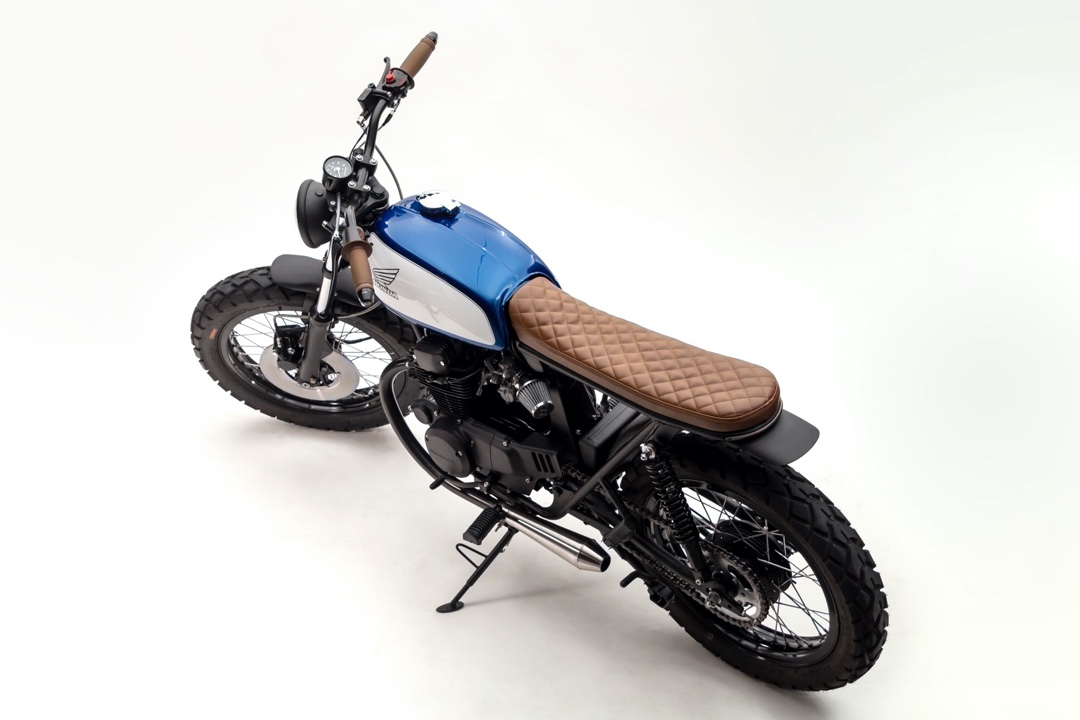 Below, James gives us the full story on this 200cc scrambler.
Honda CL200: In the Builder's Words…
Honda's CB200 was produced from 1973 to 1976 and features a highly recognizable angular tank with a black vinyl tank pad down the center. This lesser-known scrambler version, the CL200, was only offered for one year in 1974. This marked the end of Honda's small displacement scrambler lineup.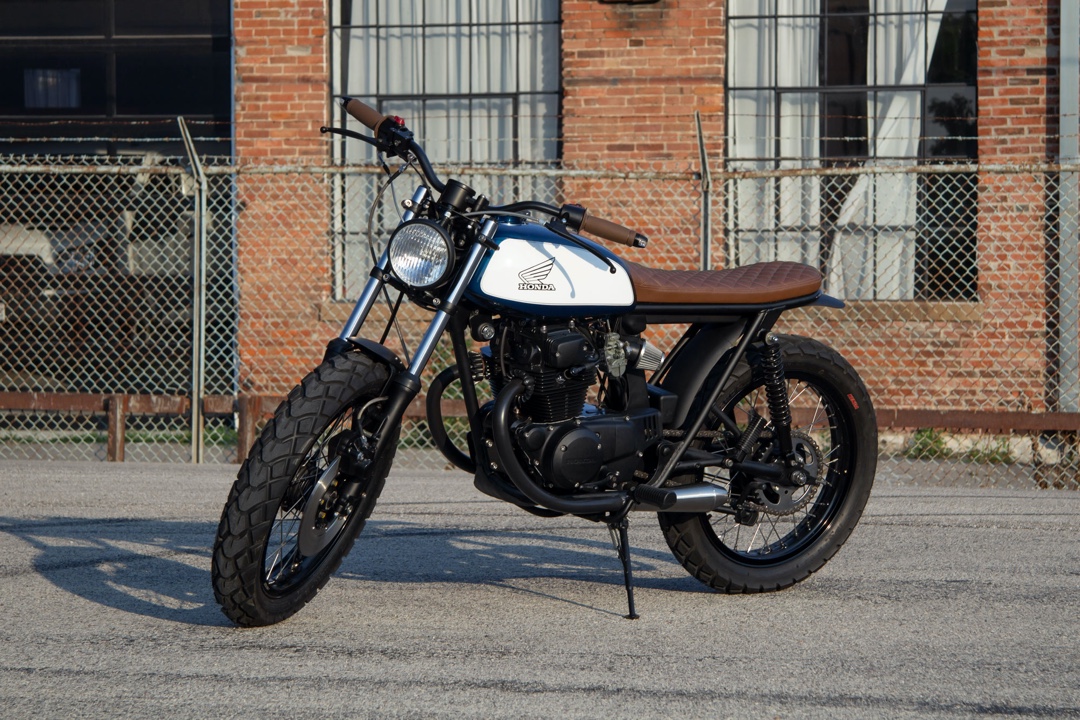 Having inherited a CL200 after his father's passing, this scrambler's owner turned to Slipstream Creations for a full custom build. We quickly aligned our vision to preserve the nostalgia of this bike, with some updates and custom touches to refine an otherwise fantastic little machine.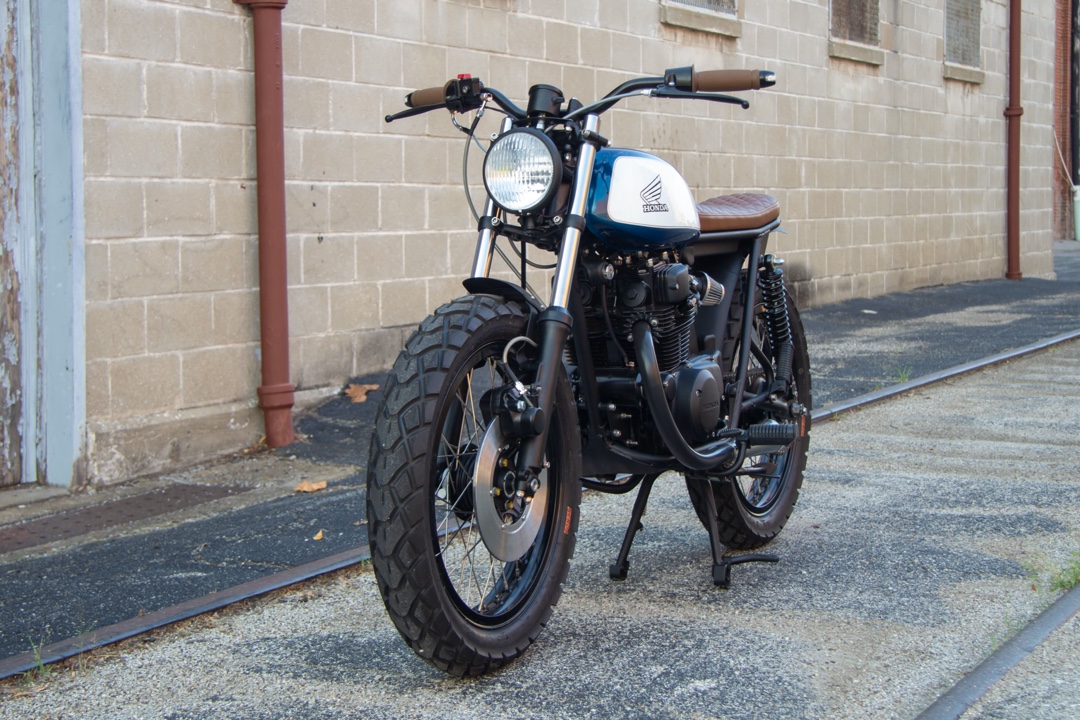 We updated the foundation first, by cutting away the stamped steel subframe and replacing it with a custom tubular subframe, upper shock mounts, and seat hoop. That, in addition to relocating the tank mounts, created just the right lines for this build.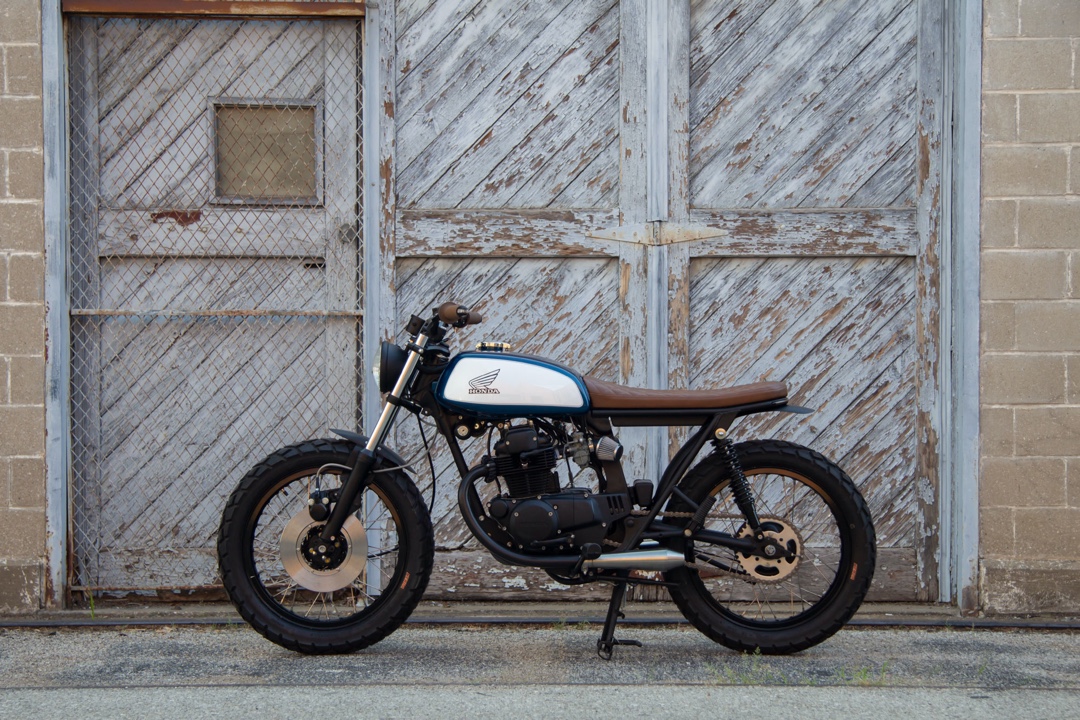 This CL's fork was swapped for a CB360T unit equipped with front disc brake, and the original rear shocks were replaced with a beefier aftermarket set. The new disc brake was matched with a woven stainless steel brake line, new master cylinder, and rebuilt caliper. New black aluminum rims and freshly powder-coated hubs were laced with new stainless-steel spokes from Buchanan's and topped with oversized Kenda dual sport tires.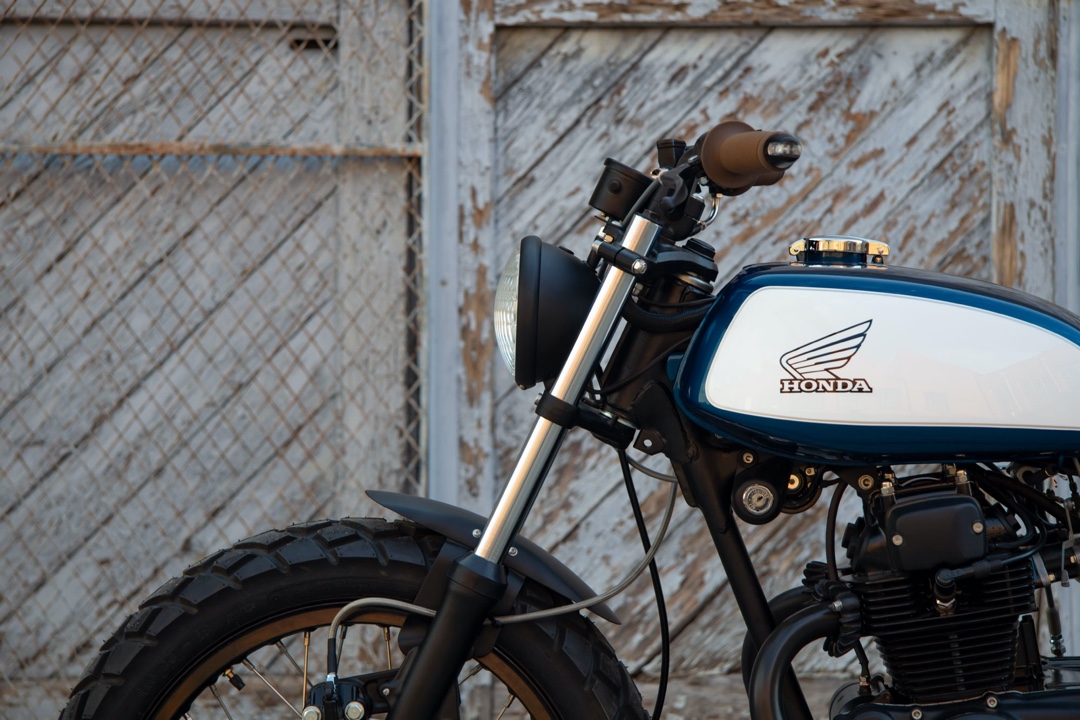 Honda's CL lineup came from the factory with high scrambler exhaust pipes, but knowing the owner's kids would occasionally join him for rides, we opted to fit the standard CB low pipes to keep hot exhaust pipes as far from the legs as possible. The headers were finished in a Cerakote satin black, and fitted with stainless steel cone mufflers.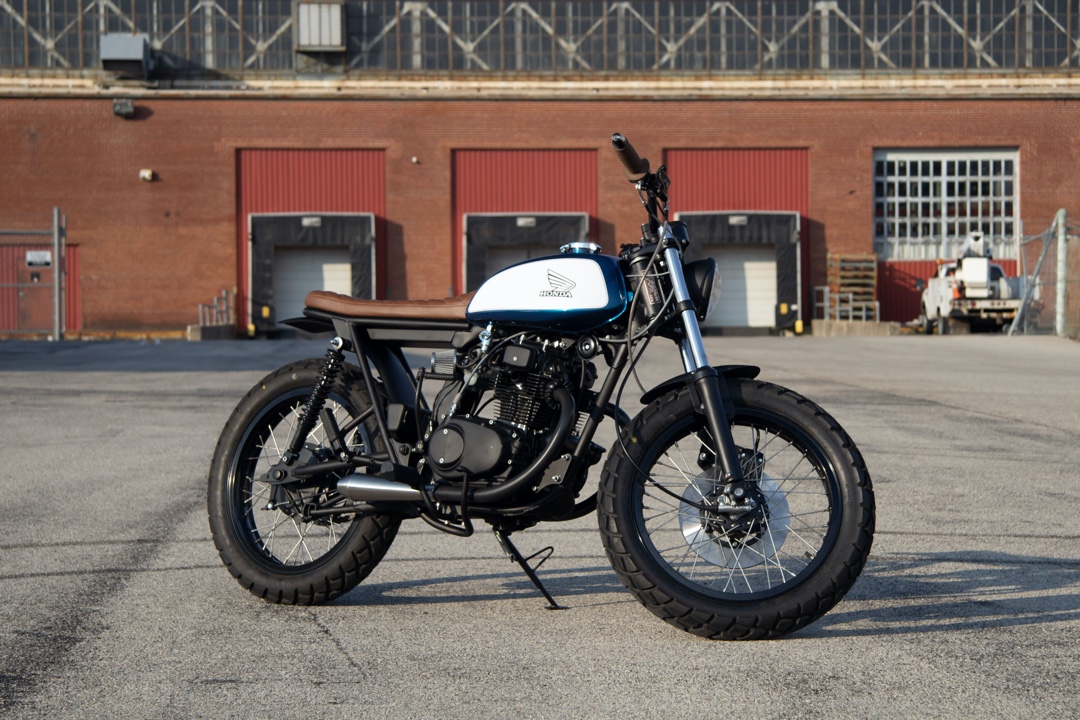 A new wire harness was assembled and paired with a single unit regulator/rectifier and a compact lithium battery that fits snugly in the custom fabricated battery box. Sleek bar-end turn signals were fitted to the low-rise handlebars, along with reproduction switchgear and a small analog speedometer to match. A small headlight bucket with LED bulb is mounted to the lower triple tree. The taillight and rear turn signals are integrated into the custom seat hoop.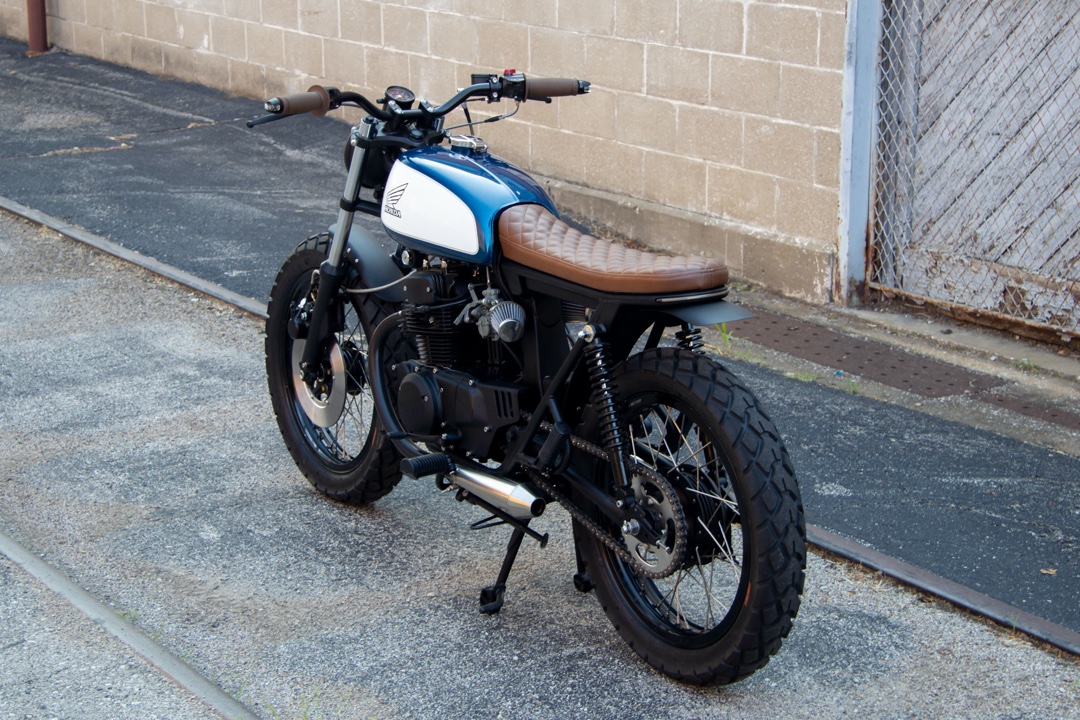 We explored a variety of designs and color combinations for the tank and the seat upholstery. We landed on a gorgeous metallic blue and white tank and a brown diamond-stitched seat that do a good job of balancing the classic retro feel of the '70s Honda, while adding a bit of refinement and elegance.
All of the work to complete this Honda CL200 scrambler was performed in-house — custom metal fabrication, paint and graphics, powder coat, electronics, and upholstery. This restomod turned out to be a clean and tidy build. We're ecstatic about how it turned out. And did we mention — it's a blast to ride!
Original tank restored and painted with custom Honda graphics
Custom subframe with integrated LED taillight and turn signals in seat hoop
Custom seat pan and seat upholstery
Custom fabricated battery tray mounted under seat
Full CB360T front fork and disk brake
Cerakoted CB200 low pipes with stainless steel cone mufflers
Custom fabricated headlight mount
Bar-end LED turn signals
Custom front and rear fenders
Aluminum oversized rims laced to original powder coated hubs
Oversized dual sport tires
Follow the Builder
More Slipstream Creations