Then Came Bronson was an adventure/drama television show that starred Michael Parks as disillusioned newspaperman Jim Bronson, who wanders the American West as a modern vagabond/cowboy. The real star of the show was Bronson's red 1969 Harley-Davidson XLH Sportster scrambler, with the Eye of Providence painted on the tank.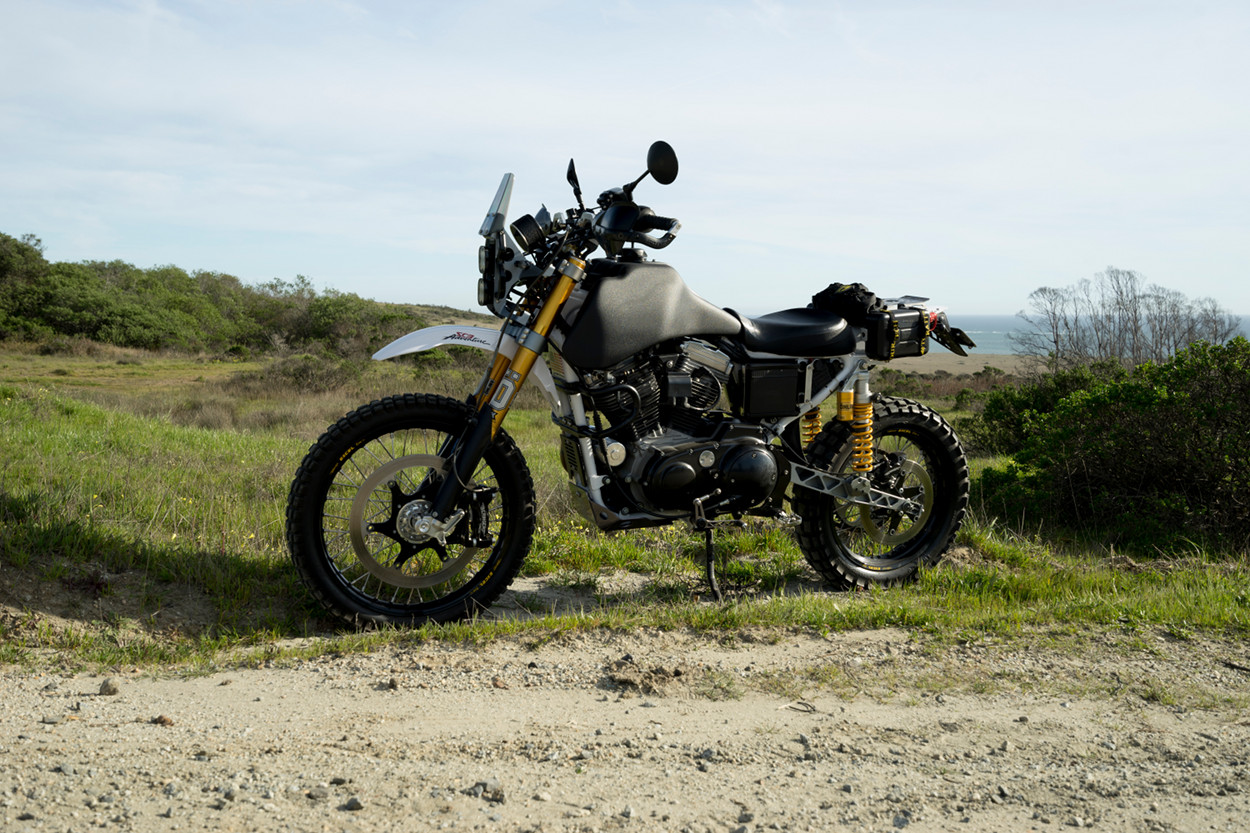 The show had a big influence on Jim Carducci of Carducci Dual Sport.  By day, Jim works in mechanical design engineering for the aerospace and semiconductor industries. By night, he builds the baddest, most off-road capable Sportsters on the planet. The SC3 Adventure is no simple amalgam of knobby tires and longer shocks. Jim designed this Sportster adventure bike from the ground up, utilizing the latest in 2- and 3-D design, structural analysis, and even air flow simulation. The result is one of the most incredible H-D builds we have seen, which William Harley and Arthur Davidson would surely love.
Below, we get the full story on the build.
Carducci Dual Sport SC3 Adventure: Builder Interview
• Please tell us a bit about yourself, your history with motorcycles, and your workshop.
I started riding motorcycles at age 11 – first bike was a Honda XR75. Second was an Yamaha DT100 dual sport. Then started racing motocross on a Yamaha YZ125. First street bike was a Yamaha RD400. Then more bikes of different types – road, cruiser, sportbike, dual sports, etc… 44 years later, I'm still riding. My professional background is in mechanical design engineering for the aerospace and semiconductor industries and I still work in semiconductors by the day, and design these custom H-D adv dual sport motorcycles by night and weekends. We originally had a shop inside LUX machine shop in Sunnyvale, CA where we did all the CNC machining of the parts and then the assembly of the bikes. Now, we work out of our home garage.
• What's the make, model, and year of the bike?
The Carducci Dual Sport SC3 Adventure, based on the 2003 H-D Sportster
• Why was this bike built?
Personal desire – or obsession. I like dual sports and H-D's, so decided to use my background in mechanical engineering to put the two together. Buell did the Ulysses, but it was more street than dirt capable, and I got tired of waiting for H-D to make one. So, I took on the project wanting to create a more dirt, or off-road, capable adv dual sport H-D.
• What was the design concept and what influenced the build?
Convert a 2003 Sportster into an off-road capable adventure dual sport. Emphasis on off-road capable. Use the Sportster frame with minor mods, motor, and electrical system, then design and build everything else myself. Design tools used were Autodesk Autocad for the 2-D side view architecture and geometry, Inventor for the 3-D CAD design of the parts, FEA structural analysis, and full assembly of the bike down to ever nut bolt and screw, and SimCFD for simulating air flow cooling of the motor. Influence started way back as a kid watching the tv show, "Then Came Bronson". I was young but always wanted to do what Bronson was doing – riding a Sportster all over California – exploring and getting into "situations". Since then, I always loved the H-D's and dual sport riding. Combining the two was a natural progression from me.
• What custom work was done to the bike?
Everything except the motor, oil tank, hand switches, and speedo. Motor bumped to 1250cc and Andrews N4 cams.
Frame has minor mods to strengthen for off-road use. Custom billet cnc machined swingarm, triple clamps, bar risers, feet controls, front brake caliper mounts and 380mm dia rotor.
CAD designed & hand formed 6.3 gal Aluminum tank made by Evan Wilcox.
Plastic 5.0 gal gas tank co-developed with IMS products. Corbin custom seat. Custom sheetmetal rear fender, rear rack, skid plate, head light frame with Baja Design Squadron Pro LED lights, and voltage regulator guard.
Custom Melvin brake lines. Custom fabricated kickstand, 2-into-1 SST exhaust by BTR Moto with Leo Vince spark arrestor muffler.
Ohlins MX forks with 0.58Kg/mm springs and shortened 50mm, Ohlins rear shocks made from different models to get the desired length, stroke, and damping. Woodys 18"/21" wheels with Excel rims, Billet boys rear hub, Talon front hub, and super laced sst heavy gage spokes.
• Was there anything done during this build that you are particularly proud of?
Some of the defining moments & features were 1) the first part made was the swingarm and it worked and looked great. It is also the only part that hasn't changed over the years of development.
2) the hand formed aluminum gas tank is a work of art – by Evan Wilcox. 3) co-developing a 5 gal plastic gas tank with IMS Products.
4) How well the bike actually works on the road and off-road. I still cant really believe it works as good as it does. It's a H-D! They're not supposed to go off road 😉
• Are you building these bikes for sale to clients?
Currently we have just one SC3 Adv for sale and one prototype that I intend to keep for me to ride and use as a test mule. And that's all I intend to build for this model. So whoever buys it will have a very unique and rare motorcycle.
Follow the Builder
www.carduccidualsport.com
Instagram: @carduccidualsport
Facebook: Carducci Dual Sport
Photography: Sherry Cordova and Alfonse "Fonzi"  Palaima