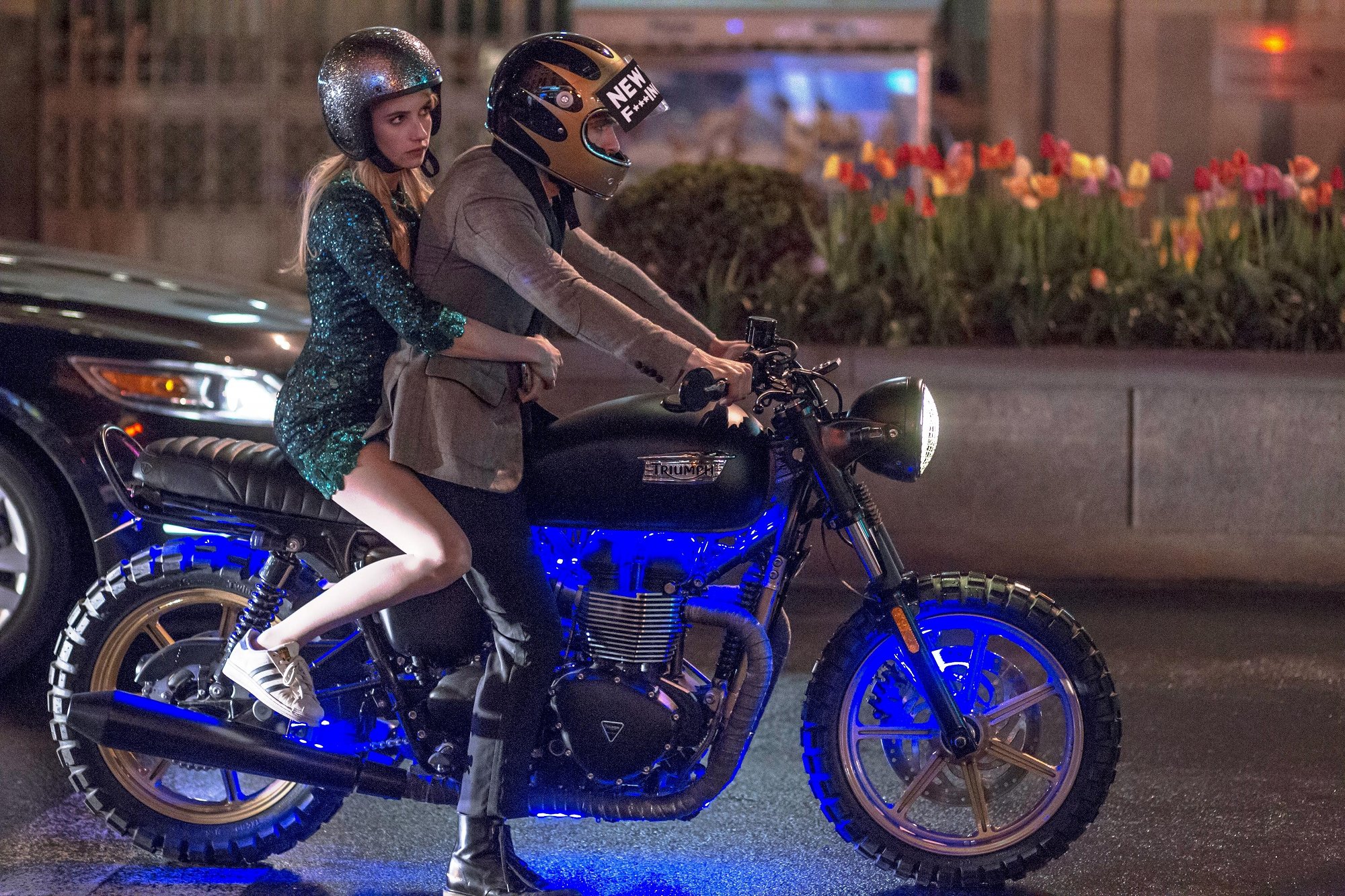 The movie Nerve (2016) is a techno-thriller starring Dave Franco and Emma Roberts. The plot revolves around a truth-or-dare reality game, wherein "players" accept dares from "watchers," earning money for their antics. Not surprisingly, such a game has both comic and dark consequences — both of which are portrayed in the film.
In the movie, Dave Franco's character, Ian, rides a motorcycle — at one point, he accepts a dare to ride blindfolded through NYC at 60 mph with Emma Roberts's character, Vee, steering with her body. Below is the scene.
Nerve Motorcycle Scene
The Motorcycle in Nerve
Franco's motorcycle in Nerve is a 2015 Triumph Bonneville outfitted with blue neon underlights and a couple of Scrambler accents, including a mesh headlight guard and knobby tires. However, the low exhaust and mag wheels indicate the bike is not a Triumph Scrambler — a fact verified by various online sources.  The Scrambler, on the other hand, has a high-mount exhaust and spoke wheels.
Triumph Bonneville
The Triumph Bonneville is often classified as a modern retro — a contemporary machine with old-school flair. The 2015 Bonneville offered an air-cooled, 865cc, 68-hp parallel twin with a 5-speed transmission, twin rear shocks, and 7-spoke cast aluminum mag wheels. The bike has been lauded by professional moto-journalists and amateur riders alike. Says The National:
"The current Bonneville will leave classic owners cold, with its decent brakes, electronic ignition and the ability to keep its oil on the inside. It even has an on-board trip computer, cleverly hidden in the main gauge. But one of the biggest advantages of the Bonneville is that it was designed in an era when handlebars were wide and people sat upright on the bike. Triumph has stuck to that design – and that makes it perfect for a new rider or someone returning to bikes after a long break. It's as easy to ride as a 125cc training bike, but without the terrible looks and total lack of power."
In a world of high-power Transformer lookalikes, the Triumph's combination of nostalgic styling, modern engineering, and practical ergonomics is hard to beat.
Triumph Custom Motorcycles
Below is a selection of custom Triumph builds we've featured from around the world.