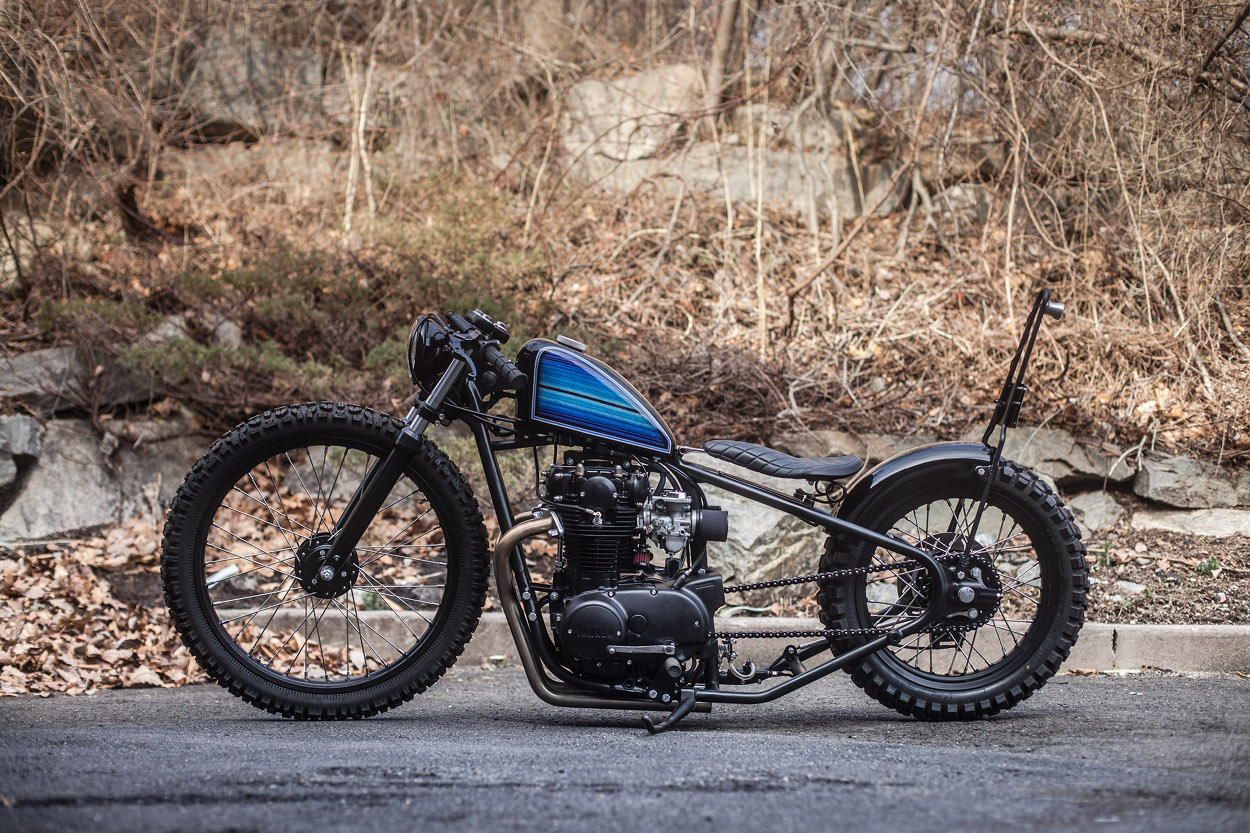 A metric bobber recalling the Big Wheel trikes of yesteryear…
The Yamaha XS650 remains one of the most versatile vintage motorcycles in the hands of custom builders. We regularly see the British-inspired Japanese twin transformed into a street tracker, scrambler, cafe racer, or some combination thereof. What's more, the bike is also used as a platform for hard-tailed creations like this '81 XS650 bobber, a personal project from Rob Salle of A&J Cycles — the New York workshop that created the Triumph Scrambler 1200 "XEcutioner" we featured last fall. Founded more than 20 years ago, the shop focused on turbocharged Hondas in the late 90s before shifting exclusively to motorcycles in the last decade.
Rob's wife gave him this project as a wedding present, running but in need of a lot of work. Rob's vision was clear:
"Just wanted to make a cool, clean bobber."
One of the signature pieces of the build is the 23-inch front wheel from a 1980s Honda XL500, which gives the bike its nickname, "Big Wheel" — just like the low-riding tricycles of our youth. About the only tire available for that rare wheel size is the Bridgestone TrailWing, which gives the bike a knobby tire / dirt chopper look. With no front brake, Rob did a rear disc brake conversion with a Cognito Moto hub for better stopping power. He rewired the bike using a Black Box lighting control module from our friends at Purpose Built Moto and went with a Pamco electronic ignition. The electronics try and frame paint are by Dave of @Slagkustom, while the gorgeous paintwork is from Ronnie Melendez of Weights and Paints. While this isn't our standard fare on BikeBound, we can't help but love the lines and detail of this streamlined, squeaky-clean build.
Below, we get the full details on the build along with some gorgeous shots from Dave Ngo (@davengo) of MotoFellas NYC.
Yamaha XS650 Bobber: Builder Interview
• What's the make, model, and year of the bike?
1981 Yamaha XS650.
• Why was this bike built?
Personal project of Rob Salle from A&J Cycles. Received the project as a wedding present from his wife.
• What was the design concept and what influenced the build?
Picked the bike up as a running basket case on Facebook marketplace. Just wanted to make a cool, clean bobber.
• What custom work was done to the bike?
23" front wheel (from 80s XL500)
18" rear wheel laced to Cognito Moto Hub
Bridgestone TrailWing Tires
Rear Disk Brake Conversion
Rewired bike with Purpose Built Moto Black Box and switches, Pamco Ignition
Shaved front fork lowers
Paint by Weights and Paints
Custom fabbed electronics tray and frame paint by Dave @Slagkustom (IG)
Powdercoating by TRG Coating
Kellerman Bullet Atto Turn Signals
Prism Tail Light
LC Fab Brake Reservoir
Motone Gas Cap
Biltwell Seat
Gale speed Clutch Perch and lever
Domino Throttle Assembly
Cognito Moto top clamp
Woodcraft Clip Ons
• Does the bike have a nickname?
Big Wheel.
• How would you classify this bike?
Bobber.
• Was there anything done during this build that you are particularly proud of?
Just the transformation / before after.
Follow the Builders
IG @aandjcycles
FB @aandjcyclesny
Paint: @weightsandpaints
Fab: @slagkustom
Powdercoat: @trgcoating
Owner: @sallerob
Photos by Dave Ngo @davengo from @motofellasNYC