The Yamaha XS650 (1970-1983) is one of our favorite vintage Japanese motorcycles, styled after the British twins of the 1960s. The engine/gearbox had unit construction and a horizontally-split crankcase, making it one of the most advanced twins of the era. While some reviewers claimed the bike could "vibrate the green off a frog," those who own, ride, and enjoy the XS650 have another opinion:
"There's just a characteristic with that twin, the pulsating twin, that adds another dimension to the pleasure of riding." — Don Lawson, former director of the Yamaha 650 Society
Truly, the rock-solid engine was the anchor of the bike, allowing for such a long production run. Unlike the British twins, the XS didn't leak, break, or require hours of hair-pulling, expensive maintenance. While the bike was no speed demon, the 53-hp twin did the quarter mile in 13.86 seconds — respectable for the class — and the bike possesses a certain charm or charisma that's hard to define.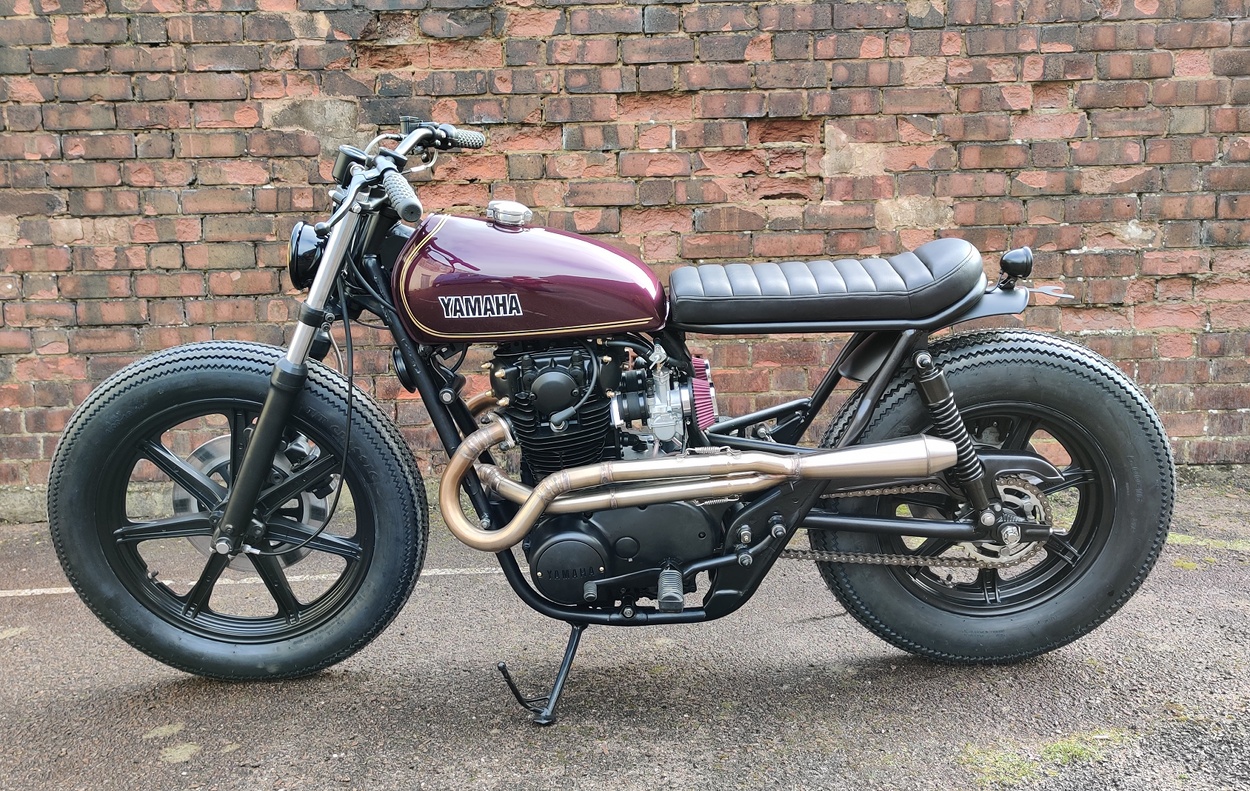 Enter Richard South of the UK's Kuna Customs, whose workshop in Lutterworth, Leicestershire, is only a stone's throw from shop where Frank Whittle invented the jet engine! Richard has been riding since he was 13, and building bikes for customers for over a decade. Previously, we featured another Yamaha XS650 brat build of his, and now he's back with this 1978 XS650SE, originally built to showcase at The Bike Shed London. One of the signature elements of the build is the DT360 enduro tank, giving the bike a decidedly 70s character.
Below, we get more details on the build from Richard himself!
Yamaha XS650SE Brat: Builder Interview
• Please tell us a bit about yourself, your history with motorcycles, and your workshop.
I started owning and riding when I was 13 years old and always had bikes to this day. In 2008, I built my first bike for a customer and it's progressed since then, I now have a unit in Lutterworth a stone throw's away from Frank Whittle's old workshop where the jet engine was invented.
• What's the make, model, and year of the bike?
Yamaha XS650SE 1978.
• Why was this bike built?
A bike built which went down to The Bike Shed London on display, now sold.
• What was the design concept and what influenced the build?
1970's DT concept, love those tanks, remove most of the clutter and keep it simple.
• What custom work was done to the bike?
DT360 tank, Narrower sub frame, custom seat, all new electronics package, low rise handlebars.
• Can you tell us what it's like to ride?
Rides sweet using the Vape high performance electronics.
• Was there anything done during this build that you are particularly proud of?
Love the styling, the 1970's for motorcycles was cool as..
Follow the Builder