Scramblers are one of our favorite types of motorcycles here at BikeBound. The origin of the term goes back to 1920s England, when shed and garage builders would modify their primitive road-going motorcycles for cross-country races that followed no set trail or track. Rather, they were point A to point B races across the rough, varying terrain of the English countryside.
Rumor has it the phrase 'Scrambler' came from a British race announcer describing the act playing out before his eyes as 'quite a scramble.'" —Toad & Co.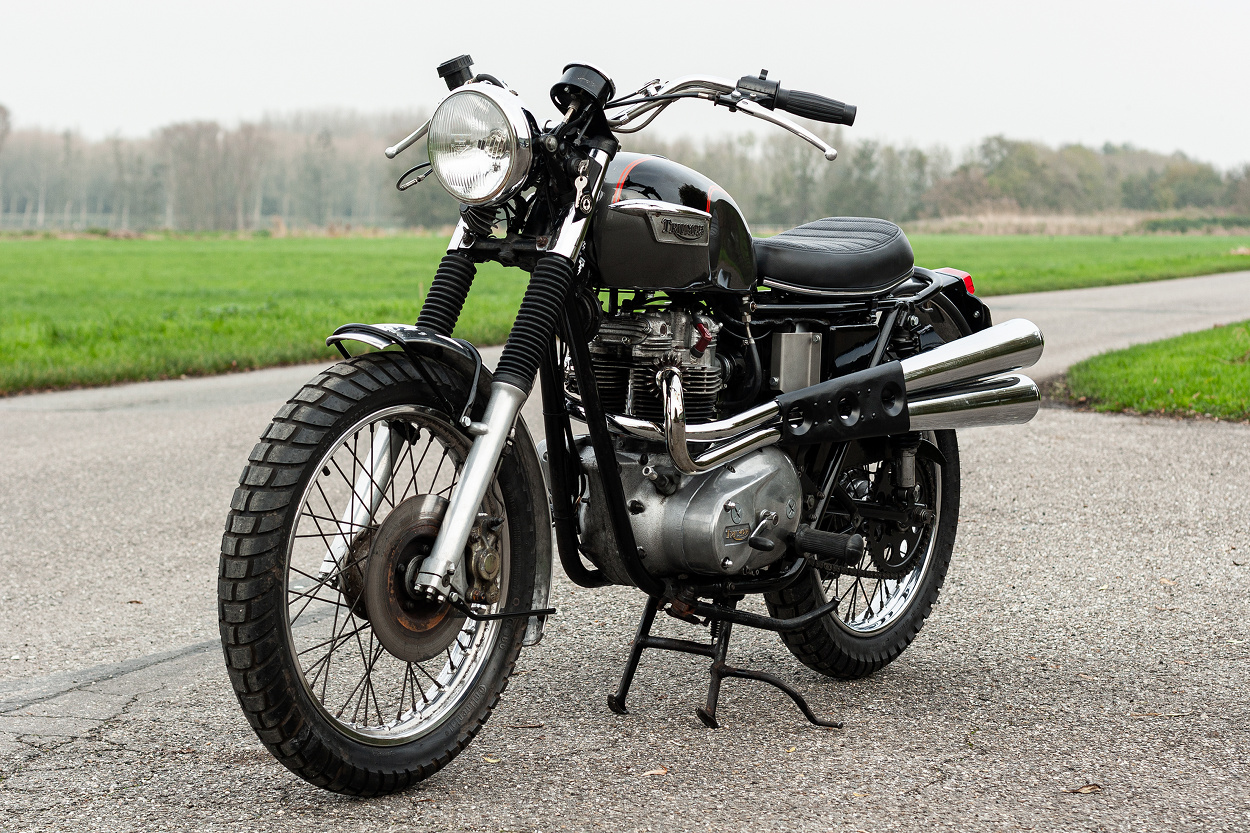 Over time, these races evolved into closed-circuit hare scrambles and motocross courses, though desert racing in the American West would keep the open-range format alive for many years to come. During the 1960s, California desert racers could be found modifying 650cc Triumphs and other street bikes to survive the extreme punishment of off-road racing.
Soon, aftermarket frame kits like the Rickman Metisse became available, which incorporated such innovations as oil-in-frame design for better cooling, heavy-duty Ceriani forks, nickel-plated tubing, reinforced stress points, and more. These could be purchased to accommodate engines from Triumph, Norton, Matchless, etc.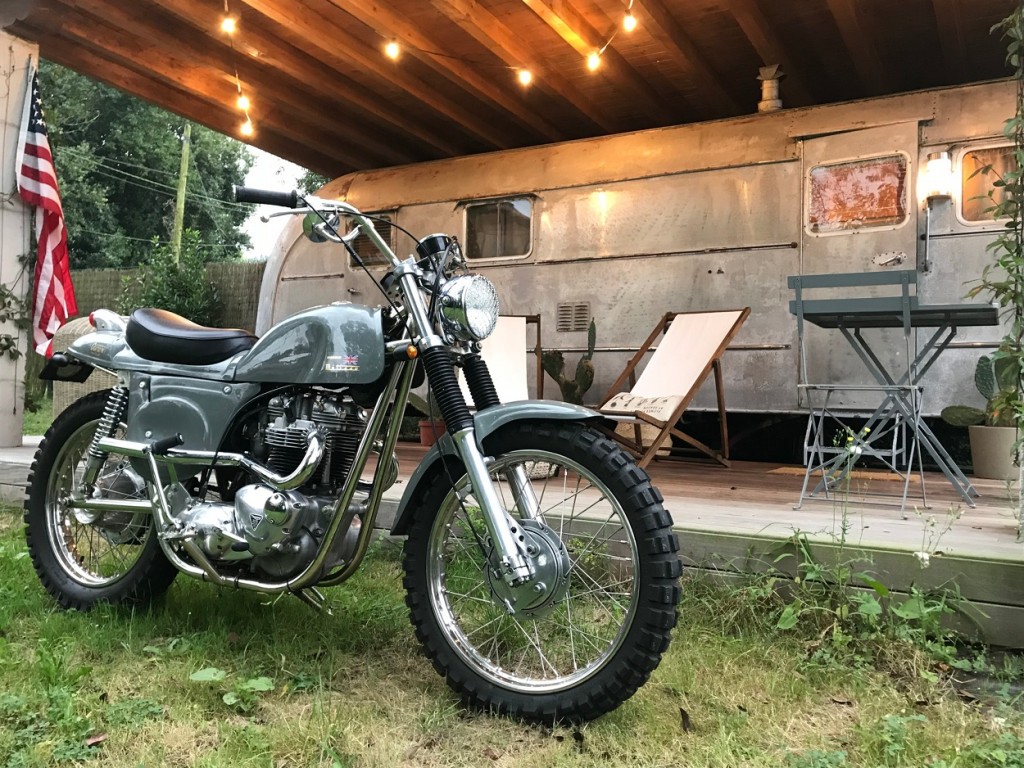 By the 1960s, manufacturers were beginning to offer production scramblers, which were derived from street-legal models and lightly modified for some off-road use. Examples include the Honda CL and Ducati Scrambler series. These were really "street scramblers," and their off-road prowess was limited. Still, these production scramblers signaled the riding public's desire for dual-purpose machines that could be ridden both on and off the road.
In 1969, Yamaha introduced the 250cc two-stroke DT-1, which would take the market by storm. Now a lightweight, true dual-purpose machine was widely available and affordable for the average consumer:
"Prior to the release of the Yamaha DT-1, reliable, reasonably powerful and inexpensive dirt bikes simply didn't exist. The various — mostly British — scramblers on the market tended to be big and heavy, and while companies like Greeves, Montesa and Penton offered purpose-built dirt bikes, they were expensive and quirky. The DT-1 changed all that."
A new breed of machine was born, the dual-sport or enduro — a cheaper, lighter weight, single-cylinder alternative to the scramblers of yore.
So What is a Scrambler Motorcycle?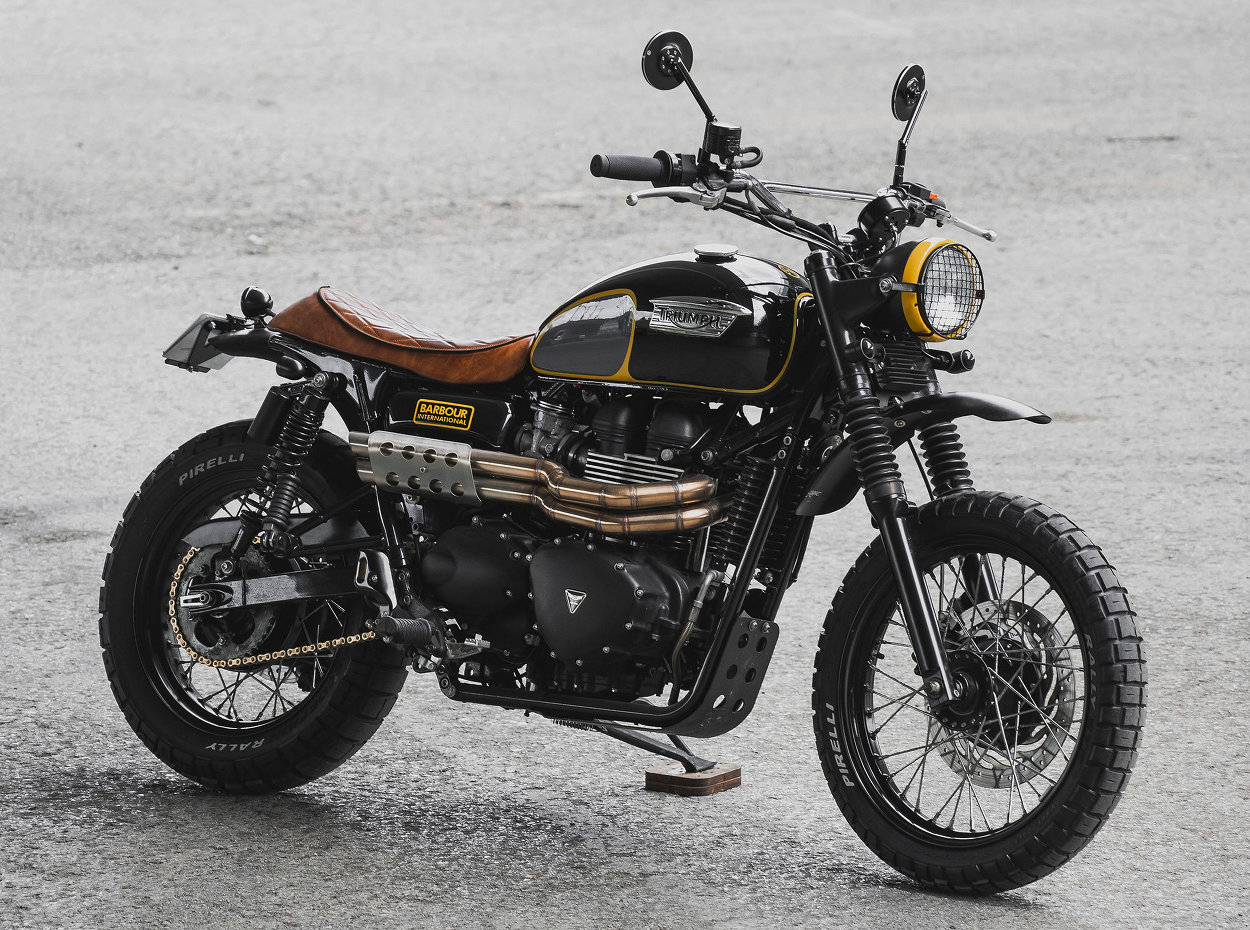 Here at BikeBound, we generally define as a scrambler as a street bike modified for light to moderate off-road duty. Defining traits often include some combination of the following:
DOT-legal dual-purpose rubber, from 50/50 to 90/10
Taller, longer-travel front/rear suspension
Skid/Bash plates and rock protection
Motocross handlebars / footpegs
Accessory lighting / luggage
Full mudguards / fenders
We're reluctant to pigeonhole this breed of bike inside a strict definition or set of defining traits, but these are the traits most recognizable in today's new wave custom scramblers — one of our favorite types of machine to feature here at BikeBound.
In recent years, this scene has exerted a profound influence on the major manufacturers, many of which have begun to offer production scrambler models. The Ducati Scrambler and Triumph Scrambler are the most obvious examples, though both have received flak for being "scramblers" more in name than function.
Perhaps in response, they've begun to offer more aggressive, long-travel off-road editions, such as Ducati's Desert Sled and Triumph's 1200 Scrambler — truly capable machines in the dirt.
Best Donor Motorcycles for Scrambler Builds
We've seen scramblers built from a staggering array of donor motorcycles, some more successful than others. Below, we list some of our favorite platforms to help you decide the base bike for your next build. These are in alphabetical order, not any kind of ranking.
In continuous production since 1957, the Sportster has long served as Harley's most lightweight, performance-oriented V-twin offering outside the Buell series, available with the Ironhead engine until 1985 and the Evolution after that. While this 500+lb cruiser may seem like an odd choice for a scrambler conversion, these bikes have been ripping down dirt roads since their inception, while the American television series Then Came Bronson helped establish the Sporty's scrambling potential in the public mind. A number of aftermarket companies now supply off-road parts for modern Sportsters, and builds such as Biltwell's Frijole 883 desert race bike and the Carducci Dual Sport S3 Adventure have displayed the surprising potential of this platform. Hell, we even built and ride a Sportster scrambler ourselves, Blitzen!
---
Honda CB/CL/SL Twins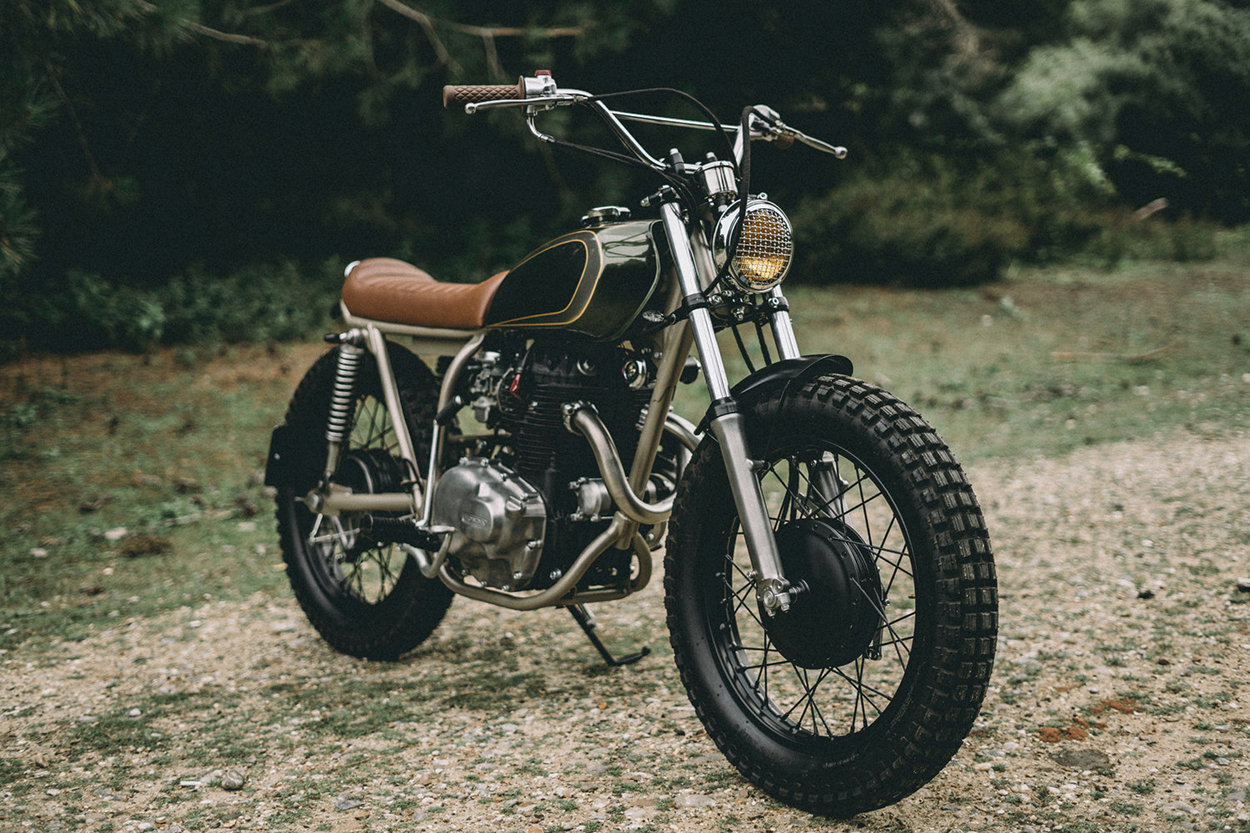 The Honda CB350 was one of Honda's bestsellers from 1968-1973, featuring a 36-hp twin-carb parallel-twin engine that earned a reputation for reliability. In fact, it's still one of the most popular motorcycles in vintage road racing.
"The 350 Honda twin was anvil reliable, with over 300,000 copies being sold in the USA alone, it was one of the most popular motorcycles ever produced." —SuperHunky
The CL350 was the production street scrambler variant, offering a high-mount exhaust and larger 19-inch front wheel. The SL350 was even more dirt-oriented from the factory, especially the 1971-73 models, which had a 21-inch front wheel and weighed 50+lbs less than the 1969-70 versions.
"When the SL350 got some knobbies strapped to it, and decent shocks bolted on the back, the bike became an unstoppable woods weapon, as nothing short of an atomic blast would cease the rear wheel from spinning." —SuperHunky
Any of these models make great scrambler donors, as do the larger displacement CB/CL360 and CB/CL450 models. They are heavier and less capable than some of the single-cylinder, mono-shock machines below, but they are well-built, reliable, easy to maintain, and have a vintage charm that some of the modern donors lack.
---
The Honda Dominator was a more street-oriented dual-purpose motorcycle derived from the XR series, featuring a 44-horsepower air-cooled single-cylinder engine and five-speed transmission. It was produced from 1988-2003, but only available in the US market for two years. In Europe, it's become one of the most popular donors for custom scrambler builds due to its ruggedness, availability, low purchase price, low cost of ownership, good power, and off-road potential. What's more, the 650cc engine's dual exhaust outlets mean that custom high-pipe dual exhaust setups are common. For US builders, the Honda XR650L is a readily available alternative that shares the same engine and many of the same parts and character traits.
---
As stated above, the Honda Dominator is rare in the US market, but Honda's venerable XL and XR series provide a great alternative. In the early days, the XL was the company's range of street-legal dual-sports, complete with electric start, blinkers, license plate brackets, batteries, and more. Meanwhile, the XR was the purpose-built off-road series, typically kickstart only, with the headlight and taillight run directly from the stator — no battery. Later, the XL models were folded into the XR series, and the street-legal models were identified by the "L" suffix, such as the XR250L and XR650L. What's more, many early XR models can be found on the used market with license plates and street-legal titles. The XL600R and XR600R are probably the most popular donors for scrambler models, but the smaller displacement models should also be considered.
---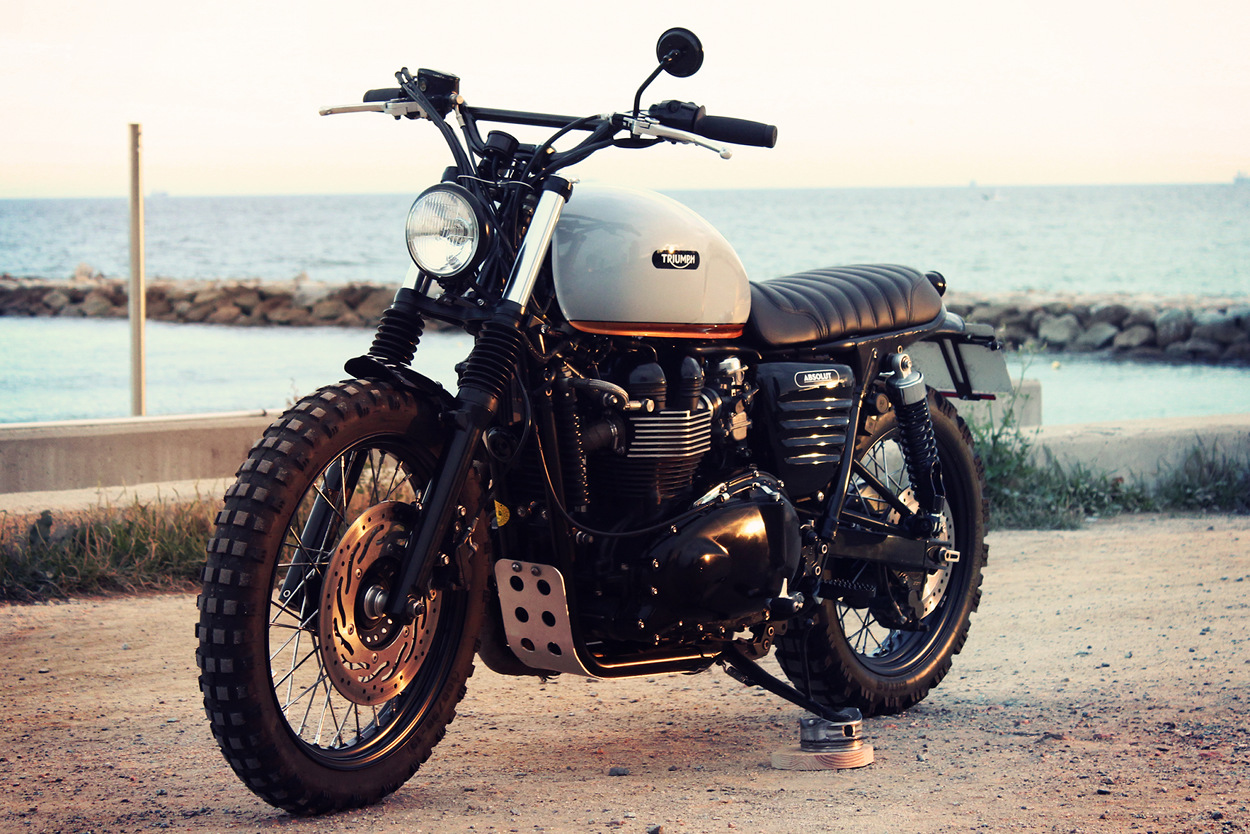 The first-gen Triumph Bonneville and its predecessor, the TR6 Trophy, were some of the most popular machines in California desert racing in the 1960s. Today, the third-generation Hinckley Triumph Bonneville, produced from 2001 onward, remains a popular donor for scrambler builds. The parallel-twin engine serves up a decent dose of horsepower and low-end torque — a prime prerequisite for off-road antics — and companies such as British Customs have been testing and developing a broad range of parts for the Triumph Bonneville Carb, SE, T100, T120, and more.
---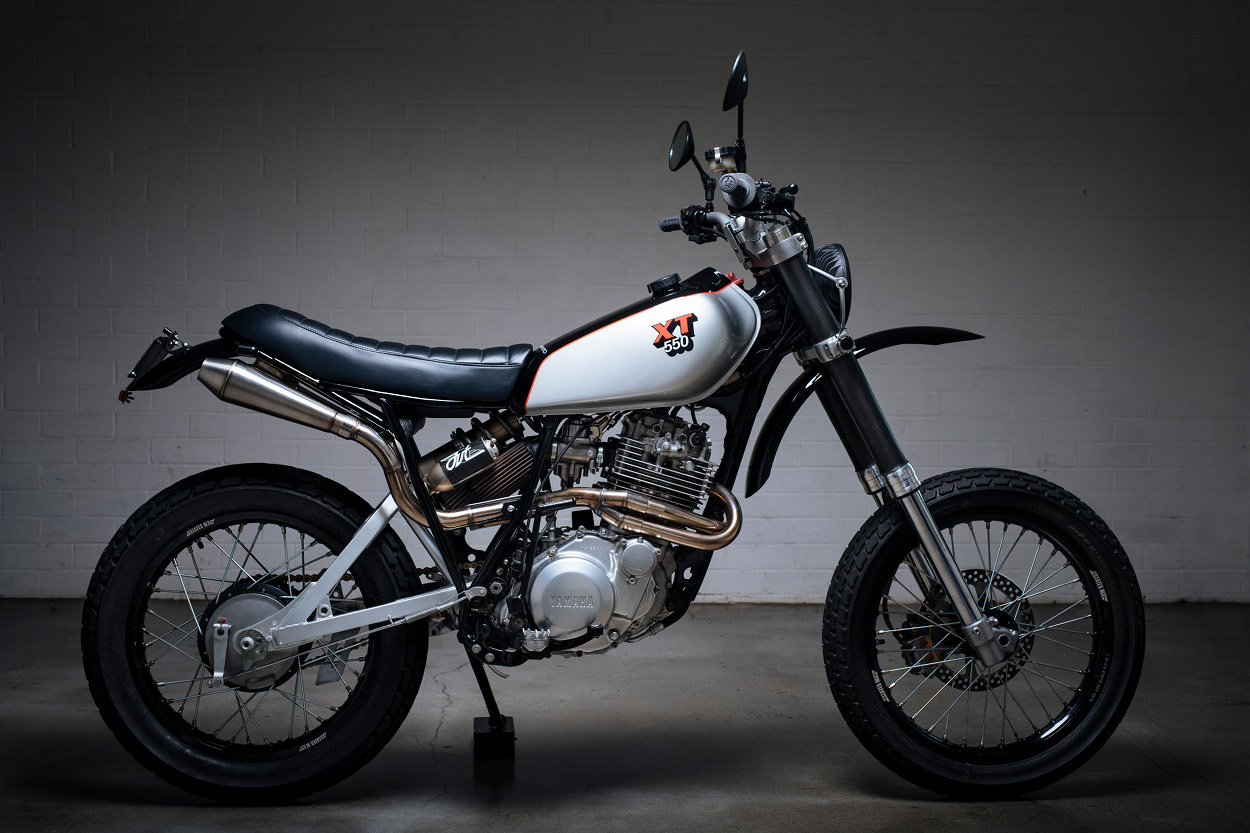 The Yamaha DT series (two-stroke) and XT series (four-stroke) are two of our favorite motorcycle platforms, bar none. These single-cylinder dual-sport/enduro bikes are more capable than most factory scramblers in stock trim. In fact, the XT500 won the very first Paris-Dakar Rallies in 1979 and 1980. At the same time, they are quite capable road-going machines, especially in the 250+cc models. With a few stylistic customizations, such as custom seat/bars/tank/crash protection, they look great, and their performance potential is huge, with upgraded suspension, 12-volt electrical systems, and more available.
---
Recent Scrambler Builds
Baby Buffalo: Kawasaki Meguro 650 Scrambler
-
Meguro 650 Scrambler from Rocket Fantasy Garage… Founded in 1937, Meguro was one of the first Japanese motorcycle manufacturers, a "prestige brand" that supplied police and military motorbikes to the government and raced alongside Honda. […]
Dakar Tribute: "PD85" BMW R NineT Urban GS
-
From Incandescent Motorcycles: R NineT inspired by the '85 R80GS Paris Dakar… Released in 1980, the BMW R80GS is the progenitor of the multi-cylinder, dual-purpose "adventure bikes" so popular today. Originally developed to compete in […]
Mission Classic Scrambler: Honda CX500
-
60s-Style Scrambler from Warkot Motorcycles… Honda has always done things its own way, and the company's history of sales and racing successes are a testament to how well they execute on their visions. One of […]
Flat Twin Vinduro: BMW R100GS "Six Days"
-
BMW ISDT Tribute from Santa Fox Garage… The International Six Days Enduro (ISDE) is the oldest off-road event on the FIM calendar. Known for years as the International Six Days Trial (ISDT), it was first […]
Smoke Show: Yamaha DT400 Scrambler
-
A Two-Stroke Ripper from Hex Moto… The Yamaha DT400 is one of our favorite two-stroke enduros of the 1970s. It arose from the original DT-1 250 of 1969, which revolutionized the market as a […]
B-Road Baddie: Yamaha XT600 Street Tracker
-
Hoxton Moto's 1992 Yamaha XT600 Street Tracker… Introduced back in 1983, the Yamaha XT600 would remain in production until the early 2000s, earning a reputation as a worthy, rock-solid successor to the original twin-shock XT500 […]
Backroads Scrambler: Honda CB360
-
1975 CB360 from Slipstream Creations… Introduced in 1974 to succeed the highly successful CB350 twin (actually 325cc), the Honda CB360 boasted a number of upgrades over its predecessor: more displacement (356cc), along with a […]
Race Report: Helsington Classic Scramble 2023
-
Graham Watson follows his father's tire tracks at the 2023 Helsington Scramble! Back in 2021, we featured the unique Cheney / Triumph "Cantilever Cub" of Graham Watson. In the 1970s, Graham's father wanted to build […]
Dubai to London: BMW R80GS Desert Bomber
-
Project Zero 30: A Transcontinental Airhead from Cafe Rider Customs… The BMW R80GS is the grandfather of the modern adventure bike, and remains one of the most important and influential motorcycles of the modern era. […]
Steeplechaser: Triumph 1200 XE Street Tracker
-
Tamarit Motorcycles transforms a Scrambler 1200 XE… It's always interesting when the custom world influences the major manufacturers. A few years ago, the factories reacted to the resurgence of the scrambler style in custom culture […]