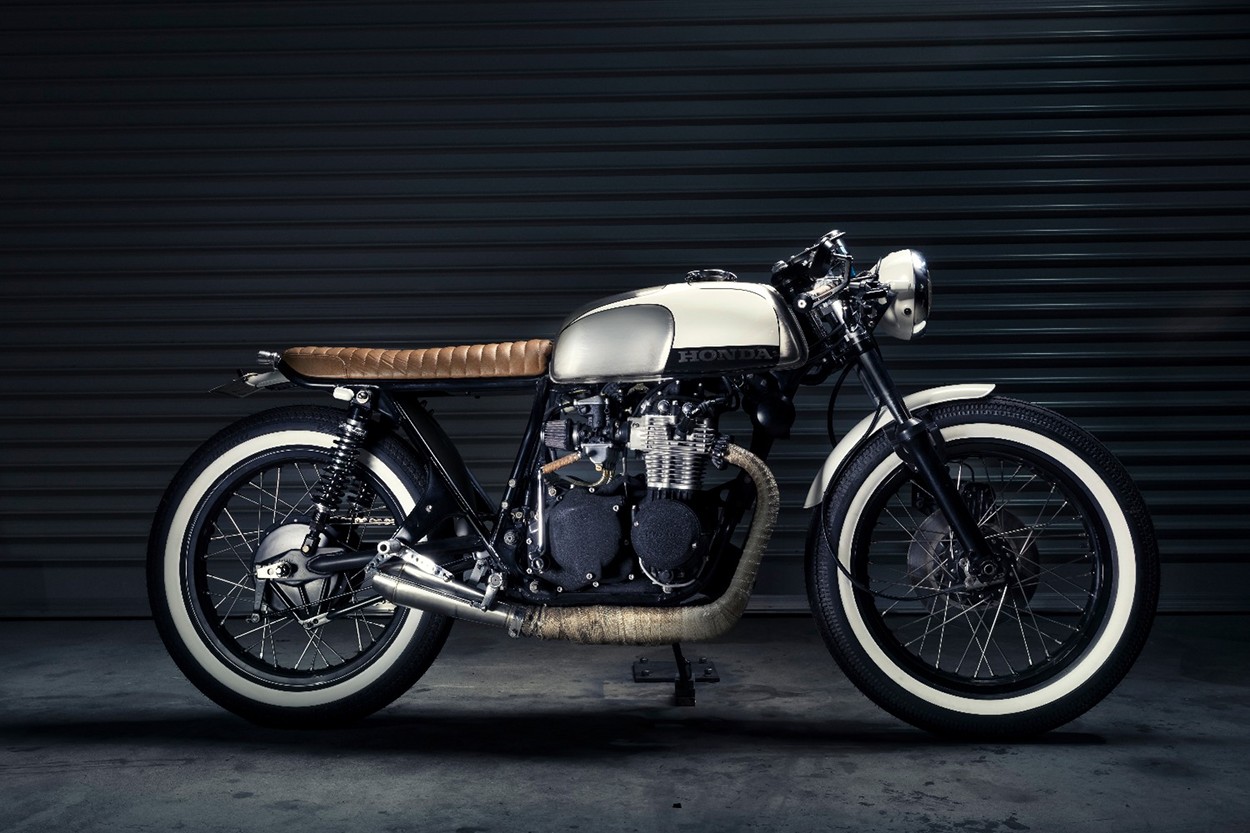 Tom Gilroy, the founder of Australia's Purpose Built Moto, has been making a name for himself in the custom moto scene. Besides turning out a herd of custom bikes, which can be seen ripping around Australia's Gold Coast, Tom produces a veritable arsenal of custom part, including LED Lights, Headlights, CNC triple clamps, stainless steel mufflers, and more. More and more often, we're seeing his parts turn up on custom bikes, such as the Purpose Built muffler on this Yamaha XS650 street tracker we featured recently.
Tom's builds generally err toward the knobby-tired, dust-happy, go-anywhere machine. For this reason, the 1973 Honda CB350 brat cafe you see here was quite the departure — a "super classy aesthetic," complete with a nickel-plated tank, hand-brushed, and an array of hot rod-inspired touches, such as whitewalls and bone-white paint.
Below, we get the full story on this classy brat.
Honda CB350F Brat Cafe:  Builder Interview
Please tell us a bit about yourself, your history with motorcycles, and your workshop.
I'm a parts designer and manufacturer of LED Lights, handlebar switches and other electronics as well as mufflers.
What's the make, model, and year of the bike?
1973 Honda CB350F
It was previously a café racer converted 350 Four, but the current owner wasn't quite happy with the fit and finish and overall look of the bike. We wanted to make this bike his own.
What was the design concept and what influenced the build?
I haven't done a lot of truly classic style bikes so I wanted to leverage on that idea and come up with a style that held a super classic aesthetic with some hot-rod inspired touches.
What custom work was done to the bike?
The engine and carbs were previously done so apart from some minor performance upgrades — Purpose Built Moto exhaust and new rear suspension — the rest was all about the style.
A new subframe hoop was fabricated to accommodate both the new brat style seat and keep wheel travel in check. The seat was hand made and shaped to suit then stitched in a worn tan leather. The guard were re-mounted to house the whitewall Shinko tyres and everything but the tank was finished in a bone white. The tank was completely stripped panel geat and was sent out for nickel plating.
When I received it back I brush-finished the tank painstakingly by hand for hours until I was completely happy with it. Once that was done a devised a detail design and colour pattern and sent it to my mate Justin at PopBang Classics for a lick of paint. Upon assembly the CB350 was treat to a host of Purpose Built Moto parts including our brand new lighting control relay, "the Black Box", LED turn signals and our super slim handlebar switches.
Please include a list of the changes made/parts used.
Purpose Built Moto Parts:
Other Parts:
Gazi rear suspension
After Hours Choppers Tail Light

How would you classify this bike?
Brat Style with a touch of classy classic.
Was there anything done during this build that you are particularly proud of?
The tank on this bike has to be the best feature, taking the brushed nickel plating and complementing it with the white and black hot rod inspired design turned out great. And PopBang Classics really went to town with the paint, it's flawless!
Follow the Builder
More Honda CB350 Customs