We are huge fans of scramblers and trackers here at BikeBound. Apparently so are you, our readers, as fuly half of the machines on our Best Custom Motorcycles of 2017 are running knobby tires and riser bars. We decided to follow up with a list of last year's most popular scramblers and trackers, based on traffic and social shares.  Without further ado, here are the BikeBound Best Scramblers and Trackers of 2017, presented in alphabetical order by builder.
Brick House Builds' previous build, a CX500 tracker inspired by the two-stroke Honda 3-wheelers of the 1980s, was a huge hit on the blog and beyond, making our list of last year's Top 10. But in 2017, BJ managed to build a second CX unlike any we have seen, this time a 1980 Honda CX500 scrambler named "Ranger Green." He went for a purpose-built, "government issue" design inspired by the National Park Service. The result is a bike that any park ranger would be thrilled to ride.
Dakar Chou of DKdesign has been doing interior design for more than twenty years, but he's loved motorcycles ever since he can remember. He rode his motorcycle when he was 12, and it became a dream of his life to build his own. Then, in 2015 he got his chance through the recommendation of Ben Chen — manager of BMW Motorrad Taiwan. Since then, DKdesign has brought out four different custom BMW bikes, based on Dakar's love of the 70s-90s heyday of motorcycling. His latest is this BMW G310R Scrambler.
The Honda CR500 was perhaps the most wicked dirt bike ever produced — a 53-horsepower, liquid-cooled 2-stroke beast, with a hair-trigger throttle and the power band of a Saturn V rocket. As this Craiglist seller once advertised "Breathe on the throttle and the front wheel is up." Enter Adam Hedges of C's Garage and the Earnest company, who is a competitive drifter and race car fabricator.  Adam asked one very brilliant question, and we are so happy he did:  "What if in 1985 Honda produced a factory flat track bike…?" That question led to the incredible Honda CR500 tracker you see here.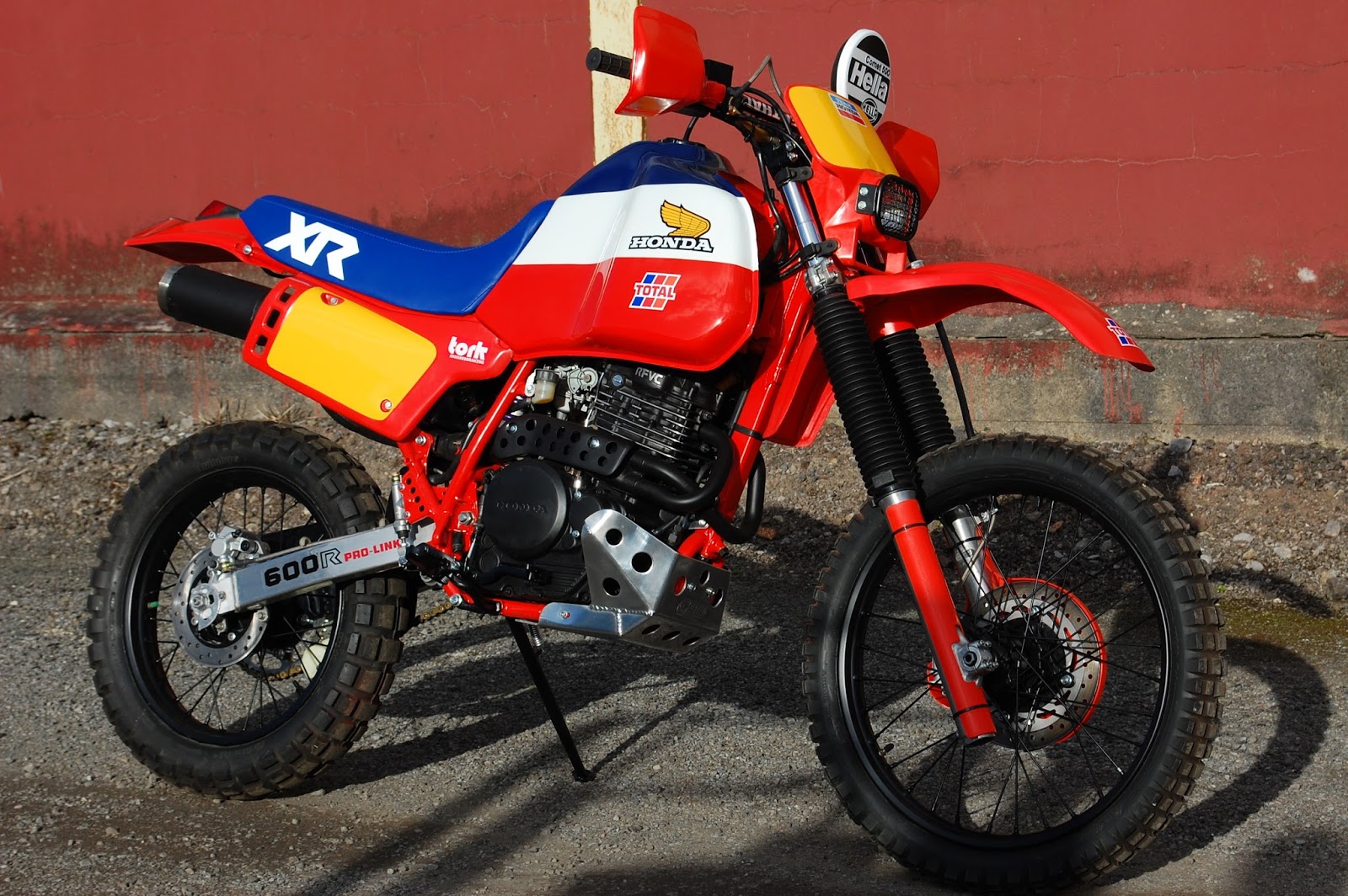 We have been watching the builds of Andrew Greenland for years. Andrew has turned out a stable's worth of froth-worthy Honda customs, most recent of which is this hybrid Honda XR/XL/NX Dakar Project. Although the bike began life as an XL600R, the bike now carries XR600 suspension, XR500 plastics, LMF tank/seat, and an NX motor with electric start. A dual sport restomod beast!
John Hand is the grandson of Rob Rhind-Tutt, founder of the legendary Wasp Motorcycles, who have been building off-road sidecars and vintage scrambler frames for more than 50 years. Young John decided he wanted to do a more modern take on the classic scrambler, but with hints of the classic look. The result is this stunning Yamaha XSR700 "Super Scrambler," built on a bespoke frame that John himself designed, cut, bent, and welded from aircraft-grade chromoly and T45 steel.
Based in Buenos Aires — the "Paris of the South" — builders Federico Lozada and German Karp of Herencia Custom Garage (HCG) specialize in a style we love: the street tracker. The duo is never afraid to set their wrenches on an atypical platform, as evinced by this Honda GL1100 Goldwing street tracker. They wanted to build "the biggest tracker ever." Given the size of this beast, it's no wonder that HCG named this, their 39th build, the "Tracker XL."
The team at Jambon-beurre Motorcycle of France wanted to build a street-legal electric street tracker, and artist Jean-Louis loved the idea and told them, "OK, I love the idea, make one for me!" They chose a 1993 Suzuki DR800 for the base platform, as the beefy dual-sport frame could handle the size and torque of the 107-hp, 80kw brushless motor from PYMCO Technology — inspired by Tesla motor technology.
David and Dominik from Germany's LOON wanted to create a functional custom bike, retaining its emphasis on performance. The result is the LOON BS 501, based on the most powerful machine in Husqvarna's hard enduro lineup, the FE 501, a 501cc single offering 60+ horsepower at a weight of just 240 pounds dry. Incredibly enough, this bike was created with no alteration of the frame or wiring harness. In fact, LOON plans to offer this bike as a custom kit, with a bolt-on subframe, fuel tank, and plug-n-play electronics!
We were lucky enough to meet Sean Zeigler of Other Life Cycles at this year's Handbuilt Show and get a sneak peek of this build in-process. Sean whipped out his mobile and showed us a photograph of the "Supermoto Scramblerstein" in his workshop. The bike was far from finished, but the winning lines of the build were already evident. Fast forward a few short months, and Sean had outdone himself, exceeding our expectations with this GL. The build nods to the asymmetry of the original while taking the machine to a startling new level. Bravo!
The Honda XL100, first produced in 1974, was a near-unkillable little enduro, capable of thumping away for decades under the harshest conditions, with the barest of maintenance. Revolt Cycles has created a fitting tribute to this machine with RVLT 15, dubbed "Lantuag" — a dialect word meaning "to roam." This XL100 tracker is certainly capable of that, and we love the Paris-Dakar dual headlight setup and surfboard rack — a common accessory in the Philippines.
Last Year's List
Here is the link to the 2016 Best Scramblers & Trackers. Also, here's a link to our popular articles Best Bikes for Street Trackers and What is a Street Tracker?