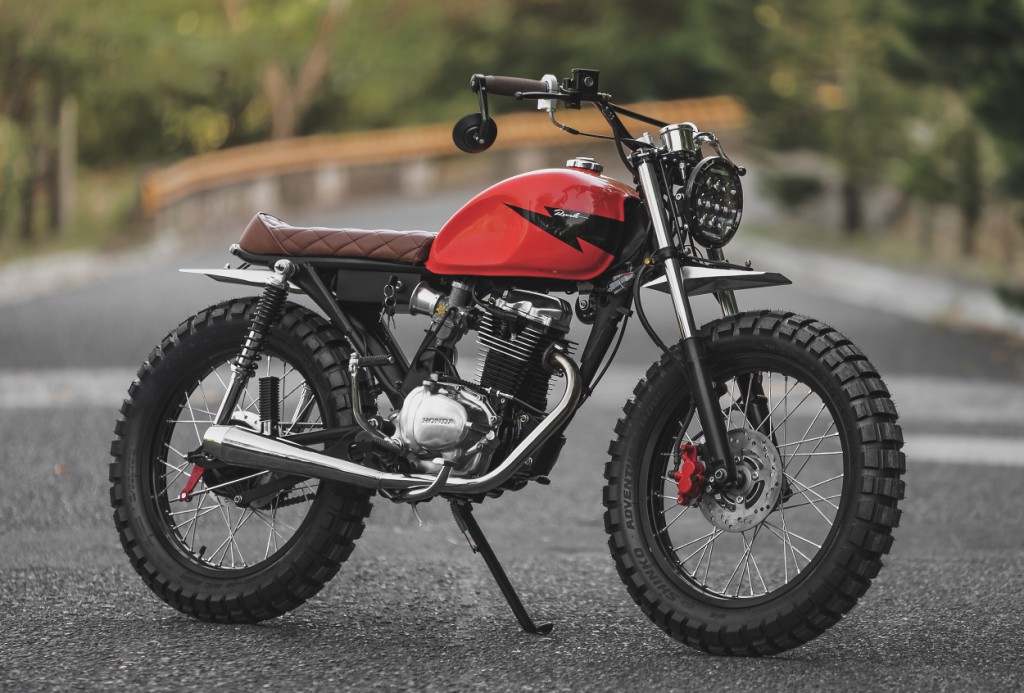 The Honda TMX 155 has become of the most popular customization platforms in the Philippines — a small yet sturdy thumper based on the venerable Honda CB125. The bike offers a kick-start, an air-cooled OHV motor, and is known to stone-axe reliable under in poor conditions.
Enter the crew from Revolt Cycles (#RVLT) of Cebu City, Philippines, who took on this TMX155 as their 31st build. The owner gave them full freedom, telling them he wanted a modern yet classic design. The RVLT team aptly named the bike "Spark" — as it has an early points-style ignition.
Below, we get the full story, as well as an array of lovely shots from the ever on-point Jeb the Photo Mercenary.
TMX155 Brat / Scrambler: In the Builder's Words
As to every bike we build there is always a story behind the owner and the bike itself. The base bike for this build the popular Honda TMX155 or known worldwide as the Honda CB125. It has grown to be the most customized bike in the Philippines simply because of its ever great Honda reliability, and simple base frame platform.
Mattquin Moradas sent in the bike in the usual beaten and abused state. As to the design, Mr. Mattquin stated that he wanted a modern but still have a classic look to the design but gave us the full freedom to do what we want. In which we at Revolt took care of it by giving it a full on engine rebuild which is our top priority in doing up these old bikes as we always aim for top outcome. We always make sure to give them the top quality "Revolt way."
In the process on that we basically did everything ground-up with refurbishing old parts to fitting in new, and modern components like a Lucky 13 LED headlight, mini LED turn lights and a stop & signal LED bar strip at the rear.
Minimal look on the cockpit with that enduro crossbar handlebar setup with bar end drop side mirrors. Single round analog style speedo with high beam, turn and neutral indicators.
Perched on the frame is an aftermarket tank with our customized paint design with a black lightning resembling the spark of which a contact point makes hence "Spark" since this model is the early contact point system.
Followed on by a customized diamond stitched minimal cowl top leather seat by Le Rida custom leathers.
To have a better stance, we slapped on some shinko 805s rubbers on some black aluminum 18s. For the sound system we put in an aftermarket stainless steel bullet exhaust for that mean single thumper note.
At the end, we were pleased with the outcome of our #RVLT31 Spark so as Mr. Mattquin having a big smile on his face. Enjoy the ride Mr. Mattquin. Ride on!
Follow the Builder
More Revolt Cycles Customs