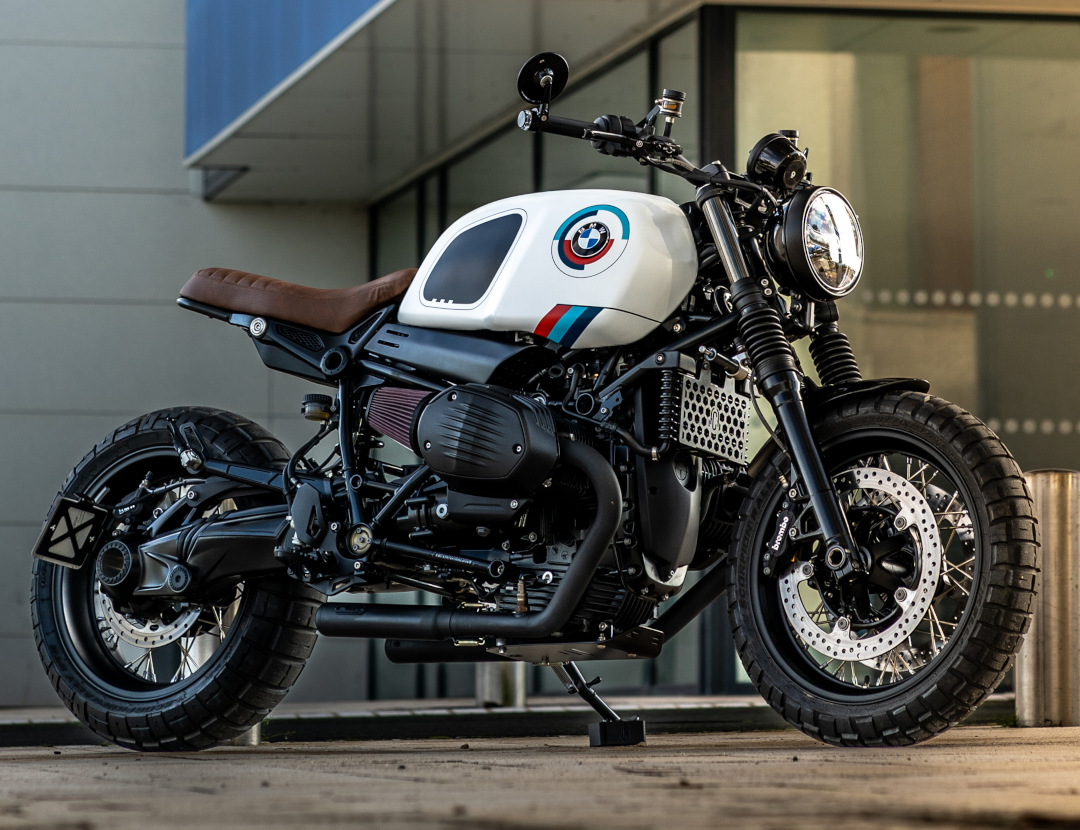 Motorsport Tribute: FCR Original's Classic Heritage NineT…
Produced from 1955 to 1969, the BMW R50/2 was the 500cc workhorse of the /2 ("Slash-2") series — essentially a pre-war design with a strengthened version of engineer Max Friz's original boxer twin, Earles leading-link fork, and twin-shock swingarm rear suspension that encased the driveshaft in the right leg — innovations track-tested on BMW's factory racers.
These post-war Slash-2 machines weren't cheap, but the strength of the design continued to draw buyers:
"Luxury tourers, the R50 and R69 sold to discerning enthusiasts to whom expense mattered little when set against the excellence of BMW engineering."
Fast forward to the 2020s, and BMW Motorrad's most popular models continue to be flat-twin shaft-drives:
"For nearly 85 years, BMW has featured this very basic configuration in its motorcycles. BMW's latest twin-cylinder motorcycle…can trace its DNA directly back to this turn-of-the-century design. Not many products in the world can boast that kind of lineage." –Hemmings
At the forefront is the BMW R nineT, featuring a 1170cc / 110-hp air/oil-cooled boxer engine along with thoughtful details to aid in customization, such as separate engine and chassis wiring harnesses, a detachable subframe, easily removable lighting, and room for six-inch rear wheels.
One of the foremost R nineT customizers is France's FCR Original, who took inspiration from the R50/2 with their blacked-out "Classic Heritage" nineT we featured last year — a modern tribute to the Slash-2 series. Now they're back with another Heritage edition — one that looks to the 70s tricolor glory of BMW's Motorsport division. Did you know the original tricolor of BMW M(otorsport) had a symbolic meaning?
"According to BMW M itself: "Blue stands for BMW, red for motorsport and violet for the unique combination of the two." –BMW.com
Other highlights on this NineT include a custom subframe and saddle, modified fenders, blacked-out forks, FCR Original exhaust / pegs / battery holder, custom lighting, TKC80 tires 40/60 on/off road adventure tires, and more. Below, the team at FCR Original gives us their story of the build.
NineT Classic Heritage: Motorsport Edition
The bestseller from the FCR Original workshop returns in a new edition combining vintage with the exclusive and sporty aesthetic appeal of BMW Motorsport.
With a completely redesigned body inspired by the legendary R50/2, this new Classic Heritage is more than ever in the neo-retro trend of the moment.
Created on the same base as its predecessor, a Nine T Pure, this 100% creation from our design office is more contemporary. The matte white tank pays tribute to the sporty branch of the Bavarian firm by displaying the famous tricolor logo of the 70s.
In addition to the paintwork, the Nine T Classic Heritage M also incorporates several specific design elements: redesigned air intakes, full black matte parts reminiscent of the tank, and new upholstery.
As for the driving experience, the famous BMW flat-twin engine offers a driving emotion of great intensity. An engine of character that our workshop has chosen to marry with Continental TKC80 tires.
An authentic realization, which pays homage to motor sport and is in line with the most beautiful BMW Motorrad creations.
Build Sheet
Cycle part:
» Custom rear buckle
» FCR Original rear footrest
» Heritage tank
Front axle:
» Black DLC treatment on fork tubes
» Modified front fender
» Continental TKC 80 tire
Rear axle:
» Continental TKC 80 Tire
» Painted shock absorber spring
Engine:
» FCR Original Exhaust Line
» K&N air filters
» Rocker covers V2 textured paint
» FCR Original battery holder
Electricity:
» Motogadget M.Blaze front turn signals
» Mini Bates rear light / stop / turn signals
Follow the Builder
Follow FCR Original: Facebook | Instagram | Web
More FCR Originals
---